Can you wear black on a date? Yes, you can! While red is the traditional color for dates symbolizing love, especially Valentine's Day, black comes off as elegant, sophisticated and conjures sexual prowess.
This powerful and sexy color is associated with authority, strength, and power. To those who wear it, the color lends an air of self-confidence, authority, and intelligence whilst symbolizing prestige, formality, and importance. That's why men who wear black tuxedos always steal the show!
More so, black allows you to play safely on a date. While red increases perceived attractiveness, with black, your partner for the day will need to think harder if you're into them!(Ladies, this is a super trick, right?)
Ladies, if you want to inject this sophisticated aura into your look for any date, you've got to wear black! In this article, we share stylish ideas to wear black on a date to ensure you look elegant and not attract feelings of sadness and insecurity.
You May Also Like: How to Slay Your Look in All-Black like Shanda Rogers
Stylish Ideas To Wear Black On A Date & Nail The Look
No matter how you cut it, black is charming and enchanting. Whether you're going on a first date and would like to keep things casual or going on a more formal date and dressier is your vibe, there is a black look for everyone!
Read on….
You May Also Like: Casual Date Outfits To Slay Your Summer Dates
1. Go For Polished Outfits!
While black increases how fashionable and sophisticated a person is thought to be, it one of those colors that can sell you off and easily look drab.
To ensure you show up like a goddess, go for quality black clothes. The color should especially be rich, and the fabric should feel smooth and soft on the skin.
That's where natural fabrics like cotton, velvet, satin, silk and leather save the day. So, avoid synthetic fabrics because they are not breathable and super uncomfortable to wear.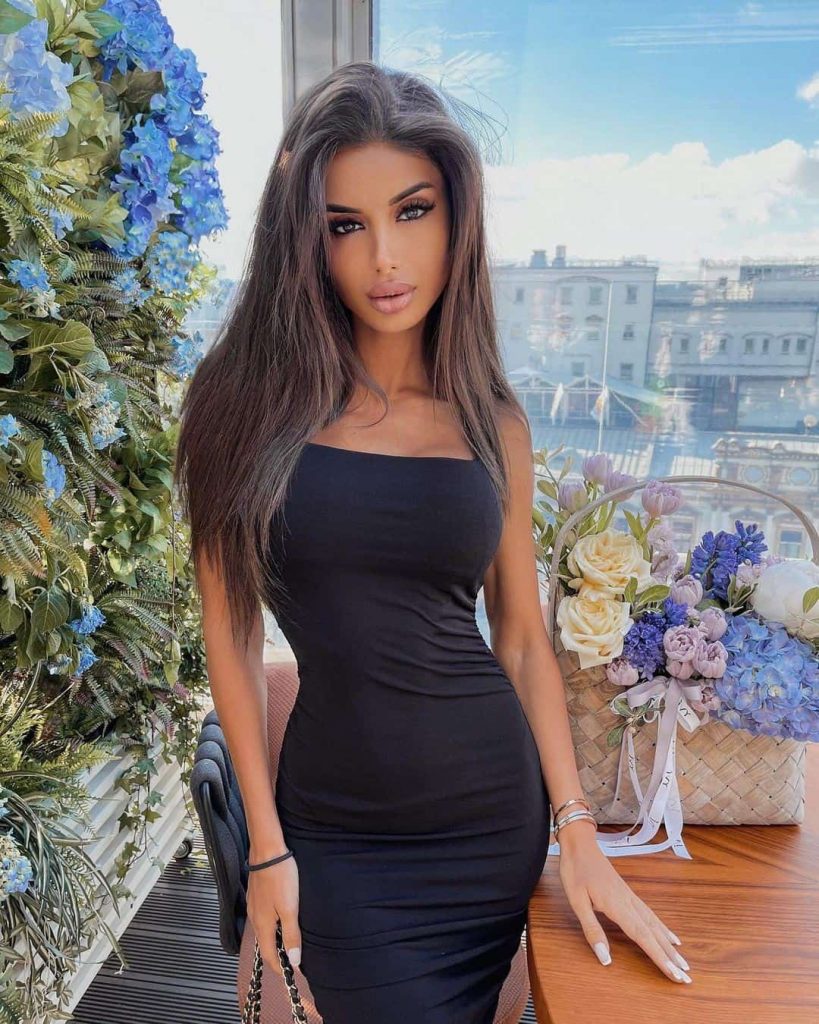 Care Tip…
Wash your black clothes less and when drying black clothes, be sure to keep them out of the sun since UV light is the most powerful fading agent for clothing.
If you want your colours to stay bright don't hang things outside on the line in direct sunlight.
2. Go For Attention-Grabbing Details
Another way to make a black outfit more interesting is to pick a piece with beautiful details. Think turtlenecks, V-necks, ruffles, off-shoulders, large sleeves, bow-ties, pleats, lace, golden buttons, and rips for jeans.
Basically, go for an outfit with cute little details that can attract they eye to that part of your body so your form is flattered.
3. Mix Textures
If you have to wear black on a date, mix textures! This style hack is a way to liven any black look, giving your outfit that special touch.
Before mixing textures, consider the occasion. especially how formal or casual the date will be.
Since different textures express different moods which sets your vibe, pair your fabrics together depending on the context and maybe you can add an unexpected texture for an interesting look.
For instance, silk and lace can add elegance or make an outfit dressy while denim and flannel are more casual and laidback. Try silk and denim, cotton and faux leather, or cotton and sequins.
You May Also Like: Stylish Leather Outfit Ideas For Women (+ Shopping Guide For Leather)
4. Show Off Skin Tastefully
When it comes to date outfits, there's no doubt we love to show a little skin, courtesy of shoulder-baring pieces, crop tops or leggy looks to help us look just a little more feminine. But it's not exactly easy to show off skin in a tasteful manner.
The goal is to look feminine and not sexy. That is, show a bit of skin without exposing too much.
You May Also Like: How To Show Skin Effortlessly- Tips For Looking Totally Chic!
To achieve this, choose the part of your body you'd like to flatter-like your decolletage, legs, arms, or waist. Show a little of this part while keeping the rest of your body properly covered.
An off-the-shoulder dress is a good option while a good V-neck line and thigh slits is the perfect amount about of skin that I can show off without feeling too naked. A pair of leather shorts with your favorite shirt is also cute.
Style Tip…
Black makes anyone look gorgeous, sophisticated and immediately draws attention to you wherever you go. To pull off a stunning black look, go for outfits that flatter your shape.
No matter your choice of outfit, just make sure that at least one piece of your look shows off your shape.
5. Choose Sultry Fabrics
When it comes to date night outfits, think dreamy, elegant, ethereal, almost goddess-like fabrics.
Silk, satin, lace, organza, velvet and chiffon are fabrics that have been used to make show-stopping date outfits, and with their natural beauty, elegant drapes, and exquisite femininity, it's no wonder why.
6. Wear The Black Dress
Is there anything more stylish than the perfect black dress? This fashionable shade is stylish, easy to wear, and always on trend. To wear black on a date, the black dress is officially back in vogue, so why not give it a go?
Want to really make a statement? Channel your inner goddess by wearing a signature monochrome that is minimal yet classy.
Think a V-neck dress with a thigh-high slit, a bodycon dress or strapless mermaid dress. Just pick one that flatters your body and still makes you feel comofrtable.
You May Also Like: Style Feature with Rita Tesla: 3 Must-Have Dresses for Every Superwoman
7. Or the Black Jumpsuit
When it comes to stylish date outfit alternatives to dresses, jumpsuits are must-have additions to any closet.
As a wardrobe staple you can dress up or down, the jumpsuit is a popular style that looks chic and trendy with the right styling.
Underline your sophistication by wearing a black jumpsuit with sequins and carry a statement clutch or purse.
You May Also Like: How To Hold Your Handbag Like A Lady With Class
8. Show Up in Wide Leg Pants
When it comes to formal dates, a pair of black wide leg pants is a unique but fashionable choice. Long, flowing and elegantly languid, high-waisted and wide-legged black pants will definitely make a statement.
Pair with a well-fitted top and use a statement belt to define your waist.
You May Also Like: Style Feature With Marri Pazz: How To Style Wide-Leg Pants Like A Pro
You can also wear jeans on a date. A good way is to pick a wide leg pair and match with pointed-toe high heels. This look is perfect for a casual date for sure!
9. Or Rock Skinny Pants
Skinny pants are a high fashion staple. They wear like a blank canvas—you can use them as a base for looks ranging from ultra casual to almost formal.
Because leggings are so slim, you can wear lots of extra layers without looking bulky or lumpy. Go for skinny jeans with pointed mules and a fancy fur jacket for a stylish evening ensemble
Just keep things chic by layering in the same color family or with similar patterns. Here's a complete guide to wearing monochromatic outfits stylishly.
10. Add Playfulness with Prints
Black bottoms also pair well with prints and patterns for an interesting date look. For starters, incorporate just one print or pattern at a time to create a great foundation for pairing with something subtle.
Think a boldly printed blouse or top with a pair of black pants.
You May Also Like: How To Wear Animal Prints & Look Put-Together
11. Wear Black & White Prints
One of the simplest ways to wear black tastefully is to pick a print mixed with white. A monochromatic print in black and white is easy to wear and remains sophisticated and stylish.
Go for tasteful pieces like a cute romper and finish with pointed toes and a cute bag. Also, keep your accessories to the minimum so your outfit can shine.
You May Also Like: Love Black And White Outfits? Learn How To Wear Them More Stylishly
12. Pair with Solid Colors
Color blocking is one surefire way to soften or offset the black. This also balances it so your outfit doesn't feel too heavy or (as so many women have said to me) dull.
Black creates a clean canvas for you to color block with any of your favorite colors so don't be afraid to experiment.
Use bold and bright colors for your outerwear, or blouses and feel free to match the color with your accessory for a cohesive look.
13. Wear Minimal Accessories
Accessorizing is a way to spice up your black date outfit by incorporating smaller pieces, like jewelry and shoes, into your look.
For such an effortless look, go minimal on the accessories. Start with one statement piece that makes you feel great and that you can wear also with multiple outfits.
When you're ready to add more accessories, create balance by choosing one piece to dominate your look in terms of size or color, then layer on more subtle accessories.
Rock the black dress, swap the sandals for stilettos, and add a pair of pearl earrings or a statement necklace, and you're ready for a night out.
You May Also Like: 12 Holiday Accessories We Want To Wear All Year Long
14. Add Touches of Red
A black dress is perfect for experimenting with color in your outfit as it is essentially a blank canvas. Silk scarves, statement clutches, mules, and gloves are a bold way to add a splash of color to an outfit.
Add that bold red lip too!
15. Match Your Accessories & Hardware
Do you always match your jewelry to your handbag's hardware? Well, matching your accessories and hardware is a personal choice but here at Dal Meets Glam, we always on matching your jewelry to your bag's hardware. This is our special preference, especially for metallics, and creates cohesion.
For instance: matching golden jewelry with golden purse hardware, golden buttons, and a golden shoe or golden shoe hardware.
The key is to be subtle ensuring the accessories don't take away from the look. Do this by wearing a monochromatic look and keeping the accessories small and dainty so the outfit can stand out.
You May Also Like: How to Wear Accessories so they Don't Take Away from your Look
16. Wear Minimal Makeup
Minimal makeup is all about using makeup to enhance your features.
Since this look is all about glowing, natural skin, use light foundation coverage after your skin prep, go for a dewy finish, a nude eye look and a shiny lipstick in a neutral color does it.
Remember, confidence makes the prettiest woman!
Disclaimer: These stylish black date outfits are courtesy of Rita Tesla, Victoria Fox, Sarah Langa, Mia Mia Mine, Sssabisha, Lily Ghalichi, Just Kaninte, Valentina Safronova, Candytm.pl, Arina Bernadini, The Glamannequin, She Nobu, Mphotsila, Chic Couture Online, Rose Boutique.pl, Annetv86, Dress in Heels, Stefany Boateng, and Nika Marianaa.