A good-quality leather outfit is perhaps one of the most expensive fashion items you can add to your wardrobe. This luxe piece even looks more stylish when worn and every woman should consider adding a piece to her wardrobe.
While leather looks lhe ideal fabric for perfecting that tough girl image for any occasion, even the feminine chic can wear this piece to look more edgy and daring.
From the classic leather jacket to the all-weather-ready leather boots and everything in between, when it comes to buying and styling your leather outfits, we've got you covered.
Buying Your First Leather Outfit
There are many price points for your favorite leather outfit. However, you must know that the price of outfit usually comes down to its quality and the type of leather used.
Here's what to look for when buying your favorite leather outfit:
1. Its Quality
High-quality leather outfits are usually soft and soapy to touch. Also, they do not have unnecessary seams which are usually found in most low-cost leather clothes.
Check the zips and buttons for quality. Zips should move freely and smoothly, and buttons will be made of natural materials such as horn, mother of pearl, and corozo. High-quality trims are rarely found on a low-cost clothing.
Cheaper leather outfits, especially jackets will use leather that is corrected. For animals that have a lot of scarring, branding, or knicks from how they are raised will have their skins sanded down, and sometimes faux leather grains will be pressed into it, also, extra spraying of dyes and treatments to make them more uniform.
Consider acquiring a high-quality leather outfit as an investment. We recommend saving up to acquire a leather fashion item instead of going for many, poor-quality leather outfits which only peel off over time, fade away in color, tear up and end up with tatters!
You May Also Like: 5 Causes of Leather Wear & Tear
2. Choose Your Preferred Type of Leather
There are various hides from which leather outfits are made –like calf, deer, cow, pig, sheep, buffalo, caribou, reindeer, elk, moose, crocodiles just to mention a few.
Also, there are four basic grains of leather: full-grain leather, top-grain leather, genuine leather, and corrected grain leather.
Genuine leather and corrected grain leather are lower-quality materials, while top-grain leather and full-grain leather are considered to be of high quality.
NOTE: For the very best quality, you'll need to look for 'full grain' which are very costly but durable. However, if your budget is limited, 'top grain' leathers are an affordable option.
There is also bi-cast leather that looks shinier, glossier and made by combining a leather backing and an embossed layer of vinyl or polyurethane.
It is commonly used to make handbags, belts, jackets, and shoes. Also, a more affordable alternative to natural leather.
However, it does not always retain its look and become dull after months of regular use with scratches and cracks showing up over time.
3. Think About the Maintenance of your Leather Outfit
A genuine leather outfit is an investment piece that should last for years to come after you purchase it. However, it's up to you to keep your leather in good condition.
Some of the ways to keep your leather items, including jackets and bags in good shape include:
Investing in a good protective spray and reapplying it to your leather outfit or accessory regularly to provide extra protection that prevents water from penetrating the material, hence its longevity.
When leather is wet, it is more prone to watermark stains, has less breathability, and appears more used and stiff. So, protect it to add years to its shelf life.
Allow you leather outfit or accessory to breathe.
Leather needs space to breathe in order to avoid rot and mildew. Thus, leather should never be sealed in a plastic bag. Instead, put it in the storage bag it came in or a pillowcase, also when storing it.
DONT: Store your leather outfits & accessories in direct sunglight
Never store your items in direct sunlight or hot temperatures as any exposure to sunlight or heat can result in drying or cracking.
If your leather item becomes wet, do not place it in the dryer; instead, place it on a towel and allow it to dry naturally over a few days.
Clean your leather outfits gently, and avoid the use of washing machine and dryers.
To clean leather outfits, e.g. a leather jacket, blot wet spots from water with a cotton ball then leave whatever is still wet to air dry on its own, avodiing dryers at all coats.
Also, gently blot away ink stains using a a good solvent like nail polish remover until the stain is faded.
To remove the stubborn oil and grease stains. rub some baking soda or corn starch on the affected area with a damp cloth then leave it overnight, so it can absorb all the oil, afterwhich you can wipe off the powder with a dry towel.
Mold can also grow on your leather outfit, especially jackets, if stored in a place where it is exposed to a lot of moisture.
Get rid of this fungus by using a solution of one part rubbing alcohol and one part water to soak a cloth in it for use in wiping clean the infected regions.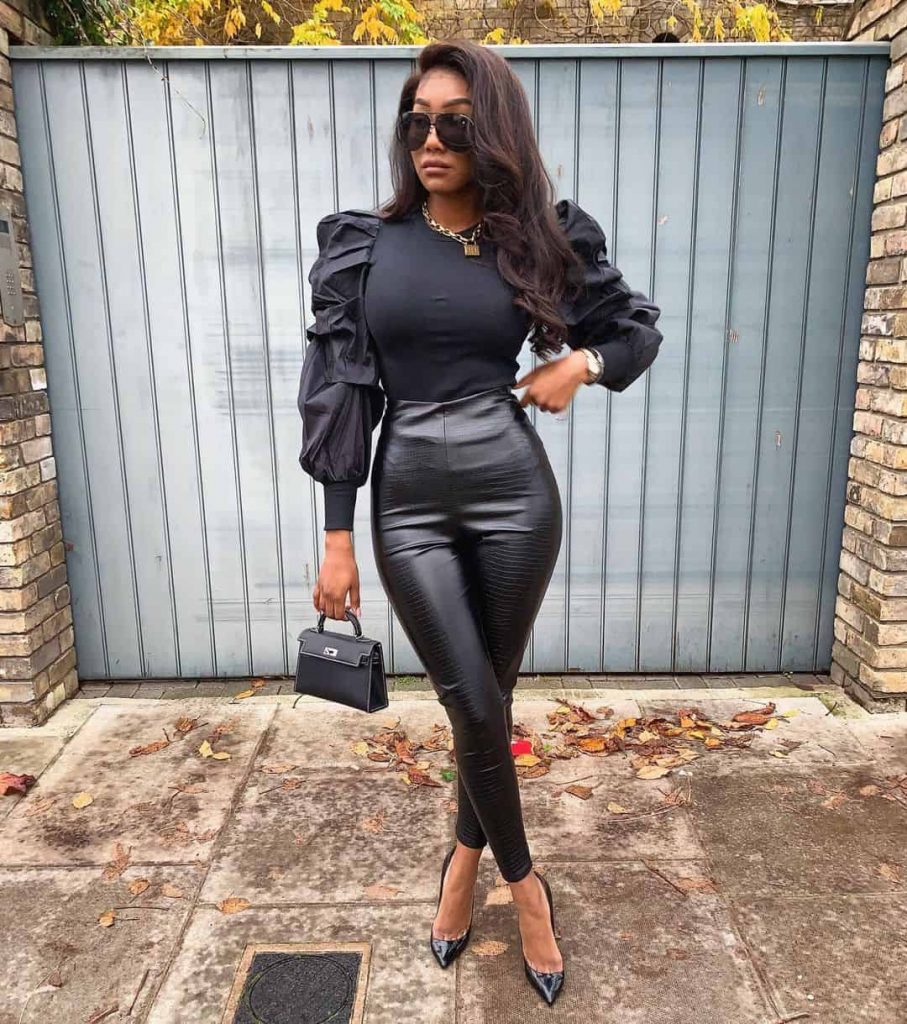 Washing Tips…
Always read the manufacturer's washing instructions to maintain your leather outfit or accessory appropraitely.
This is also when cleaning the interiors due to body oil, sweat stains, and/or remnants of antiperspirant to ensure it is washed or wiped clean as designed.
You can also use a damp cloth with soapy water and no bleach to wipe clean any marks.
Remember to first try cleaning an area that will not be visible, e.g. inside hems or the underarm area to ensure no water stains then complete by drying with a clean soft cloth.
Additionally, when using treatments, apply it to a small part, and leave it to dry overnight so you can see how it looks in the morning. This easy step could prevent your leather outfit or accessory from changing colours!
You May Also Like: How to Clean Suede Shoes
Stylish Leather Outfit Ideas For Women
Nothing, in our opinion, makes a stronger style statement than leather. Not sure how to include leather into your wardrobe? Here are a stylish leather outfit ideas from style enthusiasts you might want to try:
Styling Tips…
Leather looks perfect when worn in monochromatic combinations! Whether you go for all-black, all-brown or wear different shades of a color, you will always come off as very elegant.
You May Also Like: How To Wear Monochromatic Outfits & Look Elegant
Remember to keep the look minimalist with no much makeup, accessorizing or layering going on so your look can stand out. This is a great style tip for one-color leather looks.
They key to looking great, also, when pairing your leather outfits is to mix different textures. For instance, a pair of leather pants will look great when paired with a knit sweater top.
1. Rock a Black Leather Jacket
Whether you prefer a biker jacket or a faux leather jacket, it's no lie that every wardrobe needs this staple piece: a black leather jacket.
A well-fitted leather jacket is the perfect finishing touch to any outfit, and is a versatile piece that can be used for both casual and formal occasions.
Throw on a black leather jacket over any casual street style look to instantly make it more edgy and stylish! For sure, this badass jacket is now a must-have in any fashion-forward woman's wardrobe.
2. Try a Leather Blazer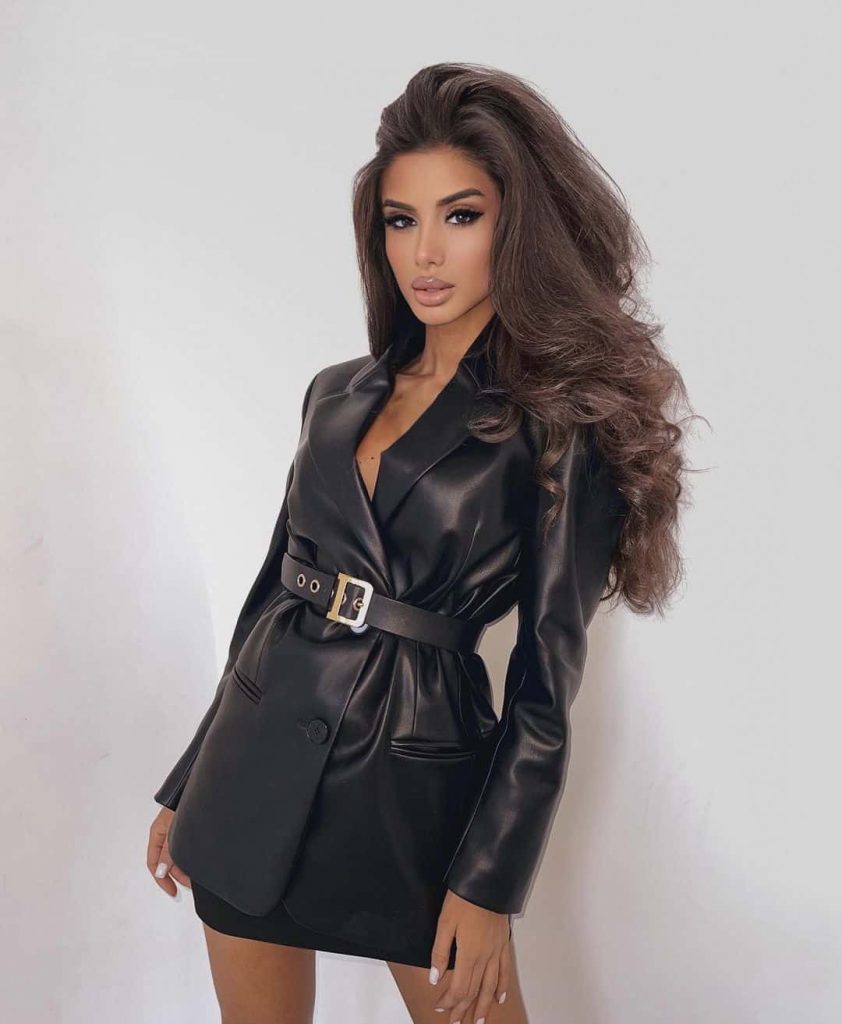 For the elegant woman who doesn't want to wear leather jackets, then a leather blazer is a must-have! It doesn't have to be in black because other neutral colors like camel and white can work too!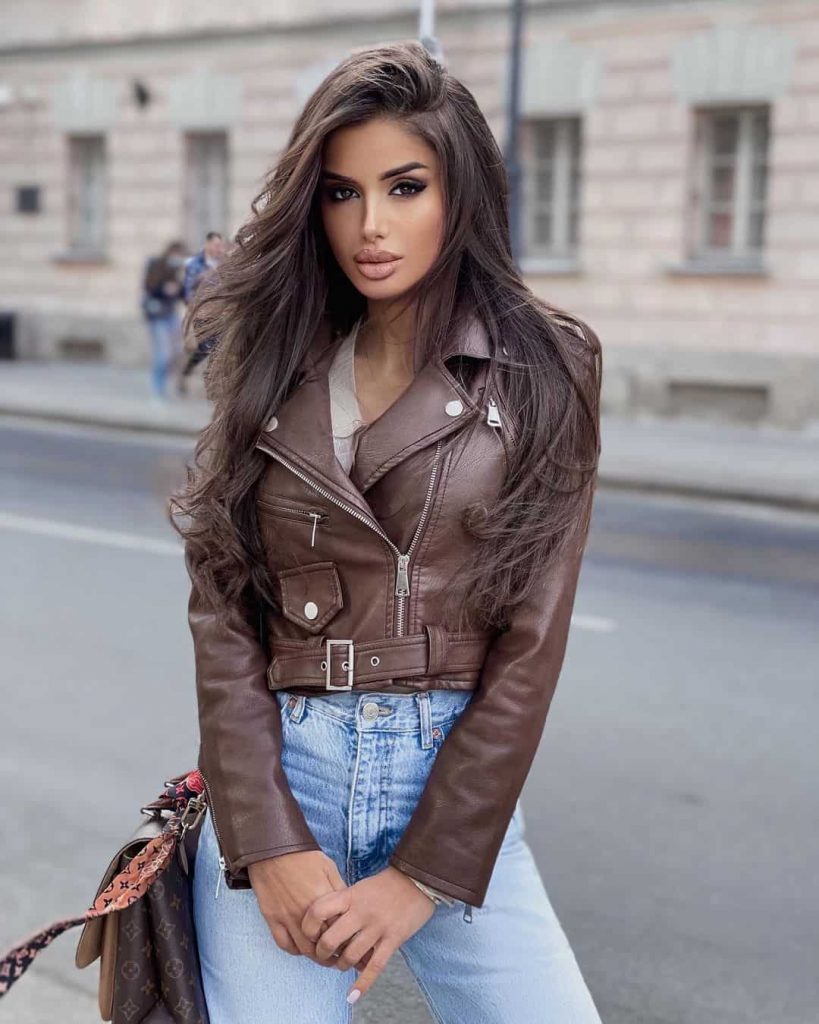 While blazers are often considered polished work-wardrobe essentials, they can be a surprisingly versatile, casual, and edgy option, especially in faux leather options.
3. Look Sleek in a Trench Jacket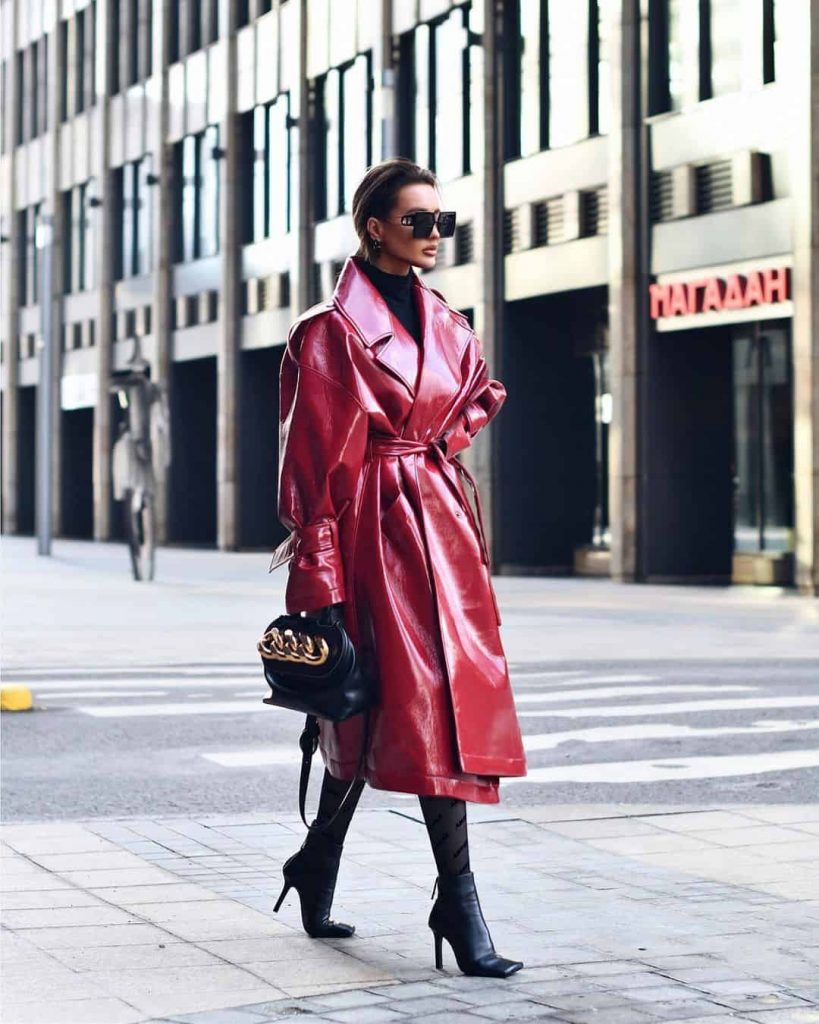 If you're ready to take risks in your street style this fall, switch up your normal trench coat for a sleek leather trench coat. Pull out your favourite pair of leather boots to complement this jacket style.
4. Edge Up in a Leather Dress
Leather dresses suitable for fashion risk-takers who want to come across as edgy yet polished. This excellent dress can be dressed up or down to suit all occassions whilst keeping you comfortably warm throughout the seasons.
There's nothing better than fashion and function coming together!
You May Also Like: 3 Must-Have Dresses for Every Superwoman
5. Dress Up Your Leather Pants & Look Classy
Leather pants are quickly taking over as the new blue jeans. They are so chic and confident women all over are embracing these pants.
Choose a dark color for your leather pants, such as black, brown, grey, maroon, navy, or even forest green as these are very easy to style with other items in your wardrobe.
Pair it with constrasting colors like denim or monochromatic colors as you please. Double leather is a bold combination to try! You can use a belt to define your waist in this case,
Ramp up the femininity in leather pants by pairing them with pastel colors like pink or chic and delicate fabrics such as fur, or lace.
Add a classy, tailored look to a pair of leather pants by going for a black or plaid oversized blazer or long coat. This creates a polished look indeed
Treat your leather pants as leggings and pair with oversized or flowy tops. This creates a casual look perfect for street style.
You May Aso Like: How to Level up Your Look in Denim Jeans
6. Wear a Leather Skirt
A pencil leather skirt with a form-fitting fit is a wardrobe must-have! This piece makes you look elegant and refined while also showcasing your summer body.
You can also add some pizazz to your outfits this summer by throwing on a pleated leather skirt!
7. Get the Cowboy Boots
Cowboy boots have recently become all the rage. These western-inspired boots, whether flat or heeled, will undoubtedly help you look chic while protecting your feet all-time!
8. Show Up in Knee-Highs!
Perhaps the most flattering yet warm winter boot option, knee-high boots in leather are a great way to layer up while still looking good.
Whether you wear a dress, skirt or tight skinny jeans, you will always achieve a perfeclt put-together look!
You May Also Like: How To Look Good In Slouchy Over-The-Knee Boots
9. Or Leather Snakeskin Boots
Snakeskin prints are back and in leather, they are perfect for your leather boots! They come in glossy or matte finishes and add interest to any outfit.
Just ensure the boots are made from authentic leather so you can rest assured that they will last throughout the whole season.
You May Also Like: How To Wear Snakeskin Prints For Extreme Fashion Confidence!
10. Accessorize Your Leather Outfits
Accessorize your leather outfits with simple yet stunning jewelry like silver or gold pieces that are sleek and dainty.
A leather belt can also tie together almost any look. We recommend dark brown or black belts so that they can be worn with all colors.
You May Also Like: 10 Must-Have Fashion Accessories For Every Woman, Fashionista Or Not
11. Accessorize with Leather
When it comes to accessorizing, especially using handbags and shoes, leather has a profound effect on the overall look and vibe of an outfit.
Apart from leather shoes finishing off any outfit perfectly, leather bags add contrast to your outfits- think the leather tote, crossbody bag, backpack, or purse.
They can easily elevate the look of your clothing and add an eye-catching element you're sure to get complimented on.
You May Also Like: How To Hold Your Handbag Like A Lady With Class
While there are a plethora of materials from which to create the ideal look, leather reigns supreme and will get you all the style points! Have you ever witnessed a leather-jacketed person being shoved around? No! Because respect is earned when you wear leather!
Leather outfits and accessories make for great wardrobe investments for this season and beyond. So, which of these leather outfit ideas do you like?
*Disclaimer: These stylish leather outfit ideas are inspired by Rita Tesla, Victoria Fox, Charlie Kamale, Boss Lady Lifestyle, Lori Harvey, Prissy Savvy, Pearls and Loaf, Rosa Dlamini, Sine Gugulethu, Sndiswa, Sophie Moulds, Sssabisha, Kosmios, Tostos, Chilla Macame, She Nobu, Just Kaninte, Karolina Lorent, Jadore Fashion, Ceydakgun and Wofa ifada. Follow them on Instagram for more.