Animal prints have been all over the place, for a while now. While these animal-inspired prints are presented as classy, sometimes, when worn poorly, they look quite unappealing.
However glammers, we always have the best tips to help you look great! And in this article, we share the best tips on how to wear animal prints and look put together!
From snakeskin prints, tiger prints, leopard prints, zebra prints to cow prints, there is something for every woman so go get a stylish animal print outfit and let's style it together!
Style Tips to Wear Animal Prints & Look Fashionable
Animal prints are busy! They attract attention no matter your body shape. This poses a challenge because you might not end up looking elegant. But let's help you!
1. Pick Neutral Colors
Animal prints are considered neutral because they feature the timeless black, white, and other earthy tones. However, designs nowadays are coming up with so many color varieties like orange, green and other bold colors.
Unless you're a styling queen who is not afraid of attention, please go for the more laid-back options so you can easily wear them without much effort.
You May Also Like: How to Always Look Put-Together in Every Outfit
2. Choose Clean-lined & Well-Fitting Outfits
Animal prints are wild already! And if you want to look elegant in them, stick to clothes with clean and classic lines and shapes like blazers, coats, cardigans, structured dresses, shirtdresses, pencil skirts, a bag, or shoes.
You might want to go Bohemian in animal prints–I mean, free and all casual. That's fine, but make sure you're not wearing baggy outfits which only make you look like you never put any thought into your dressing.
3. Pair With Solid Colors
The key to looking great in animal print is to match colors that actually work. We recommend matching animal prints with solid colors to tone down the quizzical effect and create a tasteful balance.
The best place to start is to consider one color in your prints and pick a matching pair for this color.
It's not mandatory to have exactly the same shade because a color close enough is good. For instance, if black is the dominant color of your animal print bottom, you can pair it with a solid black top.
You can also match with other neutrals. Black or white are classic pairs and you can never go wrong in them.
Most animal prints come in earthy tones like browns, no matter the shade. If black and white seems to common for you, pair your animal print outfit with camel which is a timeless color combinations for most outfits.
A camel coat will perfectly finish a snakeskin print dress, like this one here. A rich leather bag is also the perfect accessory for your animal print outfit.
You May Also Like: How To Wear Snakeskin Prints For Extreme Fashion Confidence!
Pair your animal print outfit with a bold color for an instant style statement. Red is a perfect combination that always works! Yellow and mustard are other alternatives that will match well.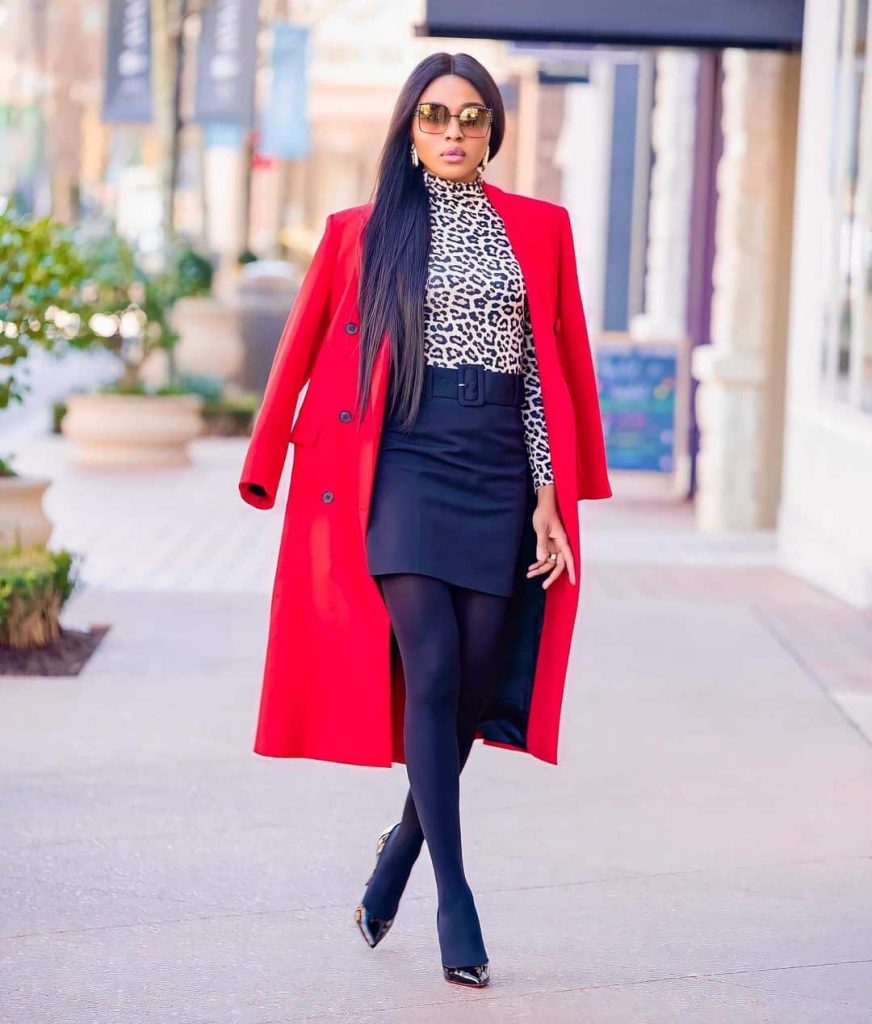 Denim and animal print? Such a killer outfit combo. You can try leopard print and a denim pair of jeans or a denim jacket to create a look full of glamour and utility.
The wild print upgrades day-to-day outfits and refreshes everyday ensembles, turning any outfit into fashion gold.
You May Also Like: How to Level up Your Look in Denim Jeans
4. Keep the Look Minimal
Animal prints naturally make a statement. They also tend to overpower other outfits and can come off as extra trendy. To tone down the look, don't wear too much of it.
Simply wear one animal print outfit at a time and avoid too much layering, too much accessorizing and too much makeup.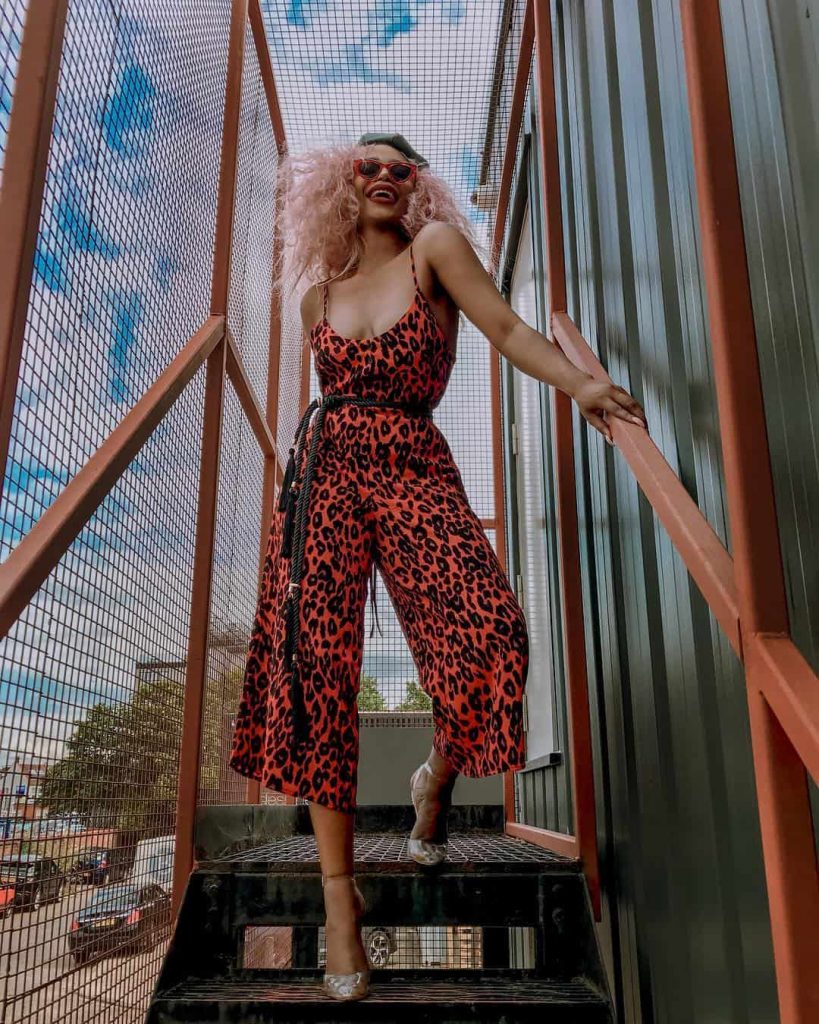 Also, do not combine different kinds of animal prints. It hardly works! If you've choosen to wear leopard prints, for instance, do so with balance, and minimalism in mind and you are guaranteed to turn heads!
Styling Tip…
Highlight Your Assets
For women with a ton of confidence, ideally those who would want to show off their curves, you can wear animal prints to highlight your curves!
Tiger prints or zebra prints should be the go-to for curvaceous women. Their horizontal stripes accentuate curves, thus, adding focus to your hips and bust.
Be ready to make a statement and have all eyeballs on you though.
5. Try Animal Print Bikinis
Clean, minimalist bikinis in leopard prints really complement the female form. There is something about the way the prints portrays a fun and cheeky look.
The secret to killer style is confidence and feeling your best in swimwear.
You May Also Like: 5 Modest Beach Outfit Ideas For Women – Look Classy & Modest!
6. Wear A Fully-Printed Look
Animal print outfits, for ladies, conveys confidence, independence, and nonconformity. They are also attractive and convey a woman's confidence in herself and her sexuality.
And, most of all, this stand-out style of clothing looks great on women of all ages when worn confidently and correctly.
So, if you're ready to make a style statement, wear a full look in animal prints, whether snakeskin prints or leopard prints.
We recommend switching up the accessories for a solid color instead of a similar printed accessory to bring variety to your look.
But if you're the queen of BOLD and having all eyes on you is no problem, go ahead and wear a full animal print look.
Just keep the accessories very slim, chic, and minimal so your look is not so busy.
7. Accessorize Subtly
When it comes to animal prints, tone down on the accessories. Less is always more, so, keep your accessories minimal and simple so your look does not look too busy from all angles.
Black for your shoes and handbag will never go wrong! You can also try metallic jewelry –think silver or gold– in slim shapes so your outfit is left to stand out.
Red, mustard, or yellow accessories in smaller sizes can also highlight your dressing perfectly.
You May Also Like: 10 Fashion Accessories For Every Woman, Fashionista Or Not
8. Wear Animal Print Accessories
If the idea of wearing an animal print outfit is not for you, then go for animal print accessories. They make such beautiful accents to any outfit.
Lend an edge to your look with an animal print handbag or clutch. Monochromatic outfits or solid-color looks will appreciate the boost.
Snakeskin print boots also bring versatility to many looks, turning heads as you go!
Stilettos look absolutely fantastic in leopard prints: sexy, confident, and mischievous. Such shoes are loaded with sass and can add interest to the most monochromatic of looks.
9. Wear Natural Makeup
Natural makeup is the effortless look we've been chasing for years. For such a wild outfit, a no-makeup makeup look will be the perfect finish, ensuring you look so natural and sophisticated.
10. Try A Bold Red Lip
We admire women who can wear a bold red lip during the day–they are so full of confidence and we must agree that a bold red lip can really transform your face.
Power, class, elegance, and freedom have all been associated with this classic lip color so why not pull off a red lip for your animal print look?
You May Also Like: Dress More Feminine- 10 Ways To Look More Lady-Like
Do you wear animal prints too? How do you do so?
*Disclaimer: These style tips to wear animal prints are inspired by Kosmios, Chic Couture Online, Mia Mia Mine, Bonang M, Valsgramm, Charlie Kamale, Romeo's Fashion Fix, She Nobu, Nancie Mwai, Chioma Good Hair, Didi Stone, Mphotsila, Stella Rose Cherry, Donna Anastacia, Mercy Cherono and Rosa Dlamini. Follow them on Instagram.