Tried to wear monochromatic outfits? Let's face it. Color is interesting, yet hard to master. So many things influence our color choices; your complexion, the weather, your preference among others.
Hence, the prevalence of monochromatic fashion! While many associate monochromatic looks to black and whites, we are more than that!
In this article, we'll show you how you can rock your favorite color in a monochromatic ensemble, so you can even build your wardrobe around those colors!
But let's start from the basics…
What Are Monochromatic Outfits?
From history, 'mono' means 'one' while 'chromo' means 'light'. When the two words are combined, the word 'mono-chromo' means 'one light'. Thus, a monochromatic outfit is an ensemble where you wear one color look.
Recall the days when you pull out a pair of black pants, a black top, and throw atop a black blazer! Yes! That's a monochromatic outfit! Super easy for sure!
While it seems like it takes less effort to get it right with monochromatic outfits, they can be pretty tricky to get right, especially if you veer off from black, and into brighter, or bolder colors, or light neutrals.
If done correctly, a monochromatic look can be show-stopping since it is very simple, clean, and elegant. Don't we all just love looking expensive?
You May Also Like: How to Always Look Exensive
However, this does not mean that you just have to boringly wear your preferred color, think nude or blue.
To add visual interest to your monochromatic outfit, try out these tips that will ensure your monochromatic look is the hottest one around!
7 Tips To Wear Monochromatic Outfits & Look Elegant
1. Learn your Skin Tone!
Fashionistas say that in order to look expensive, one of the easiest tips to try out is mastering the art of going monochromatic. It might seem so easy to wear all beige but I dare you, wear it so plainly and you'll bore yourself too.
Good enough, here is one tip to look good in monochromes. First, know your skin tone!
So, What Is Your Skin Tone?
Your skin tone is the shade of your skin, normally different from your complexion. Usually, the complexion or surface color can change depending on a lot of things. For instance, if you tan in the summer, it will get darker, and then lighten again in the winter.
On the flip side, your undertone remains the same. It is that subtle, more muted color that lies underneath the skin.
To find your skintone, follow the steps below:
Figure out the surface color of your skin. This is all about how much pigmentation you have in your skin, thus, what you see first when you look in the mirror. Examine the skin around your jawline, and try to determine if it is fair, light, medium, or dark.
Figure out your undertones using this guide on the Healthline Blog. Ideally, there are 3 undertones: warm (think yellow, peachy, and golden), Cool (think red, pink, and bluish) and Neutral (think olive or a mix of the above)
Once you have known your skin tone and the colors that blend well with it, you can always experiment with as much colors to find those that suit you well.
Cool tones look good in deep, vibrant colors, such as blue, purple, and emerald-green. Warm tones glow in earth tones like red, orange, yellow, and olive-green. If you can wear both shades, you have neutral undertones.
Styling Tip…
On the Trib Blog," Strong colors should only be worn on people who have a naturally defined contrast such as fair skin with dark hair and dark eyes of women with darker skin. If your skin, hair, and eyes are all light, you should avoid wearing strong colors, as they will overwhelm you. "
2. Pick A Color You Want To Rock
Known the colors that suit your skin tone? Get those colors now!
You can lay out all colors in the same family from your wardrobe. For example, all blacks, all browns, all blues, and all reds.
Remember that colors have different shades so you can group them according to their resemblance as you find good pairs for each other.
Styling Tip…
Master one color first as you start. For instance, you can pick pink pastels if you have a cooler undertone, or nudes if you have a neutral undertone. Black shades are also terrific for all skin tones!
Once you've mastered one color, then you can start incorporating other colors.
You May Also Like: How to Look Put Together In Every Outfit
3. Try Different Shades
When dressing up, pick one color item and slowly expanding the outfit piece by piece as you evaluate it in your full-length mirror. While doing this, add more interest by choosing different shades of one color.
This will allow you to slowly build your outfit and successfully balance it in proportion and style.
4. Mix Different Textures
Looking for a way to add visual interest, depth and dimension to your look so it's not one-dimensional or boring.? Get those textures girl!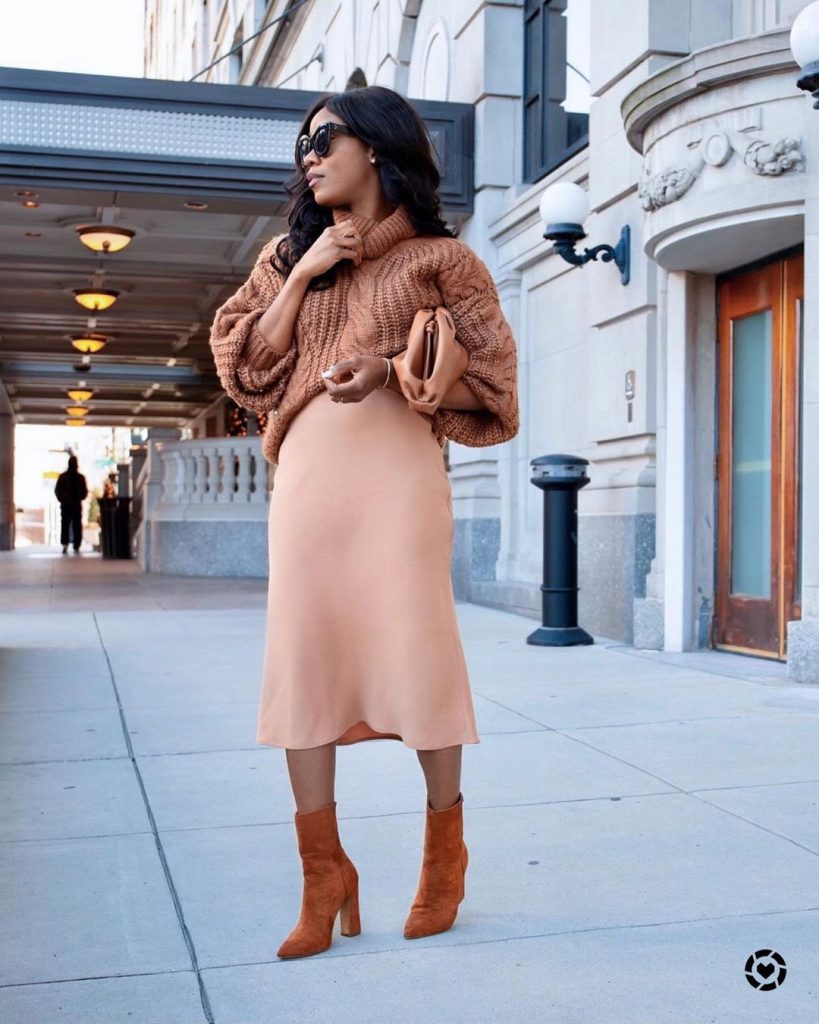 If you want to achieve a sophisticated look, then different textures have to be your best friend! Talk about a pair of denim jeans with a knitted top or leather pants paired with chiffon tops! Amazing!
And don't forget your shoes or bags when it comes to texture. They play a role in adding interest to your outfit. Consider how leather, or suede boots, or glitter shoes will work with the outfit you're trying to create.
5. Inject Prints & Patterns
If you want to catch the attention of many in a quizzical look, you should consider buying clothes that feature different patterns.
Plaid pants are trending, floral tops are loved, gingham blazers have it on the streets, and leopard prints never disappoint!
Get them!
6. Strike a Balance
Looking good is hardly on the items you wear. It is all about striking a balance.
Have you ever felt so bulky after wearing an ensemble? I have! One mistake one can do when wearing monochromatic outfits is letting the color overwhelm your body.
Imagine this…
You saw a lady in white shredded pants, chunky over-the-knee boots, a long white coat, a large white handbag, a large white sun hat, white sunglasses, and a white inner chunky top. Yet she has a deeper tone like me. Oh my! I wish she would wear the same in grey or off-white.
I mean, the color overwhelm might just so recognizable and would attract all sorts of wrong attention!
Well, balance is not just achieved by striking the balance between the skin tone and the color of the outfits. It is also about the type of designs you're rocking.
If the outfits are so chunky, never overdress. If we use the example above: I would wear a long grey coat that's belted up then rock the over-the-knee boots. Gorgeous, right?
You May Also Like: How to Look Good in Slouchy Over-the-Knee Boots
7. Accentuate The Right Places Your Body
Every confident lady has a part of her body she loves most if I'm right. I love my long legs the most so I'm always looking for pants that know how to bring the best of my legs. Talk about skinny or cropped jeans or wide-leg pants.
That means that if you love your curves, go for clothes that accentuate them. The same thing goes for those who love their waists, cleavage, or arms! For example: use a belt to cinch the waist for more definition.
When wearing the same color in different tints and shades, you want to pay attention to how dark or light each piece is.
Lighter colors draw more attention than darker colors, so if you want to emphasize an asset, wear a lighter color over that area. Conversely, if you want to de-emphasize a trouble area, wear a darker color.
For example, wearing darker pants and a brighter top will draw attention to the top. Thus, a good styling idea if you want to downplay your legs and thighs, and get attention on the top.
Note that the area on your body where you separate the two colors will also draw attention, particularly, if you have a thick or thin waist, larger tummy, or wider hips.
So, you will want to avoid having your colors change from light to dark at your waist, tummy, or hips, respectively. For example, if you tuck a white blouse into a black pair of pants, you will draw attention to your middle.
Avoid this by having less contrast between the two colors or wearing the same color.
You can also place color strategically. If you are trying to hide a larger middle, for example, the best place to change color is just below the bust or below the hips.
You May Also Like: 10 Ways To Dress More Feminine
Indeed, wearing multiple layers of varied textures of one color adds depth and dimension to an outfit, while also allowing you to highlight, or downplay, certain parts of your body. Monochromatic outfits also create a seamless look from head to toe making you look expensive.
No matter your shape or style, monochromatic always looks sharp, so don't be afraid to experiment! You should all try it!
20+ Monochromatic Outfits To Inspire Your Wardrobe
Well, do you love rocking monochromatic outfits? What colors are your favorites?
Disclaimer: This article on "how to wear monochromatic outfits" is inspired by and features the following fashionistas: The Style Pantry, Mia Mia Mine, Lerato Kgamanyane, Grace Motswana, Gitta Banko, Rita Tesla, Mode by Rache, Edaowo Fashion, Dilek Pacacioglu, Emmalyn Love, Victoria Fox, The Real Chi, Nena Evans, and Mphotsila