DISCLAIMER: All photos are courtesy of Atusa_Xox on Instagram
An accessory is any add-on that one incorporates during styling in order to add a touch of finish to any look.
So definitely, accessories have the power to punctuate your outfit and leave you feeling all gorgeous instantly!
That's why every stylish woman has her favorite fashion accessories that spices up her wardrobe staples.
For any ensemble to pull through, accessories must be present.
Most importantly, always go for high quality fashion accessories which will not only last as long but also have that polished touch of glamour.
But again, we have to be keen enough while finishing our looks with accessories.
I mean, an accessory can either break or make your outfit depending on its color, size, shape, texture and where it is worn on the body.
So how do you style accessories to ensure they don't break a look but work to elevate it?
Ride along…
Read Also: 4 Rules on Finding Your Perfect Signature Accessory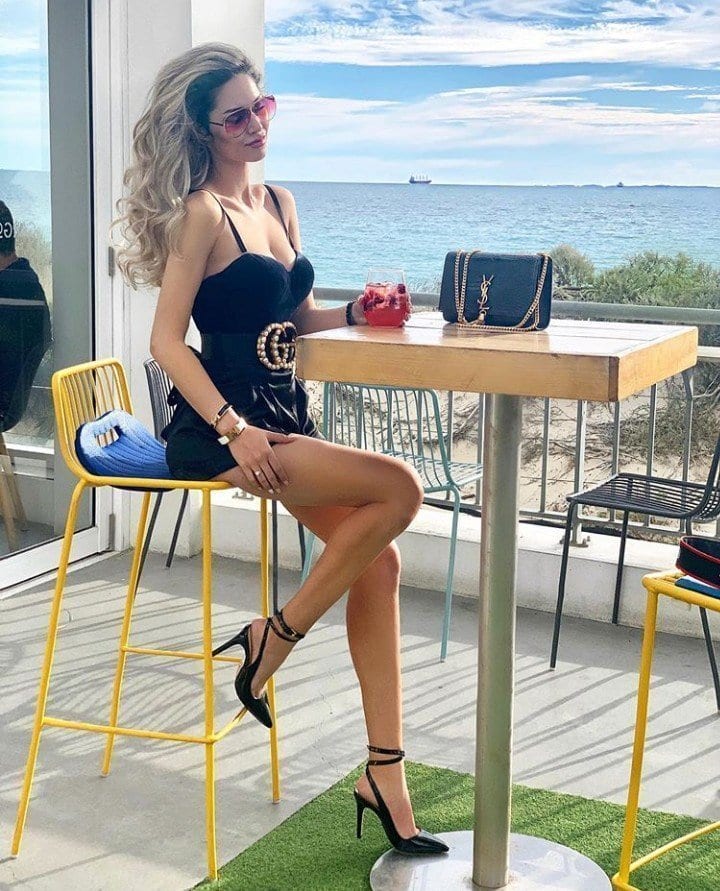 How To Style Your Fashion Accessories
1. Balance proportions, on size and the location of the accessory in the body.
If you want to look like a clown, then overwhelm yourself with accessories!
Wear those loop earrings, that statement necklace, that floppy hat, that camel trench coat, those thigh high boots, those cute sunglasses, that scarf, those gloves…I mean, doesn't that already look too much?
When it comes to accessorizing, less is more! Why not just wear a watch, those studs and bring along that bag?
Sounds effortlessly chic; and you can be sure that such a look would be as gorgeous!
Don't wear so many accessories and depending on how bulky your outfit is, go for accessories that will only add a slight touch of finish but not add unnecessary complexity to it!
At times, we just need those small studs while we need those loop earrings at other times. So be keen on finding a balance!
2.Be keen on the color of your fashion accessory.
The colors in an outfit one has on will tend to dictate what accessories one will use.
For instance: If I wore a black and white ensemble, I could use black, white, silver or any bold colored accessories.
And if I wore any bold colored outfit, then I'll have to wear an accessory whose color corresponds to one of the colors in my look or a neutral-colored accessory.
Basically, consider color matching or color blocking.
How?
Embrace neutral color of accessories for that minimal effort during dressing up. Call them blacks and whites which can easily finish up any look in any color.
Consider metallics. Gold and silver can be so easy to work with. While gold goes with so much earthy hues, silver will go so well with blacks, whites and other bold colors.
Opt for bold colored fashion accessories once in a while. Name all the colors of the rainbow and have them for your accessories. But when dressing up, remember to go as effortless as possible. I mean, go for a monochromatic ensemble, or a one-color look, or multi-colored plain look and no much prints or even a printed look but use as little accessories as possible.
For instance: if I wear prints, then I'll finish up with one-color accessories while if I wear a plain look, I can wear a one-color accessory or have them multi-colored.
3. Play around with texture during pairing.
It's always so fun to wear softer pieces of accessory with edgier outfits while edgier accessories with softer outfits.
For instance: a white cotton dress with golden blings, or faux leather pants with pearl earrings.
With those three tips in mind, you can go ahead and style your accessories like you mean it.
But what are the fashion accessories you must have in your collection?
Please read through since if you try these insanely add-ons, you'll instantly look like a fashionista!
10 Must Have Fashion Accessories For Every Woman
1.A gorgeous bag.
Show me a woman who carries no bag and I'll show you a woman who has no favorites.
I mean, just as we are keen to look at men's shoes, the world is so keen to look at our bags.
A good bag will last as long and also give you that sharp, organized aura. And I'm certain that it's what we all want ladies, right?
2. An over-sized watch.
Ever want people to take you for having this timely yet expensive personality? Then all you might need is a gorgeous watch!
One that is not only an arm candy but can work as a statement accessory for your look.
While not all women will appreciate the need for jewelry, almost everyone will appreciate having a watch, right? So what are you waiting for?
Read Also: Why You Need To Get a Golden Rolex Watch
3. A pair of sunglasses.
Are you the shy type? Who wants to get away from the world?
Then buy a nice pair of sunglasses which will also protect your eyes from harsh sun rays keeping them fresher and younger.
4. A nice hat.
Having a good hat will protect your face from harsh UVA and UVB sun rays thus an added advantage to having a hat for an accessory in order to furnish your look.
I love big floppy hats which are so dramatic but frankly, smaller hats that you can take to the streets each time are as awesome.
5. A great belt.
A great belt can actually be worn with pretty much everything.
They are all so simple but add such a sophisticated touch to your look.
At times, we just want a great leather belt to pull any look together. Or a tummy belt to cinch a pretty waist, right?
Then it's not too late to actually get one that you can rock effortlessly.
6. A warm, light, and pretty scarf.
While scarves are so good for the cold weather, they can also be worn when it's worn.
How? A scarf can be worn as a tie, a waist tie, a bandana, or a head wrap. Now tell me if you still don't need one pretty scarf?
You May Also Like: How To Wear A Scarf Elegantly
7. A great necklace, statement, or thin.
If you love your neck or your great shoulders, then you're always showing them off, right?
Then there is no better way of showing them off than actually wearing a great necklace around your neck that will totally drive all eyes on you!
As well, you can always ornate your stand-up collared outfits with a great necklace for a nice finish.
8. A pair of earrings.
I absolutely love a good pair of earrings that definitely do a lot to ornate my face. And if you particularly love gemstones, be sure to pick earrings made in beautiful natural stones. A good example is the aquamarine gemstone.
From loop earrings to studs, have them, lady. Thus, depending on your look for the day and the occasion you are dressing up for, you can get the right earrings for you.
For example: while studs will be good for a day at work, loop earrings would be great for an afternoon lunch with friends and the chunky silver jewellery from Silver By Mail will look perfect on the dance floor no matter whether you go for earrings, a bracelet, anklets, or a chunky silver necklace.
9. A quality pair of tights.
A good quality pair of tights can add a touch of glamour to your legs especially when cold.
When picking your tights, go for a color that blends in with your skin tone and also looks expensive.
Also, always remember to wear your tights with closed shoes so that your seam never shows.
For example: if you're lighter in skin complexion, get a nude pair of tights.
You can also pick a black pair of tights and ensure you wear it with black shoes so that the colors look seamless.
10. A great pair of shoes, both heeled and flat shoes.
Give her woman the right shoe and watch her trample the world!
Well, with a pretty stiletto pair, heeled sandals, sneakers or flat sandals and boots, you'll be good to go.
Frankly, even if you are not a shoe addict, you'll need these five pairs which can perfectly transition through all occasions.
Read Also: 5 Types of Shoes Every Woman Must Have
Well, there you have it! Now you can go ahead and start your own accessory collection that will prove very helpful as you dress up each time.
Source: @Atusa_Xox
What fashion accessories are your must-haves from the list? And how do you shop for them right?
Please let me know your thoughts in the comments below…
Hugs!
Dalene.