Denim jeans have become the de-facto standard for women's pants. With so many styles to wear, every woman has a denim option. But ripped jeans are quite tricky to wear, that's why some women are skeptical about them.
Worry not though, in this article, we teach you our favorite tips to style ripped jeans and look so elegant!
We turned to the experts— bloggers, influencers, and street style queens—to get some major ripped jean outfit inspiration. You'll be stunned!
If you thought that ripped jeans should only be worn while lounging around the house, you'll think again because it's possible to make ripped jeans look super chic and approved for street style and even Fridays at work.
You May Also Like: Stylish Ideas On How To Wear Jeans On Date
What Are Considered Ripped Jeans?
Ripped jeans are denim jeans, usually with tears or rips, often on the knees but they can possibly be in other locations on the pant, where the skin peeps out.
Most women prefer knee-ripped jeans as there is less of a torn part and a ripped effect. Other preferred ripped jeans are shredded from the thighs to below knees so the tiny shreds look as if scratched off or torn naturally.
How to Style Ripped Jeans & Look So Elegant
Also known as distressed jeans, destroyed jeans, or torn jeans, ripped jeans are fashion statements. They give off such a casual vibe hence a good way to either dress up or down accordingly.
However, if dressing down for such a casual event as a brunch or shopping, elevate your look with a beautiful top so it looks like you put effort into your dressing.
So, ladies, if you're going to wear ripped jeans, try to look a little more put-together! Here are a few tips to keep in mind always:
Always play with proportions. That is, pair slim fit ripped jeans with an oversized top or coat to create a cute balance. You can also mix a cropped or well-fitted top with baggy ripped jeans like wide legs or mom jeans for an effortless take on a classic combination.
Don't wear too many baggy pieces at once. Ripped jeans add a casual-cool element to any ensemble, but too many loose, baggy or large pieces can make your look appear sloppy and lazy.
You want to keep only one or two components of your look oversized when styling your jeans and make sure to balance the look with other slim-fit favorites.
Avoid wearing super ripped jeans with a super ripped-up top because if you combine too many ripped elements, you'll not look so presentable. When styling your ripped jeans, just one piece should be 'tattered'.
Add a feminine flair by accessorizing your look, showing off some skin, wearing sultry fabrics like ribbed sweaters or choosing colored pairs. Such enhance your look so it's not just boring.
You May Also Like: Dress More Feminine- 10 Ways To Look More Lady-Like
Below, you'll find different ripped jeans outfit ideas to try.
Next time you're trying to figure out what exactly to pair with your ripped jeans, take a gander at this list for some inspiration. You're sure to find an outfit that appeals to you and gives you the perfect idea for your next ensemble.
1. Dress up with a Stylish Structured Blazer
This combination of a structured blazer and a pair of knee-ripped jeans combines comfort and practicality and helps you keep it nice and current.
The whole ensemble comes together perfectly if you complement this outfit with white open-toe leather heeled sandals or stilettos.
You May Also Like: How to Wear Open Shoes on a Date
Show off your styling sensibilities by opting for this combination of a black blazer and a pair of ripped flared jeans. A pair of pointed-toe stilettos look wonderful rounding off your outfit.
This stylish combo of a white blazer and navy blue ripped jeans comes to the rescue when you need to look classy in a flash.
To give your overall look a more sophisticated finish, introduce a pair of white leather heeled sandals to the mix. You're ready for any special occasion!
Master the casual chic look by wearing a navy blazer and blue wash distressed jeans. A pair of black leather loafers acts as the glue that ties your ensemble together.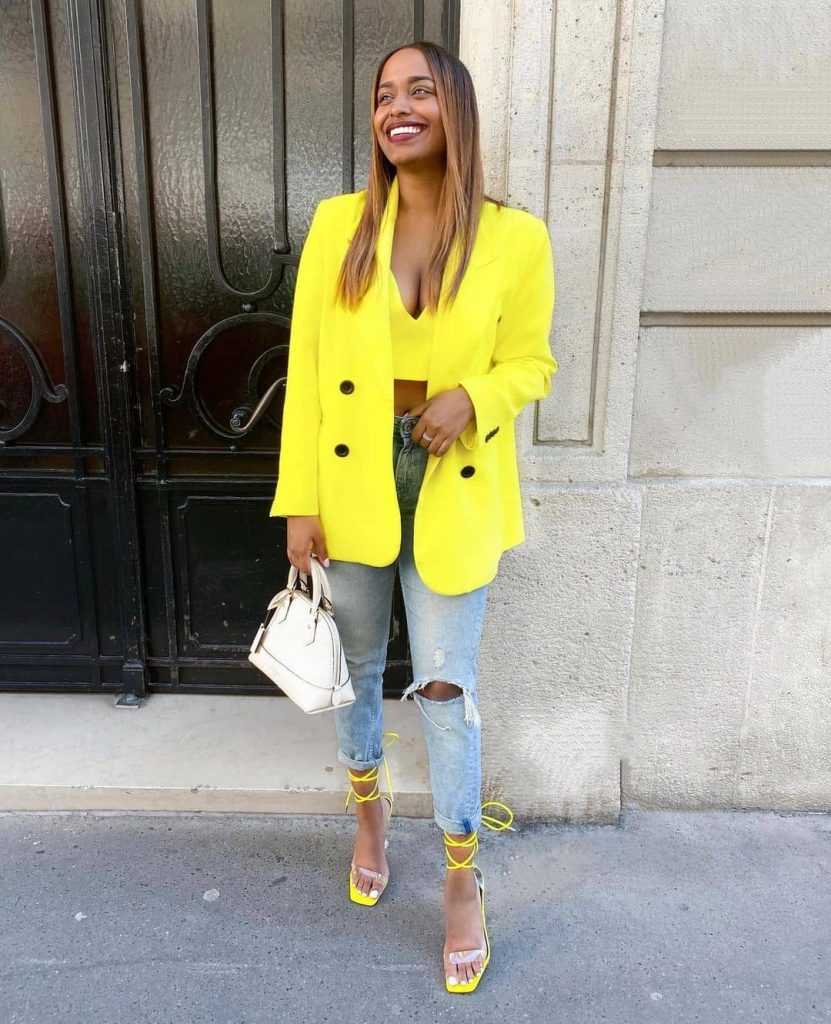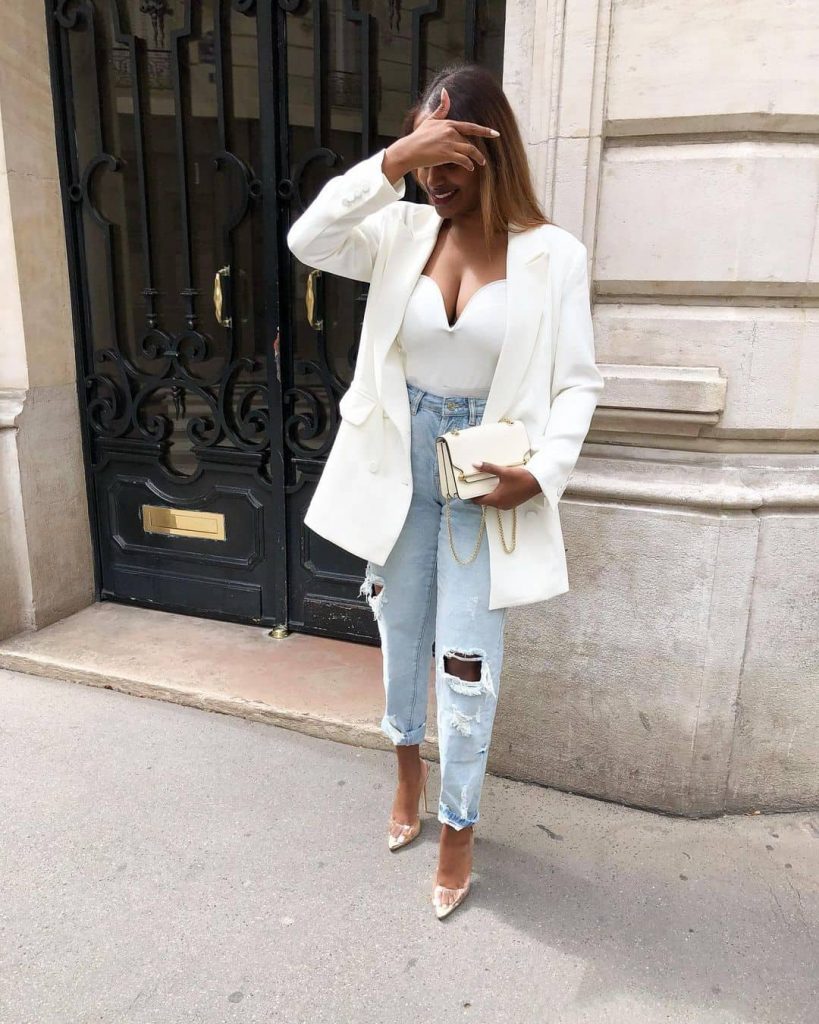 Flaunt your sartorial savvy by opting for the combo of a brightly-colored oversized blazer and blue ripped jeans. All you need now is a pair of square toe heels or plastic pumps.
You May Also Like: How To Style The Oversized Blazer In Your Closet
2. Wear Flared Jeans with Fitted Tops & Chic Layers
The versatility of a blue pair of ripped flared jeans guarantees you'll always have them on regular rotation in your wardrobe.
Wear them with fitted tops for a good balance, preferably a bralette, crop top, nice-fitting top, blouse, or shirt for an effortless ensemble, and layer atop your favorite coat, blazer, or cardigan.
A pair of black stilettos, boots, or plastic pumps or mules are a nice option to round off this outfit. However, you can always wear white sneakers for a laid-back look.
You May Also Like: How To Style Wide-Leg Pants Like A Pro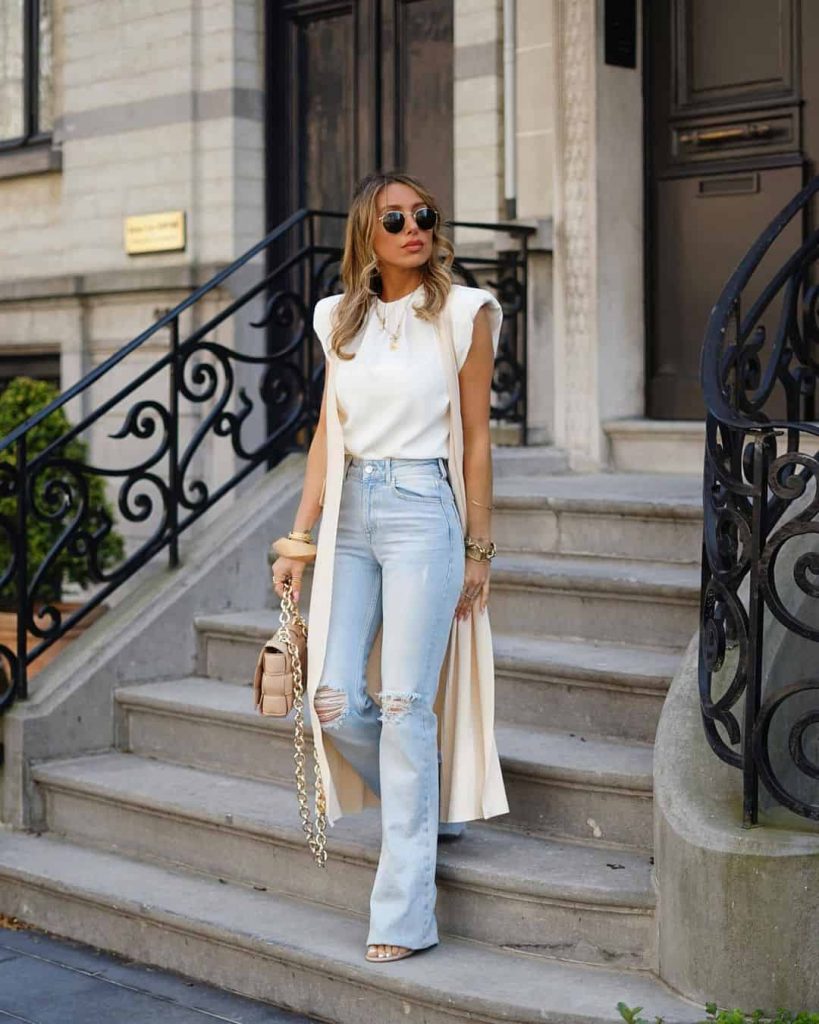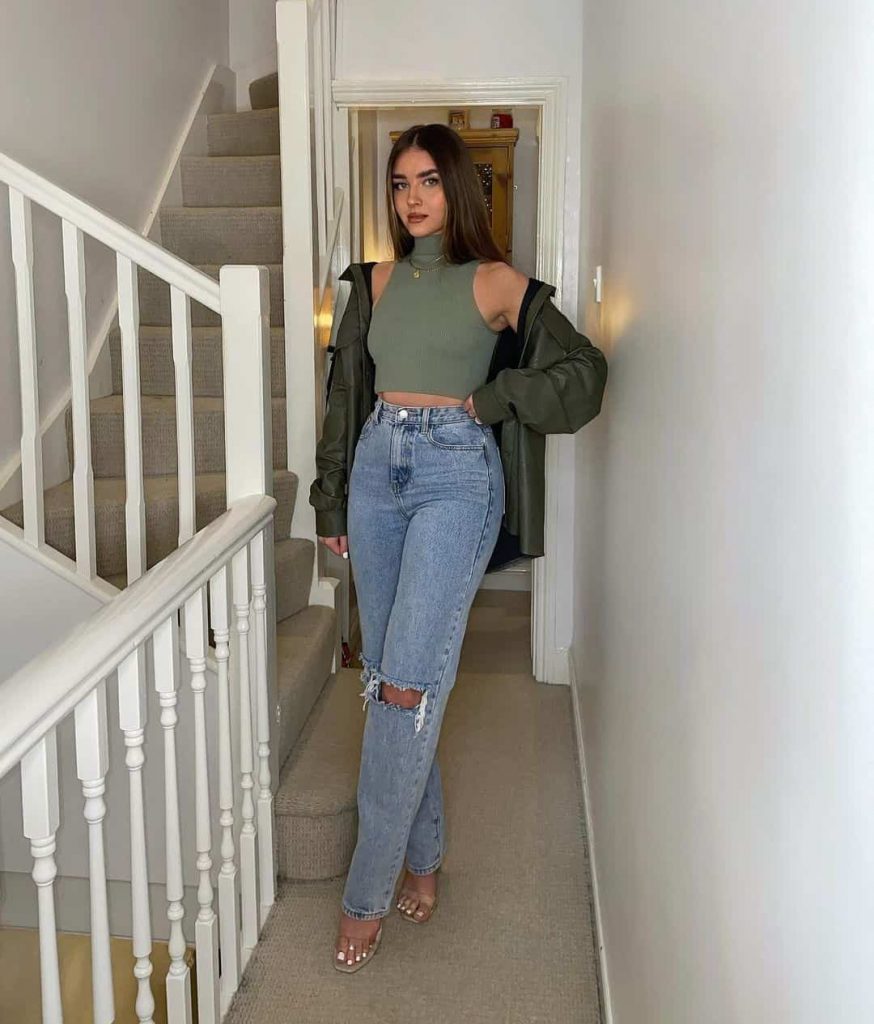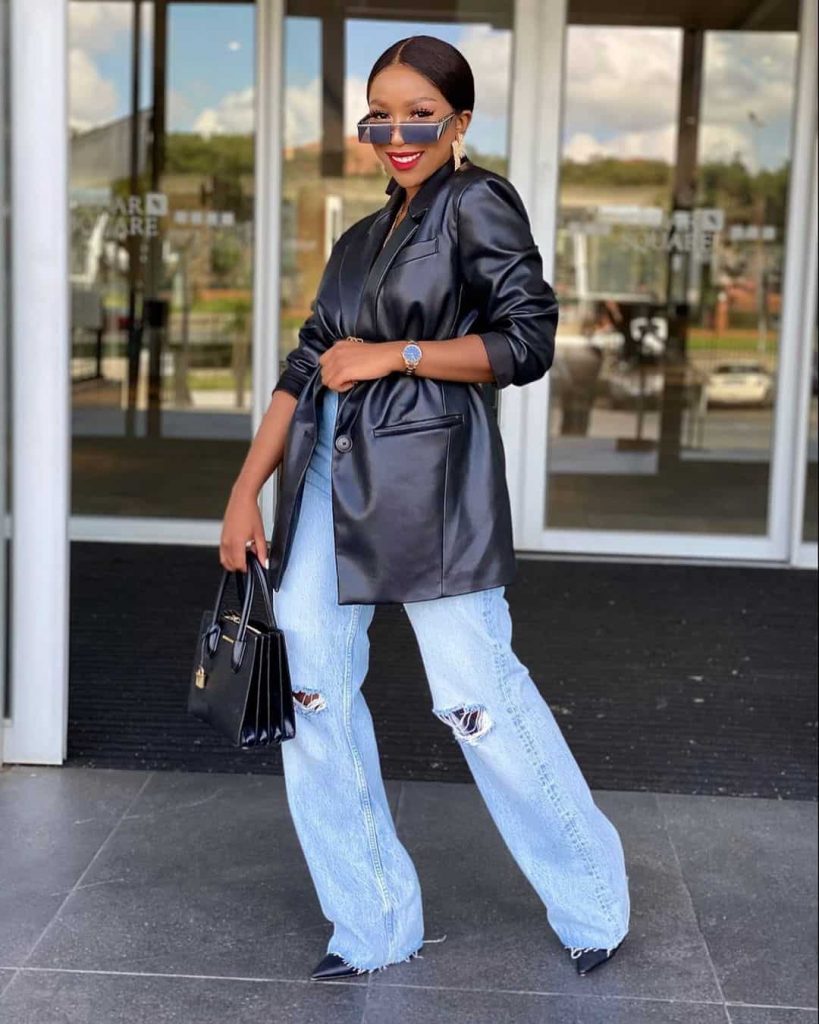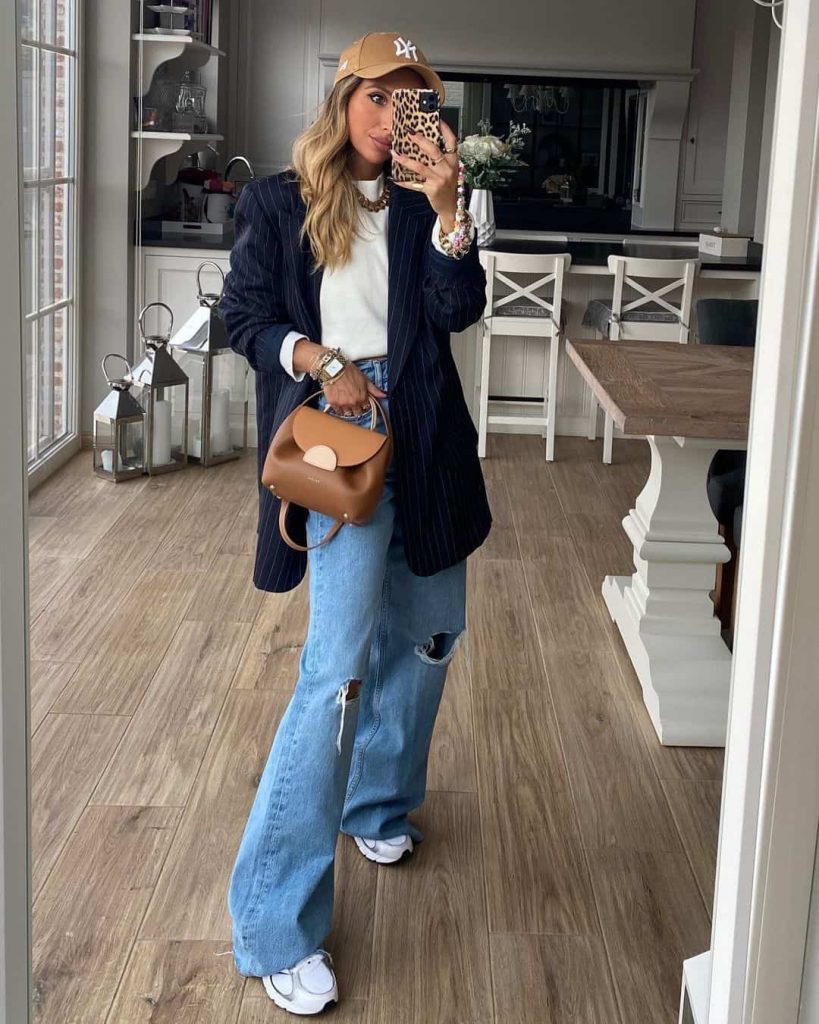 3. Go For Cropped Ripped Jeans
The perfect foundation for a knockout casual ensemble? A cropped top with cropped knee-ripped jeans. If you wish to effortlessly polish up this getup with one piece, why not throw in a chic handbag and open toes or chic pumps?
You're ready for any summer date!
You May Also Like: Casual Date Outfits To Slay Your Summer Dates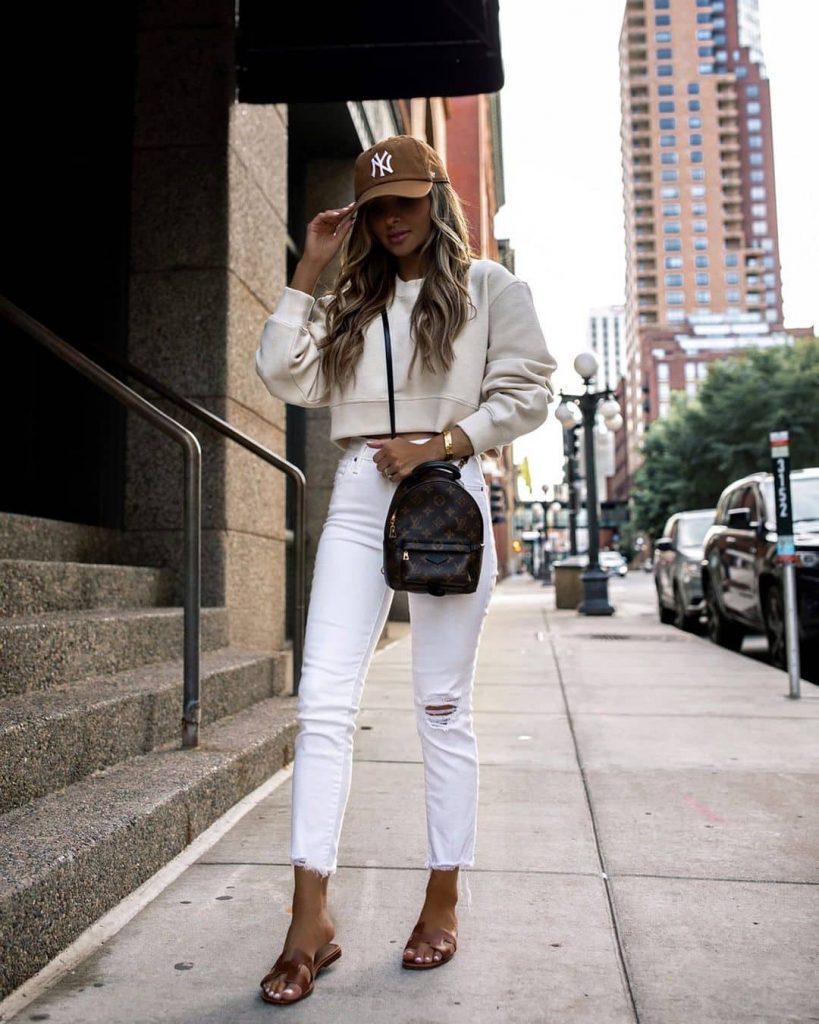 4. Pair Skinny Ripped Jeans with a White Oversized Shirt
A white oversized shirt is a great way to style ripped jeans and look so elegant, especially when you finish the look with a pair of classy heels.
The secret is to balance the look by doing a half-front tuck to define your waist or show off some skin the one-shoulder way.
You May Also Like: Stylish Ways To Wear An Oversized White Shirt
5. Rock Skinny Ripped Jeans with a Chunky Sweater
This getup with a chunky sweater and ripped jeans, whether skinny or mom jeans isn't a hard one to score and leaves room for more experimentation.
Dial up this getup by finishing off with a pair of beige or white stilettos and a classic handbag.
Style Tip…
When it comes to wearing a chunky or oversized sweater, a good rule of thumb is to keep the bottom half of you looking more tailored or skinny.
It keeps your look balanced and gives you that effortlessly chic look. Ripped jeans that are flattering and well-fitting also give shape to the legs.
6. Pair with Prints
For an ensemble that offers function and chicness, dress your jeans with a printed top, whether floral or tribal. To make this ensemble look all-too-polished, dress it up by finishing with a pair of open-toe sandals or stilettos.
So if you're on the lookout for an ensemble that's stylish but also feels totally spring-friendly, you found it.
You May Also Like: How To Wear Animal Prints & Look Put-Together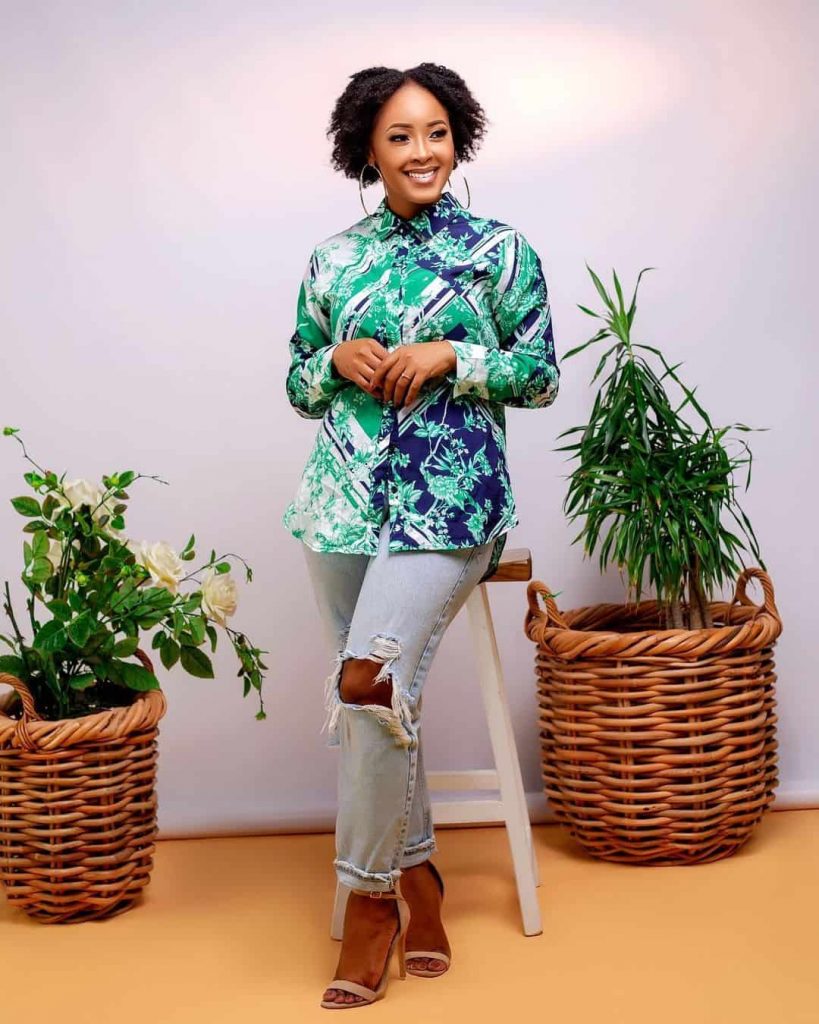 7. Pair with a Shirtdress
This combo of a shirtdress and ripped jeans is the perfect way to inject some polish into your casual styling rotation. Feeling dressier today? Polish off this getup by rocking a pair of open sandals or sequined stilettos.
As you can guess, this is also a cool choice for dressier occasions.
Style Tip…
When it comes to ripped jeans, the rule of thumb is to make sure the rip/hole is not wider than the leg underneath as this will push your limbs out of the hole whenever you bend.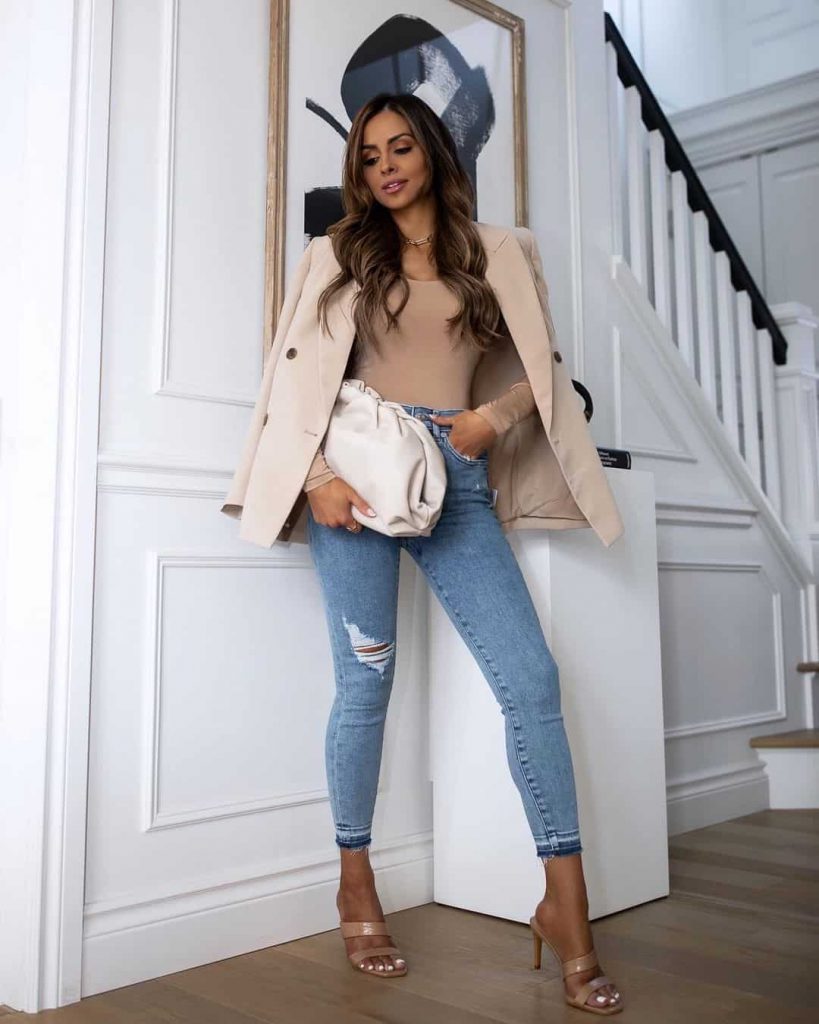 To keep a ripped jeans outfit chic, don't go for more than two and a half rips, or one large rip as going over can be distracting.
It's also not a good look to have hairy legs trying to clamber out of their denim rips so please shave your legs well.
You May Also Like: How To Wear Your Summer Dresses For Every Season, Year-Round
These stylish ideas for ripped jeans are inspired by Mia Mia Mine, The Style Pantry, Babalwa Bubbles Ndiwana, Wabosha Maxine, Prissy Savvy, Jennybvby, Sasa by Lopez, LillyLiz , Chlocraig, and Nena Evans.