This article features style ideas from Cemre Fe. Find inspiration on how to show skin effortlessly as she does. Glam Up!
Girls! We're so done with looking all sexy even when we're not in the bedroom. An elegant woman looks effortless wherever she goes and in whatever she chooses to wear.
So, let's help you look effortless too- even when you wanna show some more skin!
Rules…
1: Flatter Just Your Best Part and Get Covered Everywhere Else
 A rule for us elegant women is that we only flatter our best parts, and get covered elsewhere. To note, we only flatter just one best part.
For instance, if you love your cleavage, wear a V-neck top and instead of also showing off your legs, pair it with your skinny jeans. Essentially, this tones down the sex appeal from the top and lets you feel comfortable that you can bring this look to the streets without attracting all sorts of attention.
If you love the calves of your legs, you can also wear your miniskirt but top it up with a turtleneck top that provides full coverage.
You May Also Like: How To Rock your Minis and Look Chic
 2: Show Off Only Good Skin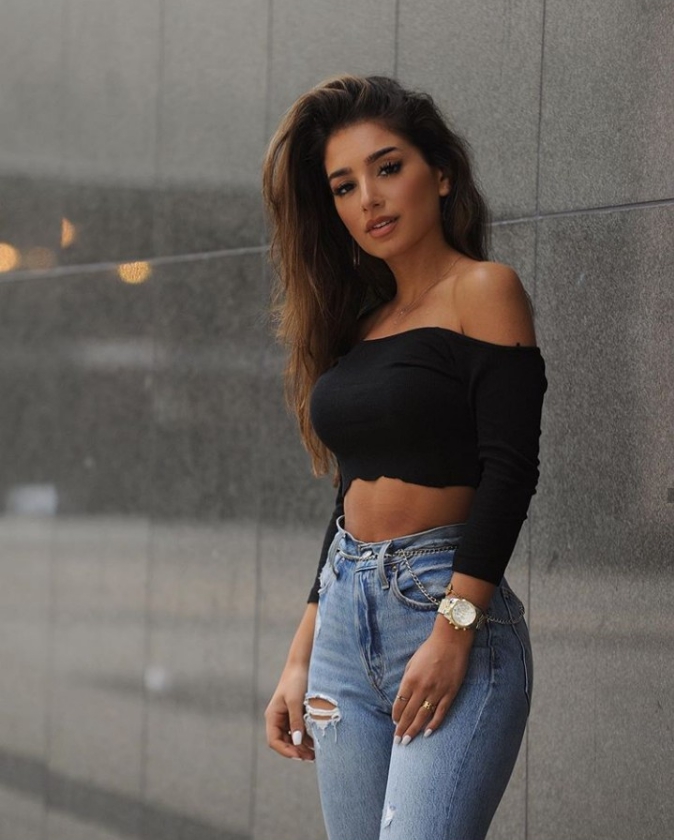 Elegant ladies like you and I groom well. We take care of our skin!
So, if you want to show off your skin effortlessly, butter it up with body lotion for it to look glossy. You will feel so confident if your skin is worth looking at.
If you have cellulite on your hips yet you want to rock a mini, try dry brushing for a couple of weeks to reduce this before you can rock your mini.
And if you have stretch marks around your waistline yet you want to wear your crop top, try scarring creams like Bio-Oil or any other prescribed products to reduce the stretch marks.
Trust us, you can hardly feel confident when your skin is not appealing to you too. So first, love your skin before you can show it off.
3: Summer Wardrobe!
 The easiest way to show off skin effortlessly is by wearing your summer outfits.
Summer is about wearing light and airy outfits for much comfort when it's so hot. We love rocking summer dresses and denim shorts to the streets, and you can too!
So, if you feel a little run down and you want to show off more skin, try your summer wardrobe!
You May Also Like: The Only 3 Types of Dresses Every Woman Needs- Including Summer Dresses
 

Remember…
 Tone Down The Sex Appeal
If you have to look great as you show off skin, it's all about toning down the sex appeal. Crop tops, minis, V-necks, bare-backs and the like are all sexy pieces for women.
And we want to wear them now and then. However, some people find it inappropriate at times. For instance, some still have an issue with a gorgeous lady wearing her minis for a street look, especially during the day.
And we do not advocate for looking skimpy because we are all for elegance!
Meaning, you can actually wear these 'extra' cute clothes without coming out as 'too much'. You can rock them effortlessly without attracting the negative energy and 'luring' eyes.
You May Also Like: How to Always Look Put-Together
So, we share tips on how to show skin effortlessly and not look trashy! Ride along…
Style Ideas to Show Off Skin Effortlessly
 1. Pair Your Pants
The easiest way to show off your upper body is by pairing whatever top you have in mind with long pants. Pair your beautiful pants with any 'sexy' top you have: V-neck, strapless, off-shoulder, ruffled or even turtleneck.
A beautiful pair of pants flatter your lower body and honestly, every woman should have a good pair of pants that make her fall more in love with her lower body. It could be skinny pants or wide legs for your body shape.
You May Also Like:
How To Rock Wide Leg Pants like a Style Pro
How to Level Up your Look in Denim Jeans
2. Knee-Ripped Jeans? Yes, Please
Knee-ripped jeans took the fashion arena by storm and we all love them, right?
No matter your age, you can actually wear the knee-ripped jeans effortlessly. They can be paired by every kind of top and allow you to show off skin in the most modest of manners- around the knees.
For the lady who is not so comfortable with showing off much skin, knee-ripped jeans should be your go-to!
You May Also Like: Stylish Ideas On How To Wear Jeans On Date
3. Rock A Miniskirt The Chic Way
Minis are indeed sexy and we see many ladies looking so terrible in miniskirts.
I've had to witness some ladies being verbally abused because of looking 'all-too-sexy' in minis at the wrong time and place. While I felt so bad for them, I will have to agree that they were calling for the negative energy.
Especially in some societies, rocking minis is still a taboo. So surely, if you cannot wear one really modestly, better keep it.
Here is an article I shared on how to rock minis the chic and modest way, without looking trashy.
4. Just Go For A Short
Shorts are such cute fashion pieces and we find them more modest than minis skirts and mini dresses. For ladies who love showing off their legs like me, shorts are a must-have!
Again, remember to cover up your upper body to just tone down the sexiness of the shorts.
You May Also Like: Cute Shorts Outfits To Show Some Leg & Still Look Stylish
5. Layer Atop!
Layering is such a hack! Throwing atop a coat over your dress, a long blazer over your shorts, or a kimono over your mini skirt is actually, one of the best ways you can show off skin effortlessly, without looking trashy!
You May Also Like: How to Layer Clothes like a Pro
6. Go Oversized
Oversized fashion is going nowhere! And when it comes to shorter outfits, it's much chicer to have them over-sized. Take an example of an over-sized sweater dress. In fact, you can belt if up and look so gorgeous!
You May Also Like: How to Rock an Over-sized Blazer
7. Finish With Thigh High Boots
Ladies, if you still don't have a pair of thigh-high boots in your closet, you're missing out on a worthy fashion piece. And you need not have heeled boots since you can always rock flat thigh high boots effortlessly!
Thigh-high boots, over-the-knee boots or long boots are your favorite finish for shorter outfits. When worn with minis, they help make your look more modest to the point that you won't be showing off too much skin.
You May Also Like: How to Look Good in Slouchy Over-the-Knee Boots
8. Do A Crop Top
Crop tops came with a bang! However, not all ladies are confident enough to show off their tummy- and you don't have to girl!
But if your tummy is the best part, try rocking a crop top. To tone the look down, pair it with your beautiful pants.
You May Also Like: How To Wear A Bralette Publicly & Stylishly
9. Try A Tank Top
Tank tops help show off your beautiful arms or shoulders. They are some of the modest yet sexy pieces a woman can have. They can be worn to the streets especially when it's hot outside and no one will beat you for it.
TIP: You can also wear off-shoulder tops or strapless tops for a change of outfits.
10. Go Neutral
Neutral outfits help tone down the sexiness of any 'too-much' outfit. Instead of going so bold in a short red miniskirt, wear a white or black one.
You May Also Like: Tips of Rocking a Monochromatic Outfit
11. Just Be Casual
Wearing a casual look also helps to tone down a really sexy outfit. This is particularly important if you are bringing your look to the streets.
Avoid being too edgy unless you're going on a date and just keep it cool and laid back! In this case, wear your jeans or generally, your summer wardrobe!
You May Also Like: How to Dress up for a Date Elegantly like Victoria Fox
12. Go Formal!
If you need to look so edgy whilst showing off skin, try going formal! Get a short suit or just throw a blazer over your look to make it more business casual.
You May Also Like:10 Work Outfit Ideas You Should Try
How do you show skin effortlessly? How do you maintain your elegance while showing off a little bit of sexy?