When you're ready to cinch that waist and rock a slimmer waist, then statement belts are everything you need.
A statement belt is simply a belt that stands out and draws attention when worn, and it can be thick or thin, bold or detailed in order to look noteworthy.
Ideally, a statement belt should make someone notice your outfit if they walk past you on the street. Also, a statement belt pulls an outfit together, which matters if you dress for yourself or if you dress for others.
For instance, adding a statement belt to a monochromatic outfit not only stands out and adds interest to your look but also, turns around a basic and boring outfit.
So, even if people don't necessarily look at you, you won't feel naked without it a little oomph.
You May Also Like: How To Wear Monochromatic Outfits & Look Elegant
Let's then help you choose a statement belt that you can wear to accessorize your outfit:
How to Choose a Statement Belt
A belt is an essential accessory that every woman ought to have in her wardrobe. While belts are mostly used for holding pants up, women can wear belts in various other ways; statement belts are particularly versatile.
It is also important to note that belts, including those statement ones, can be worn in these positions:
On your high waist to define your waistline, or make a clothe look proportional and well-balanced,
On your natural waist to hold your pants up,
On your lower waist
Wearing a belt on your natural waist, lower or high waist helps to define that particular part of the body. It can be worn over a dress, chunky sweater, or trench coat.
When choosing a statement belt for your pants, first, consider the loops on your pants. A thicker belt should be used for wider loops and vice versa.
Also, pay attention to the following tips when choosing a statement belt:
Your body figure type: finding a belt that looks great on you will ensure you walk around looking so confident.
If you're petite, then a skinny belt is what you need to define your waist.
However, if you love wider belts, then the wider the belt, the more you want to match the belt with your dress. Wearing a belt that matches your top helps elongate your upper body.
For tall women, wider belts look most proportional on your beautiful tall frame.
If you're an hourglass shape, then any belt will accentuate your body shape. However, avoid wearing them lower to avoid making you look bottom-heavy. If wearing wider belts, try them on your natural waist or slightly above and thinner belts on your high waist unless you're tall.
The key is to emphasize your natural waist, which will emphasize your curves without digging into your hips or lower bust area.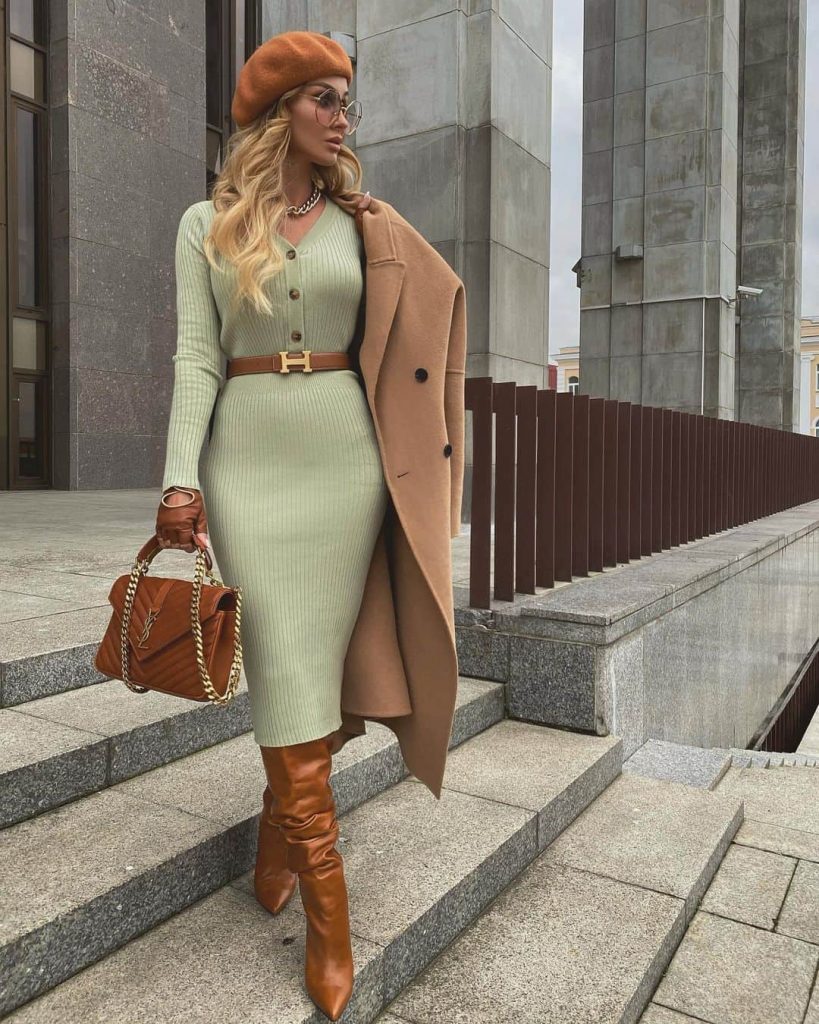 For pear-shaped women, your styling challenge is to make your waist look slimmer. Thus, try a belt on the waist to highlight your beautiful curves.
A contrasting color belt can perfectly highlight your feminine curves!
If you're apple-shaped and tend to gain weight in your mid-section, you need wide belts and wear them under your bust to create an illusion of a slender waist; simply skip belts around the hips.
For women with rectangular body shapes, you have a body type that is proportionally straight up and down and with no defined waist. A statement belt is your best asset to help create the illusion of a waistline.
You can wear a wider or thinner belt. The key is to use a slimmer belt if you have a shorter waistline or match your belt color to your top for wider belts; and if you have a long torso, feel free to use a wider belt for a stylish look.
Style Tip…
If you can fit two hands under your bust and over your belly button, you have a shorter waistline and a medium-wide belt will flatter you.
If you can fit three hands between your bust and your belly button, you have a longer waistline, and a wider belt like a wrap belt will be one of the best statement belts for you because it will create the illusion of a smaller waist.
You May Also Like: 10 Must-Have Fashion Accessories For Every Woman, Fashionista Or Not
How to Wear a Belt if you have a Belly or Larger Mid-section
Do you have a wider or larger mid-section and want to wear a belt? You're thinking right because wearing a belt helps create and define your waistline, even if undefined.
Wear a monochromatic outfit and pick a belt in a similar shade to that of your clothes.
You want to wear the belt in the middle of your mid-section because wearing it exactly below your bust might make you look like you're expectant (no offense to any amazing woman out there). Also, wearing it too low looks unappealing.
To add spice to your look and elevate it so you can look and feel confident, add a third piece; ideally, statement outerwear to wear over your top and bottom. Trench coats, jackets, and sweaters are fantastic to pull an outfit together! You will look flattering and super chic!
You May Also Like: How To Layer Clothes Like A Pro!
Style Tip…
Begin by inserting the tape measure through the belt loops of your trousers to determine your ideal belt size. When taking the measurement, it's vital to stand in a comfortable, natural position–don't force your belly button out or suck it in.
The measuring tape should be firmly in place. Round to the nearest inch when measuring in inches. Then, choose the belt size that comes closest to this figure.
The Best Statement Belts to Revamp your Wardrobe With
Statement belts are a great option to give yourself some shape and upgrade your outfit. Let me show you some of the best and most popular statement belts according to fashion enthusiasts:
1. The Gucci Belt
The 'GG' logo belt is probably one of the first belts that pioneered the timeless logo-belt trend.
This designer piece is popular for all the good reasons: its high quality and how the GG logo really puts an elegant touch on this belt are definitely worth the price!
While the belt has a high price point, you can always get a pre-owned version at a lower cost on Fashionphile.
You May Also Like: Fashion Enthusiast Mia Mine Mine's Guide To Buying A Gucci Belt
2. The Chanel Belt
While a Gucci belt is one of the best wardrobe investments you can make, so is a Chanel belt.
This chic belt is reversible and crafted of calfskin leather in black and white and features a Chanel CC silver buckle with smooth rounded edges.
3. The Hermes Belt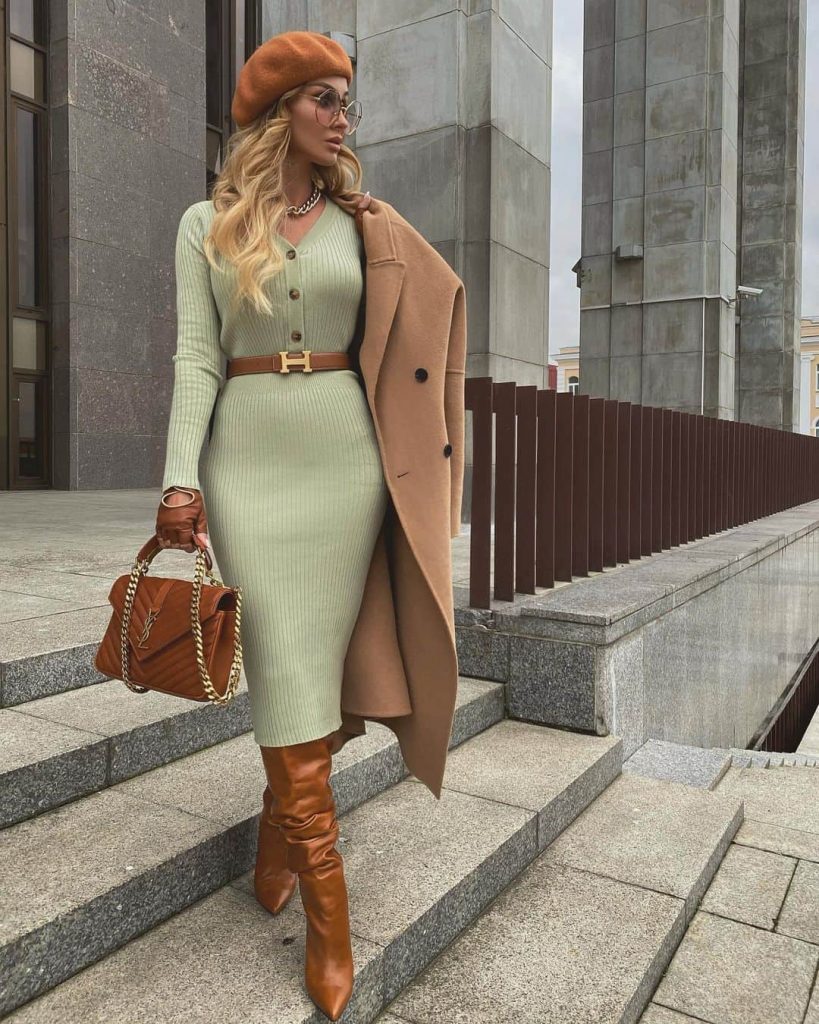 Every girl needs a basic black and brown belt that's understated and can be worn with not just denim but also, dresses and skirts. These black and brown Hermes belts will last forever in your wardrobe.
4. The Louis Vuitton Belt
This belt is adorned with a simple gold 'DG' logo buckle. That combined with the supple brown leather means you can wear it with just about anything.
5. The Isabel Marant Belt
A statement belt doesn't necessarily mean that it has a huge buckle. This piece from Isabel Marant features a knotted design that's already attention-grabbing on its own. The knot also gives the belt its adjustability.
6. The Valentino Logo Belt
The Valentino logo belt features a wider style, making it perfect for cinching in waists or adding a touch of glam to your flowy dress. It also comes in several beautiful shades to try!
How to Wear A Statement Belt To Accessorize Your Outfit
Statement belts come in a dizzying array of styles and have plenty of social media cred to back them up. Thus, a good belt is always a worthy investment.
Here are styling tips to wear a statement belt to accessorize your outfit:
Add Structure To A Flowy Dress
Whether you choose high-waisted belts, thin belts, or wide belts, statement belts always look great when used to accessorize dresses. We love wearing a statement belt with a loose dress for a stylish look!
Or A Chunky Oversized Sweater
Need a quick update to your sweater dress or oversized sweater? Then adding in a chic belt to your dress will give your look the update you're looking for.
Use it to add contrast or to balance out an oversize look—either way, this waist-defining accessory will serve your look well.
You May Also Like: Stylish Oversized Sweater Outfits To Inspire Your Fall Wardrobe
Add Interest to a Bodycon Dress
Give your favorite little bodycon dress extra visual interest with a classic black belt. Good thing, a black belt will always go with any type of dress or color that you wear.
You May Also Like: 3 Must-Have Dresses for Every Superwoman
Remember Your Skirts Too!
When wearing a skirt, go for a high-waisted version and it would be nice to tuck your top, blouse, or chunky sweater at the front for a stylish look. Finish with a statement belt!
While skinny belts are perfect for skirts, feel free to wear wider belts, ensuring they match the size of your skirt's loops. Remember to show off the buckle at the front!
Wear with a Coat
Belts are popular with coats when the temperatures start to drop.
A wide belt preferably can inject a ton of sophistication to your look, winter outfits especially look figure-flattering when you tie a wide waist belt over your jacket or coat.
Belting a coat at the waist can redefine your shape — which has been lost under multiple layers — and can visually break up what's typically a large, camel-colored expanse of wool.
A contrasting color for the belt would be perfect for this!
You May Also Like: 15+ Winter Outfit Ideas We Can't Get Enough Of
Wear your Statement Belt with your Jeans
A chain or classic leather belt is also perfect for denim jeans. A simple denim-jeans outfit can be turned to noteworthy easily with such a simple accessory.
You May Also Like: How to Level up Your Look in Denim Jeans
You can also, never go wrong with a statement Gucci or Chanel belt for holding your pants up.
Try a Chain Belt for Casual Outfits
Elevate casual or basic outfits by wearing a chain belt.
Whether you go for a denim-and-top look, a solid-color dress, a full-body tonal look, a jumpsuit, or a black and white outfit, a chain belt in gold or silver adds such an elegant and sophisticated touch to the look.
You May Also Like: How to Wear Black and White Outfits Stylishly
Go Monochrome
Try sticking to a one-tone look and match your outfit to your belt. This creates a subtle yet stylish look!
This is a perfect look for work and other formal occasions when you want that streamlined waistline in a silent statement.
Accentuate with a Metallic Belt
If you're looking to add one statement accent so your outfit doesn't look as if it is missing a vital element, then a metallic belt is what you need to make your outfit look instantly smarter.
It also adds texture to softer fabrics like knitwear, satin and cotton.
Style Tip…
Simply pick a contrasting color belt!
The easiest way to make a statement with a thin belt is by picking a belt in a contrasting color. There is no doubt a belt works best when it stands on its own, drawing attention to the waist it cinches so well.
Go Vacation-Mode in a Rope Belt
Laidback yet impossibly stylish, a braided belt exudes vacation casual. Wear yours with everything from jeans and a chunky sweater to a floaty sundress while on a vacation.
You May Also Like: Elegant Safari Vacation Outfits – A Look into Luisa Spagnoli's S-S 2020 Collection
Glam up in a Longer Belt
Long belts are trending, and they absolutely make a statement! Good thing, with so many ways to play with a longer belt.
You can wear the belt normally and let the extra length hang out, or you can take the tail end and loop it across the belt buckle and tuck it behind the belt, giving the remaining length a little less room to flop around.
Match your Belt to your Shoes
There's nothing wrong with matching your belt and shoes, but it's not really necessary. Matching gives you a polished and put-together appearance, but it's also a conservative look, perfect for more formal occasions.
This subtle way ties your whole look together but if you want to go for a more relaxed and playful look, mismatching is the way to go.
Match Your Hardware
A cool styling tip is to match the hardware on your belt with the rest of your accessories. Coordinate the color of your jewelry, buttons, belt buckle, and bag chains creates the most vibrant look, especially if they are metallic.
This quick hack can easily upgrade a casual outfit to edgy!
Rock a Belt Bag
Belts that double as bags always make a statement! Pick one with a luxe fabric like leather or try a beautifully-printed belt bag to break up the neutral colors in your outfit.
You May Also Like: How To Hold Your Handbag Like A Lady With Class
Add Detail to your Formal Look
While most formal looks are elegant, they tend to look quite basic unless designed with such a beautiful and interesting silhouette. Add a belt to inject a touch of interest to your formal look.
However, keep it subtle; and in color, match it to your outfit. If your belt has buckles, be sure to match it to your other accessories, and remember to always stay minimal. You'll look great, darling!
Belt Your Sweaters
One easy way to way to give your sweaters some definition is to wrap them off with a stand-out belt. This also gives a really nice shape and great balance to the look. Feel free to throw another layer like a coat atop.
You May Also Like: How to Look Classy in Fall
Indeed, statement belts are an easy way to revamp any outfit all year round. They can make your outfit pop in any season, and with the '90s era having a comeback, people are looking to create more of an impact with their accessories.
Do you also love belts? How do you wear your statement belts?
*Disclaimer: These tips to wear a statement belt are inspired by Mia Mia Mine, Macy Stucke, Rita Tesla, Victoria Fox, Fashioned Chic Styling, Lolario Style, and Donna Anastacia Official. Follow them on Instagram for style inspiration.