We love summer because it is always time for vibrancy! Whether it is rocking floral summer dresses or denim shorts. And when the colder months kick in, we inject more pieces in wine red and camel to bring more life into our fall looks.
Basically, the color wheel spins throughout the year.
But at times, we get tired of pairing and matching colors for a complete outfit. Here is where blacks step in!
Black is a timeless color that won't clash and won't disappoint. It can be worn to literally every place, work or streets with less effort. But when it comes to an all-black look to feel a little cooler, here are some tips to slay your looks in blacks as we consider Shanda Rogers' style!
Shanda Rogers is a fashionista and model with a confident wardrobe and how she slays her black looks is really admirable.
Follow Shanda Rogers on Instagram
Pick Quality
While black is literally everyone's must-have color, it is so easy to mess up a look in black. If your fabric is cheap-looking, so rusted and of poor quality, forget about it! Black really gives you away!
If you have to wear black, pick good quality clothes!
You May Also Like: How to Spot Fake Clothes
That's just why you should invest in a black outfit than you normally would in a brighter colored outfit.
With a good quality black outfit, you'll steal the show like Shanda Rogers!
Some of the amazing pieces to pick in black include:
1. A Leather Jacket
A black leather jacket is not only a menswear classic but also fits the woman's wardrobe. It can be dressed up or down easily and many ladies use the classic piece to finish off any look with an inch of sophistication.
When worn with the all-black look, it's even better!
You May Also Like: How to Layer Clothes like a Pro
2. A pair of denim pants
While blue-wash denim pants can easily be found in any woman's wardrobe, adding a pair of black denim pants increases your wardrobe choices since you'll have more pants choices to switch in between as you dress.
It is arguably easy to pair and easily contrasts amazing fabrics like cashmere and fur. Try a black fur coat layered above a cashmere top, and combine with black jeans and booties. Terrific combo!
You May Also Like:
How to Rock Denim Jeans like a Pro
How to Level up your Look in Jeans
3. A long coat
A black coat is one of the most versatile outerwear pieces you can ever have. However, you should be keener when purchasing a black coat because you don't want to come out as a mechanic or an undertaker.
You want to invest in your long black coat ensuring it is made of quality fabric, has a little structure and bears a soft silhouette- you want something that looks effortless and not uptight as you wear it. This winter essential would be a good throw-on over your tops or dresses.
You May Also Like: How to Pick a Beautiful yet Functional Winter Coat
4. A blazer
If you need to turn a casual look into business casual real quick, then a black blazer is all you need! Get a structured blazer for more formal meetings and an unstructured, oversized blazer for less formal looks.
You May Also Like: Tips to Rock an Over-sized Blazer like a Boss
5. Work pants
Black work pants are every woman's must-have!
They can be worn to the office comfortably, dressed down with a top for a casual look or finished with sneakers for a quick street look. You will have no hassle when it comes to dressing it up or down.
And just to spice up your office wardrobe, pick a variety of styles for your black work pants-flared, wide legs or cigarette pants for fun mixing and matching.
6. A Pencil Skirt
A slim-fitting pencil skirt is an edgier piece that is an absolute must-have piece. With its versatility, it can comfortably cover multiple needs. You can wear it all day long and relax it for a night look by trying out different combinations, take it to work or hit the streets too!
Quick Hack: If you go short, go loose. To avoid looking like a clubbing addict, pick a loose skirt if it is mini.
7. A Black Suit
There is just something cool about a well-tailored black suit that navy or dark grey can never replicate. It oozes class and sophistication especially when it fits you so well and is of really good fabric.
If you're a lady who needs to buy a suit real quick, black would be a good choice.
8. A Dress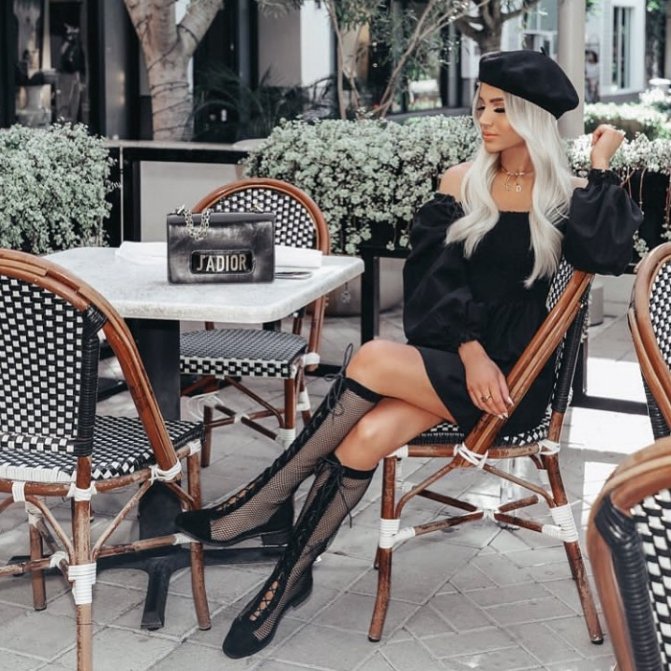 There was a time in fashion when the little black dress won the moment. Not that it is no longer a thing; just that you now have more options to pick from.
However, we suggest not missing a long black dress that is sophisticated enough yet has this relaxed side. It would be a good pick if you need to transition between day to night looks.
You May Also Like: The Only 3 Types of Dresses Every Woman Needs
9. A Black Top
Always have a black top on standby; you can pair it with anything! A black top or blouse can be paired with a suit, skirt or well-fitting trousers.
10. Black Booties
Every woman should own a pair of black booties- leather or velvet! They literally fit the bill for every occasion.
You can pick heeled or flat booties and walk your way throughout the whole year.
Quick Tip: Avoid shiny patent leather booties unless you're in a sharp outfit.
11. A Belt
A proper belt is no longer a preserve of guys in suits. A black belt breaks a monochromatic look, pulls together an outfit and adds contrast to an all-black look. No wonder the black leather Gucci belt is not going anywhere in the fashion arena.
Adding a metallic belt is a chic touch that pops on an all-black background while adding extra slimming power to an already flattering black dress.
12. A Good Hat
A black beret hat literally completes any look with a dash of Parisian vibes. You want to get one girl! But if you need something more formal, then a black fedora or baker boy will do. Black floppy hats are a thing too. Your choice!
13. A Good Bag
Even if you have no plans of adding more bags to your wardrobe, a black bag cannot be missed! A good black bag can be worn daily while standing up to wear and tear with no much thought. Though a color pop adds interest to an eclipsed look, you need this staple!
Quick Hack…
To refresh the typical monochromatic partnership, all you need to do is embrace new styles. Instead of always choosing standard black cigarette pants, why not opt for a pair with a kick flare?
Now, let's get back to rocking an all-black look!
A Dash of Texture
There is nothing such as different shades of black. When it comes to wearing an all-black look, it is about pairing contrasting fabrics which subtly breaks up a look while adding a dash of texture.
Thus, when wearing blacks, try to mix up textures just to add fun. If you're used to wearing all-black-cotton outfits, it is time to consider other fabrics or materials like leather and fur which look more polished too.
Look to mix corduroy with wool, leather jackets with denim and cashmere with cotton. This will inject life into what you're wearing and prevent your look from seeming too flat and basic. Nobody wants to wear a black cotton shirt paired with a pair of black cotton trousers. That's too waiter-ish.
Get the details right
Once again, we emphasize getting the right details to add taste and flavor to your outfit. The right details will add a bit of drama and definitely make a statement. Play with proportions and subtle details of your clothes for a fun look.
An example would be going with an oversized coat in winter or a sheer top in the warmer months. A pair of distressed jeans would be perfect for a casual daytime date too!
Show a bit of skin
Many of us wait for the winter season in order to wear an all-black look when we are cocooned in layers of dark outfits.
All-black can be just as good when the temperatures aren't too low. To look good, show just a little bit of skin since this helps to break up the look and make your look more relaxed. An example would be wearing knee-ripped or distressed jeans with an off-shoulder top.
Go Casual and Fun
A casual all-black look counts to ensure you look more relaxed and fun in comparison to a formal all-black look. So, when in a rut, try a casual outfit. Think leather jacket layered over a black camisole paired with black jeans, and finished with vans.
Patterns and Prints? Yes Please!
You don't have to wear solid black pieces from head to toe. You can also wear prints and patterns to add visual interest to the outfit and make it more fun. In fact, polka dots are still a thing!
Skip the Dark Coat at Times
To refresh your all-black looks, try a little pop of color now and then. Skip the long dark coat and go for a brighter coat or oversized sweater to spice things up.
Try Lighter and Brighter Accessories
Need to lighten up the mood? Lighter and brighter accessories will add contrast to your look. The foolproof way to jazz up your all-black look is one that any woman can embrace, fashionista or not.
You can try lighter or brighter colored accessories like a red bag or a white hat. If not, go for metallic accessories in gold or silver.
You May Also Like: The Only 10 Accessories You Need, Nothing More!

Keep it classic
Anybody can wear a black ensemble and be comfortable but it takes a confident woman to make a statement. Choose ultra-classic pieces to elevate the look.
Quick Hack…
Minimalism is the mantra!
Minimalism largely applies in the elegant woman's wardrobe because less is definitely more! Rock fewer clothes and fewer accessories!
A simple look is what you'd want to go for if you have to slay your looks in black. Take an example of black leather pants paired with a black turtleneck top, and finished with a black fur coat and a pair of polished booties. DONE!
Quick Tip: Never OVERDRESS!
No matter your style preferences, we can all agree that black is classic, simple, versatile and its relevance is unparalleled.
Glam Up!