Summer dresses are so chic! So, take your style to the max this season by injecting a couple of stylish summer dresses into your wardrobe.
Add a delicate touch with lace, a chic and classy style that is perfect for any occasion, or go flowy and mini; your choice!
Remember that as you purchase your summer dresses for the season, pick fabrics that are breathable so you can chill out in the summer heat. They include cotton, chambray, rayon, and linen.
Avoid unfriendly fabrics for summers like polyester, corduroy, spandex, and nylon. Also, silk and satin because they are prone to show water spots, hence it would show the sweat stains and won't absorb the sweat even.
However, if you love satin or silk, wear it at a much cooler time, perhaps the night when your body is not busy sweating from the summer heat. Bring your silk or satin dresses to a beach vacay so you can rock them for your alfresco beach dinner.
You May Also Like: Hot on the street? These Are The 10 Best Fashion Buys for Summer
How To Wear Summer Dresses In Spring/Summer
Remember, a lot of summer dresses are flowy and feature a naturally relaxed fit that really helps beat the summer heat so you can be cool and comfortable all day!
However, it might be a challenge to wear your summer dress with a standard bra due to the relaxed and revealing style of many such summer dresses. You can go braless, or wear nipple covers but if you're bustier, bralettes are ideal.
You don't want visible bra straps or cups to ruin the vibe of your chic summer dress.
A simple bralette with a complimentary color to your dress is fine, and ensure it does not take attention away from your dress.
You May Also Like: A Beginner's Guide To The Different Kinds of Shapewear For Women
1. Wear White
White dresses are a summer staple! Whether you're heading off to a casual date, running errands or off to a cocktail party, you can always dress it up or down accordingly!
2. Or Pastels
You can never go wrong wearing pastels in the spring or summer. It is such a lovely way to embrace color! And yes, pastel colors represent a sophisticated summer style thanks to their light, soft colors. Think baby pink, lavender, mint green, or baby blue.
You can mix pastels with pastels for a really cute yet colorful statement. You can also work your pastels with neutrals for a more mature look.
3. Go Floral
Florals come around every spring. Bright florals in particular help usher us into the sunshine of the warmer months. While pairing florals can be tricky, a floral summer dress is the easiest way to go!
4. Lace is Chic!
If you are looking to achieve a subtle and elegant look, then lace dresses are perfect! So delicate and feminine, they will suit your summer styling!
You May Also Like: Dress More Feminine- 10 Ways To Look More Lady-Like
5. Polka Dots are Perfect!
You can literaly wear polka dots anywhere! Big or small polka dots will add such a fun vibe to your summer dress.
6. Try Maxi Dresses
Make a bold statement in a flowy maxi dress. Featuring a chic print chiffon material, whether florals, polka dot, or even animal print, team it with some strappy heels for a seriously chic combo.
7. Wear Sleevless Dress
With summer clothes, the goal is to allow as much airflow as possible. A good place to start is by wearing sleeveless sdresses if you do not prefer going fully strapless.
8. Off-Shoulder Rocks Too!
You can also consider off-shoulders for more airflow but with a chic vibe. Short-sleeves and puff-sleeve blouses might be other good options.
Styling Tip…
Keep your summer clothes flowy and stay away from tight clothing to help stay cool in the summer. Go for cropped, wide-leg pants, loose shirts, oversize blouses, and dresses and skirts with room to breathe.
9. Rock Your Heels
There are so many types of heels you can wear with your summer dress and look more expensive. We love strappy sandals or stilettos, btw. Mules are also a simpler alternative to pair with your floaty floral summer dress.
10. Finish with Flat Sandals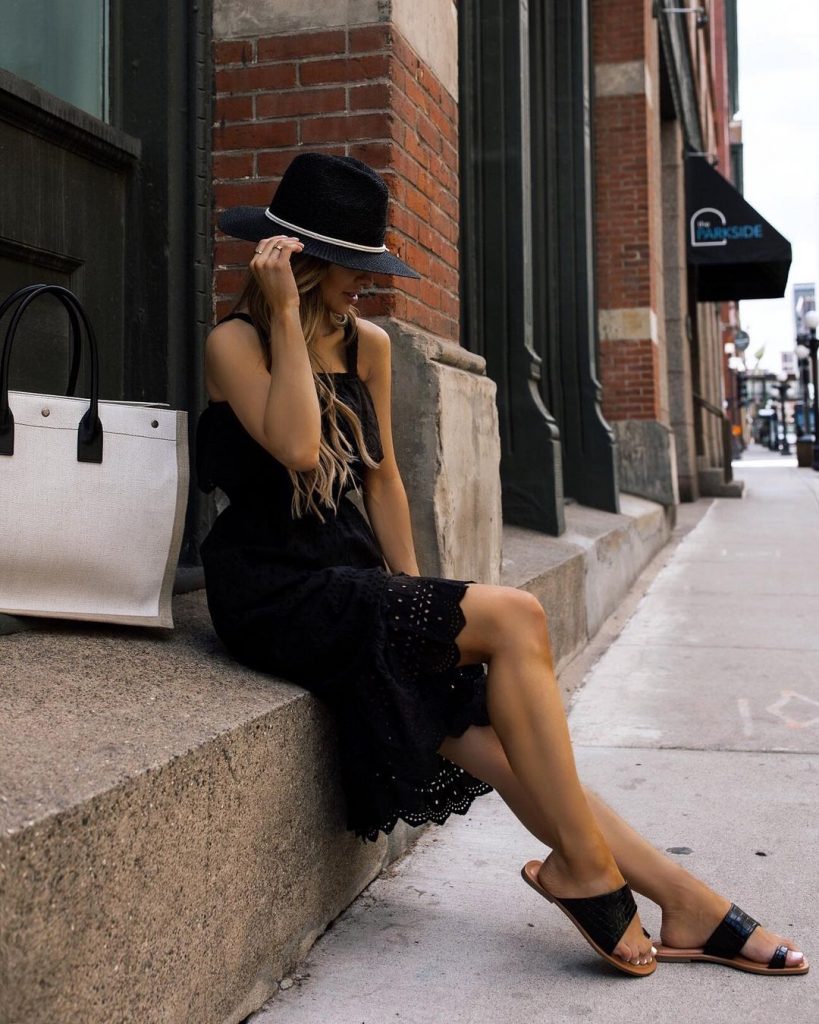 Dress up your look by opting for strappy sandals, which still let your toes breathe. These are much better than standard flip-flops!
11. Wear Espadrilles For Summer!
Espadrilles, whether open or closed, are designed with natural and breathable materials so your feet will feel cooler all day!
You May Also Like: Your Summer Must-Have Shoe: Espadrilles & How To Wear Them
12. Or White Sneakers
White sneakers are, hands down, the most casual yet fashionable option. Turn heads when you pair with your favorite summer dresses.
13. Finish with a Hat
A summer hat not only offers instant sun protection but also elevates your summer outfit. Whether you pick a straw hat, floppy hat, fedor, a bucket hat or a newsboy hat, this accessory will jazz up your look.
You May Also Like: 10 Fashion Accessories For Every Woman, Fashionista Or Not
14. Ankle Boots Are Great!
Ankle boots go with everything! Including summer dresses. A dark pair will create contrast against any light or floral dress you've been wearing, also, toning them down as the cooler months approach.
15. Long Boots are Spring-Ready!
Are you worried that you can't wear your new summer dress yet because it's only spring? The key is long boots and layering!
It's no doubt that long boots are such a closet staple and are worth wearing through more than one season! Transition your OTK boots into spring by finishing your look in a stylish summer dress.
16. Sunglasses are a Must-Have!
It is important to wear sunglasses in the summer, not just to protect your eyes from the sun, but also, accessorize your summer outfit.
You May Also Like: More Than A Fashion Accessory: Try Polarized Sunglasses But Keep Them Chic!
17. Layer Up For Spring
Floral dresses are the bread and butter of a spring wardrobe: and a layer is the perfect finishing touch! Grab a light jacket or coat for layering; an oversized blazer is another beautiful option.
You May Also Like: How To Look More Stylish This Summer- Timeless Tips For Every Summer
How To Wear Summer Dresses In The Fall
While transitioning from summer to winter, you might be worried about putting all your summer dresses away. While this might be true, you might also not want to do so!
The goal is to warm up warm weather fabrics with heavier, cold weather layers for extra warmth. Also, as the season gets chillier, balance summery prints and hues with dark neutrals like blacks.
In order to wear your summer dresses, we prefer wearing them in the fall, making sure to also use layers so you can keep warm. Also, wear long boots and add scarves. Scroll down to learn how to winter-proof your summer dresses:
1. Pick Darker Hues
Fall comes with lower temperatures, and people's wardrobes become darker and more neutral. Scientifically, darker colors absorb more heat so you can feel warrmer.
Some chic dark colors include shades of black, grey, khaki, jungle green, navy blue and brown. No wonder many love camels!
2. Layer Up with a Coat
Layering is key! But keep it chic! Gather up some warm trench coats, fur coats or even teddy coats and throw over your summer dress. Long coats are great because they'll help you feel warmer!
You May Also Like: How To Layer Clothes Like A Pro!
3. Throw on a Chunky Sweater
A perfect heavy or oversized knit sweater can help you wear your summer dress in the fall. All you have to do is layer it over your summer dress and balance your look so you can look put-together.
You May Also Like: Stylish Oversized Sweater Outfits To Inspire Your Fall Wardrobe
4. Add Some Tights
Fall is tights weather! And the classic tights-and-dress combo feels fresh all through the cold season.
Black tights and ankle boots ( you can also wear heels before the ground gets cold) are the perfect base to a chic minidress. For a cool layered look, add a chic overcoat!
5. Finish With Long Boots
Whether heeled or flat, a pair of long or tall boots can go a long way in boosting your wardrobe potential.
Rock your summer dress and finish with a pair of dressy tall boots or the classic knee-high or over-the-knee boots for a cosy yet instant statement!
You May Also Like: How To Look Good In Slouchy Over-The-Knee Boots
6. Tie With A Belt
Whether you prefer belting up your summer dress before layering or simply tying all the layers together while adding extra warmth, your choice!
7. Pair With Your Pants
Jeans are a good option for pairing with summer dresses when it gets super cold. However, to look chic, pair your pats with shirt dresses or kimono dresses.
Keep the pieces simple, well-fitting, and structured, and do not overdo them so you don't look bulky or lumpy.
8. Add a Hat
You need to wear hat when the cold steps in! It stays on my head despite any winter gusts of wind keeping your head protected whilst making a stayle statement.
Bucket hats are ideal, but you can also wear a beanie hat, beret hat or the classic fedora.
You May Also Like: Fashionista Rita Tesla on How to Wear Hats Gorgeously!
9. Throw Some Scarf!
Wear a scarf in the colder months over your summer dress for extra warmth, even if you already layered with a coat. Blanket scarves are a winter must-have and can be worn in many different ways.
You May Also Like: How To Wear A Scarf – 11 Elegant Ways
10. Switch to a Sweater Dress
Every woman has a chiffon, satin, or linen summer dress in her wardrobe. They are perfect! But if your region gets very cold in the winters that you cannot wear your average summer dress, then switch to a sweater dress.
Sweater dress outfits are autumn-perfect. Plus, this cozy wardrobe essential can be worn season-round, so long as you style it to suit your taste. Pick an oversized sweater or a sweater dress that hits just above or at the knee, and let's style it!
Pair the sweater dress with knee-high boots and accessorize as you like, but if it's a little too cold to go bare-legged, a pair of thick tights and booties will do, too. You can actually throw a long coat atop, and grab a scarf!
How do you wear your summer dresses?
*Disclaimer: Learn how to wear summer dresses all year round, gathering inspiration from fashionistas Macy Stucke, Mia Mia Mine, Natalie Tewa, Nancie Mwai, Julitha Kabethe, Diletta Menta, Sophie Louse's Diary, Karolina Lorent, Blue Mbombo, Rita Tesla, Joanna Kinuthia, Modeison, and Victoria Fox. Follow them on Instagram.