Disclosure: This post features Lolario Style; All photos are courtesy of Lolario Style
Do you also love to layer clothes?
When cold months kick in, it is always time to say goodbye to the chiffon kimonos and get those knitted sweaters, woolen coats, and chunky scarves.
However, many don't love to layer clothes and prefer being indoors. At the same time, some fashionistas are actually rocking the streets with such perfect layers! And we can't help admire the cool vibe, right?
Well, What is Layering Clothes?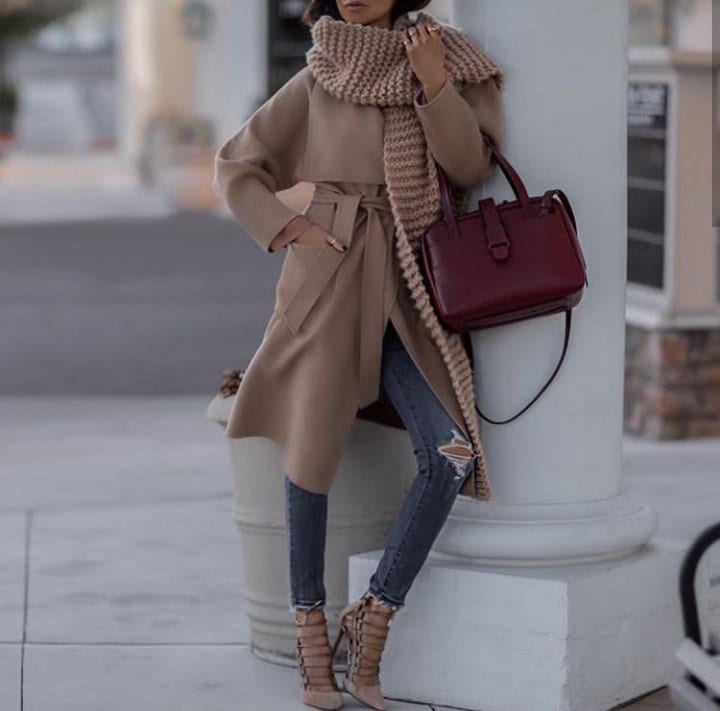 Layering clothes refers to wearing many garments, one on top of the other. Essentially, most people embrace layering in the cold seasons that they do in the warmer months. Two thin layers of clothes are normally enough when it is warm.
Talk about a kimono cover-up over your top or a blazer over your dress! But when winter sets in, or too much rain in other parts of the world, then it's time to fill the closet with heavier pieces in order to provide warmth and protection from the cold harsh weather.
Normally, layers are into three: the inner layer, middle layer, and outer layer.
The inner layer basically takes up sweat on the skin leaving the pores quite open to breathe. This keeps the wearer comfortable. Normally, fabrics like wool and cotton are favorable when creating an inner layer outfit like a top, blouse, spaghetti top or vest since they take up moisture easily and dry out just as fast.
The middle layer provides warmth and essentially, loose-fitting clothing is preferred like sweaters, coats, blazers, and jumpers.
The outer layer is majorly for protection against external weather conditions like rain. Take the example of plastic raincoats.
In most cases, we find ourselves wearing up to the second layer which varies depending on the weather. Unfortunately, some women look drab in layers while others fear looking bigger in layers.
Hence, this ultimate guide on 10 simple ways to layer clothes an ultimate pro! We take a look at Lolario's style, the street style fashionista!
How To Layer Clothes Like A Pro!
1. What Is Your Body Type?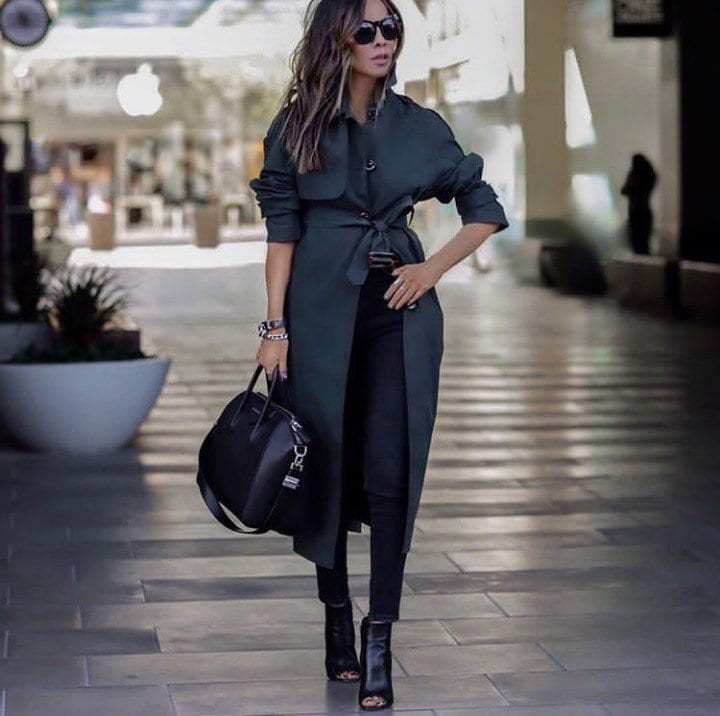 While slim women could be afraid of being swallowed up by layered clothes, bigger women will be afraid of looking even larger in layers.
This just means that you should determine your body type before layering. This will help you layer clothes proportionately in order to feel confident. Thus, always try on your layers before purchasing them, and if you feel comfortable in it, trust your instincts, and get it.
You May Also Like: How to Choose the Best Winter Coat
2. Get fitting inner layers!
If you really want to look awesome in layers, then keep at least one staple in your look fitted. It can either be a top, dress, or bottom. This gives you that additional balance by making your silhouette look more feminine.
Take an example of a well-fitting dress or a spaghetti top before throwing atop your middle layer! Such a balanced look, right?
3. Let's Talk About Your Height!
Depending on your height, you should go for the right type of layers that won't swallow up your small frame. This is particularly important for shorter women.
Normally, I advise shorter women to wear high heels or wedged heels in order to elongate their frame. This ensures that as they walk with confidence, they still look super good!
Taller women have the option of picking out high heels or flat shoes depending on their preference.
Sometimes, if your layer is longer, you might go for high heels just to make you look taller. For example: when wearing a long coat, high heels will offer such a good finish to your look.
4. Try some over-sized!
The over-sized trend is still trending and shows no sign of slowing down any time soon! This means that gorgeous ladies like you should consider buying an over-sized piece. Even if it is just a sweater or coat!
Over-sized layers can be so convenient especially if you also wore an over-sized inner layer like a top. Suppose you wore a knit sweater top, just an over-sized coat would leave you comfortable than a slim-fit coat that can press you up and buckle you in! That might not be comfortable…trust me…
You May Also Like: How to Style an Oversized Blazer Like a Style Pro
5. Get those long coats.
Blazers and waistcoats are good but long coats are even better! Long coats are perfect for colder months and can easily be styled for a fashionable look!
Playing with the length of your layers makes it easy to pull it off with your favorite dresses, skirts, and even pants!
6. Play with texture.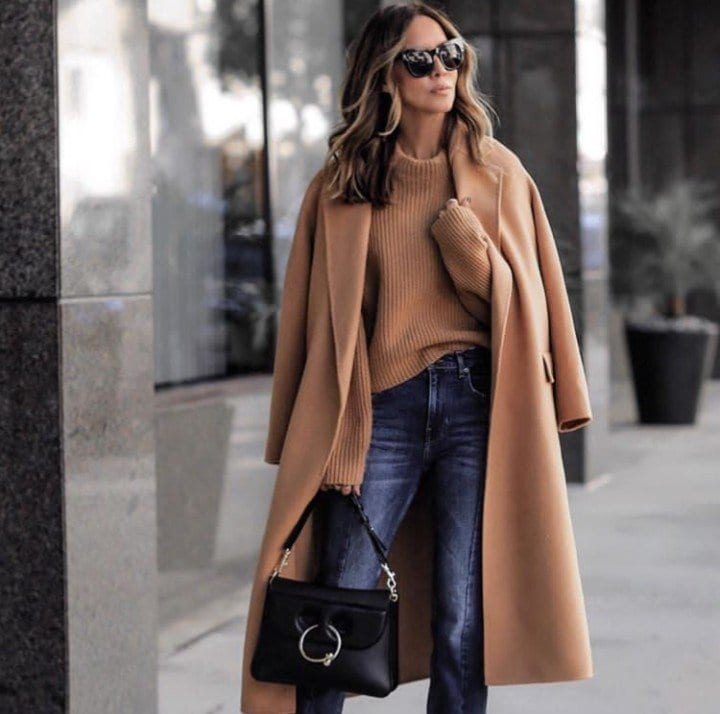 Want to know how to look best when you are to layer clothes? Then you've got to stay creative!
Play around with different textures of fabrics and layer them well in order to look polished. Talk about a knitted sweater and a long woolen coat! Or a cotton top and a leather blazer!
7. Play with colors and patterns
Fashionistas don't just bank on one black layer since they appreciate the beauty of several different layers. While everyone knows the importance of a black coat, it's about time that we embraced more colors and patterns for our layers.
Minimalists will appreciate neutral colors like grey, black, and camel which indeed, look so polished and instantly make you look expensive.
So instead of just having that one black trench coat, get that over-sized camel coat and that grey checkered blazer too! You can even get an animal print scarf!
8. Belt it up.
Belts are just as trendy as over-sized clothes so even if you had no plan of buying any new items for your wardrobe this season, better consider getting a belt.
After all, aren't belts such fine accessories? A good belt can hold your pants in position, cinch your waist, or even your outfit! That way, your waistline is emphasized too.
9. Accessorize like you were born for it!
Sprinkle all those accessories after you layer clothes! Talk about the Gucci belt, that Nordstorm bag, that Chris Louboutin stiletto, and even those pretty pieces of jewelry!
You'll love it but remember to wear accessories that blend well with the colors of your layers. And if you're poor at picking out colors, then metallic and accessories of the same color family could also work!
Read Also: 10 Must-Have Accessories For Every Woman, Fashionista, or not!
10. Rock your confidence!
Dressing good alone does not guarantee that you will actually good. In fact, with how tricky layering clothes can get, you might end up looking all messy. Hence, you need that head held up high and that graceful walk. Girl, you got this!
To make the layers appealing, you have to layer clothes professionally. If you layer a lot of pieces at once, you might look weird and if you don't layer at all, then that's you.
But certainly, before you master the art of layering, you have to experiment with lengths, colors, textures, patterns, trends, and structures wisely. While anyone can wear a coat over a sweater, many might rethink the idea of pulling off two coats at once, right?
You May Also Like:
10 Ways to Dress More Feminine
Elegant Loungewear Ideas to Always Look Chic at Home
How to Show Skin Effortlessly as your Dress Up
Anyway, do you also layer clothes? If so, please let us know how you do it in the comments below…
     Glam Up!