This article on How To Look Good In Slouchy Over-The-Knee Boots features fashionista Modeison. Go Glam!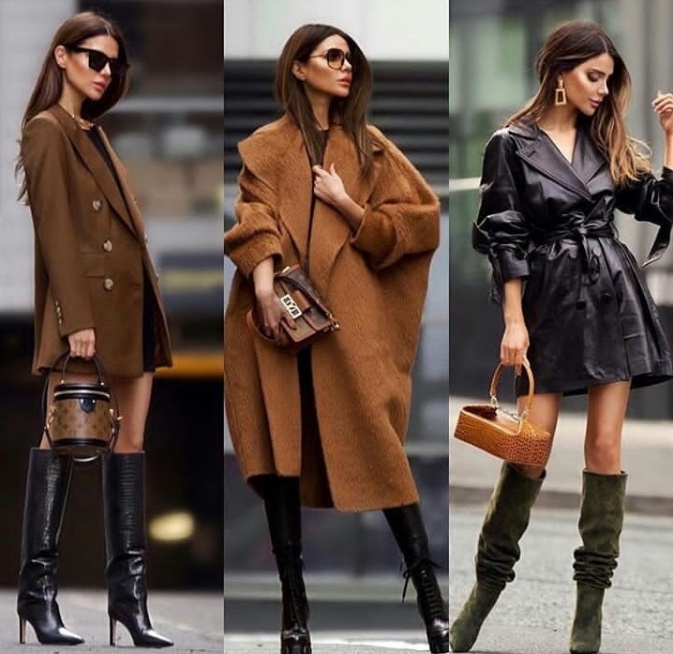 While over-the-knee boots are your girls' must have for fall, slouchy over-the-knees are a terrific pair for your summer wardrobe.
Actually, depending on how hot summer is at your place, you can actually still wear them when it's not that hot. 
You May Also Like: What to Pack for a Beach Vacation
Quick Hack…
To wear over-the-knee boots in the hot months, balance the look with shorter, airy and lighter clothing.
A good example would be a knee-length summer dress, a good pair of shorts or a short denim skirt with your boots. Just skip the jeans and pants!
You May Also Like: The ONLY 3 Types of Dresses that Should Be in a Confident Woman's Wardrobe
While you can always find a good pair of over-the-knee boots at your go-to fashion stores locally or online, we have our hots for the Yves Saint Laurent and Jimmy Choo boots!
Those brands have such a beautiful variety of boots worth investing in! From ankle boots to over-the-knee boots, you'll be sure to find such a quality yet terrific pair.
And it seems that we're not alone when it comes to loving the YSL and Jimmy Choo over-the-knee boots! Fashionistas all over the world are head-over-heels in love with them too.
And in this article, we look at how some of these gorgeous fashionistas rock their slouchy over-the-knee boots. They surely look good in their slouchy over-the-knee boots!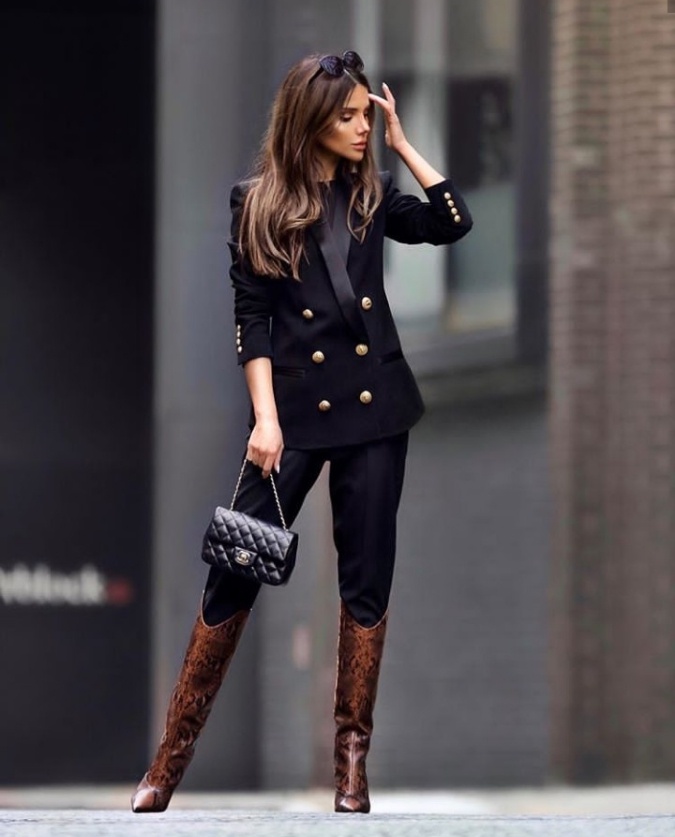 So, whether you're planning on dusting your slouchy pair from the back of your closet or ponying up to purchase a new set from YSL or Jimmy Choo, we've nailed down 5 ways to wear slouchy over-the-knee boots and look totally chic, no matter the outfit you have in mind!
What to Wear with Slouchy Over-The-Knee Boots & Look Chic
Dress Your Boots Up!
Style your boots with a shorter dress that falls below the top of the boot, or allow a sliver of skin to peek out between your boot and a short hemline.
A good sweater dress would work the trick since when it's cold; you can wear a thicker dress while a lighter dress in the summer months. If sweater dresses aren't your thing, airy summer dresses would never disappoint!
A tall slouchy boot feels a little bit more laid-back than the average over-the-knee pair. Thus, you can also style it with a slit dress so that it really stands out. This is a good tip for styling a long dress with your slouchy pair.
Quick Tip…
Keep your clothes 'less figure unflattering' when wearing your slouchy over-the-knees. These boots add a serious dash of sex appeal and you'll want to tone this down.
An example would be wearing an over-sized sweater dress then belt it up or a flowy summer dress.
Finish Your Skinny Pants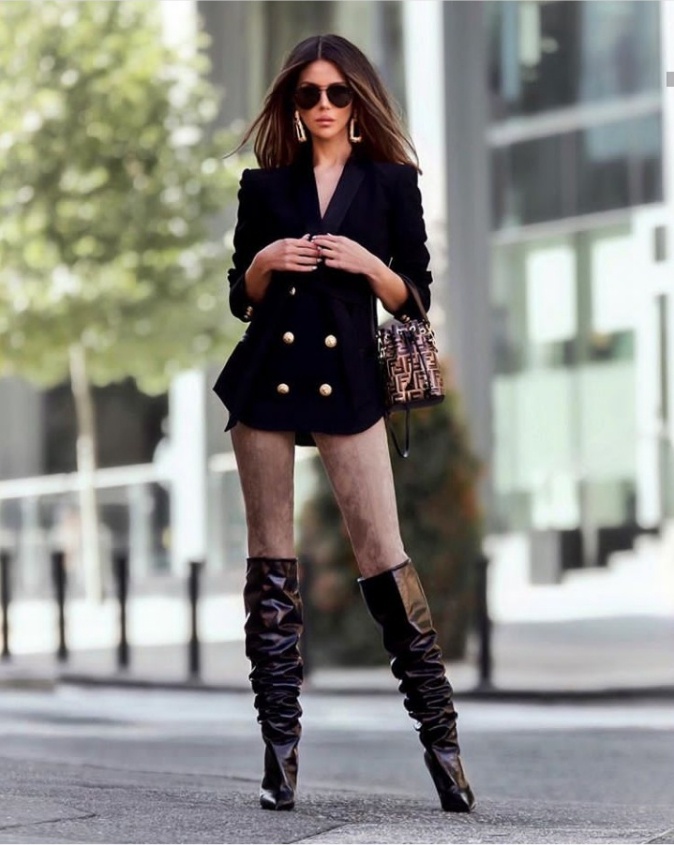 Skinny pants are so cute and when finished off with a pair of fitting over-the-knee boots, the look will score you some major style points.
However, a swap your open-toe heels, stilettos, or these fitting pair of knee-high boots for slouchy over-the-knee gives you a high-style look!
Bonus points if they feature Western-inspired elements. Talk about suede or smooth leather boots, knee-high cowboy boots, or even tall buckle boots.
Easily breathe life into your skinny pants with a pair of suede boots. The contrasting fabrics will make it feel extra sophisticated.
You May Also Like:
How to Rock Denim Jeans like a Pro
How to Level up your Look in Jeans
Quick Tip…
The slouchy over-the-knee boots look quite larger on the calves of your legs. That's why; you should consider keeping your look balanced for an effortless vibe. In this case, avoid too much layering.
If you have to, throw just a coat atop and that's it!
Apart from wearing slouchy over-the-knee boots with a dress or your skinny pants, you can also wear a short well-fitting skirt that falls above the boots as Macy Stucke does; or actually, a flowy slit skirt that allows the boots to stand out.
Now that you know what to wear with your slouchy over-the-knee boots, here are some…
Quick Styling Tips…
Monochromatic Anytime!
When in doubt, try monochromatic dressing. Start with a black, white or solid colored boot, and subtly match your layers and outerwear for a well-balanced monochromatic look.
You May Also Like: How to Wear a Monochromatic Outfit & Look Good
Color-Match your Accessories
If you actually don't know how to style your boots, simply match the color of your boots with the color of your bag, belt, or other accessories. You'll love it!
The slouchy knee-high boots trend trickled down from the catwalk to the masses.
Thus, it's key to understand how to pull off the silhouette and still looking high-style. So, are you also considering a pair? Or do you already have one?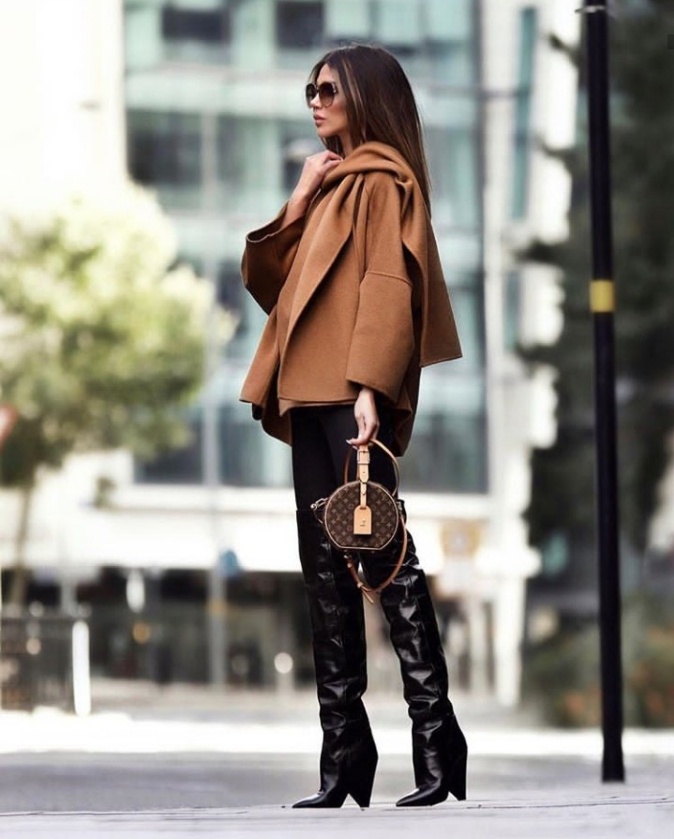 How do your wear your slouchy over-the-knee boots? We'd love to know!
Go Glam!