Are you looking to dress more feminine?
A feminine woman is irresistible- she is attractive and many people want to associate with her. Her feminine energy also attracts the opposite sex to her that men want to date her.
When you carry a feminine appearance, it portrays that you love yourself as a woman and you value how beautifully God created you. Such an angel!
Femininity is about your skin, hair, nails, personal style, your body, face, how gracefully you carry yourself around, and a soft aura.
However, some ladies have over time, shifted to their masculine energy, and forgotten about their feminine aura.
This could be caused by lifestyle choices, a harsh upbringing, inclination to a particular societal group like emus and bad girls or even, a tense work or family environment.
But this is all in the past. If you desire to awaken your feminine aura and look more feminine, you should make that choice already! We're all here to support a beautiful lady like you!
We should also note that most women tend to dress the sexy way in order to feel more 'feminine' and this is so out-of-place and inappropriate. You don't have to do this beautiful lady.
On the other hand, some women have chosen to neglect themselves so they look sloppy and all-beat. Some blame it on the lack of finances to buy 'luxurious' items, family life thanks to all the chores and kids coming along while others, on lifestyle choices like over-eating and just being unfit.
But hey ladies, we must all decide to give a little more thought about this situation and get back in shape for us to look more feminine.
While there are a lot of lifestyle choices you have to make in order to look more feminine, including your food habits and self-care routines, your wardrobe choices can be the easiest place to get you started!
You May Also Like:
The Daily Skincare Routine for Every Skin Type
Thus, in this article, we'll share 10 ways to dress more feminine in order to have your feminine energy rushing in. Try these tips to fall more in love with your body!
10 Tips to Dress More Feminine
1. Wear Dresses & Long Skirts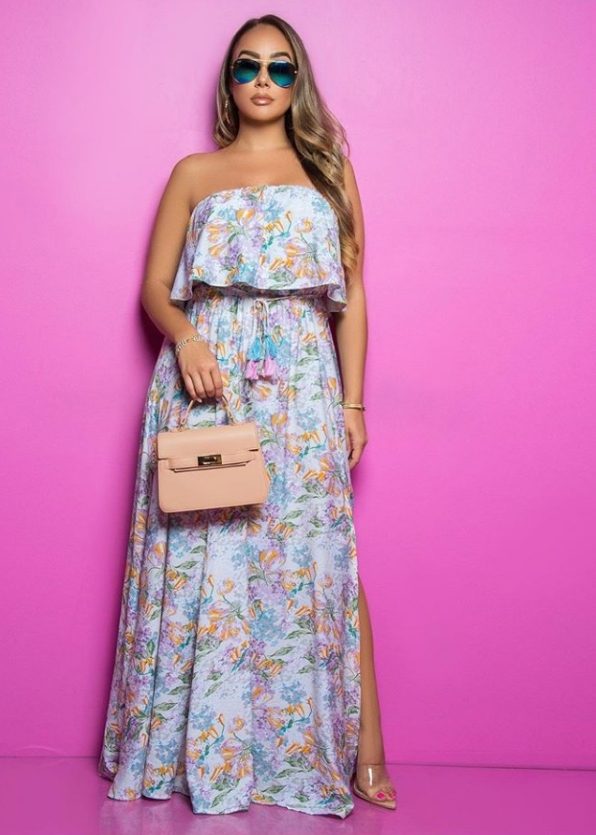 Dresses are the most exclusive fashion item associated with women.
They are stylish, comfortable, easy to put on, simply elegant and every woman likes how they look and feel in a dress.
Skip your jeans-and-tee-combo for a floral summer dress and notice the extra amount of attention you can get.
Wrap and summer dresses are flattering for all women, no matter your body type. Also, for your dresses, soft colors portray a feminine appearance. These include florals, nudes, pinks, baby blue, and lavender.
You May Also Like: These are the only 3 Dresses Every Woman Should Have
If you can't wear dresses, try long, flirty skirts. Bohemian skirts are particularly flirty and so feminine.
2. Play with Fabrics
It's just amazing to see how playing around with different fabrics can inject a dash of feminine energy into you instantly.
Try lace, satin, sink, jersey, cashmere, or suede instead of your normal cotton.
These different choices in texture add a layer of dimension to your look. Physiologically, these textures add a flirtatious aura to your look and also, feel soft and perfect on the skin.
Skip your cotton pajamas for a silk robe to feel instantly beautiful and in love with your body. Or a cashmere cardigan when it gets cold.
3. Invest in your Undergarment
Girls, we are so DONE with old, worn-out undergarments!
In fact, get into your closet right now and remove all the bras with saggy straps, all the stained and worn out panties, worn-out waist trainers, torn panties, and every other nasty undergarment.
You need a fresh, beautiful set of undergarments. And to feel instantly posh and expensive, get matching sets of undergarments.
Every lady loves a matching bra and panty, right? It makes you feel good about yourself even before your partner. We need this, ladies!
Even when wearing the most basic of outfits with beautiful undergarments, you will walk with your head held high-thanks to the fresh dose of 'sexy' confidence injected into your femininity!
Tip…
If you cannot hang your undergarments in the open air and feel good about it, you need to dispose of them, however way you do it!
Cleaner and beautiful undergarments ensure the health of your lady parts as well as making you so proud of being the beautiful woman you are!
Again, wear your undergarments correctly!
Do not want your bust spilling out of your t-shirt because you didn't do your bra correctly, your shapewear sticking out on your bodycon dress, or your panties showing through your dress.
People notice these small details than they would notice how good you look. You don't want something like this ruining your already-beautiful feminine image.
4. Go Elegant with Sets for Loungewear
Another thing, ladies! Let us stop looking all sloppy, drab, and ugly in loungewear!
It is time to take away more clutter from your closet by removing the ugliest clothes we have and wear at home.
Talk about the clothes with holes, VERY large and old t-shirts, baggy pajamas, 10-years-old cheap dresses, clothes with washed-out colors, clothes with cartoon characters like Mickey Mouse, non-matching lounging sandals, and just every ugly thing we got in there!
And here is an online Skillshare course on how to declutter and take back your closet. Using my link, you can enjoy two months on Skillshare! Make sure to learn every single thing you love ladies!
Anyway, as feminine women, we must put in the effort to look our best even at home. If you can look good even at this very relaxed state, it triggers an ongoing cycle of self-love within you.
It makes you feel good and that is why you can make time to groom yourself, wash up, do your hair, care for your nails and skin, and even eat healthily and exercise.
Thus, you become more productive. So, please invest in your loungewear just as you invest in outfits to wear outdoors.
You May Also Like:
How to Give Yourself a Facial at Home
To get you started, invest in matching sets. For instance, a matching pair of shorts and top, dainty nightdresses with matching underwear, or matching leggings and a top.
5. Show a Little Skin Effortlessly
You don't need to show much cleavage, much legs, and how curvy you are in bodycon dresses just to appear feminine.
In fact, many people tend to associate this with a lady who is trying too much to catch attention or one who is selling herself.
If you should dress more feminine, get the V-necks, scoop necks and off shoulders, and pair them effortlessly.
Quick Tip…
Leave something to imagine!
When it comes to showing off skin effortlessly, this is the rule- imagination meets exposure! If you leave everything out there to be seen, why should men even pursue you when they have all the access?
Femininity is modest-it shows just a little to spark the imagination. If you decide to show off the skin on your neck, shoulders, or a little cleavage, you can highlight these areas for extra definition.
This goes a long way especially if you have a partner. He will love it!
Otherwise, there are so many ways you can show off the skin without selling yourself and looking trashy. I wrote a post just for that!
Continue the Read: How to Show Skin Effortlessly
6. Wear Heels
Heels go a long way in enhancing your femininity! They can be sexy or elegant; thus, you don't need them all high! Try chunky heels, wedges, espadrilles, mules, open toes, boots, or naked heels for a variety.
That being said, learn how-to walk-in-heels so that you will feel confident any time you put them on!
Let's face it. A lady with her hair pulled together, in a floral summer dress and a beautiful pair of heels will be more attractive than a lady wearing a crop top, pair of ripped jeans, and some Nike sneakers.
7. Try Dainty Jewelry
Femininity is associate with soft, subtle pieces that scream beautiful luster.
So instead of the big wristwatches that overpower your wrists, try a thin lady's watch and a pair of studs, a pendant or a thin necklace, bracelet, or anklet.
A touch of subtle and minimal accessorizing goes a long way in portraying that soft, harmless, and beautiful side of you. And that's what femininity is about!
8. Have a Classic Bag
Ladies, please put away the carry-ons and backpacks!
Leave those for the kids and adventurers! If you have to dress more feminine, be sure to grab a beautiful, classic bag that looks lady-like.
A good bag not only pulls your whole outfit together but also turns the most basic of outfits into elegant instantly!
Invest in a good bag that is durable and can pair with a ton of outfits effortlessly.
9. Clean, Wax, and Shape your Body
Everything about the woman speaks! From head to toe!
You don't want to raise your arms and unshaved armpits are greeting people 'HI' or hairy legs, unkempt or bitten nails, rugged skin because you didn't care for it enough, or your body spilling out of your clothes because you wore something too small without proper shapewear.
So, groom nicely (your body, eyebrows, eyelashes) and invest in the right shapewear as advised. Be sure to walk around your house while facing the mirror just to ensure you are all put together!
10. Do your Lips Beautifully
Your lips girl! Do not neglect them.
Wear lipstick while you can ad particularly, try shades like nudes and berries which are great for literally every woman out there!
Don't use super-mattifying lipsticks that make your lips look chapped and cracked as well as really dark, un-natural shades for your lips.
And if you don't use lipstick, remember to moisturize your lips, have them soft and plump. That way, they will be good to look at.
Remember to carry yourself gracefully in order to look your best! You don't want to portray an alpha image or carry a demeanor of hardness in you.
You are a feminine woman and let your wardrobe help you portray this!
Add a flirtatious image and daintiness to your appearance using these 10 tips above to dress more feminine.
Now Dress More Feminine!