Disclosure: This post features Victoria Foxx; follow her on Instagram for style inspiration. 
The scarf is a timeless accessory that should just never miss in any superwoman's wardrobe.
With a classic scarf, any woman can easily make a statement in her dressing.
This old-school wardrobe essential is going nowhere any time soon and we'd better learn how to choose the best scarf and wear it like the sophisticated women we are!
You May Also Like: 10 Must-Have Accessories For Every Woman, Fashionista or Not
So here we go…
How to Choose the Best Scarf
In order to look your best when wearing a scarf, you need to choose the best one:
1. Choose a variety of lengths and shapes
With several scarves of different lengths and shapes, you'll always have a way of playing around with them as you dress up or down depending on the formality of your outfit, the occasion, and the weather too.
This is particularly good since you won't repeat the same scarf day after day; hence, you won't easily get bored by your scarf.
Some of the basic types you must have include:
A long rectangular scarf
A large square scarf
A small rectangular scarf.
A small square scarf.
2. Shop For The Weather
The weather will most certainly determine the kind of scarf you'll buy because its thickness and fabric will have to be taken into account.
Most winter scarves are more casual and are made of wool, cashmere, fleece, heavy cotton or alpaca.
Most of them are knitted and are normally thicker in order to provide maximum warmth for the wearer, around the neck.
Scarves for the warmer weather are normally thinner and silk or linen has to be the most elegant and sophisticated of fabrics for such scarves.
You May Also Like: How To Look More Stylish This Summer- Timeless Tips For Every Summer
3. Shop For The Occasion
Apart from buying a scarf for the weather or season, you also have to take into account the occasion where you will wear the scarf.
Essentially, you need a casual scarf and a dressier scarf in order to fit into the standards of the occasion.
Most of the dressier scarves are designed specifically as a fashion statement and not necessarily as a protective layer for the cold, wind or snow.
Normally, these scarves are worn with both casual and business attire and feature a wide range of prints. You need several of these scarves girls!
A casual scarf is normally made of cotton while a dressier scarf is more elegant- it can be made of cashmere, alpaca, merino wool or silk.
4. Pay attention to details
When picking out a scarf, you'd want something that stands out because essentially, the scarf is a small accessory.
Get a plaid scarf, an animal print one, a polka-dotted scarf and the list is endless.
You should also pay attention to its texture, stitching, and knitting so that it can be distinct from your cloth.
In fact, you can also embrace sequins, embroidery, and embellishments too.
5. Go Bold
A bit of pop always works well for your scarves especially if your plan is to add contrast to the solid colors in your outfits.
That's why you should consider picking bright colors for your scarves because nude scarves tend to blend with your skin tone hence 'disappear' within your outfit.
However, you can always have pastel shades but when you wear them, allow them to stand out.e.g tie a nude scarf around your neck while wearing a deep-neck top or dress, wear a nude scarf around your wrist or wear one as a headband.
Buying the Best Scarf
Buying a scarf is really easy because depending on the weather and occasion, you can always get the right scarf for you.
For a start, you can invest in a good cashmere scarf for the cold and a long silk scarf for more elegance.
When buying your scarf:
Be sure to feel the material of the wool in order to confirm its texture. A quality scarf will have a softer and more comfortable fabric while a fake one will be more coarse, rough and uncomfortable to wear.
Also, observe the label and be keen on the materials used to make the scarf. At all costs, avoid artificial fabrics like polyester but instead, go for natural fabrics like cotton, wool, fleece, cashmere, linen or silk.
Now that you know how to choose the best scarf and what to consider when buying one, let's go ahead and look at the various ideas on how to wear a scarf!
Be the elegant lady around!
You May Also Like: How To Look Expensive In All You Wear & Style Mistakes To Avoid
Quick Hacks>>
Remember to:
Always play around with the knots as you tie the scarf for more creativity.
Ensure your scarf is of a contrasting color to your outfit so that it can stand out any time you're wearing one.
Get a larger scarf that can comfortably lay on your chest and attract eyeballs.
How to Wear a Scarf
I will always emphasize that any gorgeous woman knows her signature style or accessory and rocks it perfectly! While Mia Mia Mine loves her denim jeans, Macy Stucke loves her camel coats and Marri Pazz loves her wide-leg pants.
Victoria Fox is no exception because as elegant as she is, she knows how to wear a SCARF!
Victoria Fox will always go creative with her scarves and here, we're taking tips on how to wear a scarf from her!
Ride along…
11 Ways To Wear A Scarf Like Victoria Foxx
1. Wear It Like A Headband
Throw away your headband and get that cute scarf for your hair; tie it as a headband in order to accessorize your hair and let it pop!
2. The Shawl
This is an easy way of wearing the scarf since you'll only need to wrap it around your neck.
3. Handbag Style
You cannot neglect to dress your handbag in a scarf if you want to look more glamorous.
You can:
Tie it as a bow tie on one bag's strap.
Tie the scarf along the bag straps or just one bag strap.
You May Also Like: How To Hold Your Handbag Like A Lady With Class
4. Around Your Wrist
You thought that only wristwatches looked good around the wrist? Well, let's give this opportunity to the small scarf too!
Simply tie a small silk scarf around your arm and knot it carefully. You can simply wear this scarf alongside your wristwatch or have it alone.
5. Drape Around the Neck
In this case, just lay the scarf open around your neck and let it hang effortlessly on your chest.
6. Tie around the neck like a stewardess
Have you seen how gorgeous air hostesses look like? You can be too!
Just tie your scarf around your neck and bring it to one side of the neck. Don't choke yourself but just tie it comfortably.
7. Bow Tie Fashion
The bowtie is such a closet must-have and if you don't have one, you can easily wear your scarf as a bow tie by neatly folding it like a bow around your neck.
8. The Shoulder Drape
I always love how winning supermodels have a drape right from one shoulder to the other side of their waist.
Well, you don't have to be a supermodel to wear the drape; you can wear your long scarf as a drape and belt it around your high waist. Superb!
You can also wear a scarf the Pashmina way.
A pashmina is a large cashmere shawl that is normally so warm and good enough for winter. With a thicker and longer scarf, you can wrap it around your shoulders like a shawl.
But to make it even better, you can always wear a long pashmina-like scarf and drape it over your shoulders then belt it at the front.
9. On your ponytail, bun or knot
Another way to accessorize your hair with a scarf is by tying the scarf the ponytail style. This way, you'll create a statement on your hair.
10. Glamour Style
This has to be the most glamorous of ways to wear a scarf. The style is particularly good when it's cold outdoors and you don't want to wear a hat.
To wear a scarf in this fashion, simply tie it around your hair the bandana style and then allow it so elegantly wrap your neck.
11. The Side Bow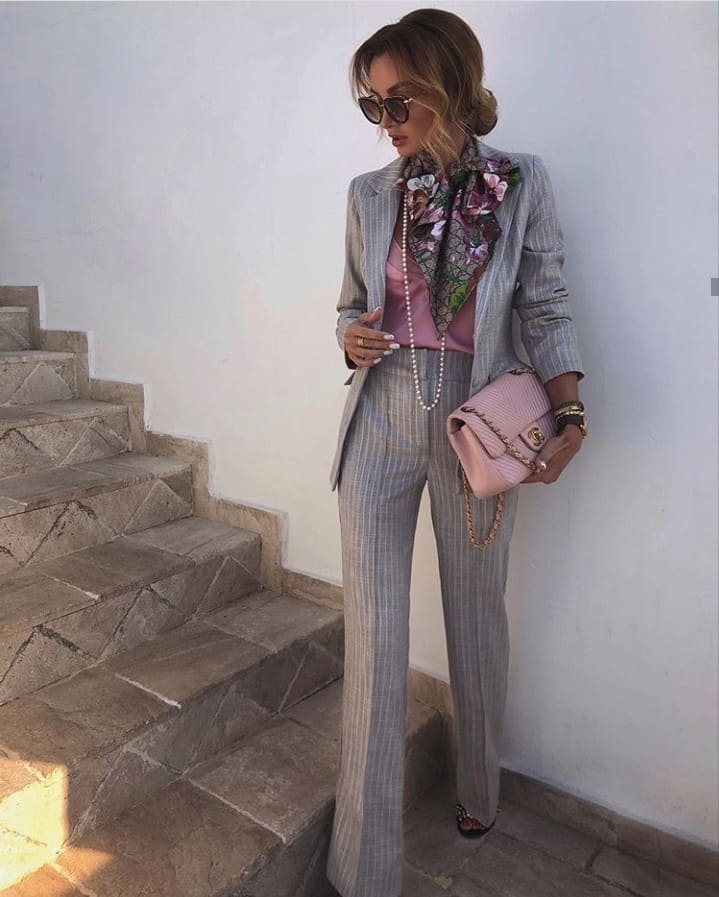 The Bowtie look is so elegant especially for formal and black tie events when you're rocking a semi-formal to formal attire.
And while you can tie a scarf like a bow tie, you can bring it to the side of your neck for the perfect side bow! Gorgeous!
Well ladies, do you love scarves? And how do you wear your scarf?
You May Also Like::
Stylish Ideas On How To Wear Jeans On Date 
How To Wear A Statement Belt & Accessorize Your Outfit
Disclosure>>
* This post was featured on Links à la Mode fashion roundup by Independent Fashion Bloggers.
More fashion articles:
SPONSOR: Shopbop, Converse, Golden Goose Sneakers, For Love & Lemons Clothing, Nicholas Kirkwood, Waimari, Good American Active, Fuzzy Coats, Stay-Warm Accessories, Maxi Dresses, Men's BOSS Hugo Boss,