Safaris are booming-from wild to desert safaris. And it's no doubt that each of us yearns to visit one of the best safari destinations in the world and experience the thrill of being in the wild.
If you're planning to go on a safari, be sure to prepare and pack some of these stylish safari outfit ideas.
Whether you're going on a safari in Kenya, Tanzania, South Africa, Namibia or Bali, these outfit ideas will come in handy. Also, some of these outfits are perfect for a desert safari in Morocco or Dubai. Scroll to learn more..
Safari-Friendly Clothing to Bring Along
When deciding what to pack for your safari, the main things to consider are comfort, ease in care, changing temperatures, colors, and your overall style.
Pick clothes that are breathable, neutral and that can adapt to the changing temperatures throughout the day.
They should be easy to hand-wash and quick to dry as well. Cotton is no doubt the best material for your safari outfits, as it also dries in no time.
Do not wear any fancy clothes because they can get dirty during the day, or even when dining in the evenings: a pair of comfy pants and a nice shirt should do the trick.
Basically, keep your safari wardrobe informal, and full of easy-to-wear items.
Also, pack layers. While it can be hot during the day, as soon as the sun sets, the temperatures drop, and it gets windy and breezy. You can stay warm with a shawl. during such chilly nights.
A typical safari will also include two game drives per day: one early in the morning, and another in the afternoon, so, layers are important.
You May Also Like: How To Layer Clothes Like A Pro!
Below are specific safari outfit ideas to look comfortable as you enjoy your safari:
1. Safari Shirts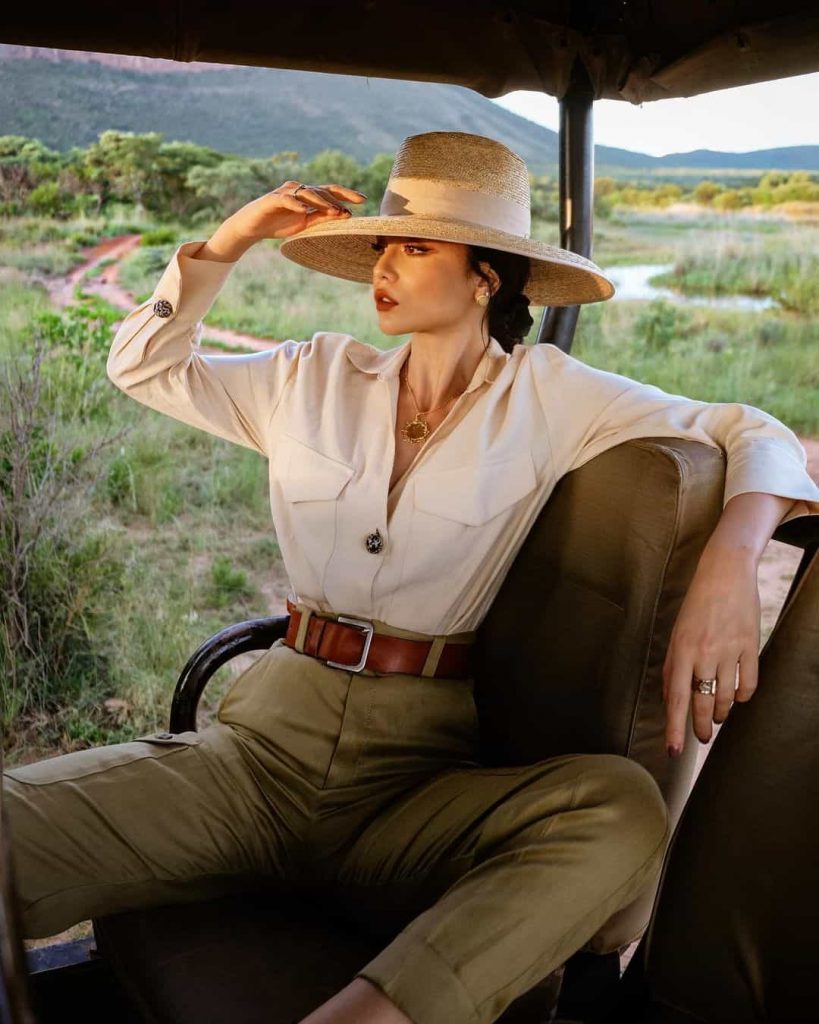 Lightweight shirts made from breathable fabrics that resists wrinkles, dries quickly for comfort, and wicks away sweat from the body are must haves.
Choose khaki or green colors for the perfect look.
2. Safari Pants
Khaki pants are an essential part of a safari outfit for women. Corduroy is another alternative. Mud and dark khaki are great color choices.
Just ensure they have a natural stretch, are lightweight and have a great moisture and temperature management construction.
3. Safari Shorts
It gets HOT, especially in the middle of the day. We recommend bringing at least two pairs of safari shorts to stay cool. One with a stretchable fabric makes them ideal for sitting in a safari vehicle for long hours throughout the day.
They are still fashionable enough to wear to dinner and other activities that revolve around your safari- think hiking, or running.
4. Safari Vests
Safari vests are so practical, allowing you to put items in the pockets when you don't need to bring a bag.
Choose a stylish safari vests with pockets and zippers on the front to stay organized. It also pairs well with a khaki skirt and some safari boots.
5. A Safari Dress
A safari dress is a comfortable and chic addition to your safari wardrobe, and not just for daily wear. Femininity meets subtle safari-style through the free fall and comfy nature of the material, and wild colors too.
6. A Safari Jacket
Planning on taking a safari? If so, you should be aware of just how useful and important a proper safari jacket is, for weather protection and to enhance your safari experience as well so bring along a packable, lightweight jacket!
Safari jackets are usually khaki, tan, brown, beige, or neutral grey. Avoid any bright colors which will make you stand out in your surroundings and will most certainly scare any animals away.
TIP: Pack some bathing suits as well, because you will definitely be excited for a good bath after a long and tiring day!
8. Must-Have Safari Accessories
A pair of sunglasses and a hat will also come in handy as you walk around the park under the scorching sun. These accessories keep the sun off your face and eyes, so you can also look chic.
You May Also Like: 10 Fashion Accessories For Every Woman, Fashionista Or Not
It is also recommended to always have sunblock on for additional skin protection. Carry a water bottle to kepp yourself hydrated.
What Colors Should You Wear or Not In the Wild?
While you can wear any color during a safari, avoid bright colors like yellow, brilliant white and orange as they easily attract insects, and wildlife as well. Prefer neutral tones and if you love white, ivory white or creamy white is a better alternative.
There's always a risk of your clothes getting dirty during the day, so don't wear your best and cutest colors.
You'll be going on drives around the African savannahs, or Moroccan deserts, so not only dress comfortably but choose colors that won't get stained and show off the dirt.
Wearing colors that hide any dirt while blending in well with your surroundings is a wise idea. Some of the best colors most women love to wear include jungle green, black, and browns.
Level up your safari style by wearing animal prints!
What to Wear on Safari Evenings
Your choice of what to wear on a safari evening will be determined by where you will be dining that evening.
It is recommended to wear clothes that cover your legs and arms if you will be dining outdoors, to keep the cold away.
Bugs like beetles, and moths that are attracted to the abundance of light where you seated outdoors, especially in an area that is generally very dark. Mosquitoes can also be very irritating! Wear clothes that cover you to prevent bites.
Keep the dresses, shorts, skirts and short sleeves away, and go for jeans or long khaki pants, long-sleeved tops, and closed flat shoes.
Also, avoid colors like white and yellow while in such an environment as insects are drawn to such bright colors.
On the flip side, if you'll be dining indoors, perhaps in a restaurant, then you can wear anything.
What Kind of Shoes Should You Wear On A Safari?
Most safari destinations have no smooth floors, from the wild expeditions to the safari lodges. You want to bring comfortable shoes like boots and keep the high heels away so you can be comfortable walking.
Sneakers, sandals and flat espadrilles are perfect, comfortable and stylish options as well.
You May Also Like: Elegant Safari Outfits – A Look into Luisa Spagnoli's S-S 2020 Collection
More Stylish Yet Comfortable Safari Outfit Ideas
Now that you're ready for a Safari Adventure, remember to bring a camera so you can document your safari experience.
Well, have you been on a safari? Which of these safari outfit ideas will you go for?
*Disclaimer: These safari outfit ideas are inspired by Ya7ska, Hali Oduor, Diletta Metta, Blue Mbombo, Olesyakuba, Luisa Spagnoli, Linda Osifo and Ever Seen SA