The snakeskin print trend is all over, and we love it! This animalistic print has found home in our wardrobes and rocking it to the streets makes an instant statement.
Prints help add pizzazz to your look so it is more interesting and very eye-catching. If you love leopard prints, you should also try snakeskin prints.
It is not just a way to extend your already eclectic safari wardrobe featuring leopard, zebra, and cow prints, but also makes an edgy animal look perfect all year round; although it's much better for fall!
Depending on your personal style, you got to inject snakeskin prints into your wardrobe and make it your own because now, it is not just a trend, it is a wardrobe must-have!
No longer creepy, snakeskin prints can be worn everywhere! Fashion designers consider it a neutral just like its counterpart, the leopard prints. Hence, makes it much easier to style!
So, before you wear your snakeskin print, take it for a neutral and pair it accordingly. It's simply beautiful!
While fashion today is all about simplicity and stylish comfort, you can still wear this strikingly bold statement and exude comfort. Here is how fashion enthusiasts around the world are wearing snakeskin prints.
Gather inspo!
You May Also Like: 9 Gorgeous Style Icons You Must Follow For Style Inspiration
How to Wear Snakeskin Prints & Look Striking Yet Super Comfy
Looking to upgrade your animal print collection? Consider this timeless classic, and here are tips to wear snakeskin prints and experience an instant dose of fashion confidence:
TIP: Pick the Right Colour Combination
The key to looking put-together is to wear color combinations that actually work! While snakeskin prints come in very many patterns and colors, most prints will be neutral-featuring black, grey, brown, or beige.
Snake print also comes in autumnal maroon, white, yellow, and brown hues. Don't hesitate to evolve from the fixation of blacks and grey and experiment with earthy colors for a sophisticated look.
Unless you pick your snake piece in neon colors or a design that looks more like fish scales than snake, you have not to worry about the color, and it will be easy to pair.
To pick the best color combination, consider one color in your prints and pick a matching pair for this color. It's not mandatory to have exactly the same shade. because close in color is good enough. For instance, if grey is the dominant color of your snake print bottom, you can pair it with a plain grey top.
You can also match with neutrals like black or white which are timeless color combinations for most outfits.
Pair your snakeskin print outfit with the timeless denim. This is a classic combination that always works!
Dare with a bold fashion color too! Pairing a bold print with a mono-color can make the outfit less scary.
You can add this bold color-think burgundy, mustard, orange, jungle green, or whatsoever color you prefer on top, either as a top if your bottom is printed or vice versa, or even as an accessory like a hat, belt, pair of shoes, or even a hair accessory.
Style Tip…
When it comes to bold prints such as snakeskin prints, tone down on the accessories. Less is always more, so, keep your accessories minimal and simple so your look does not look too busy from all angles.
Also, you can choose to wear a natural makeup look to enhance the whole neutral vibe already going on. However, for a pop, wear a bold lip color like red, or any other you prefer that matches your choice of bold outfit.
With those tips in mind, here are some of the cutest snakeskin print outfits inspired by amazing fashion enthusiasts:
1. Style Your Snakeskin Trousers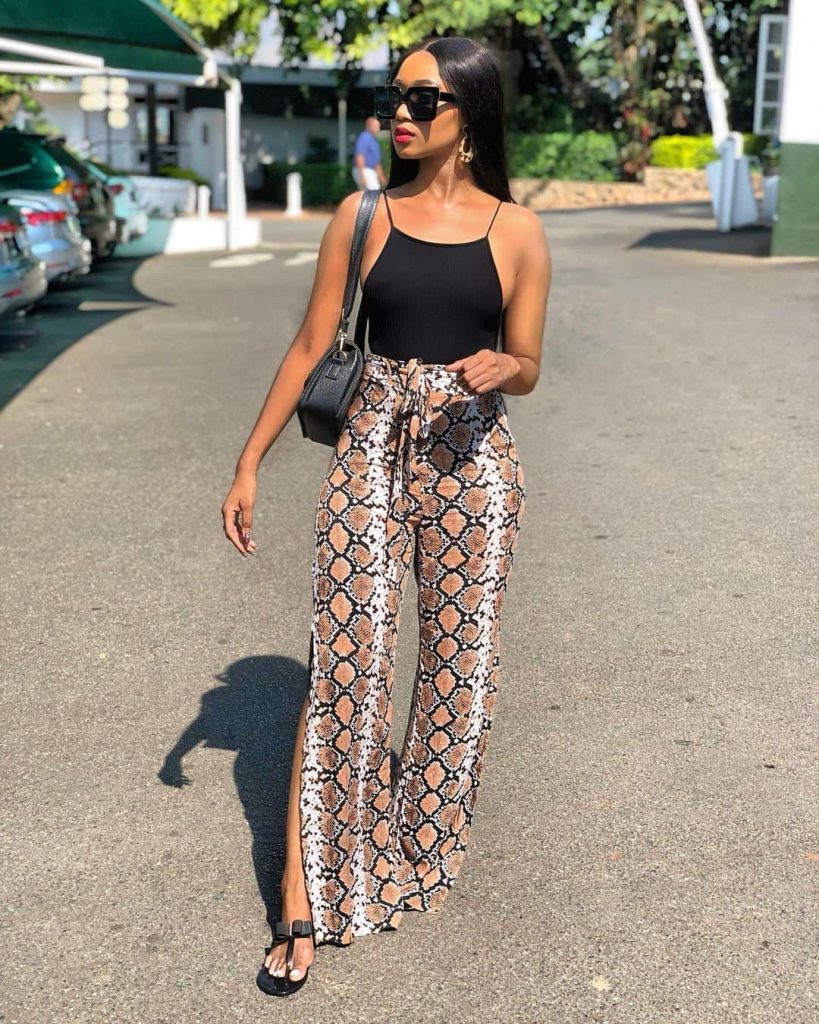 Printed trousers are super stylish and make such a fashion statement! You will not fail to attract eyeballs.
Create a bold look by pairing it with a striking leather jacket or a bold top. However, to tone down the fashion impact, a neutral top or shirt in black or white should do the trick.
You May Also Like: How To Style Wide-Leg Pants Like A Pro
2. Dress Up Your Snake Print Shorts
Highlight your casual wardrobe by injecting a pair of snake-skin printed shorts. Pair as you would your pants with neutral tops or throw a blazer atop for a more formal look.
You May Also Like: How To Style The Oversized Blazer In Your Closet
3. Wear a Snakeskin Skirt
Serve up a bold style statement by updatign your wardrobe with this printed version.
Have fun with your hemline by mixing it up in minis, midis and maxis or go matchy-matchy and co-ordinate with a cute top. Flirt with the skirt for your favourite every day and evening ensembles.
4. Suit Up
Make snake prints the star of your entire outfit by showing up in a suit.
However, the suit should be the focal point of your outfit; if you have too many eye-catching elements, you'll just look messy.
Wear simple shirts or tops when pairing. And if you choose a printed top, go for ne with smaller prints. Also, you can never go wrong with neutrals so pick your color combinations wisely.
5. Rock a Dress
A gorgeous snakeskin printed dress livens up any look in an instant and requires minimal accessories and thought.
All you need is a pair of neutral espadrilles or sandals to complete your look.
While a snakeskin print dress is a standout piece that comes off as very striking, it can come off as very sexy and striking especially if you wear a bodycon piece during the day.
For daytime looks, a more casual shirtdress or bohemian-style dress should do!
You May Also Like: Style Feature with Rita Tesla: 3 Must-Have Dresses for Every Superwoman
6. Rock a Coat!
An LBD and a snakeskin print coat are the magic formulae for timeless dressing. Although you can always throw it over any boring look, and it is instantly upgraded!
You May Also Like: How To Layer Clothes Like A Pro!
7. Carry a Snakeskin Print Bag
Switch things up and take a snakeskin printed bag out with you this weekend. Pick a neutral bag for all occasions or a bolder bag for special occasions, and wear this to upgrade all your looks.
You May Also Like: 10 Fashion Accessories For Every Woman, Fashionista Or Not
8. Wear Some Booties
Snakeskin booties are considered neutral and will work with lots of things. Pair them effortlessly with denim jeans, jumpsuits, or even dresses. However, make sure to keep the outfit's undertones basic to avoid overdoing the color palette.
You May Also Like: How To Look Good In Slouchy Over-The-Knee Boots
To wear snakeskin prints, avoid covering your whole body with the print so you don't look creepy.
Mix up your pairs and accessories for a more interesting look. Also, invest in interesting textures like leather and styles for a fearless appearance as you wear snakeskin prints!
Do you wear snakeskin prints too?
*Disclaimer: These snakeskin print outfits are inspired by fashionistas Mia Mia Mine, Violet Ezedimora, Mihlalii_N, Rosa Dlamini, Diletta Metta, Natalie Tewa, Macy Stucke, Jewel Coza, Modeison, and Loretta Hove