Looking for ideas for college outfits to try? Sthe Geponi is your style plug, and we go over her chic outfits in this article.
Whether you're already a college student or it's your first day on your new college campus, you'd want to look stylish. I remember how I'd always want to dress up so I don't look like a freshman during my first year.
And yes, it can be a challenge t get your style right. That's why, in this article, we share chic college outfits to get you started.
No matter your major, you can always pull off these outfits that will make you feel so much more confident.
But before we share the chic college outfits to add to your college wardrobe, here are some tips to keep in mind when dressing up for your college classes, and events.
Tips To Remember When Dressing For College
Most ladies attend college in their prime years, usually, a fun and youthful stage in life. So, you want to reflect this in your sense of style. Ideally, come off as youthful, chic, and full of life. Sis, please skip the old and ugly clothes that make you look like a granny too early.
To come off as full of life, and energy, here are some styling tips to consider when dressing up for college:
1. DO: Put Some Effort to Look Nice
Dear, forget about the stereotype that just because you're in college and no one is telling you what to wear, you should use the opportunity to dress sloppy and not care about what you wear.
Whether you're staying on campus or commuting to school, always put some effort into your dressing. Dressing up shows respect for your professor, to yourself and shows how seriously you take your life choices.
Whether you just joined campus or almost graduating, put some effort to look nice. It also makes it easier to focus in class__for yourself and other students as well as you won't attract unnecessary eyeballs with such negative energy.
Please, wear good clothes, in the right condition. Also, fix your hair well, work on your body odor and oral smell, get your skin right with a good skincare routine and show up confidently!
You May Also Like: Want To Always Look Put-Together? Here's How Fashionista Alena Does It!
2. DON'T: Dress Sloppy
While colleges do not require formal clothing or business attire, students should avoid looking like they just rolled out of bed.
It's utter disrespect to dress like you're ready to fall asleep, as it says that you could not care less. Even if you choose to wear pajamas sis, skip the ugly ones and go for cuter sets. Here are styling tips to wear pajamas without looking like you overslept.
Also, avoid wearing childish-like items because, in college, you're being groomed for adult life. Please, skip the t-shirts with cartoon graphics that you wore at 9years, furry shoes, and slippers.
Also, take care of your image by considering your overall look before leaving the house.
For instance, fix any visible bra straps, wear a top that covers your butt well so your belly and undergarments are not exposed whenever you bend or move, ensure your thong is not visible and your butt cheeks are not showing from your jean shorts.
For sure, the little details always matter I'm certain you've felt awkward looking at your fellow girl bending to pick a book only to have their panties exposed.
3. DON'T: Be Too Sexy In Class
Also dear, please skip the sex appeal during class hours. You want to focus on the lesson, so do your fellow students. Please, avoid skimpy clothes that make you look like you're ready to visit a nightclub every day.
I'm not saying that you shouldn't wear short clothes Actually, I love a cute miniskirt. If you want to show off some little skin yet look so feminine and not so sexy, read this article I wrote for amazing tips. Thank me later!
4. DO: Dress According to Your Major
As you advance in years, you'll notice that some college majors will require a professional kind of dressing. This is usually, to prepare you for the marketplace after your graduation, or during your internship. Think the banking sector.
While many people are finding joy in dressing casually or business casually, don't find offense in this but try to adapt to the dress code. Good thing, you can always tailor every outfit to suit your taste and preference.
Whether you're a freshman or soon-to-graduate senior, start investing in a few staple items like a fitted blazer, classic watch, and tailored pants which will come in handy when transitioning from college to the work world.
For your internships, typical outfits include either a pantsuit or skirt suit with a button-down shirt or blouse. Even though you may see shorter styles in the classroom, we recommend that skirts and dresses should hit below the knee. Also, avoid heavy perfumes or colognes and keep their hair tidy.
Footwear is also an important consideration. You can wear heels, but make sure you are comfortable wearing them. Adding nice flats is a fine option too.
Check out this article on non-boring work outfits to copy from Folake Huntoon of the Style Pantry.
Style Tip…
If you're borrowing clothes from a friend or parent, please, get the right fit. Avoid clothes that do not fit. Actually, pantsuits that are too big or small, or a blazer with broken buttons, will not only look unprofessional, but they will also likely feel uncomfortable.
Be sure to wear it before the big day and observe yourself in front of the mirror. You want to feel confident because if you feel confident, you will perform well at the company you're interning at.
5. DO: Dress for the Occasion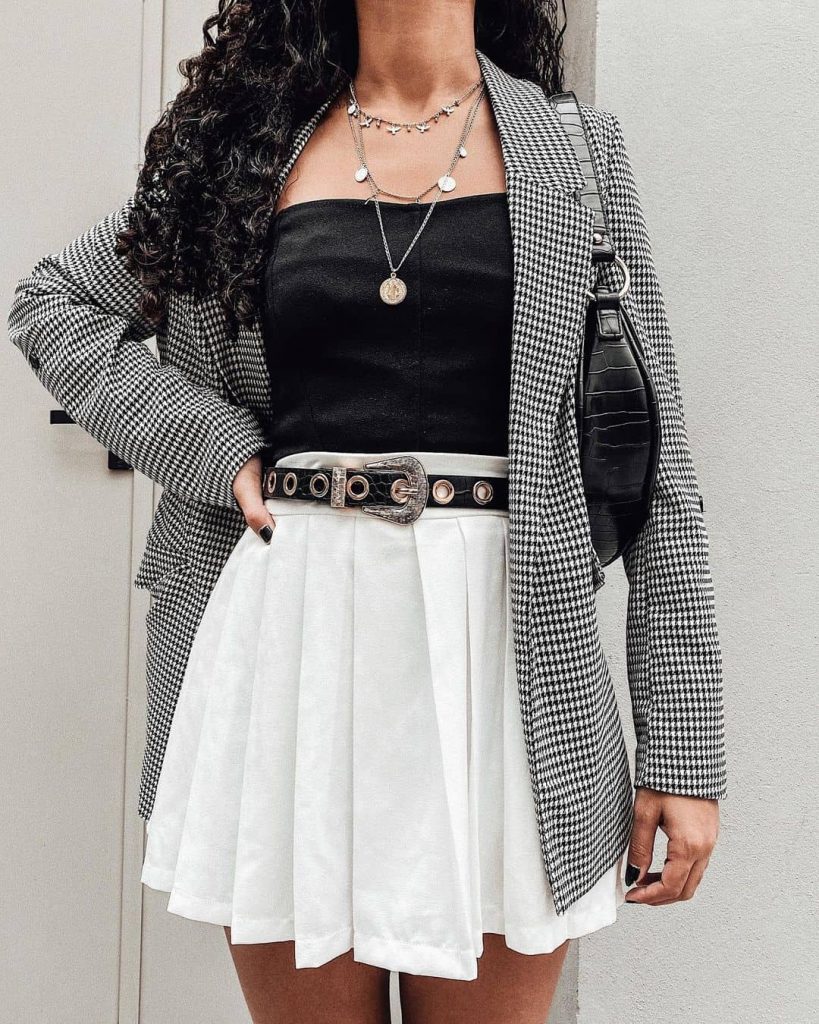 Dressing according to your major is okay, but dressing for the occasion is even better. The easiest way to always look put-together is to dress for where you're going.
Your image reflects who you are; and when your style is just fit for the occasion, you will not only have greater confidence but perform better(if in class) or socialize better(if at an event).
If you look well put together for your classes, it should provide you with more confidence when it comes to approaching your professors and also enable your professors to take you more seriously. For sure, confidence is key to success.
Dress up your jeans and if it's quite cold, bring a cardigan, hoodie, or extra jacket to the class that you can take off if it is warm, but easily put back on if it is cold. If mom jeans are your favorites, here are tips to ensure you look stylish in them.
For class presentations, most graduate students wear a dress or nice pants, shirt, and blazer. This look is such a beautiful combination that always works.
Outside of the classroom, you have a lot of options for how to dress. When attending a casual event at school like a sports match, jeans will always work when paired with a t-shirt, hoodie, or your preferred top.
For a concert or date, you want to dress up a bit more with nice jeans or skirt and a blouse or opt for a dress, which, does not have to be as long as one for a classroom setting.
You May Also Like: Date Outfit Ideas: Elegantly Dress up For a Date the Victoria-Fox Way
6. DO: Dress for the Climate
It's not wise to be shivering just because you decided to 'freeze-and-shine' as well as boil in heavy garments when it's super hot.
Knowing how warm or cold the weather gets is key to dressing appropriately. While there are plenty of college outfits you can wear and look stylish, always remember to loosen up when it gets hot and layer up and wear boots when it gets cold.
You May Also Like:
How To Look More Stylish This Summer- Timeless Tips For Every Summer
How To Spice Up Your Fall Wardrobe
7. DO: Repurpose Your Outfits
Don't be afraid to repeat outfits in college. If you find an outfit that you like, it is more than okay to make this your go-to college outfit.
The key is to get basic wardrobe items like a blazer, jeans, pants, and blouses in basic colors like black, white, or nudes; and mix and match like a pro.
As a student, it is wise to avoid overspending just to purchase trendy clothes. More so, avoid credit debt because of extreme clothing purchases.
You May Also Like: How To Repeat Clothes Without Anyone Taking Notice
Fashionable College Outfits to Always Look Stylish
With these styling tips in mind, you're ready to dress up for college. Now, scroll down for fashionable college outfits to look more stylish.
1. Jeans Always Work!
Wearing outfits with jeans, even when it's hot outside, feels comfortable and they are easy to match. While mom jeans are fabulous for a casual feel on-campus, you can never go wrong with wide-leg jeans.
Also, skinny jeans are easy to dress up for a dressier look.
You May Also Like: How To Rock Denim Jeans Like A Street Style Fashionista
2. Add a Denim Jacket
A denim jacket is an essential in your wardrobe no matter the season. It's especially the perfect layering piece for the fall, super versatile, and can be the finishing touch for almost any outfit.
Grab a long denim jacket and pair it with your best dress. You can also layer it for more coverage when you wear a bralette with a tennis skirt or chic leggings.
You May Also Like: How To Wear A Bralette Publicly & Stylishly
3. And a Checkered Shirt
Whether you fancy updating your streetwear wardrobe or want something for casual Friday at college, a long or oversized checkered shirt will be the style for you.
Choose from laid-back tartan shirts and plaid shirts that offer the ideal complement to your fave pair of high-waisted skinny jeans, oversized hoodie-dress, or miniskirt-with-bralette look.
4. Grab a Plaid Blazer
Up your outerwear game with a stylish plaid blazer. Choose a neutral print if you want to maximize your options, perhaps a good beige or brown plaid that can be worn with earthy tones or a grey one that can be paired with black.
Also, invest in a good fit that fits you well in the shoulders and flatter your body to show off your shape. We recommend longer blazers that can be worn with almost every outfit.
Top your casual look with a great plaid blazer for a dressier look.
You May Also Like: How To Style The Oversized Blazer In Your Closet
5. And a Long Black Blazer
While a plaid blazer is a great casual outerwear, a long blazer is a wardrobe essential. Just pair your black blazer with your favorite work pants or throw it over any casual look, and you have a perfect outfit! 
Trust me, blazers will instantly turn a super casual outfit to dressy, so you can feel more confident!
6. Plus a Leather Jacket
The leather jacket is an essential piece of clothing for every college student's wardrobe. No matter what your style is, your budget, or your occasion, there is the perfect leather jacket for you.
It looks very polished and edgy so whether worn with jeans or a skirt and a T-shirt or a top, you can dress up or dress down any outfit and still look effortlessly stylish. 
You May Also Like: Stylish Leather Outfit Ideas For Women (+ Shopping Guide For Leather)
7. Rock a Black Dress
A staple piece that every wardrobe needs, the black dress is the perfect outfit for every occasion. For a dress-down kind of a day in college, you can wear a simple black dress with a denim jacket and a pair of sneakers. 
You can also remove your denim jacket and tie it around your waist when it gets hot for a casually cool vibe.
8. Show up your Tennis Skirts
The athleisure trend of wearing tennis skirts off the court seems to be at its high fashion peak this year.  Style it with crop tops to add some spice to your everyday college outfit, or a chic t-shirt for a simple and classic combination.
Tennis skirts can be effortlessly finished with sneakers or boots, then throw atop a classic leather blazer.
9. More Bohemian Midi Skirts
Whether you are a fan of the boho style or you want to start trying to wearing some boho style outfits to your college classes, start with bohemian skirts with ruffles, high slits, or high low designs because they are playfully chic and not granny-like.
Pair your bohemian skirts with well-fitting tops, or crop tops to balance your silhouette. If you'll layer up, try shorter blazers and jackets before finishing your look with white sneakers and cute boots.
You May Also Like: White Sneakers Outfits That Prove Every Woman Needs A Quality Pair
10. More Dressy Pants
Dressy pants are a style of pants intended for formal or semi-formal wear, for instance, during your class presentations.
Start with a good pair of khaki pants from the blush, beige and brown color families and pair with a neutral top and your look will be instantly elevated.
You might think leather pants are best saved for a night out, but with some thoughtful styling, they can actually work pretty much anywhere—even in your college class.
The key is to tone down its edgy vibe by pairing your leather pants with softer fabrics, longer tops, and outerwear.
White pants are ideal for summer wear, but you can try them on during transitional seasons. They look good with almost everything, starting from bold, loud color and print tops to classic dark hue tops.
They are also dressier so you can always look more polished and pair them with cute tops for a date.
You May Also Like: How to Wear White This Fall
11. Add a Shirtdress
If I had to narrow down my college wardrobe to just one dress, it would probably be a shirt dress. It's the most versatile, comfortable, easy-to-wear outfit for class.
Give your favorite pair of jeans a break by wearing a white shirt dress to class. Casual and comfortable, this button-down will work with sneakers or boots for an easy outfit.
Feel free to add a statement belt and throw on a black leather jacket.
12. Some Miniskirts Won't Hurt!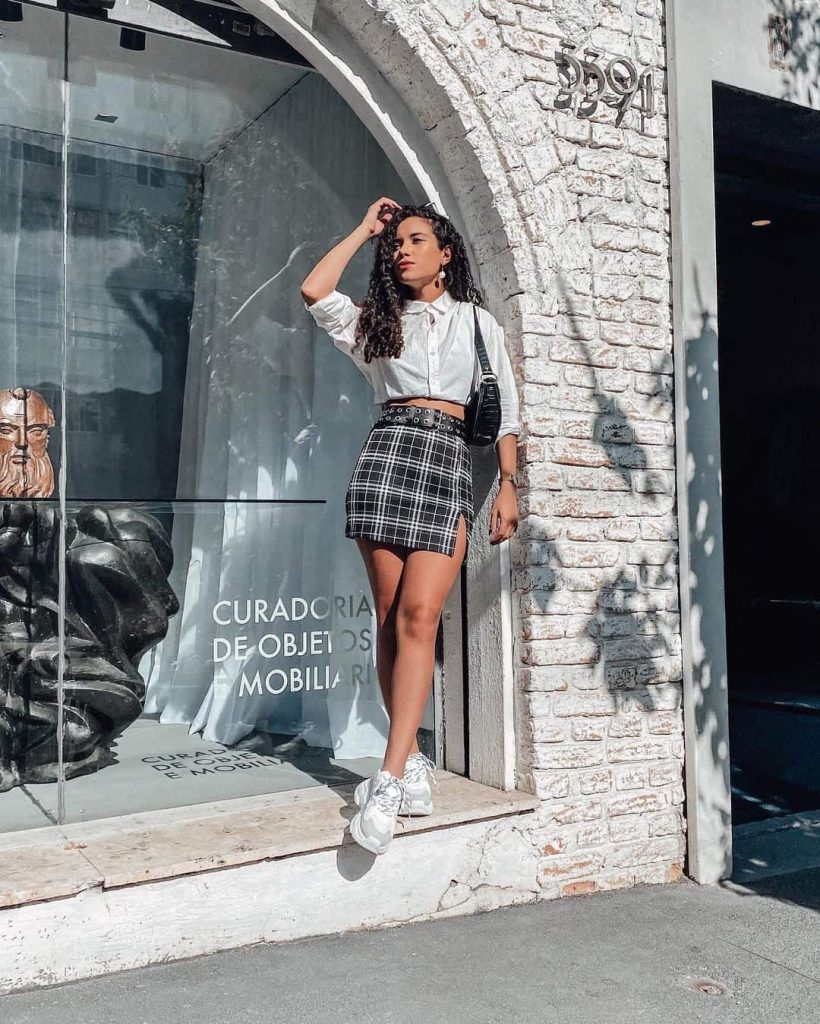 Much to your surprise, mini-skirts are a seasonless staple when paired with the right top. With the assistance of classic coats, comfy sweaters, and cool footwear, you can style a mini-skirt for your college class without looking too sexy.
Opt for neutral colors like camel, black and checkered mini skirts, then pair with more modest tops to reduce the sexy vibe so it's perfect for class.
For sure, miniskirts are one of the most popular college outfits that college girls like so style them well!
You May Also Like: How To Wear Miniskirts – Tips For Looking Totally Chic!
Ready for uni? Try these fashionable college outfits to class!