Disclaimer: All photos are courtesy of Mia Mia Mine on Instagram.
Stuck in a pair of denim jeans? Well, you're not alone. Whether it's a dark wash or a light wash pair, we all love them.
Nothing comes close to the ubiquity of the classic pair of denim jeans; it is most likely one of the only pieces of fashion everyone owns regardless of their personal style, preference or size.
For some time now, I have been an avid follower of Maria Vizuete, a street style, beauty and travel blogger at Mia Mia Mine.
Her Instagram feed is full of fabulous looks that swoop her too much love from her followers, including me; not to forget her amazing blog.
She is a fashion blogger who I look up to when it comes to all matters style for slim fashionistas; well, including Macy Stucke and Lucia Musau who are just as gorgeous!
Maria Vizuete cherishes a pair of denim jeans so much and how she styles them is just perfect! I've come to conclude that her signature style entails pairing denim jeans.
You'll realize how a good pair of denim jeans are versatile once you get to see her style!
And mind you, with only a dark-wash and a light-wash pair of jeans, you can be good to go all time long!
To that end, I highlight the wardrobe staple , showcasing 10 ways Maria Vizuete of Mia Mia Mine rocked denim jeans like the street style pro she is!
How To Rock Denim Jeans Like A Pro
1. Off-shoulder vibes.
Looking for a way to look sexy but still keep it demure?
Then trade your V-neck tops for an off-shoulder top when you rock your denim jeans!
Show your skin and bare those shoulders because this new top in the hood is all about showcasing that décolletage.
Maria Vizuete just knows how to dress up her distressed jeans , right? Even when it's cold she can rock it, bring along a warm coat and wear those boots!
2. Rock thigh high boots.
Thigh high boots help to add a touch of glamour to any look, right? Not only can the pair be worn for 'shorties' but also for pants!
But how?
Just ensure that your pants are the pencil type so that you can easily tuck them in your thigh highs.
And again, forget about the notions you've heard about ladies  rocking thigh highs only for colder seasons!
Now that they are hot in trend and come in a myriad types, you have an option to pick the right one for each season honey!
She rocks thigh high boots with a sweater top-and-denim-jeans combo! For sure, chunky knits are just a jam!
3.Top up with velvet.
Since most of the' 90s trends are coming back, then velvet has no reason to lay back!
Velvet is so soft, cozy and sleek for any outfit it comes in so I definitely suggest that you get one for your closet.
Even so, I've seen ladies wearing velvet incorrectly till I feel like they just made an outfit from their sofa material which is usually velvet!
I suggest learning how to tone down velvet looks by going neutral or if bold, keep it plain and not too detailed!
Mia Mia rocks velvet in the color blue and she looks fantastic even for the office!
Read also: How to wear a pair of jeans for a semi-formal occasion.
4. Slip on stiletto heels.
Many of us will consider finishing off a look in denim jeans with a pair of sneakers or doll shoes.
But if you are looking to add a fine yet formal finish to your look, then consider a beautiful pair of stiletto heels.
Well, there is so much talk about wearing high heels for confidence and that good posture; and yes, I'll have to agree with that!
Just look at how a pair of beige stiletto heels can elevate a look in knee-cut-off jeans from casual to fabulously semi-formal ASAP?
What are you then waiting for? Just get that hot pair of stilettos lady!
5. Go all baby blue!
Going monochromatic is one of the easiest ways to look expensive without too much effort!
And especially when you are going monochromatic in light shades, you can be sure to turn heads wherever you go lady!
As much as light baby blue conjures up thoughts of bouncing baby boys, this tranquil shade has the power to nail a multitude of fashionable looks!
Mia Mia Mine wears an all-baby-blue ensemble in her street style missions and she looks as sleek as ever! So do you agree that baby blue is the thing right now?
 Denim Jeans
6. Add a touch of camel.
The camel coat is one of the most universally-flattering pieces to have in your wardrobe this season!
The layer is widely embraced by not only men, but also superwomen!
With the rise of athleisure, more comfy and easy-going shapes have also been designed for camel layers.
While I got a camel hoodie, over-sized coats are there; and while waterfall coats are rocking in camel, robe style coats are also at the top of our wardrobe wishlist!
Since they are flooding the streets, Maria Vizuete , the street-style guru layers an over-sized camel on the Canadian tuxedo!
Mixing a light wash denim shirt and a pair of dark-wash denim jeans before finishing off with a pair of blue stilettos creates a perfect ensemble, right?
7. Top with that denim jacket.
Nothing livens up an all-black look like the perfect denim jacket!
With one of the perfect blue wash as Maria's, you can always look good topping it up on all your 'lazy' looks!
Read also: How to rock denim on denim
8. Puzzle up with printed kimonos.
Kimono cardigans are also the 'IT' trend this season and many love the Japanese-inspired layer.
Most kimonos are usually light and airy thus perfect even for warmer seasons.
And again, they comes in very beautiful patterns and prints that no one can resist getting one!
Maria dons a black and white stripped kimono over a black and white set to create a street-ready look!
And that finish using a designer bag and those heels is everything!
9. Denim shorts anytime!
Wanna show off that pretty skin lady? Then get a nice pair of denim shorts!
Not only are they good for the beach during summer but also awesome for the streets!
Denim shorts are so back in fashion and after some time, I've also decided to get them too.
Initially, they were considered as sartorially questionable but since they flooded the streets, it's even ironic to find someone lacking these!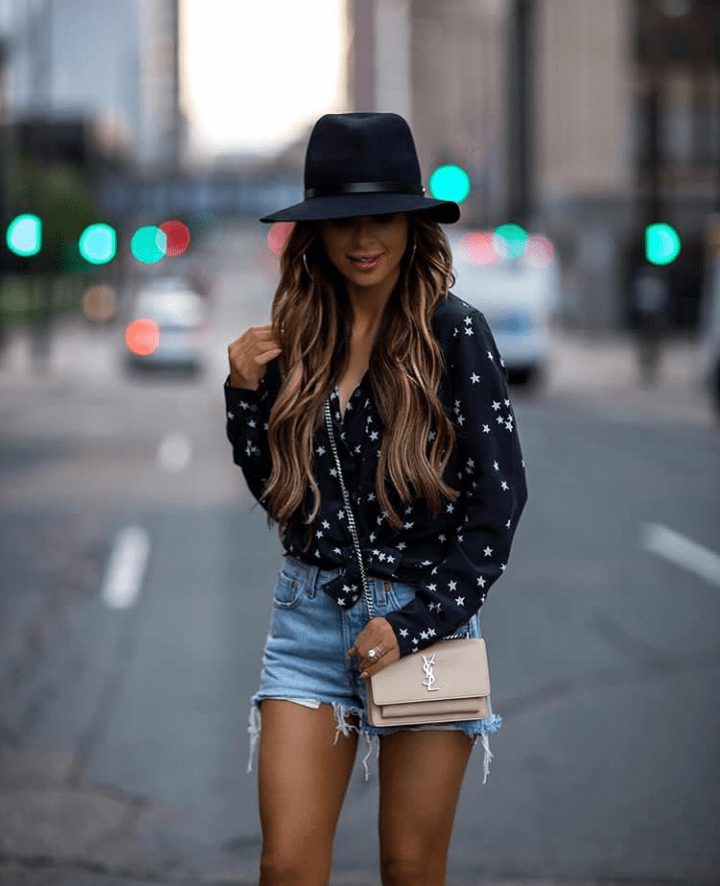 Jorts are so easy to style and Maria Vizuete goes so easy in them before finishing off with a hat! Fantastic! 
 10. Blue and white pairs.
There is just something incredibly sexy and stylish the simplicity of a white pair of jeans with blue tops hold, right?
Perhaps it's something to do with how the colors just blend together so well to give you an overall sleek look? Or the effortlessness? Or even the versatility? Oh my!
But perhaps Maria's look in the blue and white combo tells it all!
It's definitely in the classic nature the mix beholds! Nothing but pure style locked in a timeless sartorial bubble!
AH, denim! Where would we really be without you? If denim bottoms are this versatile, they basically form the backbone of our wardrobes!
You May Also Like:
10 Ways to Dress More Feminine
Elegant Loungewear Ideas to Always Look Chic at Home
How to Show Skin Effortlessly as your Dress Up
So lovelies, with those 10 ways to rock denim jeans from Maria Vizuette, you can get rocking!
Well, how much do you love Maria Vizuette's looks? And how much do you treasure a classic pair of denim jeans?
Well, please share your thoughts with me below…
Hugs!
Dalene.
Related Roundup Feature on IFB:
Links à la Mode, January 3rd, 2019 by Independent Fashion Bloggers
How to rock denim jeans like a street style fashionista by Dalene Ekirapa
The article shows how a pair of denim jeans are very versatile and can be worn from the streets to work effortlessly.
Tulle in the City by FunkyForty
So here you have it … well and truly wearing tulle in the city for Saturday shopping!!! A post to get you out of jeans and boots!
The return of pleated skirt by Fashion & Lifestyle
The post talks about how a dreaded style that used to be a churchy girl style has made a comeback to the world of fashion and has become a compulsory wardrobe staple.
An Adorable All-Black Mommy-Daughter Outfit by Baydian Girl
Wearing matching outfits with your child can be a lot of fun! Here's an adorable all-black mommy-daughter outfit idea to inspire fashionable moms.
SPONSOR: Amazon's Shopbop
Deepa Gurnani, Hat Attack, Marc Jacobs Accessories, The Mighty Company, Maison Mayle, Ewa Herzog, Blue Blouses, Toe Ring Sandals, Shopbop Reviews, Men's Isaora