Fall is here and winter is fast approaching. While many women end up looking all buckled up and boring, you want to still look your best though. Make a bit of effort by using our tips to spice up your fall wardrobe and brighten those cold and dull winter days.
From inspiring ways to style your favorite chunky turtlenecks to surprising details and classic pairings, these are cute ways to take your fall look to the next level:
1. Wear Color!
Every fall wardrobe deserves some color!
While monochromatic colors or different shades of the same tones are great for a sophisticated look, you can still achieve a cohesive wardrobe by mixing and matching pieces of color.
Be selective with color though. Choose black, or navy as your base, and add a few neutral colors such as white, beige, camel, or gray. Be sure to then select your preferred accent colors to spice up your outfit.
You can also use brighter colors for your base and add neutral colors. For instance, a double denim combo would be a great base for a long black coat.
And if you love black but looking for an alternative, then camel is one shade you will love this season! Opt for brown instead of black, not just for the coat but a brown pair of boots or dress pants would do as well.
Shop The Look: Long Trench Coat | Stilettos |
2. Go All White
Thought about breaking the rules this fall? Then skip the neutrals and even color that can be safe and go all-white! Make a statement that will turn heads this fall.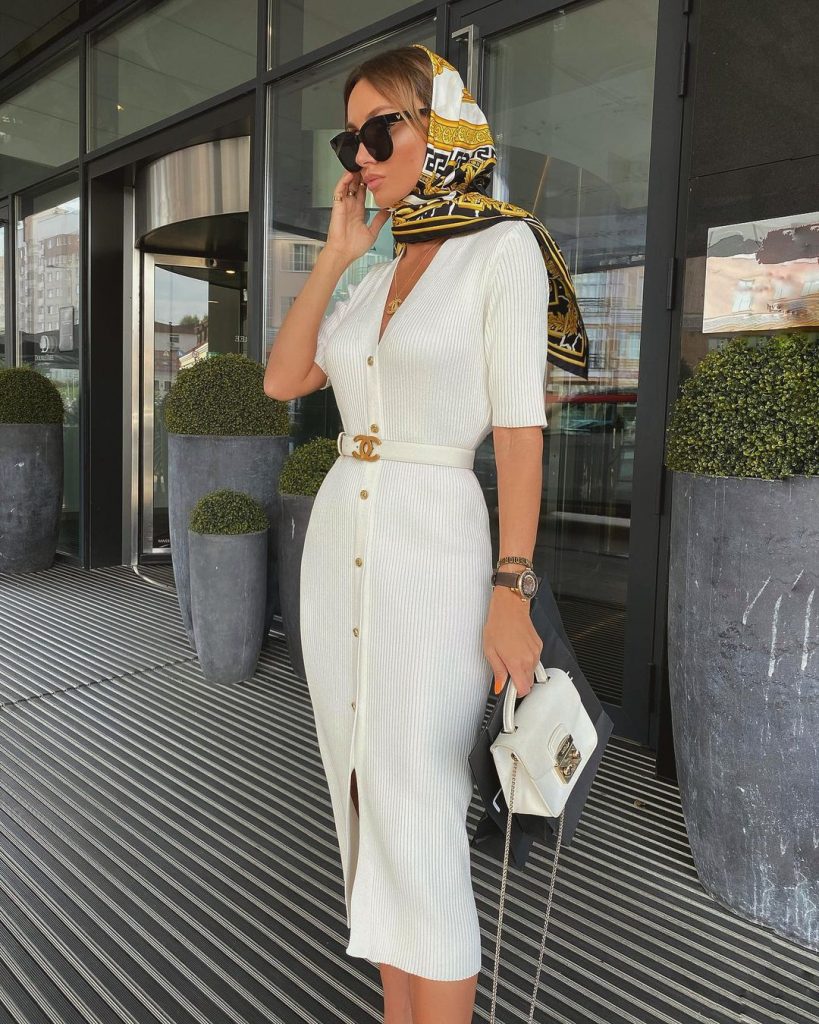 If too skeptical about all-white washing you out, wear it for your lower body like bright white skinny jeans.
You can also wear creamy whites and even light neutral shades of beige as they look heavier, warmer, and add depth and richness to your look.
3. A Touch of Boho
Inject a summery vibe into your fall wardrobe by adding a touch of boho. Bring your long dresses out and still wear them in the fall.
And if you're unsure of how to keep warm with them on, style them with thick tights or stockings, and long boots to finish the look and remain warm. Feel free to also layer them with denim jackets and long coats.
4. Wear Pattern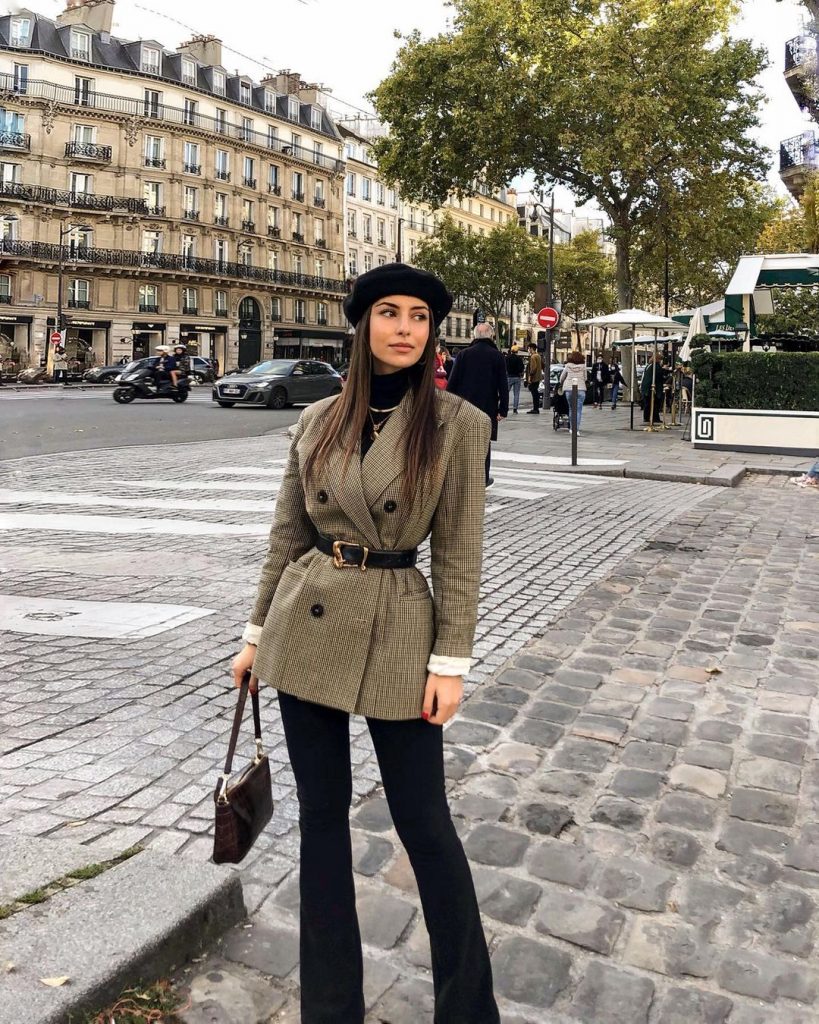 Add interest to your fall wardrobe by incorporating patterns, probably one or two. While pattern mixing can be tricky, they look great if you wear coordinated colors.
A long animal-print coat would be amazing for your all-black look.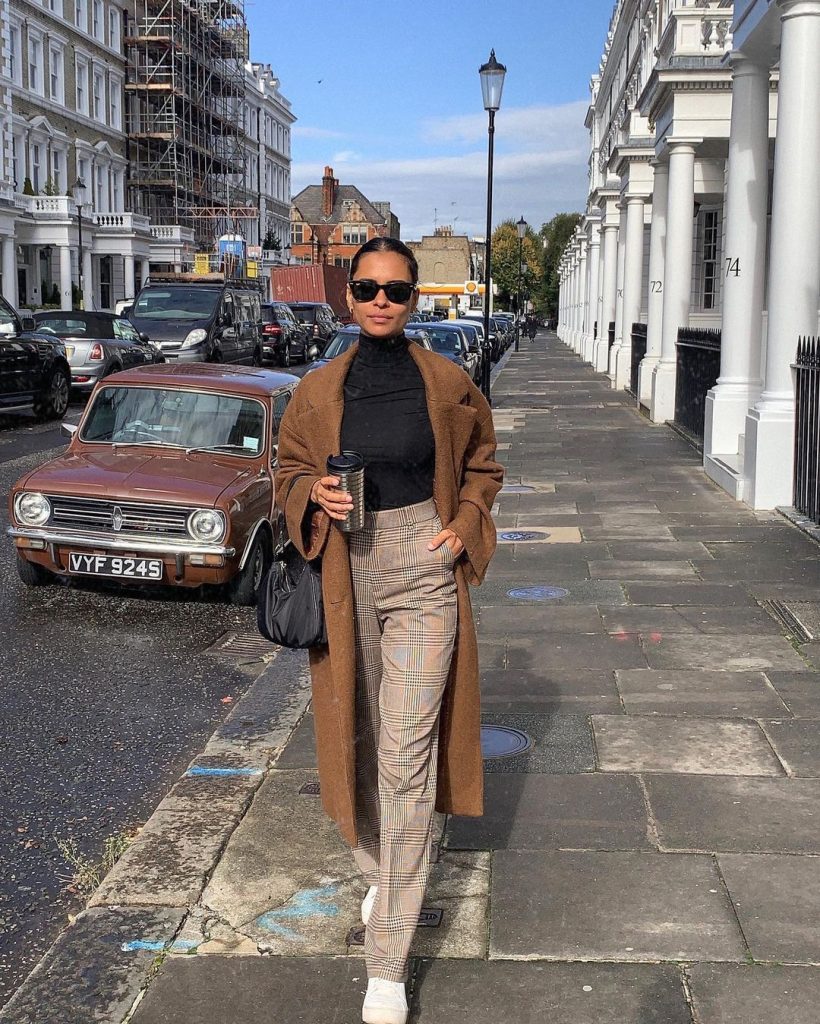 While you may not have much freedom to express your style with your fall wardrobe, shoes are a great escape. Make a statement with snake print shoes.
And if you're stuck in a rut of dull 'boring' fall outfits, choose a warm color that can help make a subtle change to your outfits.
5. Use Texture & Shine
Leather, suede, lace, and velvet are just a few of the favorite fabrics for fall!
Texture adds details to your wardrobe and can help elevate your look. When it comes to texture, you want to mix them for a spiced-up look. Mix leather and fur or velvet.
A long-sleeved lace top can match with your equally fancy shoes and jewelry.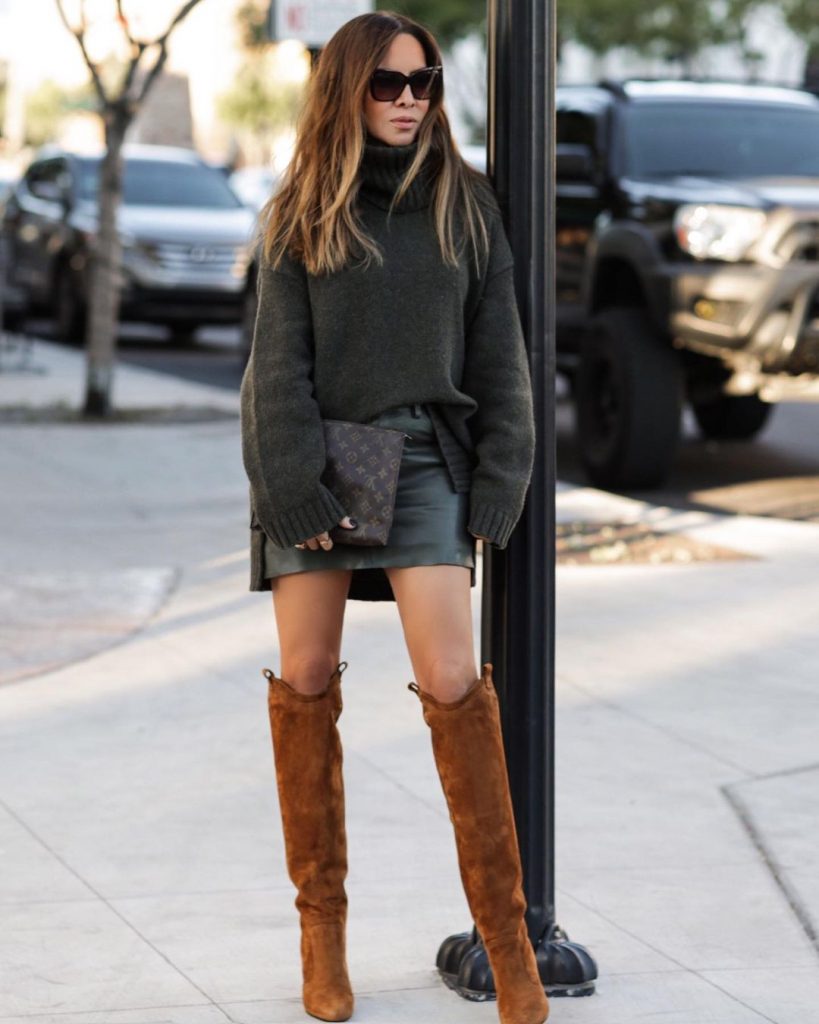 You can also go high-shine if you're a slightly edgy woman by wearing patent leather, vinyl, and other high shine fabrics/materials.
Metallic midi skirts are a particular fall favorite that will elevate your style and add depth and interest.
You May Also Like: How to Look Chassy In Fall
6. Wear Your Boyfriend Jeans
A good pair of jeans is a completely versatile piece to help you transition between summer and fall. However, skip the skinny jeans and level up with boyfriend jeans.
They can easily be paired with thick comfy sweaters as the weather starts to cool down. Boyfriend jeans can also be dressed up with OTK boots or dressed down with low-heeled ankle boots depending on the occasion.
You May Also Like: How to Level Up your Look in Denim Jeans
7. Style Up With Turtleneck Sweaters
Turtleneck sweaters are a signature clothing article for the colder weather.
You can never go wrong when throwing on a turtleneck since they pair really well with skinny jeans, black pants, leggings, midi skirts, pencil skirts, you name it.
You can also layer with a long wool coat or a sharp blazer to achieve a much-desired comfort.
Compliment a turtleneck underneath with a trench coat. This is one of the best go-to cute cold weather outfits since it's so timeless!
8. Do A Bold Bag
Steer away from the original brown and black oversized bags this fall and look for other colors and sizes.
Incorporate other versatile colors such as reds, purples, and yellows as they can match with almost every outfit in your fall wardrobe.
9. Scarf It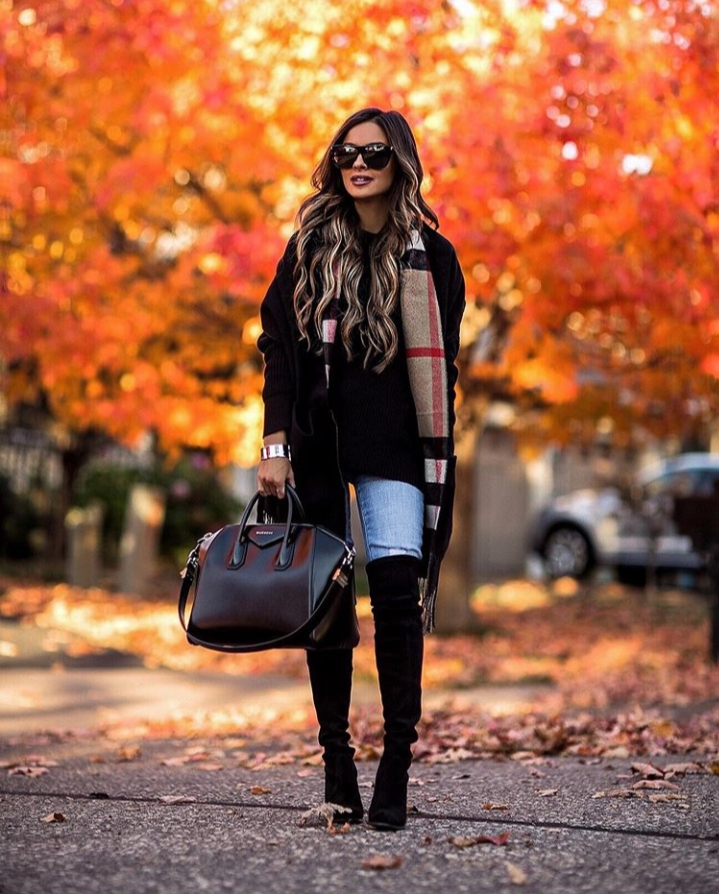 Simply make a fashion statement this winter by wearing your winter scarf. A blanket scarf can go so well with your winter ensemble as it pairs well with comfy oversized sweaters or simple tees.
On top of providing an extra layer of warmth, they also add that extra level of trend everyone looks for in the fall.
You May Also Like: 11 Elegant Ways to Wear a Scarf
10. Add A Hat
Winter dressing can feel like a tricky game. You carefully cover your body in layers but still look boring.
Well, to spice up your fall wardrobe, remember to accessorize as they make a huge difference in finishing your look. Bags and shoes are great but a hat is a great investment piece that you won't have to buy often.
A beanie or a bucket hat is warm and super cute. They're simple to style and you can easily match them with every outfit since they come in every color, pattern, form, and textile.
While a baker-boy cap is a great pick to pair with a long coat, a beret is a must-have for fall.
You May Also Like: How to Rock a Hat Stylishly Like a True Fashionista
11. Step Into Some Fun Shoes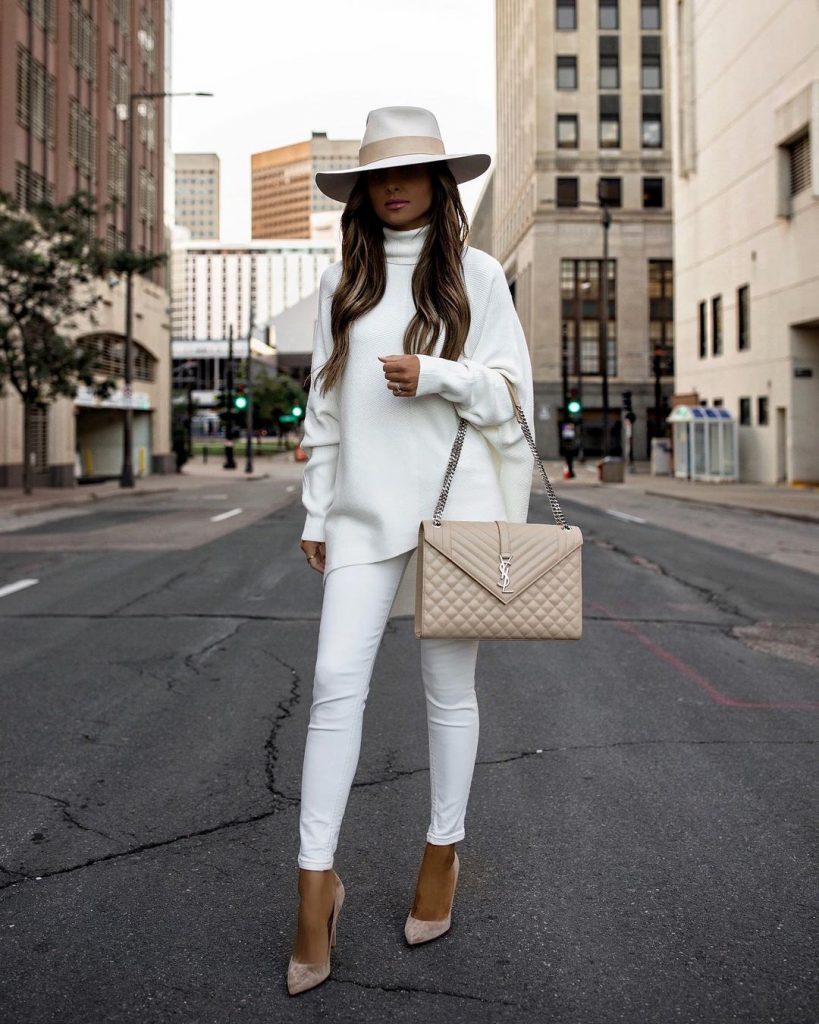 Shop The Look: Sweater |
We wear basic shoes in the fall, but why not spice things up a little by stepping into some fun shoes?
Wear some of your spring favorites in the fall, before the ground gets really cold. And when it does, get some brighter choices for your fall shoes that can take a tired or basic outfit, to hot and fresh.
12. Wear Some Long Boots
Long classic boots are a great addition to any fall wardrobe, especially if you are hoping to wear some of your skirts and dresses as soon as the temperatures drop, and not just skinny jeans!
Depending on your style personality, opt for over the knee boots or just knee-high boots to spice up your fall look. An easy way is to wear your brown knee-high boots is with jeans for a casual look.
You May Also Like: How to Look Good in Slouchy Over-the-Knee Boots
13. Add Stand-out Jewelry
Your jewelry is the easiest way to refresh your fall outfit. Find jewelry that is fun, such as big hoops, tassels, or beaded jewelry in order to make a statement.
Have you already shopped your fall wardrobe? Which of these tips are you riding on?