This article on how to wear miniskirts the chic way features fashionistas: Kerina Wang, Rubi Love, Mia Mia Mine, Alena Alena, Cemre.Fe, Julia Damon, Nika Marianaaa, Macy Stucke and Modeison. Go Glam!
Let's start by giving credit where it's due. When it comes to miniskirts, Kerina Wang deserves the crown because her styling of miniskirts is just spot-on!
And she is not alone because Alena Alena, a fellow fashionista also pulls the style off the grown-up way, and even if you don't have gorgeous supermodel legs, you'll be inspired to rock miniskirts.
But before we show you how to wear miniskirts the grown-up way and look chic, keep in mind these style rules in order to look good in any short outfit!
Quick Tips…
Flatter just one part of your body per outfit. If you love your legs, wear a short skirt, and have your top body in an almost full to full coverage. For example; wear a gorgeous long-sleeved blouse for your short tweed skirt. Minis are all about proportions!
Don't show too much skin! If you are already showing off your legs thanks to your short skirt, no need to show off your cleavage with a V-neck, your arms with a strapless crop top, or your-shoulders with an off-shoulder top. If you have too, layer up!
Don't wear a sexy appeal. No matter how you slice it, short skirts add a serious dash of sex appeal and it's for this reason you should tone down your outfit by pairing up your skirt with 'kinda unflattering' tops which balance the inherent sexiness of the skirt.
You May Also Like: How To Show Skin Effortlessly- Tips For Looking Totally Chic!
Now that that's settled, let's talk about today's take on the mini-skirts trend.
This article features style ideas from gorgeous fashionistas on how to wear miniskirts, and look all chic and put-together!
So let's already style our miniskirts!
How to Wear a Mini Skirt & Look Chic
 Go High-Wasted!
High wasted miniskirts provide much coverage hence you feel secure with the fabric covering your midsection. As well, they provide proper waist-cinching. Good enough, the high waist tends to be the natural waist of any woman (the narrowest part of her torso).
In this case, you can either pick pencil skirts or flared minis. While a pencil skirt looks more professional and can ride up your legs, the flared skirt isn't so tight hence more comfortable.
Quick Tips…
When choosing your short skirt, opt for a mini skirt that sits much higher on your midriff, rather than at your hips. It will make you feel more confident especially if you're not a daring hippie.
Also, if your skirt is really body fitting, go for a little extra length so that in case it rides up your legs, the extra length accommodates for that.
With minis, the fit is king! Just as much as you wouldn't want to try too-big skirts, you also don't want to wear too-small minis. Quit the ill-fitting minis are rock just a well-fitting mini skirt.
Also try tweed miniskirts which are thicker, sturdier, and don't easily roll up your thighs.
 Try A Skort
For a clever hack, pick a skort (a skirt with built-in shorts underneath) for a comfortable style with no fear!
You May Also Like: Tennis Skirts Outfits To Try: Stylish Ideas To Dress Up A Tennis Skirt
Try a Long Coat or Sweater!
If you feel like your bum is in danger of slipping out of the bottom of your short skirt, just throw on a long coat, sweater or kimono. That way, you can still show off your legs at the front.
Basically, layering helps you to elevate your look and still look modest. In fact, larger or loose outerwear provides more comfort than your normal tighter coat.
You May Also Like: Stylish Oversized Sweater Outfits To Inspire Your Fall Wardrobe
 Or Just a Cute Blazer!
If you cannot find a long coat or kimono for your miniskirt, a long blazer helps to add an inch of sophistication to your look.
You May Also Like: How to Wear an Over-sized Blazer
Pick a Sleeved Top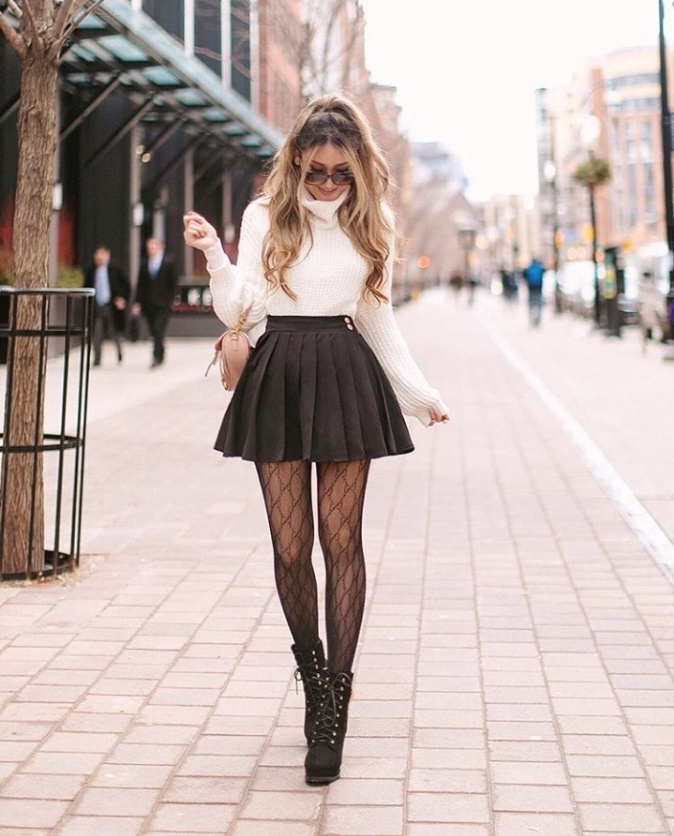 If it's too hot to wear a coat, sweater or blazer, just wear a top with a long sleeve or mid-sleeve. By showing less skin on your upper body, it balances out the shortness of the skirt.
 Go Shoe-Casual
Sneakers, flat booties or flats can help you downplay so grab them instead of your day-to-day stilettos. To look edgier, pick fancy pointy shoes to create an illusion of longer leaner legs.
Feeling a little less flattering? Then try some block heels or wedge heels for a sassier feel.
You May Also Like: Chic Brown Ankle Boots Outfits – Tips To Choose & Wear Brown Booties
 Try Over-the-Knee Boots
Styling your mini skirt with chunky over-the-knee boots will provide much coverage for you while still making you feel more modern and chic.
You May Also Like: How to Look Good in Slouchy Over-the-Knee Boots
 Or Knee-Highs Too!
Image Source: Cemre.Fe
Jimmy Choo knee-high boots are an absolute closet favorite.  If you get such a beautiful suede pair, you'll look instantly glamorous and modest too.
 Some Cute Stockings? Yes, Please!
If you don't want to wear this boldest and riskiest of trends on any given day, you might as well wear some cute stockings underneath your skirt.
Just make your sure your pair of stockings is of good quality that it won't tear off at the slightest scratch and will still look posh.
At least, you'll feel much confident in this fun alternative. In fact, you will be able to sit around all day in one without constantly shifting nervously in fear that your unders are on display.
You May Also Like: A Beginner's Guide To The Different Kinds of Shapewear For Women
Quick Hack…
If you wanna rock stilettos with your miniskirt, try stockings! You'll thank us later.
Go Tailored or just, Smart Casual
A tailored two-piece or structured suit can help you work the trend out with much maturity. So, if you're a woman who doesn't want to step out in a denim mini, go smart casual.
By the way, speaking of colors, darker, neutral and muted hues are better for a professional look while bright ones are more party appropriate.
You May Also Like: How to Rock a Monochromatic Outfit Like a Pro
Keep It Simple, Stylish!
A rich blue top with long bell sleeves teamed with high-waisted ruffle mini skirt in orange would look so glossy especially when finished with a cute pair of high heels. It would take some guts to wear the look.
But if you're sure you can't stand all the eyeballs on you in such a look, then tone down your look by just keeping it simple!
Flat shoes, sneakers and boots help to tone down the aggressiveness of your short hem line. Less accessories also help to avoid looking too flashy!
You May Also Like: How to Style Accessories Without Taking Much From Your Look
Quick Tip…
Proper underwear is key when wearing your minis! You neither want some serious wardrobe malfunctions nor some serious moments of shame just because your unders were all out there.
What we go for here is some biker shorts that are shorter than your skirt. Also, you can wear a body suit that will also help to make you feel less anxious about your underwear.
Just, Be Graceful!
If you're rocking a mini skirt and you're just not graceful, it's time to get started with the lessons.
Walk gracefully with your neck high and your posture right. In fact, avoid running, walking skimpily fast like someone who's not in her right mind, and just being too jumpy.
Sit well with your legs crossed although my general rule of thumb is not to sit down at all. Also, avoid talking anyhow, smile beautifully, and carry yourself in a very organized manner.
You May Also Like: How to Look Expensive In All You Wear
Also, remember that when you're wearing your mini skirt, it's never the time to bending everywhere.
Master the subtle art of bending straight down to pick up any fallen items. As well, when you exit the car, bring your leg outside first as you come out slowly.
Be sure to watch for the wind in case you're wearing a skater mini that can be carried up in the breeze.
Anyway, be sure to apply these tips when wearing mini dresses too. You will thank us later.
If you wear a mini skirt, you must accept the fact that at times, you'll attract all eyeballs on you with some considering your look trashy and downright wrong. This is where you need to listen to your gut.
Before walking out, walk around your house and listen to your gut's response. If you feel that you can flaunt your miniskirt outdoors confidently, then go ahead and rock it. Otherwise, adopt more coverage.
Shop Miniskirts…
You May Also Like:
The Best Denim Shorts Outfits That'll Have You Slaying All Summer
How To Wear Your Summer Dresses For Every Season, Year-Round
How to Dress up Elegantly for a Date
Do you also wear miniskirts? How do you do it? We'd love to know!
Go Rock!