This article features the gorgeous fashionista  Isabel Selles. Follow her on Instagram here.
Cuffing pants is a common fashion trick. It is a way to create a cool silhouette and put your shoes or sneakers center stage. Yet again, cuffing pants comes off as a very functional styling tip, particularly if the hem of your pants aren't so neat.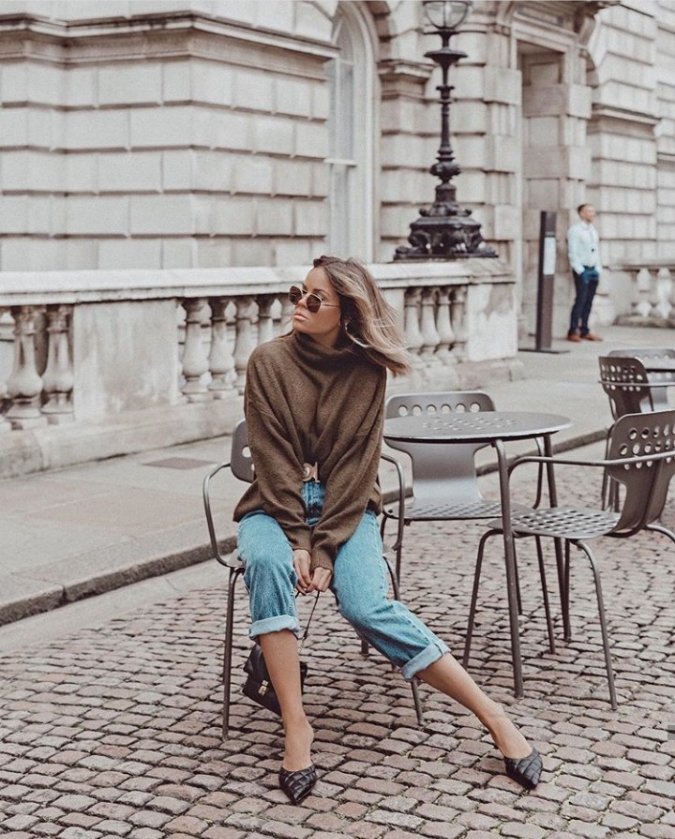 Cuffing your pants work best with jeans and chinos, especially straight-legged, slim or tapered fits. Done right, it's one of those quick style tweaks that every lady should know.
Let's face it. Finding a great pair of jeans with the perfect wash, fit, and length yet still favorable to our pockets can be daunting.
And sometimes, we buy a pair of jeans because they were good so that we can alter them at the tailor's- and it's great- but still, the waists can be taken in and the pant's legs cinched, but what about the hemlines which once altered, the effect is permanent?
While altering your pants to fit your specific size and shape is key, many recommend leaving the length alone. You can always work with the length to achieve the desired look, and that's why, you must know how to cuff your pants-jeans or chinos- like a true fashionista.
There are a few ways to cuff your pants, the most common ones being:
The Single Roll: 
Fold up your jeans about an inch then tuck the hem behind the roll if you'd like, or leave it out.
If you're wearing a mule or any ankle-exposing shoe, or don't have a ton of excess length to work with, consider a single roll- it is clean and cuffs over just once.
It's important that the fold hits at most an inch above the ankle bone to get a leg-lengthening effect, without leaving an awkward amount of skin exposed.
You May Also Like: How to Rock your Jeans like a True Fashionista
The Double Roll: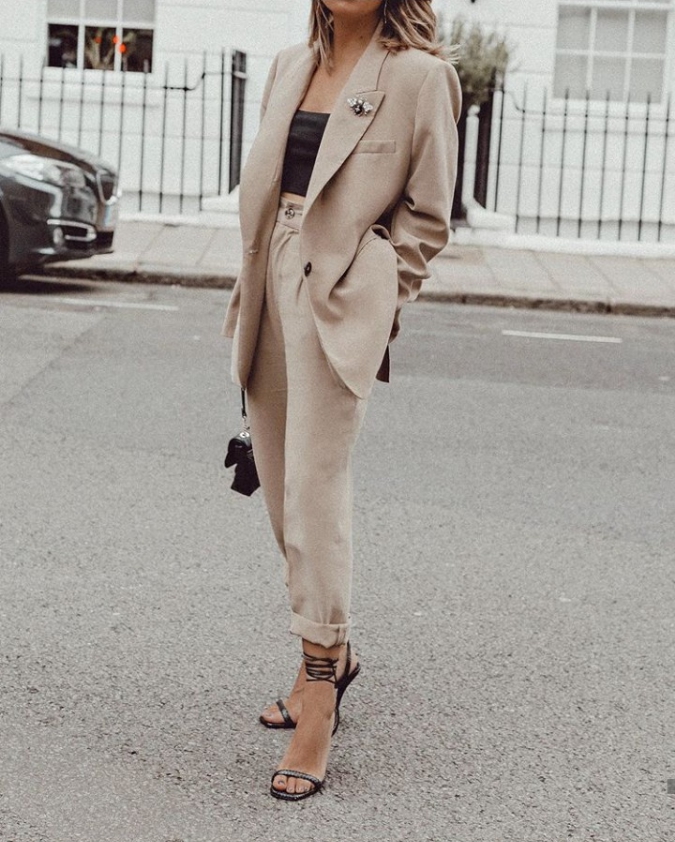 Here, you never should roll your pants up more than twice.  The key there is making the first roll less than an inch and the second one just a touch bigger.
The Deep Cuff:
This is basically an oversized single cuff that tends to be the most difficult because it simply doesn't look good on most ladies. It must be done tactfully.
The deep cuff looks especially good with stiff-straight denim jeans.
The Bicycle Cuff:
This is one of the chicest ways to style denim pants. Simply do the double cuff then slide the jeans up to your calves to just a few inches under the knee.
Skinny pants look great when cuffed like this, however, you can cuff your mom jeans too, if they have a great fit around the waist.
You May Also Like: How to Level Up Your Look In Denim Jeans
The Rolled Cuff: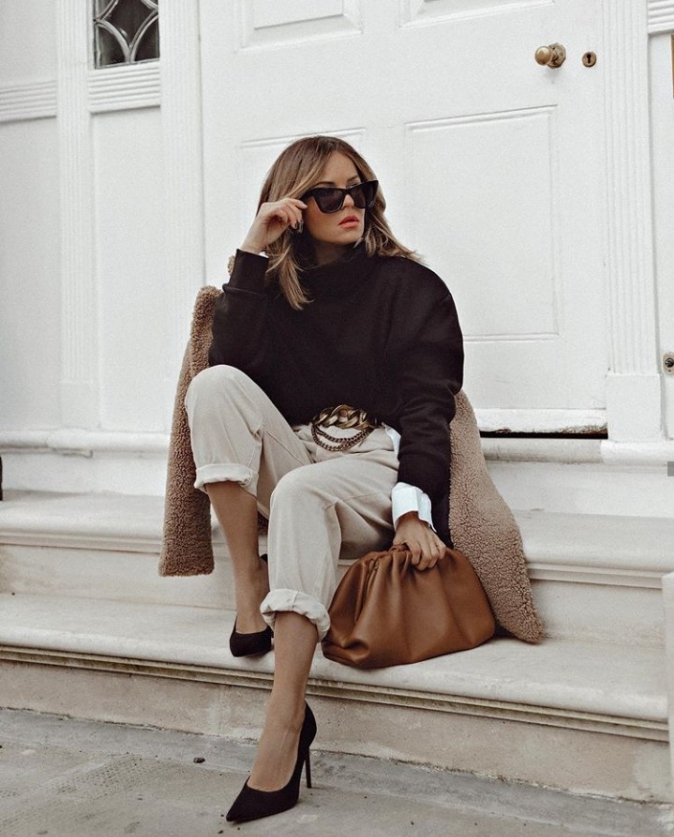 The rolled cuff is one of the most versatile cuff styles. To achieve this look, first, pinch and tuck your bottom seam, then fold up your pant leg two or three times.
Keep your rolls around an inch in width for a relatively-flat cuff since overly narrow rolls lead to bunching. This style looks particularly great with a sneaker or ankle boot.
This untailoring trick could take your style to the net level, allowing you to show off your shoes. But if you struggle to recreate these fitted, fashion-forward folds by yourself, here are some styling tips to ensure you cuff your pants well:
Styling Tips To Cuffing Your Pants Like A Fashionista
1. Know Your Desired Cuff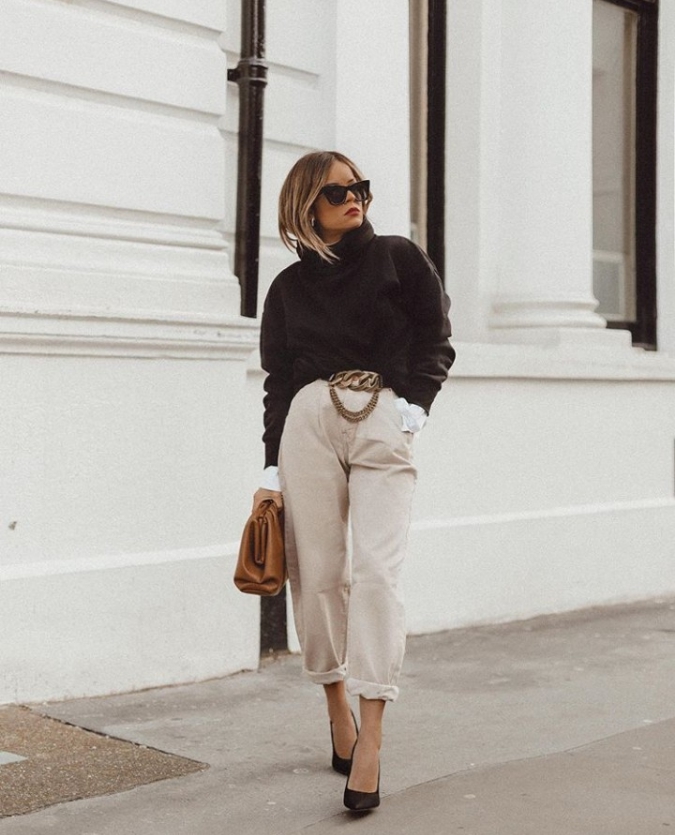 Having seen the different types of cuffs you can try for your jeans or skinny pants, it's time to put it into application.
But normally, thin & well-pressed cuffs generally look best with skinny jeans, while thick and bulky ones often complement loose and ragged pants.
2. Balance Proportions
The best way to balance proportions is by first, ensuring your jeans fit very well around the waist area. Wearing oversized jeans that don't fit around these areas makes you come off as someone who borrowed their boyfriend's pants.
Well-fitting pants that have been cuffed properly are a style statement!
Again, shortening the length of your jeans allows you more room to play around with proportions, especially in your upper body.
With the illusion of longer legs and slimmer ankles thanks to your cuffed pants, you can play around with lengths on your upper body-think shorter lengths like crop tops and sweaters,pr tuck-in shirts, and longer lengths like layering long coats.
You May Also Like: How to Tuck In A Shirt- The Ultimate Women's Guide
You can also play around with the width of your pairs and wear over-sized sweaters, blouses, and shirts especially if your cuffed pants are skinny and well-fitting.
Well-fitting blouses would also look balanced when paired with chunky pants that have been properly cuffed.
3. Cuff For The Occasion & Style
Getting the right cuff for the occasional and the kind of style you'd want to pull off is key. The type of cuff you choose can make or break the feel of your outfit.
For an elegant and sophisticated look, prefer a nicely-pressed cuff with pointed toe heels. This look would be great for a formal occasion, especially as you throw atop a great blazer or wear a gorgeous blouse.
On the other hand, a messily rolled-up cuff goes well with sneakers, a simple tee, and an oversized tote for a casual vibe when going about your street errands.
You May Also Like: How to Always Look Put-Together
4. Nail The Shoe! 
The choice of classic but modern footwear perfectly complements the causality of this styling trick. Since you're showing off your shoes, why don't you just nail the game?
We love pointed-toe shoes since they inject a dose of elegance and edge to your look. You can also wear clean, cute sneakers for a casual vibe, particularly, white sneakers. Brogues also look great!
5. Don't Cover Your Ankles!
What's the point of cuffing if you'll still go ahead and cover your ankles? Thus, skip the socks, please. And if you're pants are actually too long for you that you have to cuff them in order to wear them, just stop and take them to the tailor!
6. Don't Cuff Wide-Leg Jeans
Your pants have to be straight or skinny for you to actually cuff them to avoid having bells as ankles. Wear your flared jeans as they are to ensure the proportions are nice enough.
You May Also Like: How to Style Wide Leg Pants Like A Pro
7. Don't Cuff Tight Jeans
There are some skinny pants that are too tight already to the point your legs look like they're suffocating, thus, cuffing them will emphasize that look of your skin wanting to burst out.
Thus, do not wear skinny jeans that are way too small for you.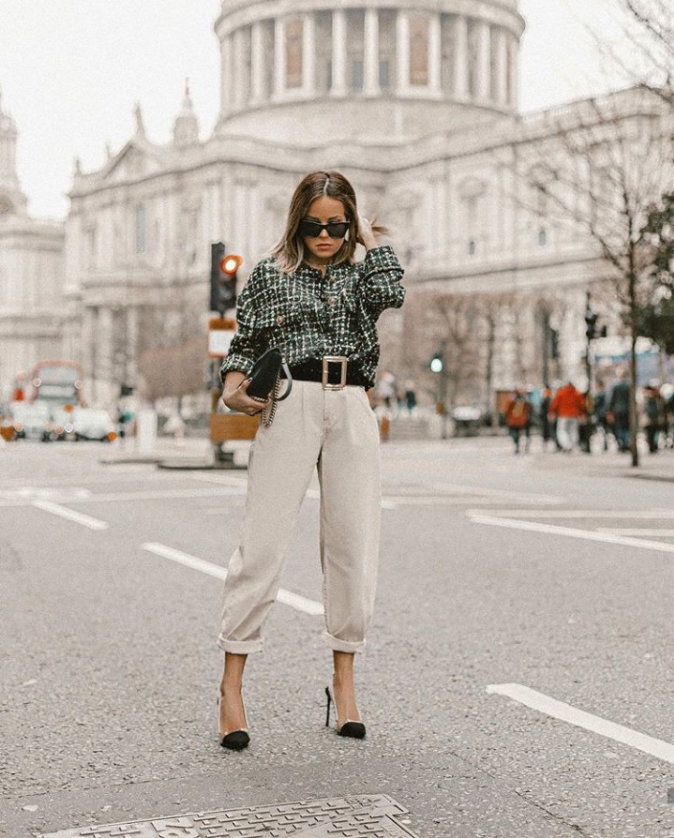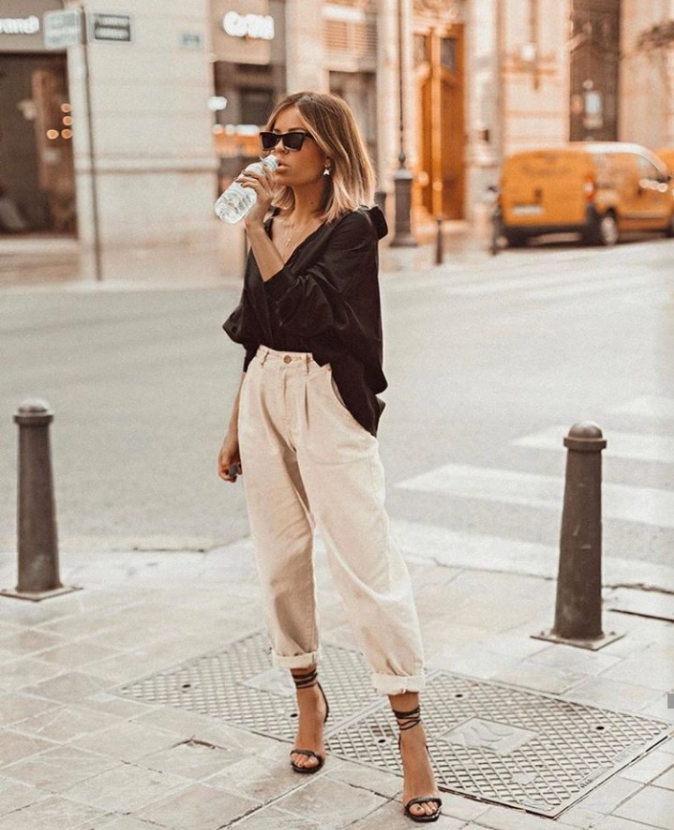 You May Also Like: 9 Gorgeous Style Icons To Follow For Style Inspiration
Do you also cuff your pants? How do you like it as a styling trick?