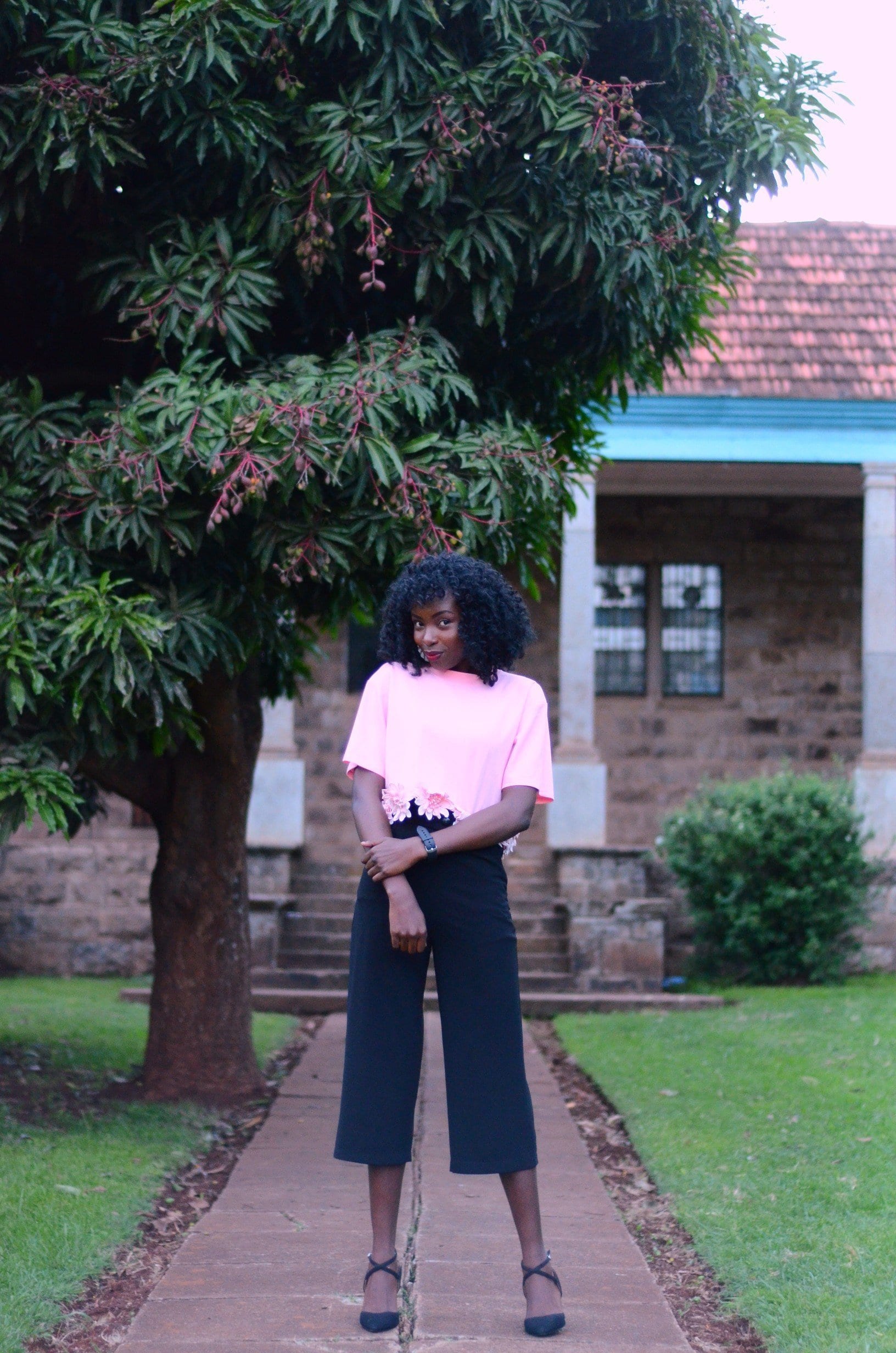 Are you petite, slim, narrow-hipped and having trouble when you need to wear culottes?
Well, since wide legged trousers became a jam, many women out here have been incorporating more and more of them into their closets.
Talk about palazzo pants and talk about culottes!
Read Also: How To Rock Wide Legs Like A Pro
But frankly speaking, these types of pants come with rules!
I mean, much has to be put into consideration before actually stepping out of the house in these wide legs unlike considering a pair of denim jeans.
Read Also: How to Rock Denim Jeans like A Pro
For the longest time now, the denim jeans have been the type of pants for every single lady out there, fashionista or not.
But since style has no rules, the palazzos and culottes have come up to actually give some healthy competition to this staple pants.
While it seems almost easy to rock palazzo pants, the same does not apply for culottes; especially if the wearer is petite. Or slim. Or narrow-hipped.
Why?
Since the culottes are a pair of loose, flowy pants that hang around the knee or fall just below the knee at mid-length, they might either look sophisticatedly-beautiful or as a ton of mess when worn incorrectly!
In order to wear culottes the right way, here are the tips!
Ride along…
5 TIPS ON SHOPPING FOR THE RIGHT CULOTTES FOR THE PETITE
1.Learn to go for high waisted culottes.
As much as the culottes are very comfortable, they might look like some old pajamas when the wrong ones are worn to the streets.
Thus, for an always-polished vibe, embrace high-wasted culottes that will tend to bring out your waistline.
Unless you actually want people to think that you have no waist!??
Ensure that the culottes you pick are perfectly fitting your waist so that as it flows towards the knees, there will be a streamlined effect downwards.
2. Embrace not-so wide legged culottes.
Culottes tend to be loose thus they'll come as wide legs.
If your culottes are full in the leg, they'll be much better than when they are so bulky due to very wide legs.
And if you are slim and tall like me, culottes that are not bulky at the waist would even be worth shopping for.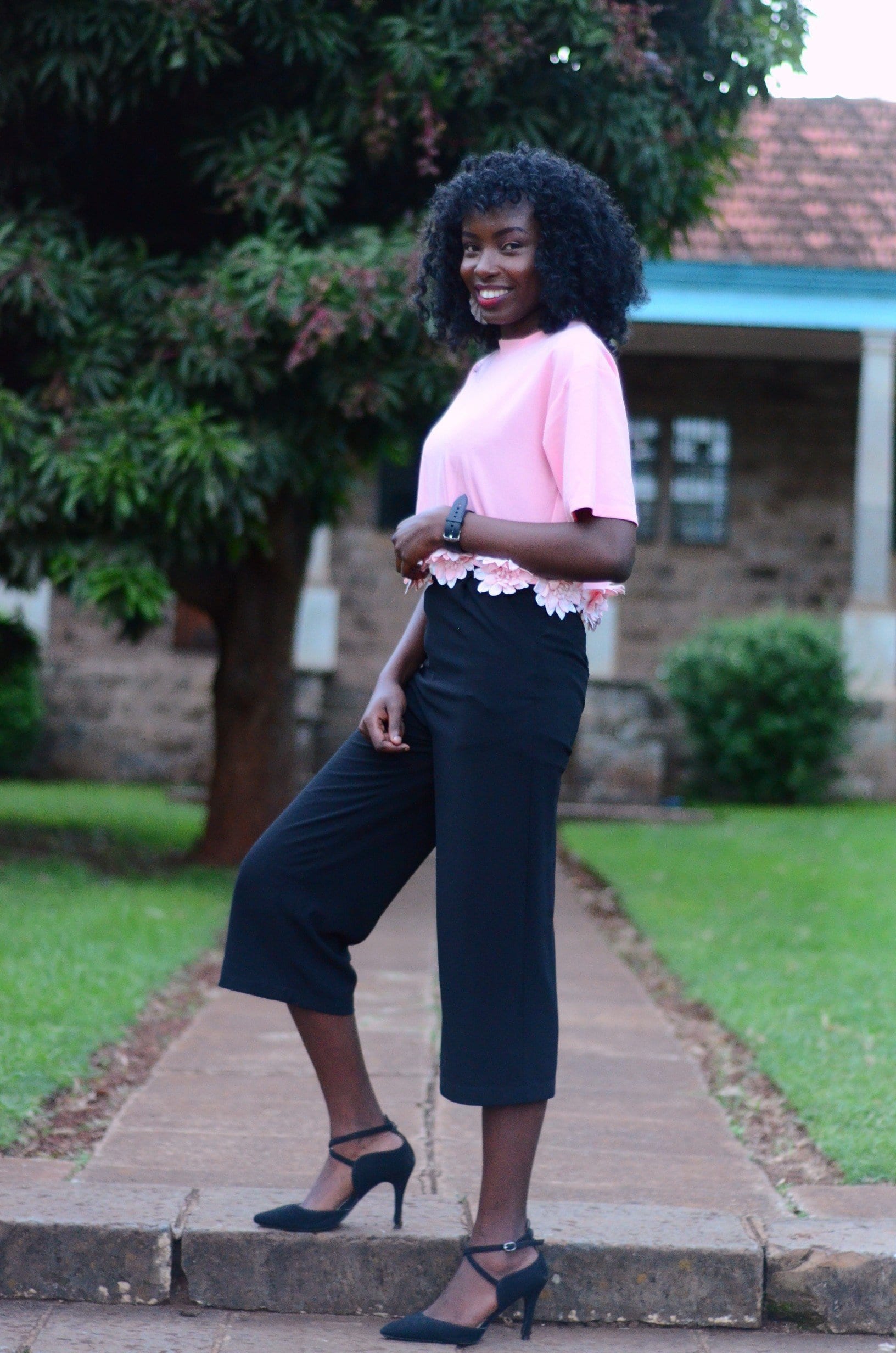 3. Go for darker shades.
One way to minimize the attention during dressing up is to actually wear darker shades.
Or rather, neutral shades. These include: shades of black, white, grey, navy blue and camel.
Such neutral-colored pants will not only prove easy to pair but will also not draw too much attention to your lower body.
If you have to go for printed culottes, then ensure that the prints are subtle. For instance; black and white plaid culottes would be great.
5. Pick mid-length culottes.
Unless you are too confident and can rock maxi culottes, then always opt for midi culottes. These fall below the knee while maxi culottes fall around the ankles.
Mid-length culottes will look fuller while maxis will look bulky to the petites. Basically, your culottes should mimic a skirt for a better look. Now you know!
5. Consider one color culottes.
As many agree, it is so easy to go monochromatic in one color culottes.
As well, such a look can easily be dressed up or down to serve the occasion so if you are in a rut while shopping, get one-color pants! You'll love them!
SHOP CULOTTES
HOW TO WEAR CULOTTES FOR THE PETITE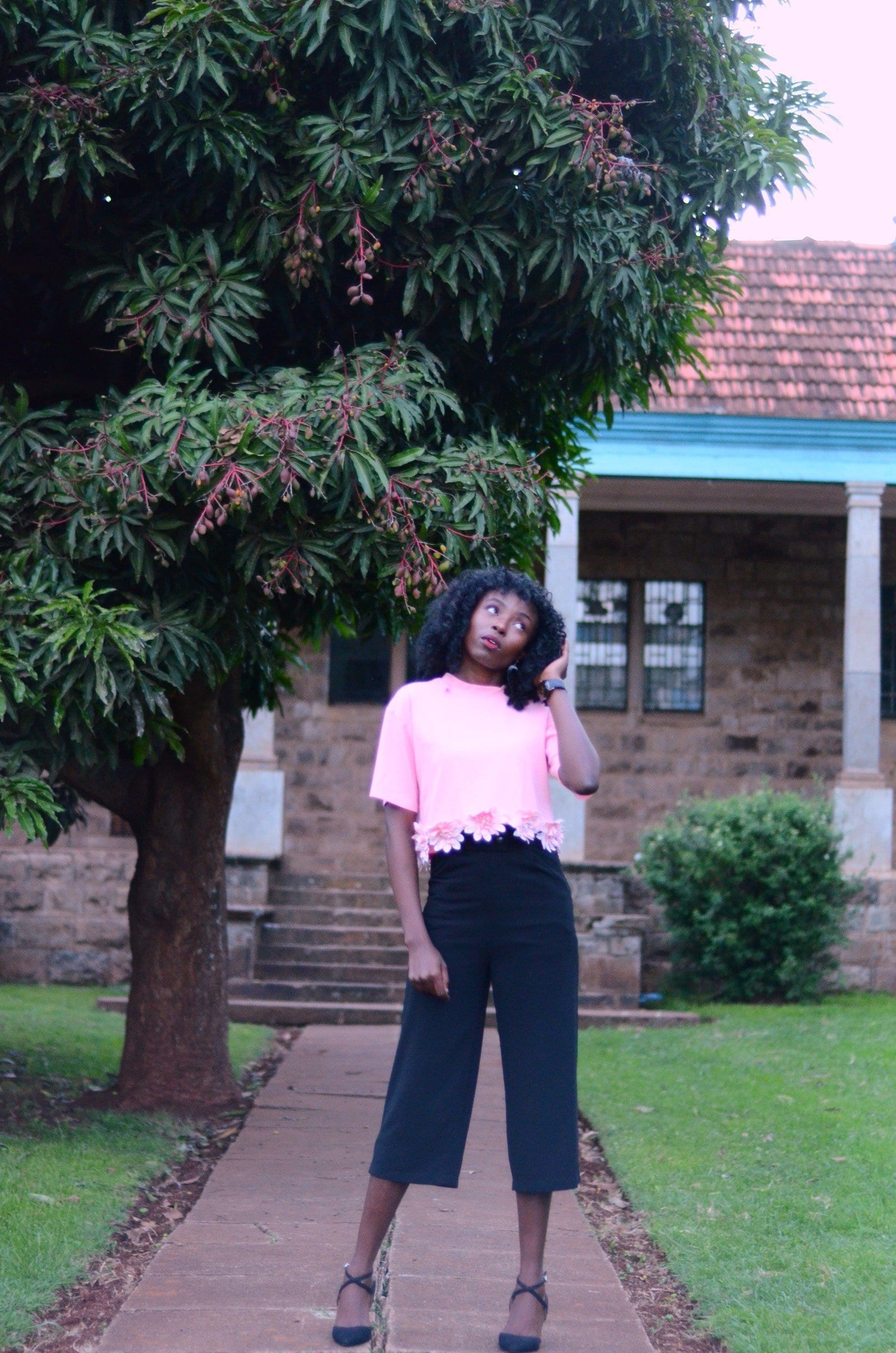 TIP 1:
Always balance proportions.
Being proportional is the mantra when styling culottes. I mean, since the pants are full and not slim fitting, you'll need a well-sized top for an overall balanced look.
TIP 2:
Pair your culottes with crop tops which tend to fall above the 'high-waist'.
This is my favorite tip when styling culottes and proves to be so easy.
I'm sure my floral off-shoulder crop top pairs well with my black culottes and proves to be such a clean look too, right?
TIP 3:
Tuck in if you are wearing a full top.
I mean, if your top falls around your hips, then consider tucking it in.
This emphasizes the waist since no one would want to have everyone around wondering if they actually have a waist, right?
If you opt for a layer, then a short, thin blazer would bring out a perfect formal look while an overcoat that falls at the hemline of the culottes or below would bring out a pretty, sophisticated look.
You can also belt up the overcoat and at this point, the whole look would seem like a dress.
TIP 4:
Belt it up if you are wearing an oversized top.
Long or oversized tops, coats, blazers and blouses can be so cute!
However, I've come across some slim women who wouldn't want to wear over-sized clothes for the fear of looking too bulky.
Well, if this feels like you, you can always wear a long coat and belt it up for a waist definition since you don't want to look like a walking bag!
Read Also: Why You Need An Oversized Blazer In Your Closet+ 10 Tips To Rock One
TIP 5:
Get the right shoe.
The right shoe can finish up any look just perfectly.
And when it comes to styling culottes, then sandals and high heels will always look great.
If you are tall, consider wearing open sandals while short women should go for open high heels.
Read Also: 10 Products You Need To Make Your Walk In High Heels So Comfortable
TIP 6:
Dress in monochromes, color blocks or subtle prints.
As monochromatic is still a rocking trend this season, you'd love to pair in monotones.
As well, for the daring fashionista, color blocking or mixing subtle prints can also be an option where a bold-colored top can be worn with the culottes; or a printed top too.
I chose to pair my floral top with the black culottes. Gorgeous, right?
TIP 7:
Accessorize like you mean it.
Accessories are always any girl's best friend thus should be brought in when rocking culottes.
Wear bold accessories to liven up monochromatic looks in culottes.
And depending on your tops and layers, embrace either thin or chunky accessories.
Read Also: 10 Must Have Accessories For Every Woman, Fashionista Or Not
SHOP THE LOOK
With those tips, you can be sure to rock your culottes like the fashion pro you are!
Do you love how I look? Please share your thoughts with me below…
Hugs!
Dalene.