This article on elegant loungewear ideas features fashionistas Laura Beverlin, Mia Mia Mine and It's Justine's Journal . Get inspired!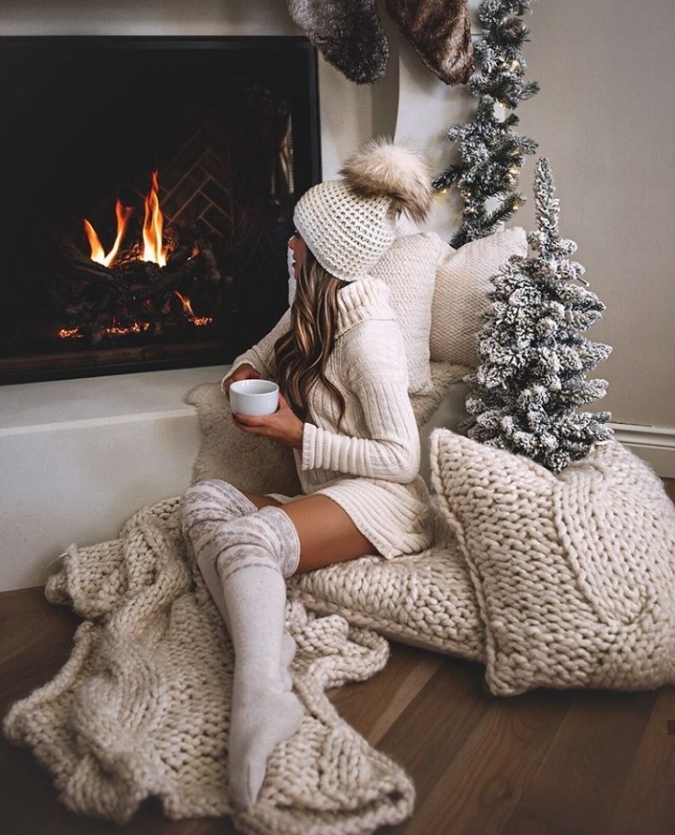 Struggling to look elegant at home? Looking for elegant loungewear ideas to ensure you look all chic, cute and feminine at home? We got you, ladies!
If you find yourself wearing your ugliest clothes at home, it's time you did a serious decluttering of your closet.
Throw away all the really old clothes from 10 years ago, the clothes with holes here and there, clothes with all-beat and washed-out colours, ugly and nasty clothes, clothes with cartoonish characters like Mickey Mouse or Tom and Jerry as well as those really juvenile-looking clothes.
Elegant ladies like you and I put thought into their dressing, and make an effort of looking elegant even at home.
You May Also Like: 10 Ways to Dress More Feminine
Why Is It Important to Look Elegant at Home?
Most of us dress up every time we have to go outdoors.
In fact, we literally shop for our outdoor wardrobes but take no serious consideration for our at-home wardrobe.
I used to be a victim here. Torn and worn-out clothes were my go-to's for lounging around the house.
This isn't elegant at all! If this is you, quit that and I share a few reasons why you want to update your at-home wardrobe with elegant loungewear ideas:
It triggers an ongoing cycle of self-care. If you can dress up comfortably and elegantly even in your most relaxed states like when you are a home, this sends a positive message to your inner self making you love yourself more. It makes you cater to yourself, care for yourself and feel good.
It increases your productivity. Working from home can be tricky and one way to hack it is to always dress up every day. Quit working from bed and in your pyjamas till evening. This lowers your productivity because let's admit it, we find ourselves sleeping, eating or browsing now and then. You want to freshen up and look elegant for productivity at home.
You May Also Like: Style Tips to Look Expensive
Quick Tip…
How relaxed or modest your loungewear is will depend on the nature of your home culture-wise and the dressing etiquette around.
In some households, you will need to seriously dress up and look decent enough especially with kids around while in other households, you can lounge in the shortest of minis.
You know your household well, and what's expected of you so please, be mindful of that.
Elegant ladies are mindful even in their dressing.
And if you're unsure, just ask your family member or partner for their opinion and work out something around it, as long as it's comfortable with you.
So, ladies, let's already look into these elegant loungewear ideas that will have us looking elegant at home!
You May Also Like: Elegant Vacation Outfits- A Look into Luisa's Spagnoli's Collection
Elegant Loungewear Ideas
1. Two-Piece Sets
Nothing beats two-piece sets. Whether cotton, athleisure or linen, these outfits are stylish, comfortable and neat for loungewear.
Cashmere set to look elegant at home, Matching sets make you look expensive. A good example would be a matching cashmere set with cashmere socks if it's cold.
If you prefer wearing two-piece sweats set, consider keeping it of quality fabric.
TIP: Cotton is a good and comfortable option for loungewear. However, it easily gets washed out to look all-beat. Thus, consider matching sets if you have to wear cotton. At least, that will look elegant.
2. A Luxe Pyjama Set
A luxe PJ set is one of the things you should be looking forward to most at the end of the day.
As you get ready for bed or if you are looking to lounge around in before bed or leaving the house, consider chic options. Much better if your PJ set is a matching set.
You can go for a lace robe for a little romantic evening, a fun matching scrunchie with comfy slippers, a silk short pyjama set, tie-dye pyjamas, a satin cami set or a short robe.
When buying your pyjama set, go for one size bigger than your original size-it is more comfortable.
Also, consider having multiple robes that match your pyjamas just for some mixing and matching. You want to look like a goddess at home!
Quick Tip…
How much time you spend at home will determine how much you'll invest in your at-home clothes. If you spend more time at home, you will need to invest in more home clothes.
All in all, invest in quality loungewear, not only because they will last longer but also because they look elegant and good enough for a casual stay at home.
3. A Good Pair of Shorts
You don't need to wait for summer to rock your shorts. They are such good loungewear ideas and when paired with a t-shirt, a cute matching top or cami, you'll look instantly chic.
TIP: While shorts would be terrific for the warm weather, pants would be amazing for the cold weather.
An example would be wearing long sleeves and trouser pyjamas when it gets cold or shorts paired with short sleeves in warm weather.
4. Denim Trousers and a Pair
We all love the versatility of good denim jeans.
Going from a very polished and sophisticated look to also being ideal for a casual indoor look. Definitely reach out for comfortable pairs of denim and basic tees for your at-home wardrobe.
You May Also Like:
How to Rock Denim Jeans like a Style Pro
How to Level Up Your Look in Denim Jeans
5. Chic dresses and skirts
Dresses and skirts allow you to step up your wardrobe allowing you to feel more feminine.
While knitted dresses are great for the colder months, summer dresses make for the warmer months.
Take things to the next level by wearing dainty nightdresses during the night.
You May Also Like: The Only 3 Types of Dresses every Woman Must Have
Styling Tips…
The kind of weather in your area will dictate what you wear as loungewear.
In warm weather, you should consider wearing more dresses and skirts than trousers.
You can add a luxurious flavour to yourself by wearing more cami tops.
Also, consider fabrics like silk and linen (although they quickly get wrinkled but with a hot iron, you can fix it).
In the cold months, wear more pants and knitted dresses for extra warmth.
Consider injecting a number of long sleeves, sweaters, cardigans and palazzo pants to your winter at-home wardrobe.
You also want to layer during these cold months instead of wearing really bulky clothes. Jersey, cashmere and wool are particularly great fabrics to consider.
You May Also Like: 5 Clothing Tips No Woman Should Miss
6. Matching bra and panties.
I wonder whoever programmed us to put on the worst kind of clothes at home!? Not to forget our innerwear.
Ladies, let's look elegant right from underneath. Get several matching sets of bras and panties, and wear them together. You'll love yourself much more and feel more feminine.
You might not lounge around in matching undies but it's part of the 'look-elegant-at-home' package. And if you're living with your partner, he would most likely prefer you in cute undies and not some ugly ones.
Styling Tip…
When it comes to picking proper clothes to lounge around before going to bed, consider silk for your pyjamas, negligees or beautiful sets that could include a robe, shorts and a cami top or a dainty nightdress.
Silk is a great material for sleepwear because the material comes in between you and surface thus, reducing wrinkles on your body as you sleep.
No wonder dermatologists advise that we use silk pillows to ensure the skin on our faces is not wrinkled too.
While silk clothes can get really wrinkly, you should consider using a steamer for wrinkled silk clothes.
You May Also Like:
11 Elegant Ideas to Style your Scarf
5 Reasons to Upgrade your Wardrobe
There you go elegant lady- it's time to upgrade your at-home wardrobe with any of these elegant loungewear ideas.
Glam Up!