With the revival of animal prints sweeping not only the style world but also the nail world, the minimalist cow print is making a moo-ve on our fingernails, and we're absolutely loving it.
While leopard, snakeskin, and cheetah print nails have traditionally been the skins we automatically think of when we speak about animal print in nail art, there's been a recent cultural fascination with cow print nails.
Cow prints have a playful take, allowing you to add a fun aura to your nail look than the basic leopard print nails, for example.
Their simple and neutral color scheme works beautifully when paired with classy tones such as nude, brown, or blush pink; bold colors like red, green, and blue as well as pastel colors like lilac.
So, if you're looking for versatile ideas for cow print nails, we've got you covered. Wear these bold nails that are not overdone, and super easy to transition with from summer to fall and even to holidays.
You May Also Like: Animal Print Nails To Show Off Your Cute Wild Side
1. Black and White Cow Print Nails
Without a doubt, what separates cow print from the other animal prints is its youthful and playful aura of dark splotches over a brilliant white.
Since the beauty of cow print nails lies in their modest color scheme, such nails are super slick and classic hence very easy to wear with every other outfit.
For the minimalist dresser, cow prints are a good way to add pizzazz to your look whilst coming off as laid-back. No matter your choice of outfit, you can never go wrong with the black and white cow print nail look.
You May Also Like: Love Black And White Outfits? Learn How To Wear Them More Stylishly
2. Pink Cow Print Nails
Whether it's strawberry, blush pink, Fuschia, carnation, rose, bubblegum, or hot pink, we are fans of every shade of pink, even for our nails.
Whenever we wear pink polish, it brings out our inner child, our delicate feminine side, and instantly boosts our mood. If you fall into a similar category, don't fret because you can try pink cow print nails and look chic.
You May Also Like: 30+ Pink Nail Ideas To Wear All Year Round
Scroll down for our favorite ideas:
Black and white cow prints work well with pink. Good thing, there are many ways to wear pink cow print nails. Try pink accent fingers for beautifully alternating nail patterns or simply wear cow print French tips.
A good pink nail color to start with would have to be in a muted shade like blush pink. This shade pairs effortlessly so your nail look is delicate and so feminine.
Additionally, if bold is your thing, embrace brighter shades of pink for your cow print nails and make a statement!
You May Also Like: 30 Cute Pink Nail Designs You Will Love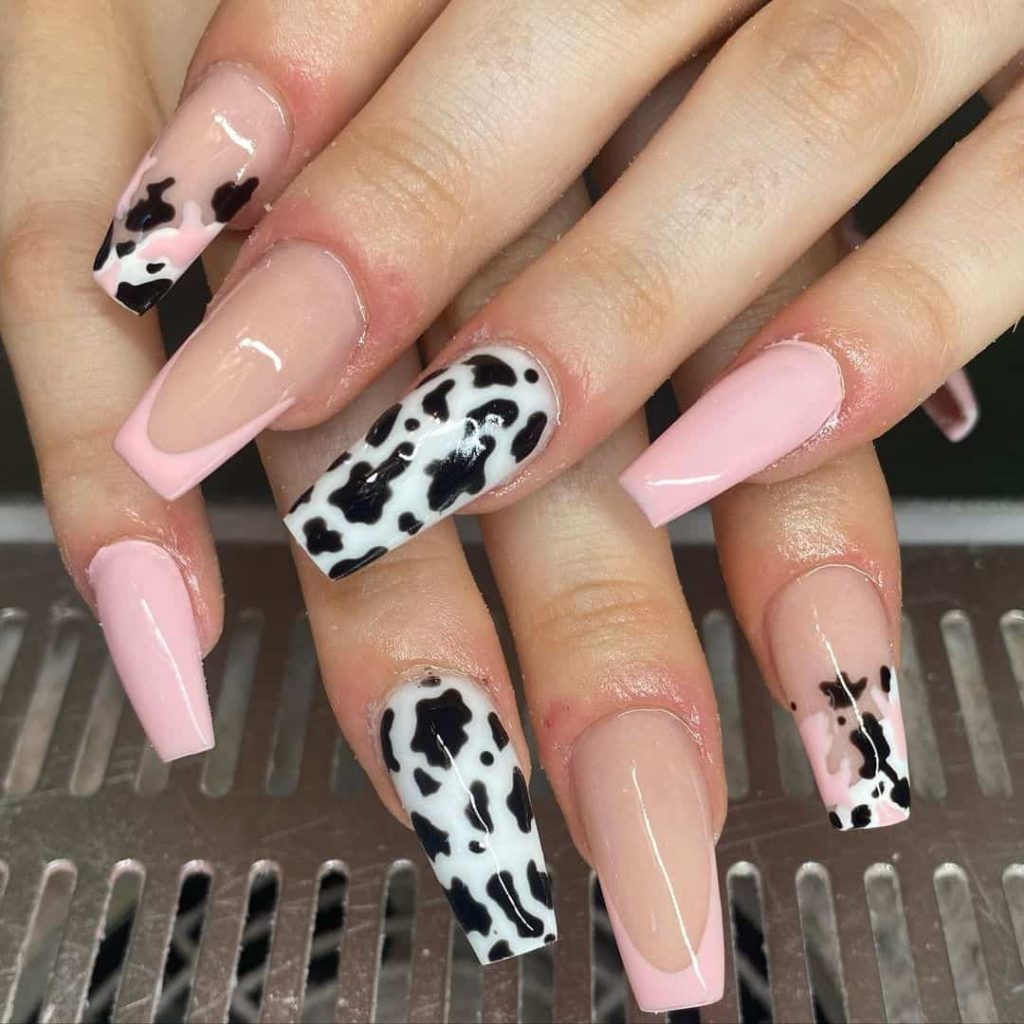 3. Nude Cow Print Nails
Prints like leopard, snake, and cheetah are aesthetically more maximalist as they command more attention in a nail look, which makes them an easy statement-making nail design.
What's great about cow prints is that, while they are bold, they are made up of neutrals, so it's super easy to style!
So, if you're looking for a subdued way to test the waters with this nail look, try pairing it with nude!
You May Also Like: 30+ Cute Nude Nail Designs That Pair Well With All Outfits
Use nude nail polish as the base for your manicure and finish with cow print French tips. This look goes well with everything!
It is also versatile and timeless so if you have trouble finding the time to change your nail polish to match your outfits, this is a nail look you can count on.
Nail Tip…
A nude manicure looks well-groomed and crisp if you choose the right shade. And with the details of French cow print tips, you will have such a flattering nail look.
However, to ensure you get it right with the best nude nails, there are two ways to go about this: you can either apply nude polish that is of the same color as your natural, unpolished nails for a beautifully nude look.
Also, you can avoid matching the nude polish to your exact skin tone. Instead, go a shade lighter than your skin color. This will help to brighten up your hands and give you a very clean, elegant appearance.
4. Brown Cow Print Nails
If you're always unsure about brown outfits, then start with brown nails, precisely, brown cow print nails.
When paired with cow prints, whether in black or brown, the nail look becomes surprisingly sophisticated. Thus, it feels rich and luxurious, and what more could you ask for in a fall wardrobe color palette?
While many consider the color 'brown' to be "ugly", this color feels surprisingly fresh in the fall and when you try a brown cow print nail, you will instantly be transformed into some kind of cool, badass cowgirl.
5. Lilac Cow Print Nails
Lilac is back, ladies, so don't be afraid to wear this nail look for your cow print nails.
However, for such a bold pastel color, keep it minimal. You can wear lilac nail polish for accent fingers and have cow prints in alternating fingernails.
But if you love making a statement, then start with shorter nails that are trimmed, and well-shaped. Almond-shaped nails are your best bet. Please avoid longer talons like stiletto nails covered in lilac polish as it can look downright scary.
You May Also Like: 8 Most Popular Nail Shapes: Pick The Best Nail Shape For Your Fingers
6. Light Blue Cow Print Nails
Blue is another amazing color to pair with cow prints. However, we recommend softer hues of blue for your nails; think baby blue, sky blue, or other light blue shades.
You also want to keep the manicure very simple so this bold nail look cannot clash, instead, looks modern and tastefully done. That way, you can rock your light blue cow print nail look in the summer.
You May Also Like: 30+ Adorable Ideas For Summer Nails This Year
7. Red Cow Print Nails
The red accents in these nail looks add a standout pop of color. Pairing red and cow prints in black and white makes a statement without being too loud.
The secret is to apply bold red polish as an accent and if you think a bold red nail is still too much for you to handle, try softer hues of red for more fingers. In fact, you can apply red French tips so your cow prints stand out.
You May Also Like: 30 Trendy Red Nail Designs To Make A Bold Statement
8. Green Cow Print Nails
Greenery is nature's neutral; a fresh and the color generally reminds us to revive, restore and renew. For such a refreshing and revitalizing shade, pairing green and cow prints is another combination inspired by nature.
As with any color, green pairs well with black and white, the perfect neutrals featured in cow prints. So play it safe and sophisticated with green cow print nails.
You May Also Like:
Steal These 40+ Elegant Black Nail Designs & Look Stunning!
Try These 20+ Ideas For Adorable Fall Nails All Autumn
A refreshing alternative to the ubiquitous leopard print nails, cow print nails can definitely add a playful aura to your nails. Try these ideas and let us know your favorites!