Let's agree on one thing: clean, well-kept, and gorgeous nails help any woman to look put together. No wonder the salon is one of the best places we love to frequent. And to have our nails well made, we have to choose, not only the nail shade but first know which nails shapes work suit our fingers.
No wonder the manicurist will always file your nails, in your preferred shape because after all, the nail shape you go for will determine how good your manicure looks once it's done.
You May Also Like:
20 Trendy Mauve Nail Ideas For A Flawless Look
There are quite a lot of nail shapes out there but we break down 8 of the most common, trendy and amazing nail shapes to choose from: round nails, oval nails, square nails, squoval nails, almond nails, stiletto nails, coffin/ballerina nails, and mountain peak nails.
FAQs…
Which Is The Strongest & Most Durable Nail Shape?
According to Dr. Ava Shamban, the author of Heal Your Skin, on GoodHousekeeping.com, "Nails cut as short as possible with a round edge are the best choice if you want stronger, healthier nails."
Which Is The Most Natural Looking Nail Shape?
For great looking natural nails, you can always follow the shape of the small half-moon shape near your cuticle called the "lunula."
For a more rounded lunula, you can opt for rounder shaped nails like the oval and round nails. For a flat or a squared lunula, a square or squoval shaped nail will be the best option.
1. Round Nails
Round nails are a particular favorite for women who love to keep their nails short. Round nails feature straight sides and curved edges and tips, following the natural shape of the fingertip.
Round nails are easy to maintain at home thus preferred for women who don't have time for the salon. If you have short and wide fingers, round nails will help elongate your fingers.
You May Also Like: 30 Trendy Red Nail Designs To Make A Bold Statement
2. Square Nails
Like the name goes, square nails are square—they're flat on top with straight, sharp corners. They have no soft, rounded points.
Square nails look best and more natural when worn short or slightly long-you don't want really long square nails. We don't find those appealing, unfortunately.
You May Also Like: 30+ Adorable Ideas For Summer Nails This Year
3. Oval Nails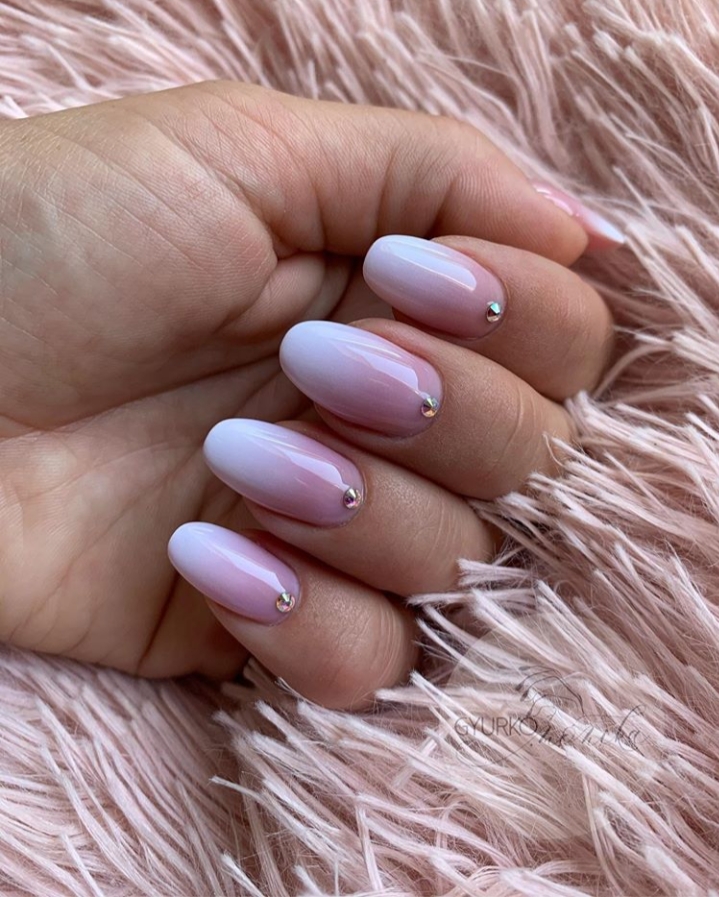 Oval nails are very feminine and we love them for their classically-chic shape. Oval nails feature slightly tapered sides that round into a blunt oval.
Their feminine nail shape helps to make wide fingers appear slimmer and short fingers to look longer.
4. Squoval Nails
Squoval nails are partly oval and partly square. They feature flatter edges but with no sharp corners as the case with square nails.
Squoval nails flatter all fingers-short and long- and because of this, they never go out of style. They also help keep nails strong.
5. Almond Nails
Almond nails almost look similar to oval nails. However, they feature slim sides, which taper towards the end, and have a rounded tip.
As chic as they are on longer nails, they don't work on short nails.
The slim sides, gentle tapering, and rounded tip of this style make the hands and fingers appear slimmer. The overall effect is more feminine, elegant looking hands. Thus, try these nails if you have long, wide fingers too.
You May Also Like: 20+ Almond Nail Designs Perfect For Summer
6. Ballerina Nails
Popularly known as coffin nails, these nails are characteristically long and narrow and finish with a square tip.
Coffin nails are one of the best nail shapes for long nail lovers. Thus, if you have long and sturdy nails, you can attempt this look. You can also try the look with acrylic nails.
On the other hand, short and brittle nails may not be able to handle this shape.
You May Also Like: 30 Cute Pink Nail Designs You Will Love
7. Stiletto Nails
Stilettos taper into an extremely sharp point that could probably cut someone- this is the exact case with stiletto nails!
They elongate your fingers and are the fiercest nail shape you can get. Thus, only the bold and daring ladies wear them-think of celebrities. Also, unless you have assistants doing everything for you, don't try these nails.
8. Mountain Peak Nails
This is a short and easy nail shape that looks like the stiletto shape. However, the shape is shorter, pointer, and less sharp.
If you would love to wear stiletto nails and your fingernails are on the shorter side, they would be great!
You May Also Like: Cow Print Nails That Add A Playful Aura To Your Nails
Quick Tips…
If you have medium or long nails, oval, almond, and coffin shapes will suit you best.
If you have short and wide fingers, round, square, and squoval shapes will suit you much better.
The square shape is elegant with an edge. It creates the subtle illusion of slightly wider fingers and hands and balances out your natural length. Its straight edges and square tips work with short to medium length nails.
Ladies with fingers that are naturally long and slim should choose a square nail shape for a flattering effect.
Use elongating nail shapes, such as almond, coffin, and oval, to lengthen and slenderize short and wide fingers.
Now you know better: which is your go-to nail shape?