*This article features fashion enthusiast and blogger Folake Huntoon of the Style Pantry. Her wardrobe inspires the modern woman, and from her style, you'll learn 5 reasons just why you might need a new wardrobe. Glam Up!
Have you thought about the chance that you might actually need a new wardrobe?
Well, Anne Klein was not joking when she said that clothes might not change the world, but the women who wear these clothes might.
Clothing is an integral part of our lives. Being dressed in good clothes is so much more than just vanity.
People spend months curating their wardrobe in order to create a closet full of clothing that reflects their personal style. Your clothes speak volumes about you and are a part of your personality.
Read Also: How To Find And Define Personal Style
People may underestimate the appeal of a good piece of clothing but what they do not know is that all it takes is one statement piece to make you go from drab to fab.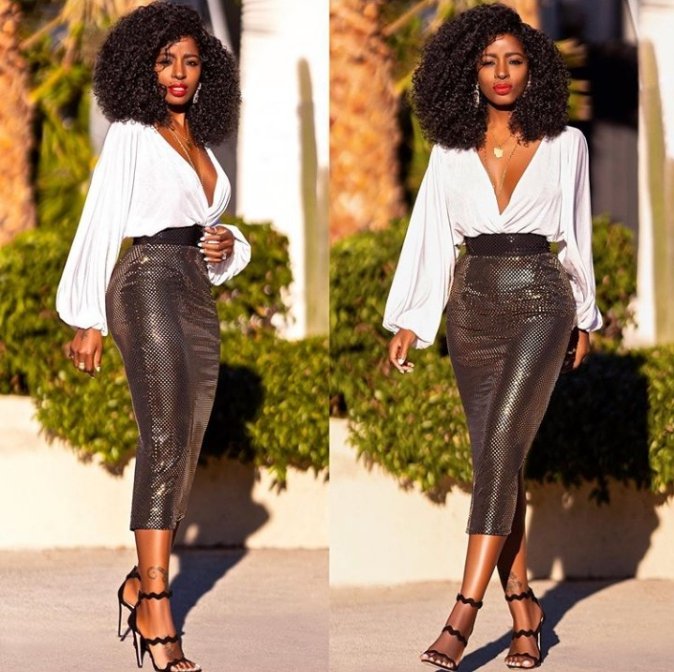 Your wardrobe may be your most prized possession but there comes a time in everyone's life, when they need to let go of the old and embrace the new.
Saying goodbye to stuff that you may have spent thousands of dollars on is hard but you don't want to be someone who is still walking around in clothing that is too small or too large for them.
Read Also: How To Create A Capsule Wardrobe From Scratch
If any of the above reasons sound relatable to you, then it's time to invest in a new wardrobe.
5 Reasons You Need A New Wardrobe
1.Adjusting to the changes in your body
While all of us have different choices and tastes when it comes to clothes, the one thing that we all agree on is the importance of clothes that fit you well. Clothes that fit well can instantly transform your entire look.
A dress that may look phenomenal on a mannequin can look disastrous on you if you don't have the right body type for it.
If you have recently undergone changes in your body, chances are that your old clothes are not going to fit you like they used to. Whether you have put on a few pounds or have lost some extra ones, you need new clothing to match your new shape.
The bodysuit with cutouts that looked smashing on you a year ago won't look the same after you become a little plump.
Likewise, shorts that complemented every curve will look misplaced on your body after you lose the caboose that filled them out!
The point is, as your body goes through changes so should your wardrobe. That does not mean that you should empty out everything and start fresh. It just means either updating your clothing to your new measurements or getting pieces that look good even if your weight fluctuates.
Read Also: 5 Reasons It's Time To Update Your Personal Style
2.Keeping up with fashion trends
Do you have a lot of clothes in your wardrobe that is just there for sentimental value?
Are clothes from your teenage years still hoarding up space in your closet?
Do you still keep revisiting clothing that represents questionable fashion choices because the guilt of not wearing them drives you crazy?
If the answer to any of these questions is yes, then it's time for a new wardrobe!
Vintage clothing is cute as long as not everything in your wardrobe looks like it comes from a different era. Outdated clothes make you look older and ruin your whole aesthetic.
There's no shame in admitting that some old clothes can only make you feel nostalgic and not fashionable. It's time to stop being a hoarder and get rid of old clothes that you are saving for "one day" or "when a certain fashion trend makes a comeback".
You don't have to chase every crazy fashion trend that comes along but you need to invest in at least some modern pieces of clothing that reflect current fashion choices.
Read Also: Keeping Up With Trends: High Heels With Jeans
3.Never having anything to wear
Almost every girl claims to have nothing to wear even when our closets are full but if you're complaining about this on a daily basis then it's a problem. Despite having a closet that is bursting at the seams, if you keep repeating a certain roster of outfits that means that you need some new clothes.
No person should feel anything less than magical while looking at their wardrobe.
There are only so many ways one can mix and match to make an old outfit look new until eventually, it's just you repeating clothes on an alarming basis. Once you get rid of all those extra clothes that you never wear, you will see the need to upgrade your wardrobe.
When you have new clothes in your closet, you actually start looking forward to dressing up. Shopping for new clothes means that dressing up is now less of a chore and more of an art project where you get to be as creative as you want!
Read Also: How To Mix And Match Like A Pro!
4.Being labeled as a fashion disaster
Some of us embrace our inner divas less subtly than others. It's okay for you to look extra once in a while.
However, a wardrobe that consists of nothing but extravagant clothes needs to be updated.
Sure, your leather mini with the feather boa may look fabulous for a girl's night out but not so much for a casual hangout with your friends.
If you open your wardrobe and all you can see are glamorous pieces that are only worthy of red carpets, then it's time to make a change. Same is the case with a wardrobe that consists of only casual clothing.
If you always find yourself underdressed even at the most formal events then you need to spice up your wardrobe. Organize your wardrobe and you'll know for sure whether you need to spice up it up or tone it down.
There's no reason you have to be the fashion disaster at every event you turn up to. With just a few changes in your wardrobe, you can change your whole look.
5.Adapting to a new environment
For a professional, their whole wardrobe depends on the type of workplace they are going to be spending their time in.
While casual t-shirts and jeans may have been the appropriate office attire at your magazine startup, your colleagues at a multinational may not view this as something you could wear to work.
If you have recently made any life changes that place you in a new environment, then it's important to make sure that your wardrobe matches the expectations of your new workplace. You don't want to be the colleague that becomes the target of gossip and ridicule for their horrendous outfit choices!
Though it is important to wear what makes you feel good, it is equally as important to make sure that your clothing does not become a barrier in your path.
Your clothing should compliment you and become a point of pride for you instead of embarrassing you.
You don't have to spend exuberant amounts of money in order to build the perfect wardrobe, there are many places that will let you build a collection of gorgeous and affordable clothing that won't burn a hole in your pocket.
Look good daily!
Christine Rudolph.
ABOUT THE AUTHOR
Christine Rudolph, is passionate about fashion, fitness and lifestyle trends. She is associated with a Florida based online clothing boutique 'Sophie and Trey' for their blog operations. She is also a blogger, writer and a technology freak.
CONNECT WITH CHRISTINE RUDOLPH