There's just something so invigorating about yellow nail designs, especially in the summer. They are super vibrant and can freshen up your summer days.
Yellow is such a fun and sunshine-inspired color and can be worn all year round, thanks to the versatile shades of yellow available, from soft pastel buttercup to electric neon to warm mustard.
You can also wear full yellow mani throughout your fingernails, go monochrome or accent your nails with brushstrokes of yellow or dots of yellow.
Whether you always like to rock bold nails or you're looking for a new fun and flirty shade to test out, here are 68 yellow nail designs that will have you running to your manicurist.
You May Also Like: 30+ Adorable Ideas For Summer Nails This Year
1. Classic Yellow Nails
For a fun and fresh manicure, the classic yellow color with a matte, glittery or glossy finish will instantly uplift your mood and brighten your outfit.
No matter what length or shape your nails are, you can zest up your routine with this summer-approved look.
You May Also Like: 8 Most Popular Nail Shapes: Pick The Best Nail Shape For Your Fingers
2. Yellow & Nude Nail Designs
If classic yellow nails are too bright for you, tone down with nude accent nails. This is such a classic nail look for the elegant lady.
You May Also Like: 60+ Nude Birthday Nail Designs You'll Absolutely Adore
3. Yellow French Tips
Step away from the white tips and add a pop of color to your French manicure. I mean, how fun is this yellow polish?
4. Tropical Vibes
Take a piece of nature with you everywhere, thanks to these tropical-inspired yellow nail designs. What starts as a classic yellow nail color transforms into a beautiful jungle on your nails with green leafy details.
5. Yellow & Black Nail Designs
Yellow nails can be as bright as can be, but with black accent nails, the look is toned down yet super elegant!
You May Also Like: Steal These 40+ Elegant Black Nail Designs & Look Stunning!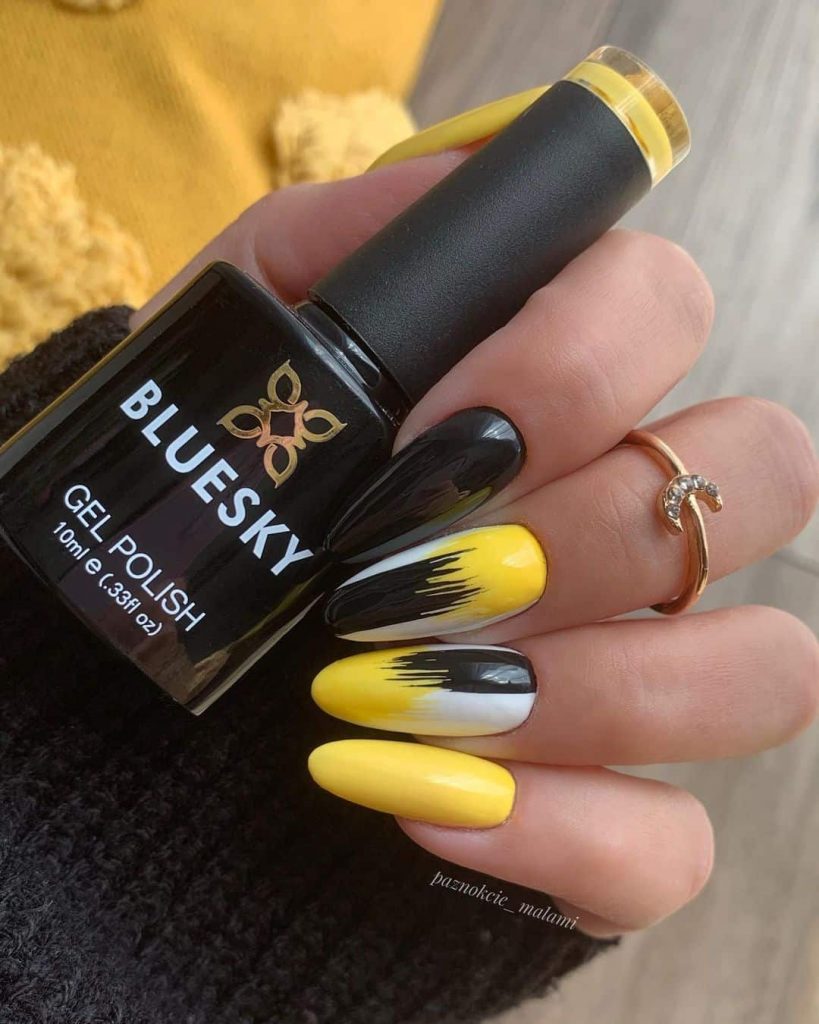 6. Yellow Nails with Florals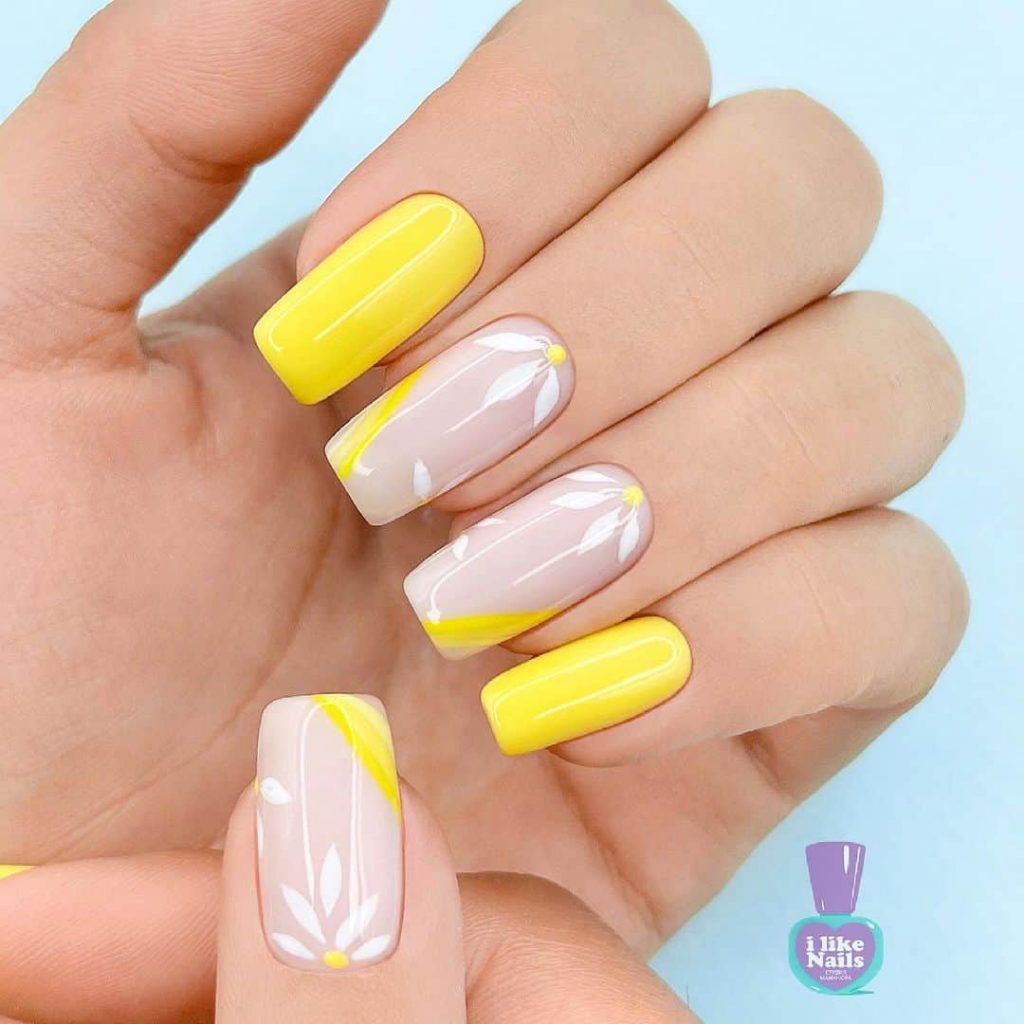 7. Yellow Nails with Golden Glitters
8. Yellow Geometric Nails
9. Yellow Ombre Nails
10. Yellow & Pink Nails
Pastel pink and yellow nails could be the best choice if you like pastel multicolor nails. They look stunning on every fingernail.
You May Also Like:
70+ Pink Valentine's Day Nails That Are Chic & Date-Ready!
30+ Pink Nail Ideas To Wear All Year Round
11. Yellow Pastel Nail Designs
Light and soft pastels are definitely one of the most trendy nail polish colors for spring, but pastel yellow is already a standout.
So if you're feeling like it's time for a warm and colorful spring manicure, then try these cute yellow pastel nail designs.
You May Also Like: 77 Pretty Pastel Multicolor Nails Guaranteed To Get You In A Good Mood
12. Mustard Yellow Nail Designs
Mustard yellow is always a fall hit! Dive right in and wear the mustard yellow shade solo, or use it as an accent shade.
Love these yellow nail designs? Please pin them to your favorite Pinterest nail board!
These yellow nail designs are courtesy of Donatam Nails, Tessa Lyn Nails, Paznokciesylwiak, Nail Polished Life, Polished Yogi, Pop Polished, Gandziuchaa, Hey Great Nails, Aleksandra Gruska Indigo, Shiniing Nails, Merlin Nails, Heluviee, Matuszewska, RK Nails, I Like Nails, NC Nails Company, Paznokciewkolorzemarzen, and Marci Pazur. Follow them on Instagram.