Are you a-nude-nails-kind-of-gal? You must have considered mauve nails! The color has gained a lot of popularity among women-from mauve outfits and mauve lipsticks to mauve nails.
This gorgeous and elegant hue is quite muted and creates a posh and autumnal mood. Yet again, you can play around with different patterns, shades, accessories to spice your mauve nails up a bit. And you'll be able to see that here!
What Color Is Mauve?
Mauve is an elegant shade, somewhere between beige and rose, with a modern purple undertone. As elegant as the color is, it is slowly usurping the classic nude and red.
You May Also Like: How To Wear Mauve Outfits
20 Trendy Mauve Nail Ideas You Want To Try
Charming Coffin Nails In Mauve Color With Tiny Rhinestones
Coffin nails can be so cute! Particularly in mauve and accentuated with tiny rhinestones? You'll love it!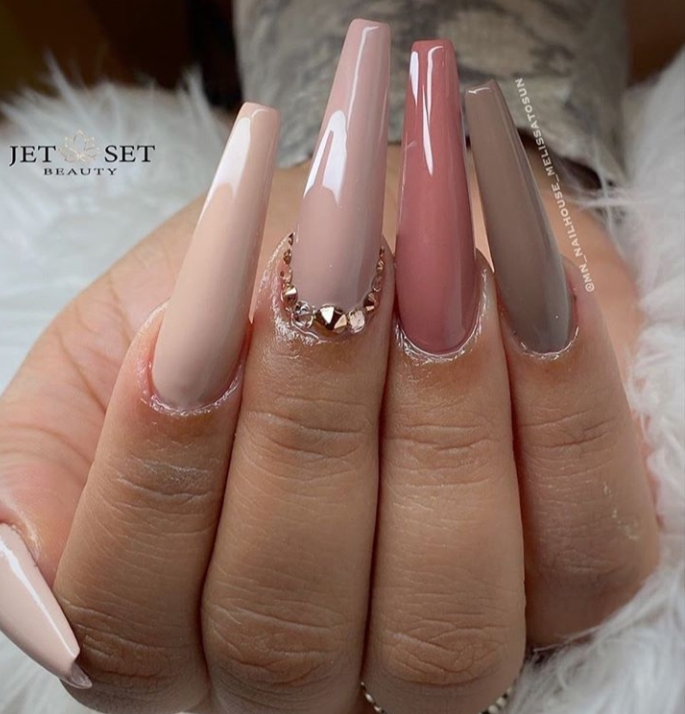 Mauve Nude Nails
A gorgeous matte toned greige nude color (grey/beige) has become quite the favorite among many women. So, if you feel like your mauve is too bold, dilute the color with nude. Then, add a glossy top coat!
Mauve Matte Nails
Matte nails may not shine, but that's what makes them amazing! Feature different shades on each finger to make it stand out- you can include glitter accents too.
If you are unable to find a matte nail polish in the color you want just use a matte topcoat and just like magic, you have a matte polish!
Mauve Ombre Nails
Ombre nail art designs look very glamorous for women. They seem very complicated but actually are very easy to make. The gradient effect makes your nail design look even more impressive.
Mauve Color Nails With Glitter Accent Finger
Accentuating only one finger is a really good practice – notably a ring finger.
So, if you ever feel like your nails are lacking that little extra something to really make it pop? Sometimes, some glitters are just the thing you need to spice them up- on just some fingers!
Mauve Purple Nails
Purple is a powerful and regal color and if you love purple nail art designs, why not try one of the loveliest shades of purple-mauve?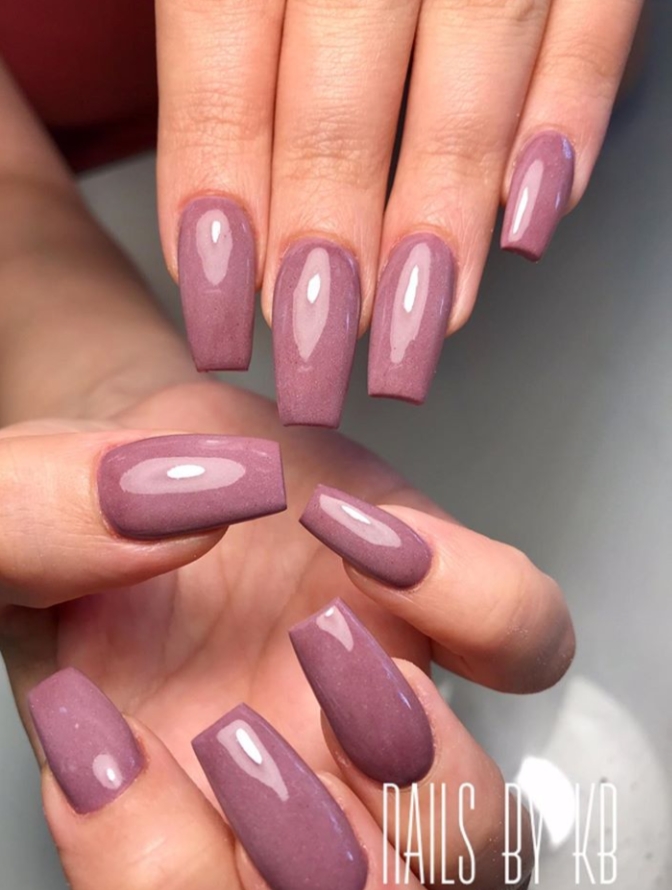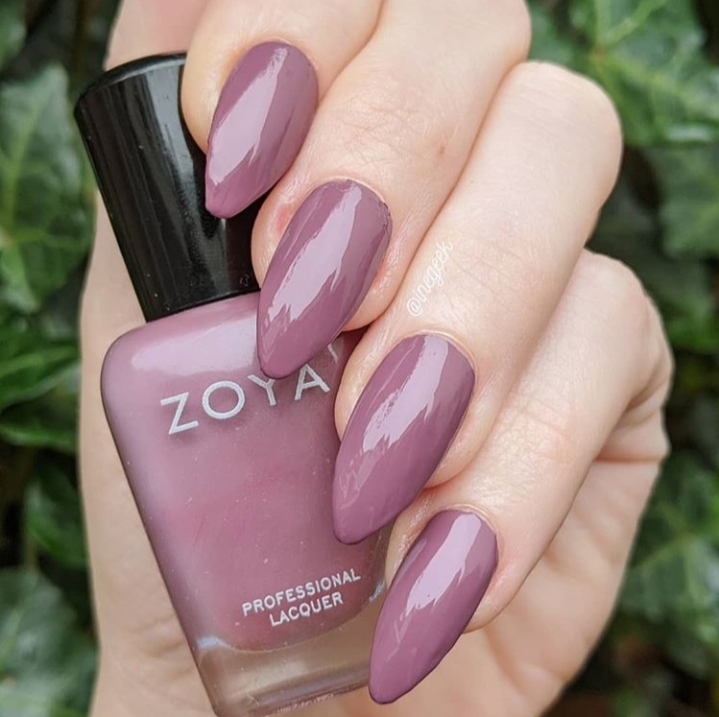 Elegant Mauve Nails With Light Tie-Dye Accent Fingers
Tie-dye nails are summer's coolest trend and you can get the look too. While you can do a full tie-dye nail look, consider just accents while you rock your mauve nails. Thank us later!
You May Also Like: How to Tie-Dye Your Nails
Elegant Glitter Ombre With Light Mauve Nail Polish
When one accent is not enough, it is time you use two! Wear your mauve polish and use a white accent finger combined with glitters and rhinestones to create an ombre effect that takes your manicure to the point of extra fabulous!
Sweet Floral Nail Art On Mauve Color Nails
Mauve is a very versatile shade that may be employed in many different combinations. You don't want to overlook floral nail art in your look too-be it in an accent finger or dominantly.
Mauve Nails With Glitter
Are you ready to get elegant nails? Cover your nails with light mauve nail polish. For a more contrasting look, use sparkly polish for your accent nails for a guaranteed fantastic look!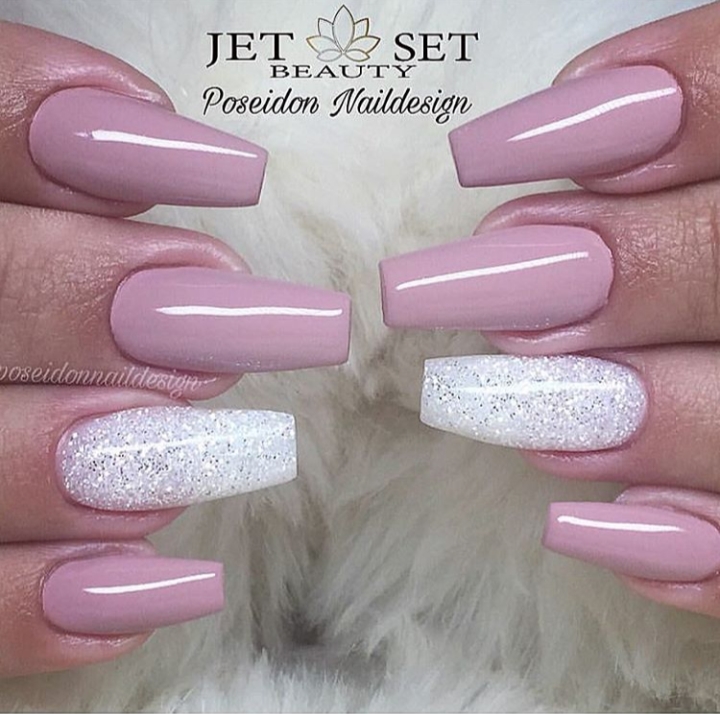 Mauve & Black Nails
This sophisticated coffin nails design would be highly appreciated by daring and bold ladies. It combines the elegant mauve, the bold black, an elegant art pattern, and a glossy finish. A subtly complex look that doesn't disappoint!
Deep Mauve Nails
While it seems like mauve shades and glitter were made for each other, skipping the glitter also works just fine-particularly, if you go for deep mauve shades.
Mauve Shade With Minimalistic Patterns, Glitters & Rhinestones
For the occasions when you need to look stunning and low-key at the same time, it's reasonable to opt for nails of blush pink or nude mauve color.
For an enchanting touch, embrace some minimalistic patterns and some rhinestones. Even so, spark a couple of acrylic nails with glitters.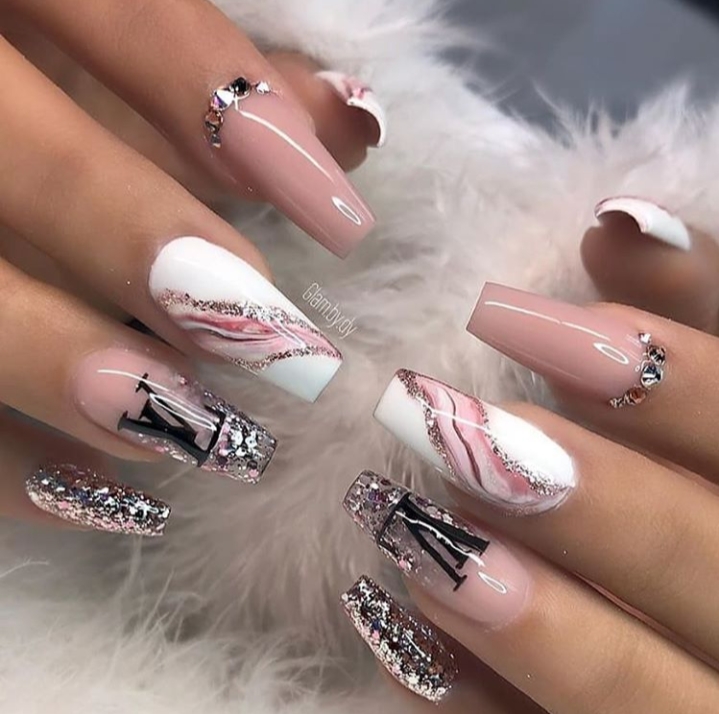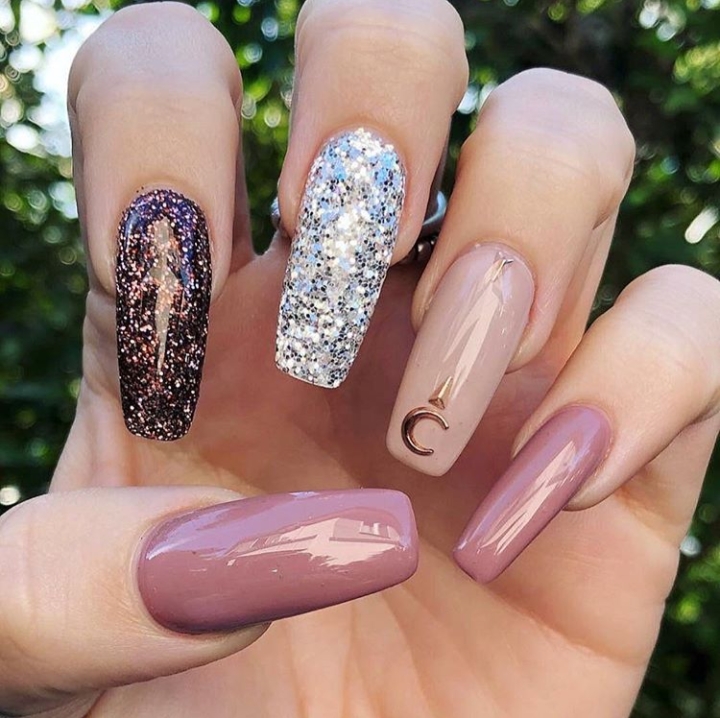 Mauve Nails With Gold
Even if you always choose a totally girlie manicure, sometimes, you may feel the need to spice it up a bit. So, cheers to this combination for such a time: partner purple-mauve polish with a glossy finish and dense gold polish with a metallic effect.
Mauve Pink Nails
Color your nails all in the tenderly mauve-pink hue for the ultimate coziness.
Bright Color Nail Design With Mauve Accent
Paint all your nails with solid color varnish and wear mauve polish on your preferred fingers. Create an exquisite finish by throwing in some glitters accents and a glossy finish.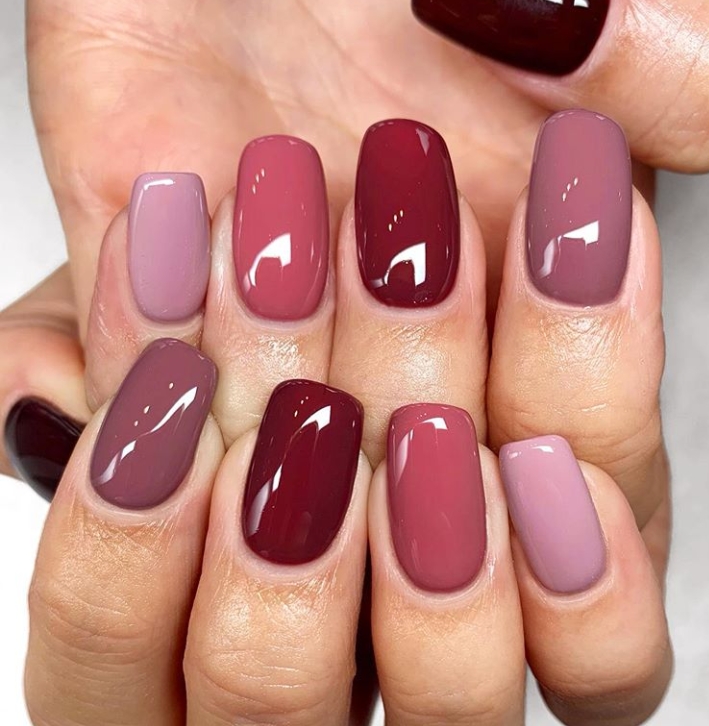 Glossy Mauve Nails Shade
We all agree that not all of you may equally appreciate matte or really trendy nail art. That is why something glossy will never disappoint! This mauve nail polish is so simple and easy to rock that it is hard to resist!
Delicate Marbled Accent
Let's face it. Light mauve is an outstanding color. It can come off both as edgy as well as neutral. If the edgier look is your cup of tea, then we suggest you combine the shade with a white marble accent nail. After all, marble is hot right now!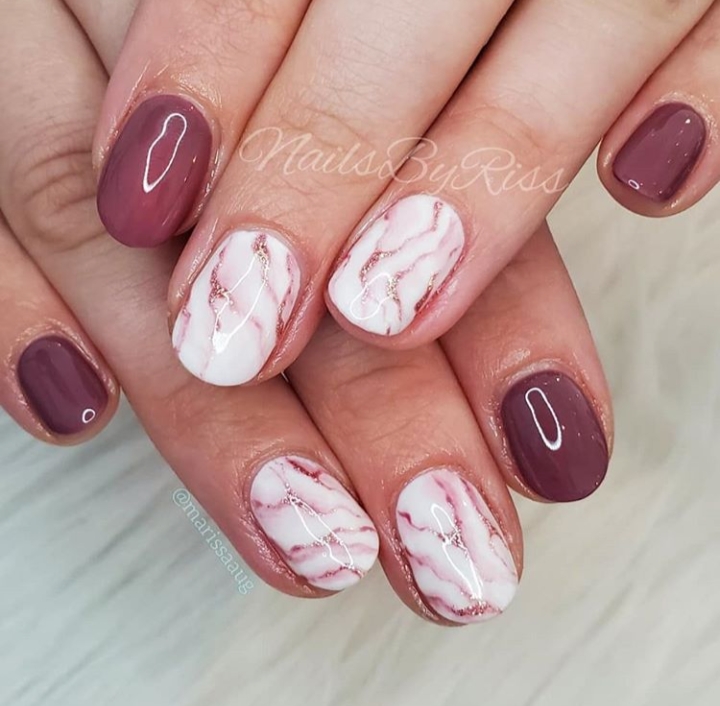 Mauve Shade With Sparkly Accents
If you decide to embellish your lengthened coffin nails with decorative items, keep it as moderate as possible with some sparkly glitters on your preferred fingers.
Nude Mauve For Classical French Manicure
Mauve nude nail polish is exactly what you need to create a gorgeous and classy French manicure. Some white tips and rhinestones make this nail design particularly elegant!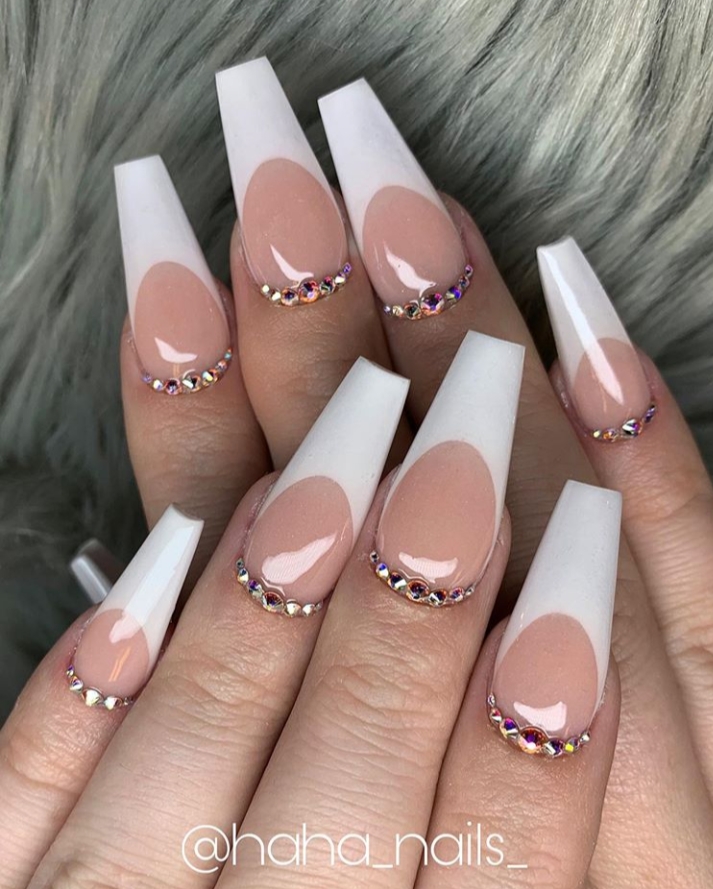 You May Also Like:
Mauve color is perfect when it comes to nail art design. Dress up your nails in one of the most mysterious shades of mauve for an exquisite elegant taste. Have you tried any of these mauve looks?