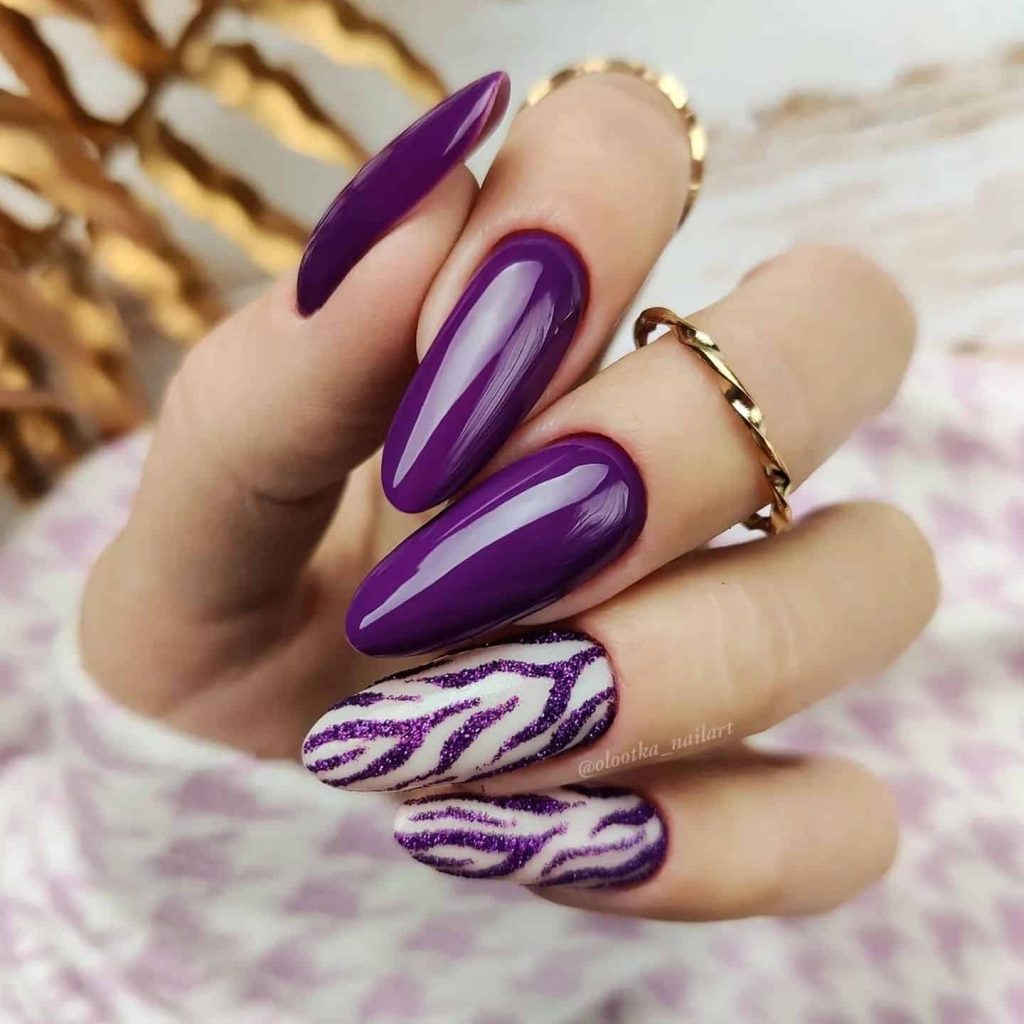 Purple is a color associated with royalty and luxury. It also exudes rich vibes and uniqueness. If you're looking to upgrade your manicure, try purple nail designs.
Whether you're looking for a deep purple for the cold months, a glossy one for summer, a springtime lilac hue, or purple shades to match every outfit in your closet, these purple nail art designs are hitting all the right marks.
You May Also Like: 30+ Adorable Ideas For Summer Nails This Year
1. Glossy Purple Nail Designs
Elegant nails will always be in. Of course, you can go for purple nails and get an elegant manicure with a glossy finish!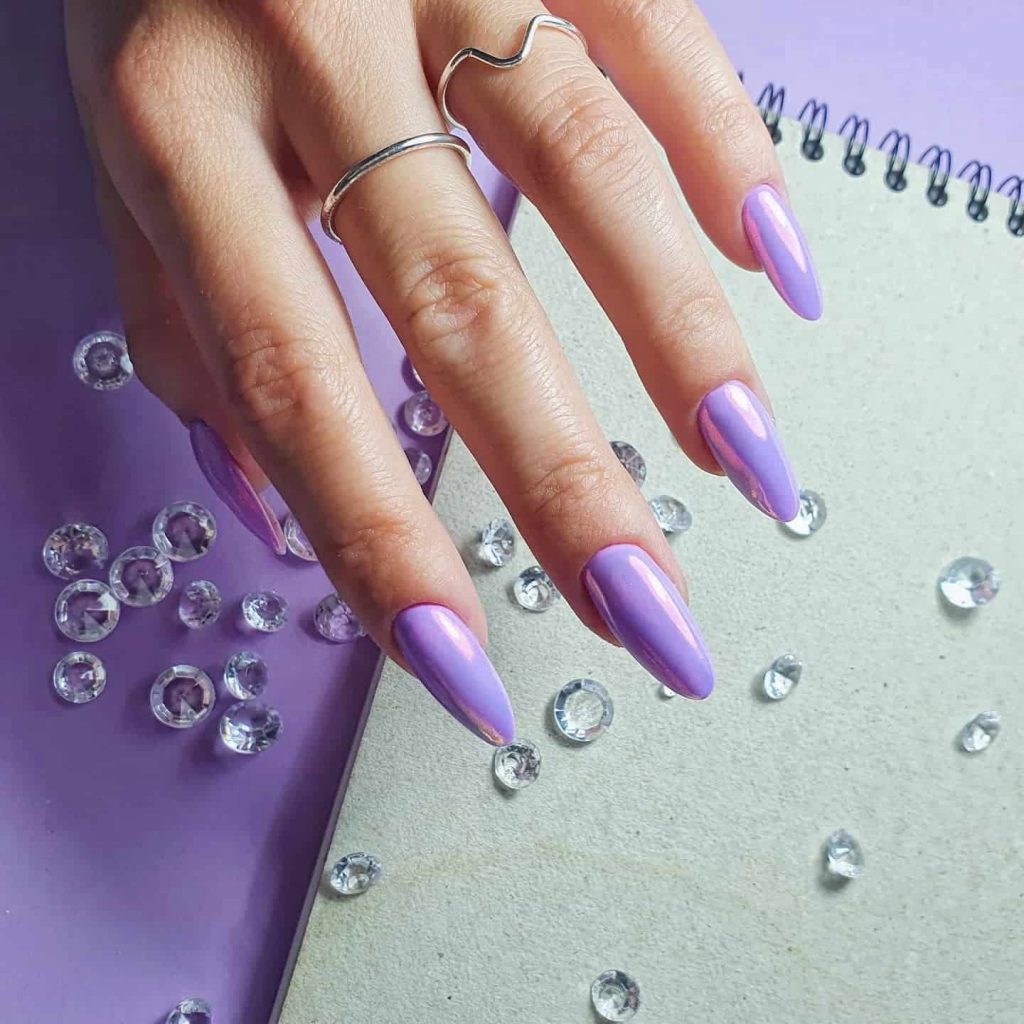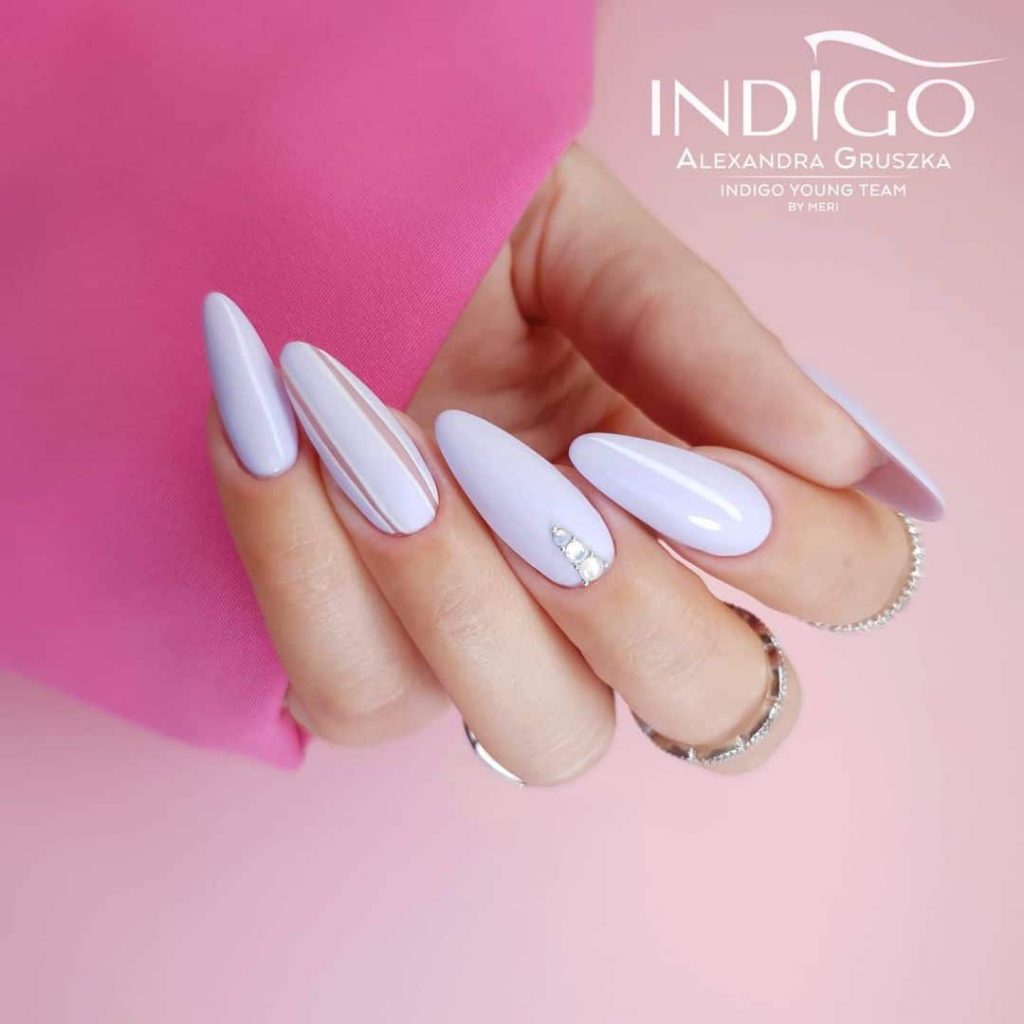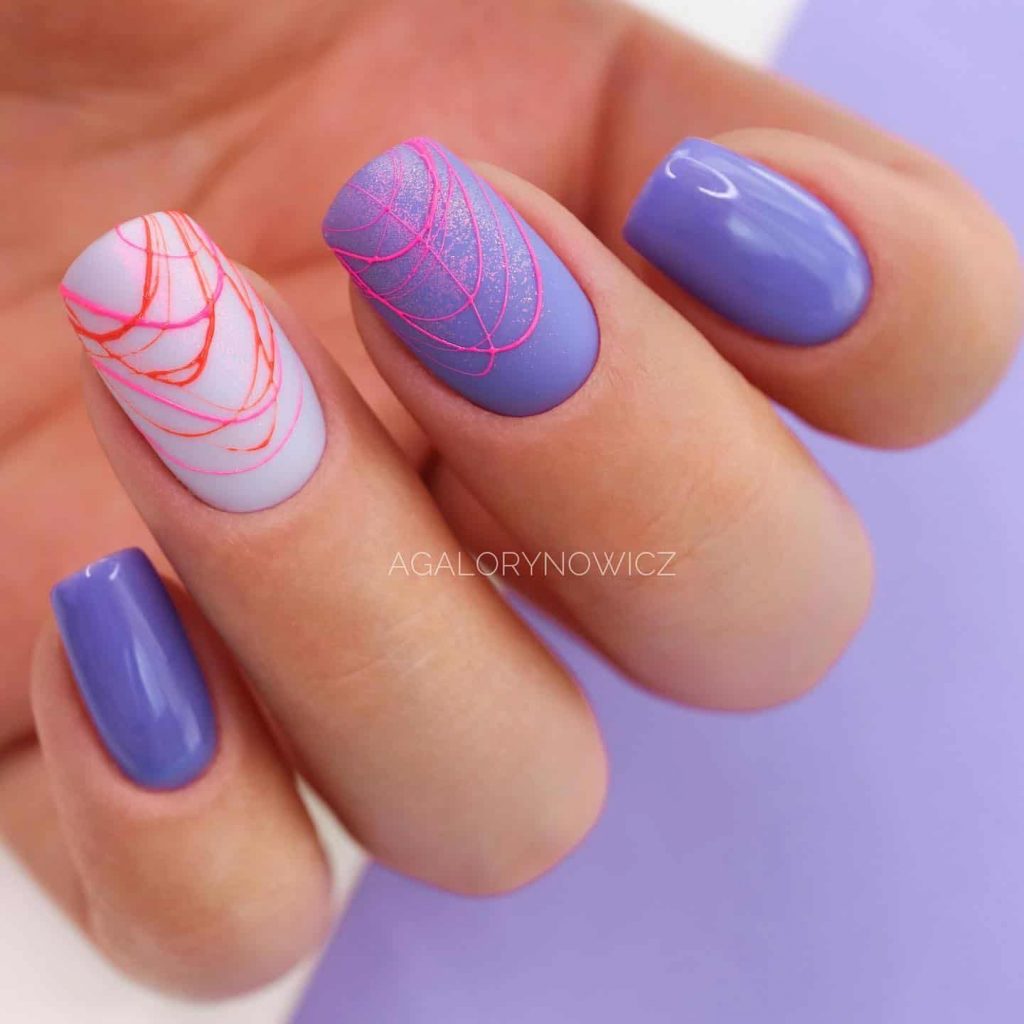 2. Matte Purple Nails
Matte nails continue to be a popular manicure trend. Elegant, cute, and sexy, matte purple nail ideas can accommodate all lengths, shapes, colors, and art. Try them!
3. Ombre Purple Nail Designs
Ombre nails are pretty, trendy, and soft, making purple nail polish a great choice for women.
The best part is that to achieve beautiful ombre purple nails, you can go for any color though we love white, pink, and black. Incredibly versatile!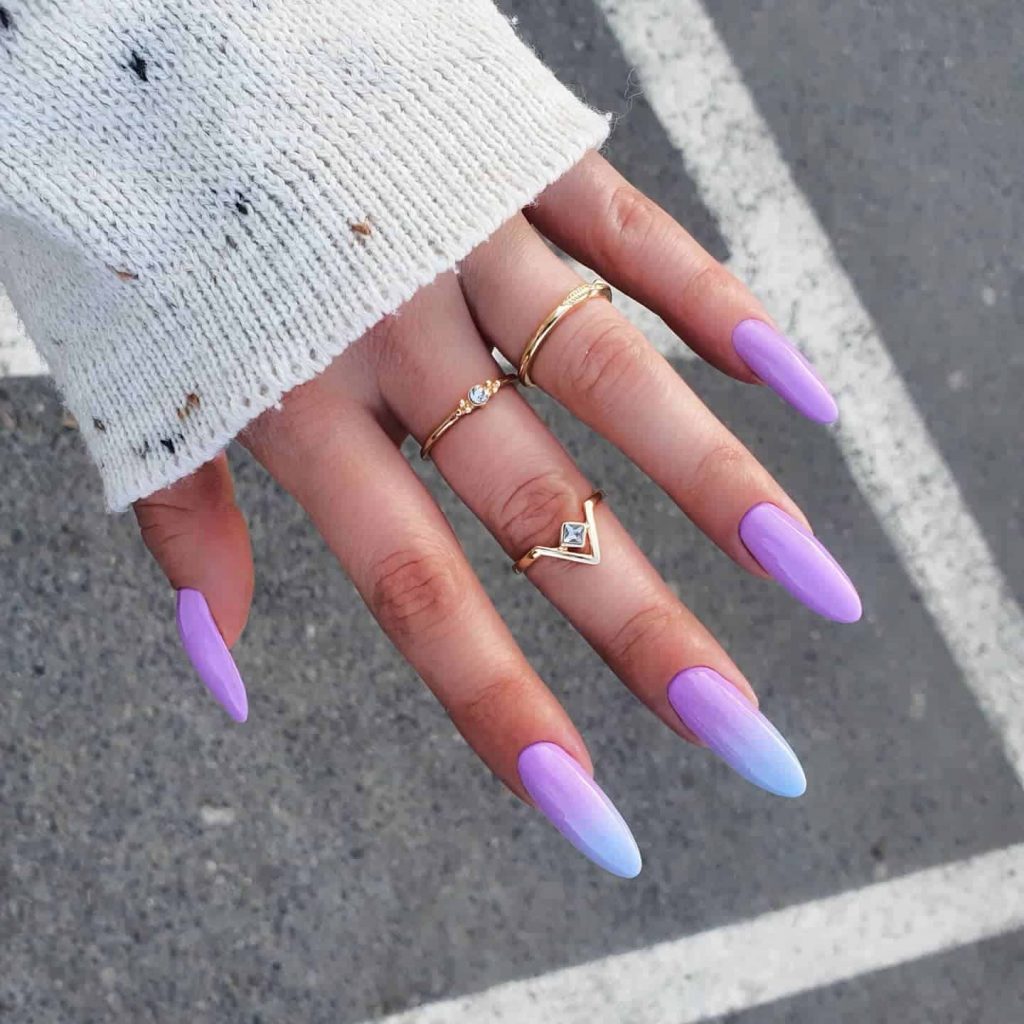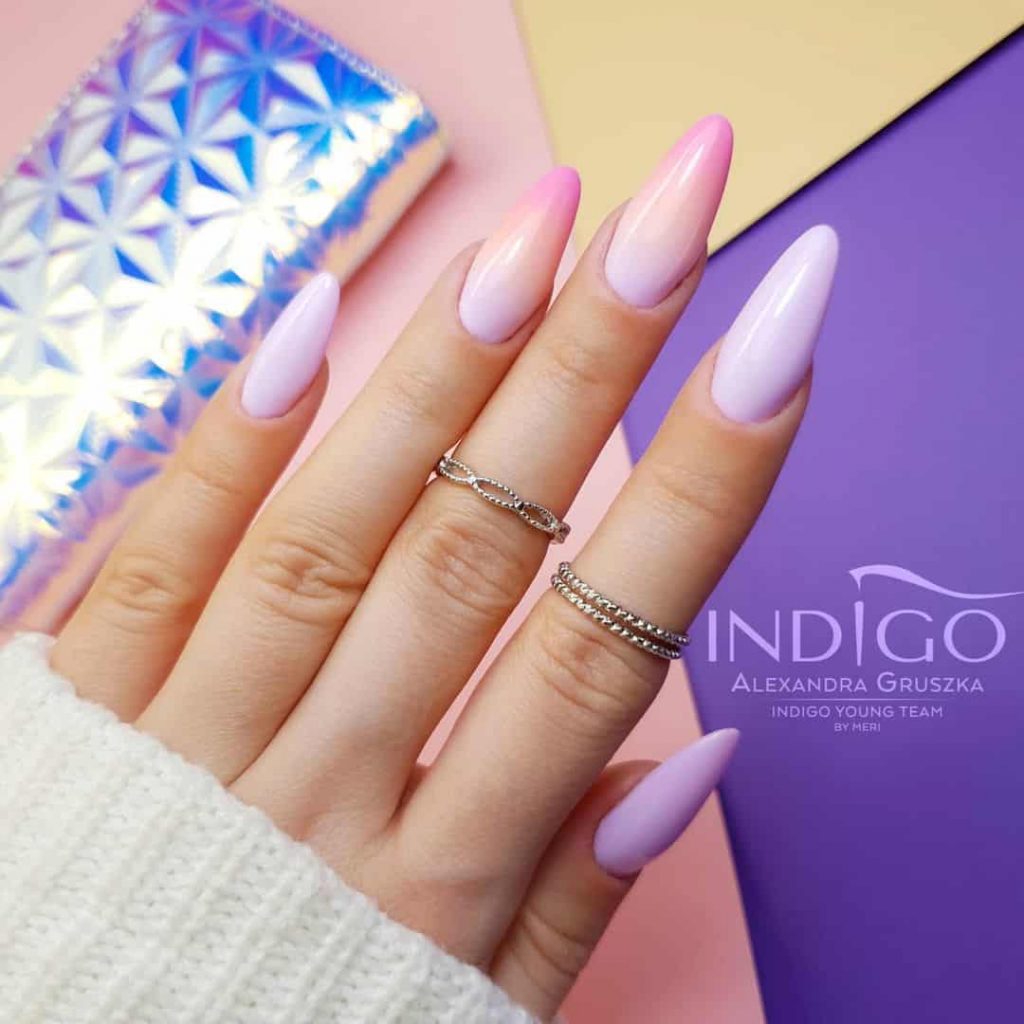 4. Multi-Color Purple Nail Designs
Switch up a classic purple mani with a summery assortment of pastel nails. Mismatched nails with a different color on each hand make it feel all the more fun.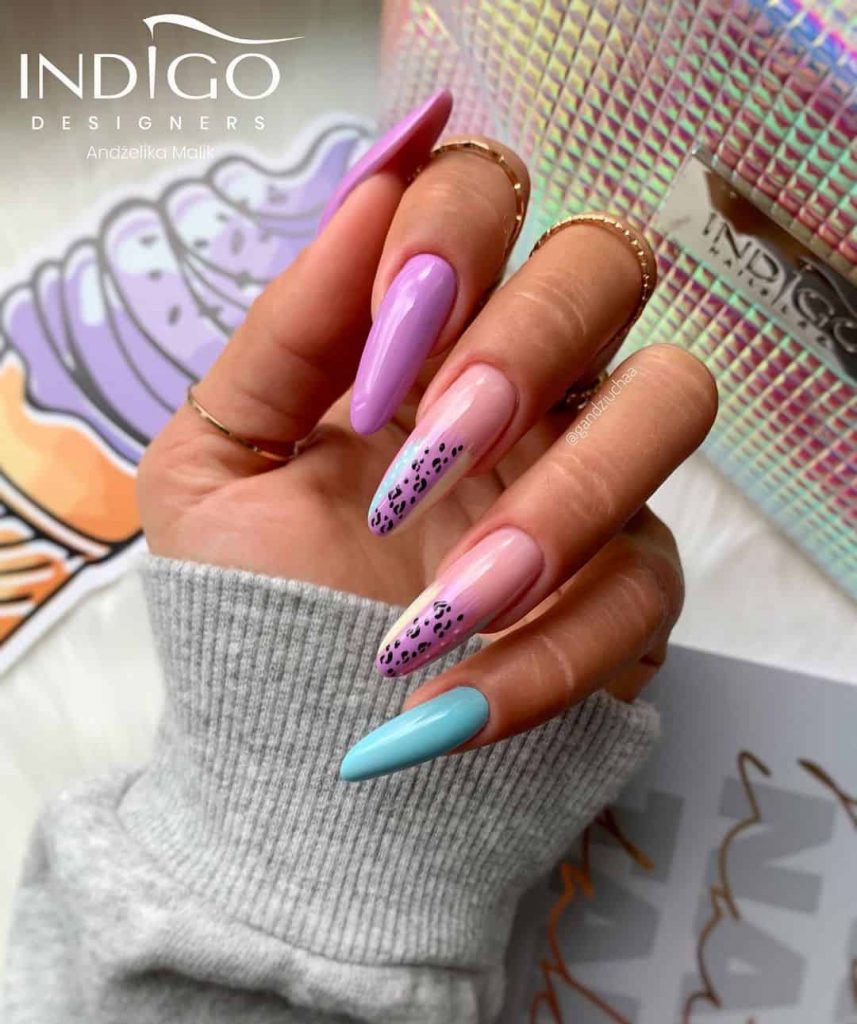 5. Purple & Black Nails
6. Purple French Nails
Inject a springy element to your purple nails by leveling up your nude nails with purple French tips. Adorn them beautifully with love hearts, striped or nail pearls.
7. Purple Love Heart Nails
Love heart nails are perfect for dates, including your Valentine's Day date. Make your purple nails extra special and romantic by trying love heart nail art.
You May Also Like: 66 Love Heart Nails For Valentine's Day & Every Other Date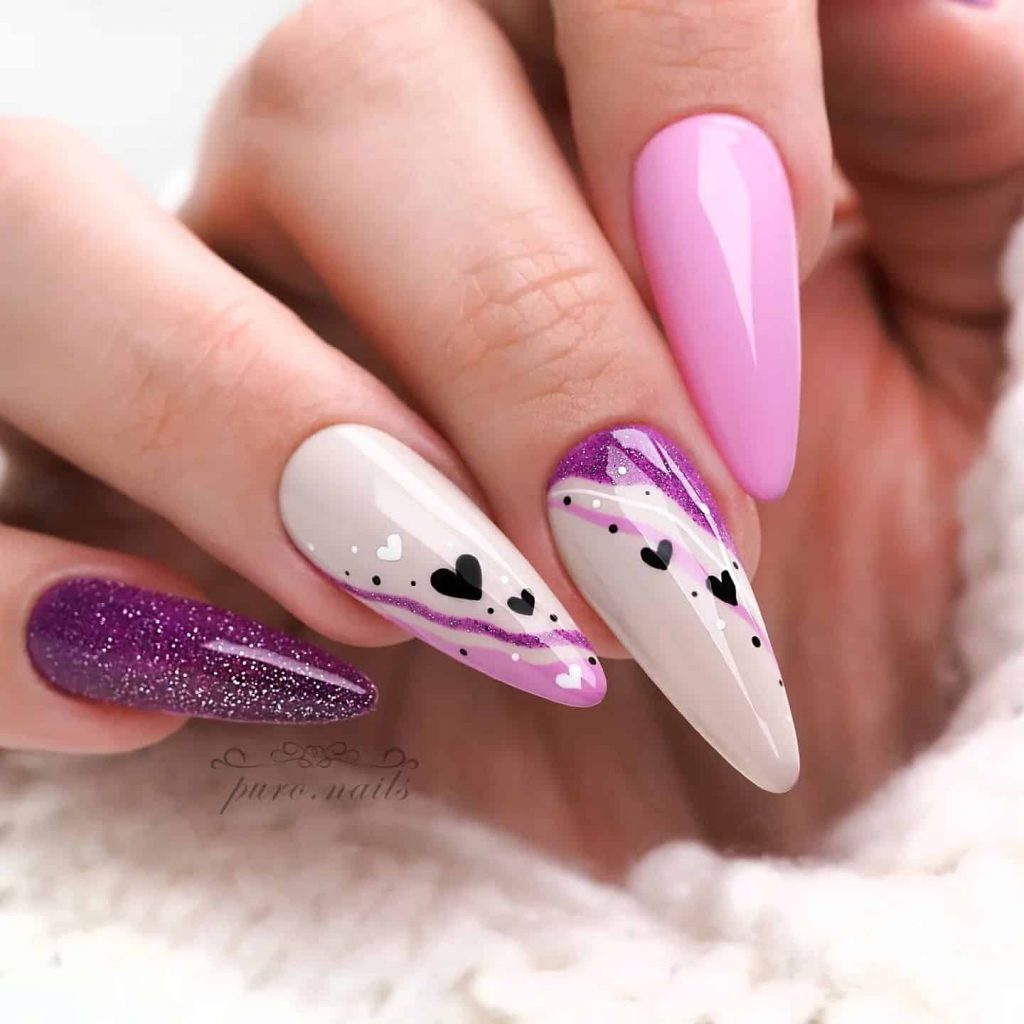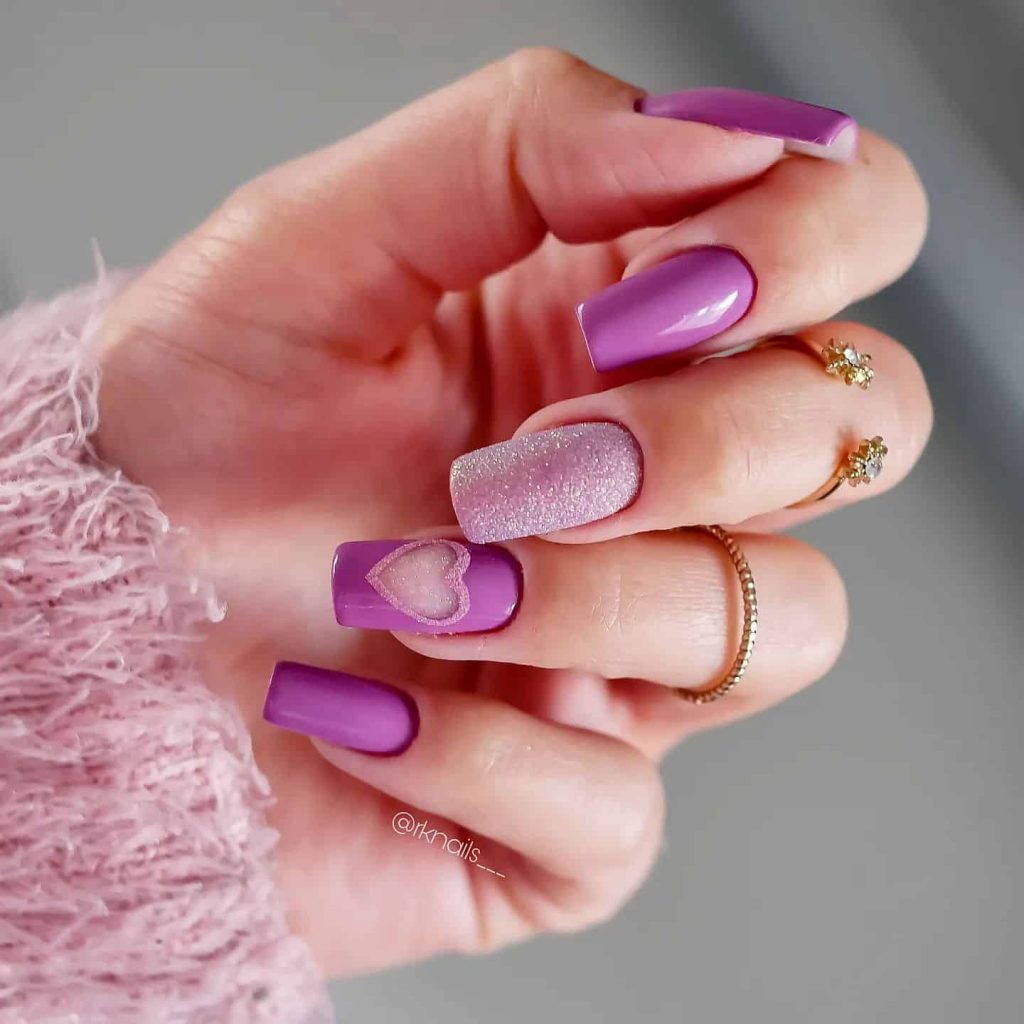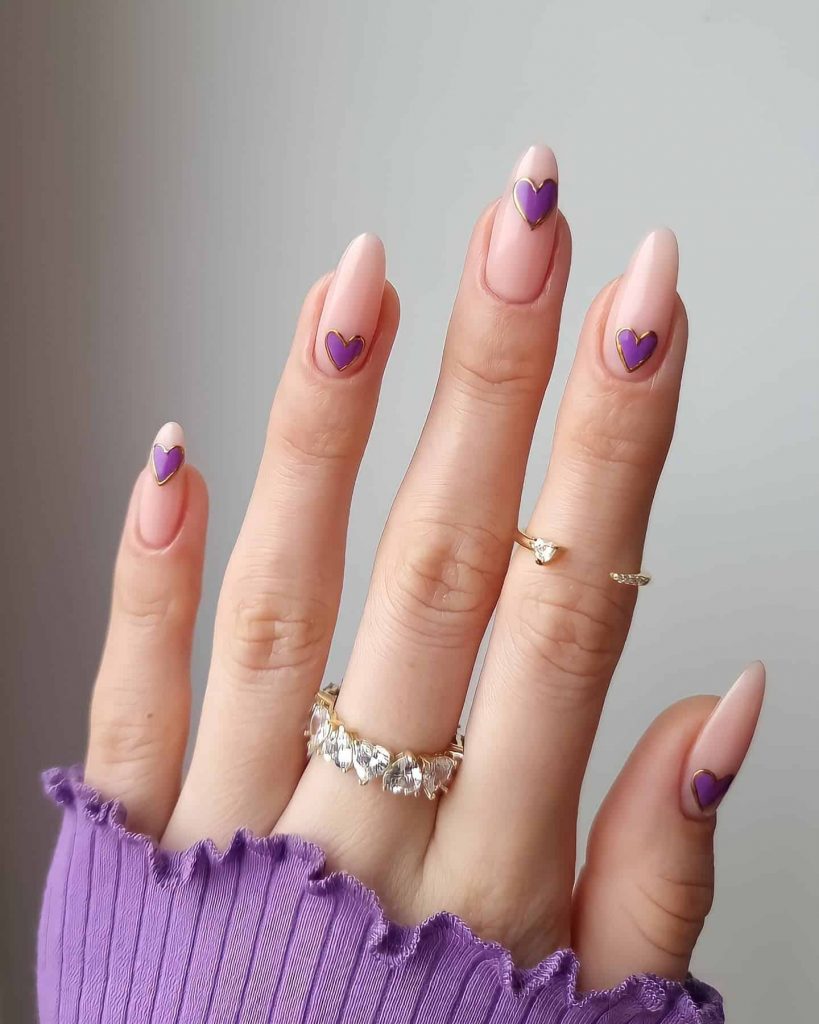 8. Purple Floral Nails
You deserve a bouquet of flowers daily. May we suggest beautiful blooms on your nail beds? Yes! Be ready to try these purple floral nail designs while kickstarting spring.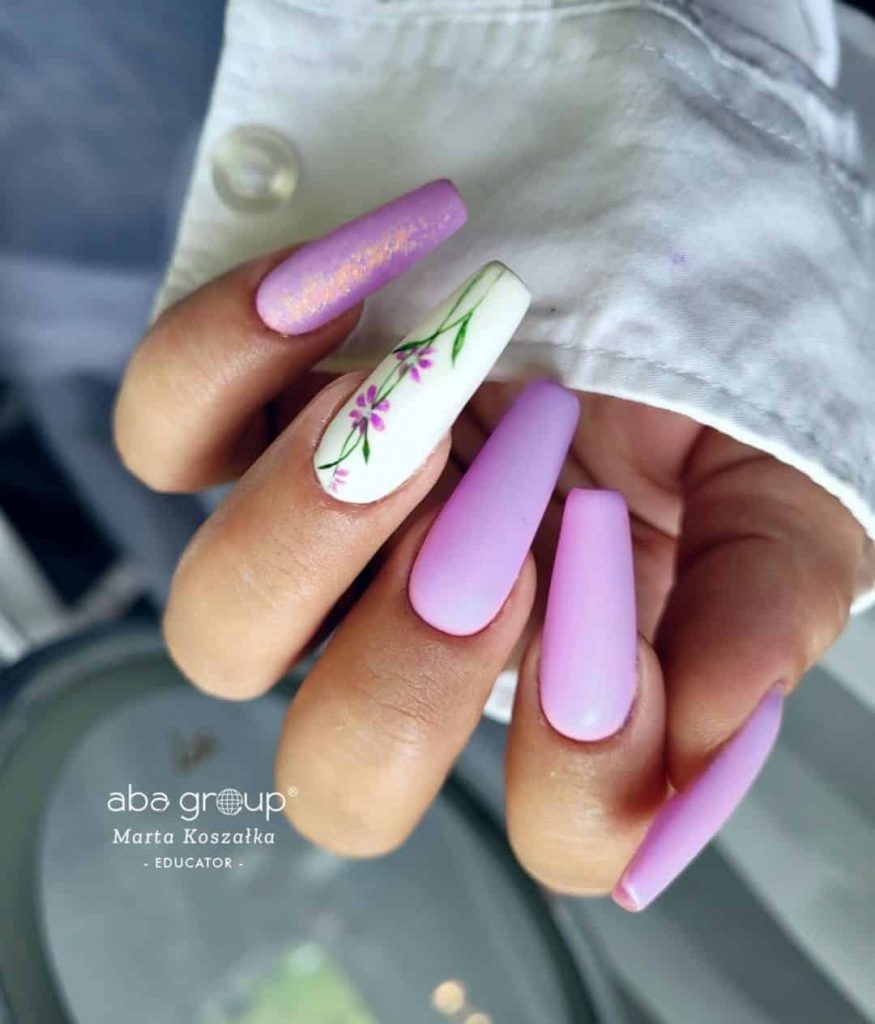 9. Purple Leaves Nail Art Designs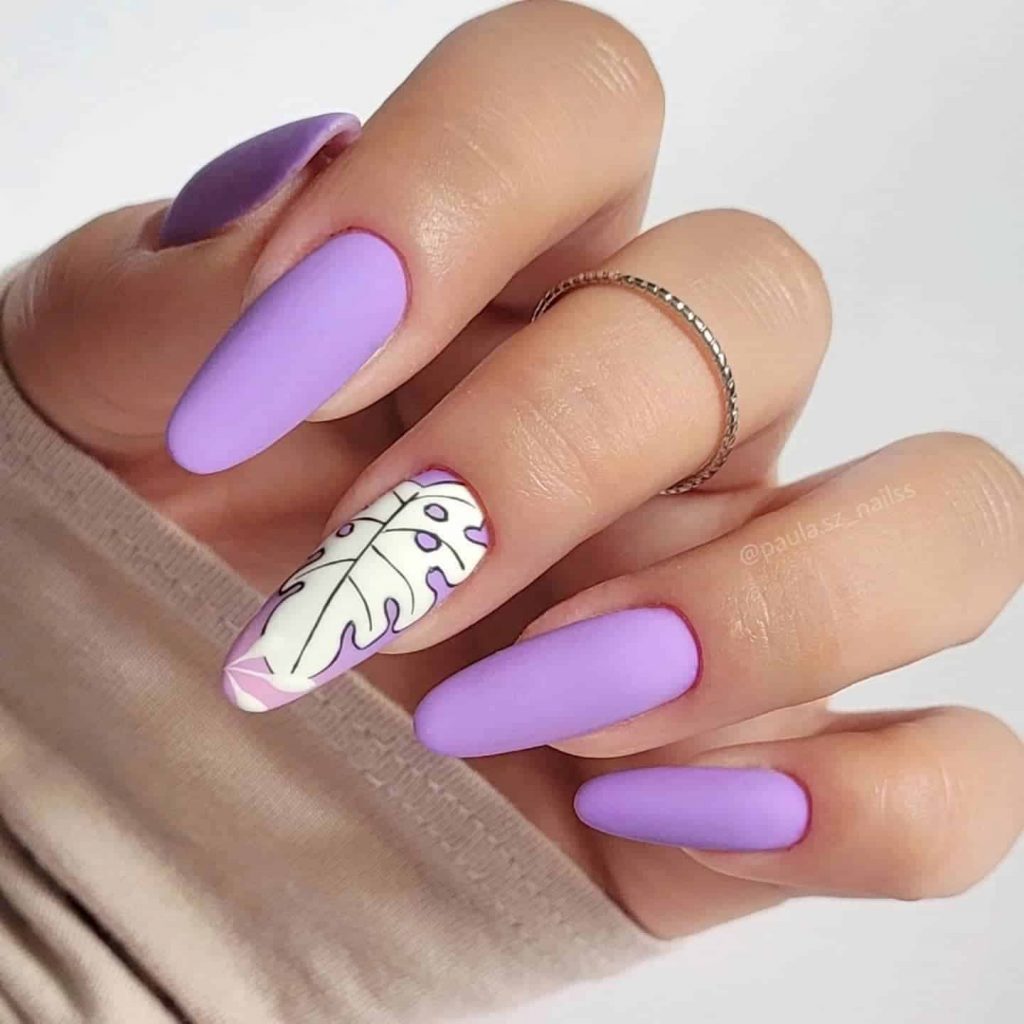 10. Purple & Silver Nails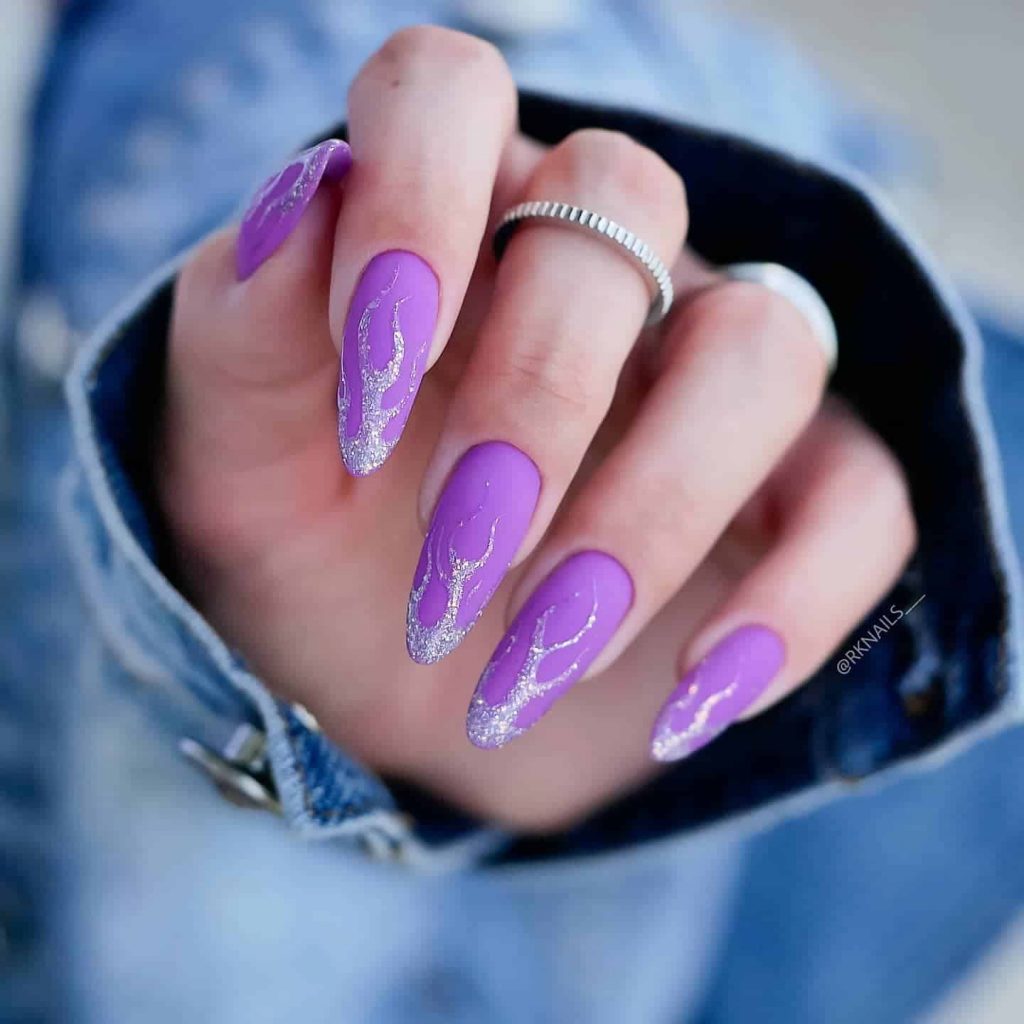 11. Purple & Gold Nails
Gold. This metallic shade just screams glamour and extravagance, no matter how it's worn. Add just a touch of gold as accent nails to your purple nails to make it look many times more sophisticated.
You May Also Like: 20+ Gold Nail Designs Oh-So Perfect For The Holidays
12. Purple & Rosegold Nails
If there's one nail color that has yet to go out of style, it's rose gold. We still can't get enough of that pinky metallic, that's why they perfectly accent matte purple nails!
13. Purple Nails with Stars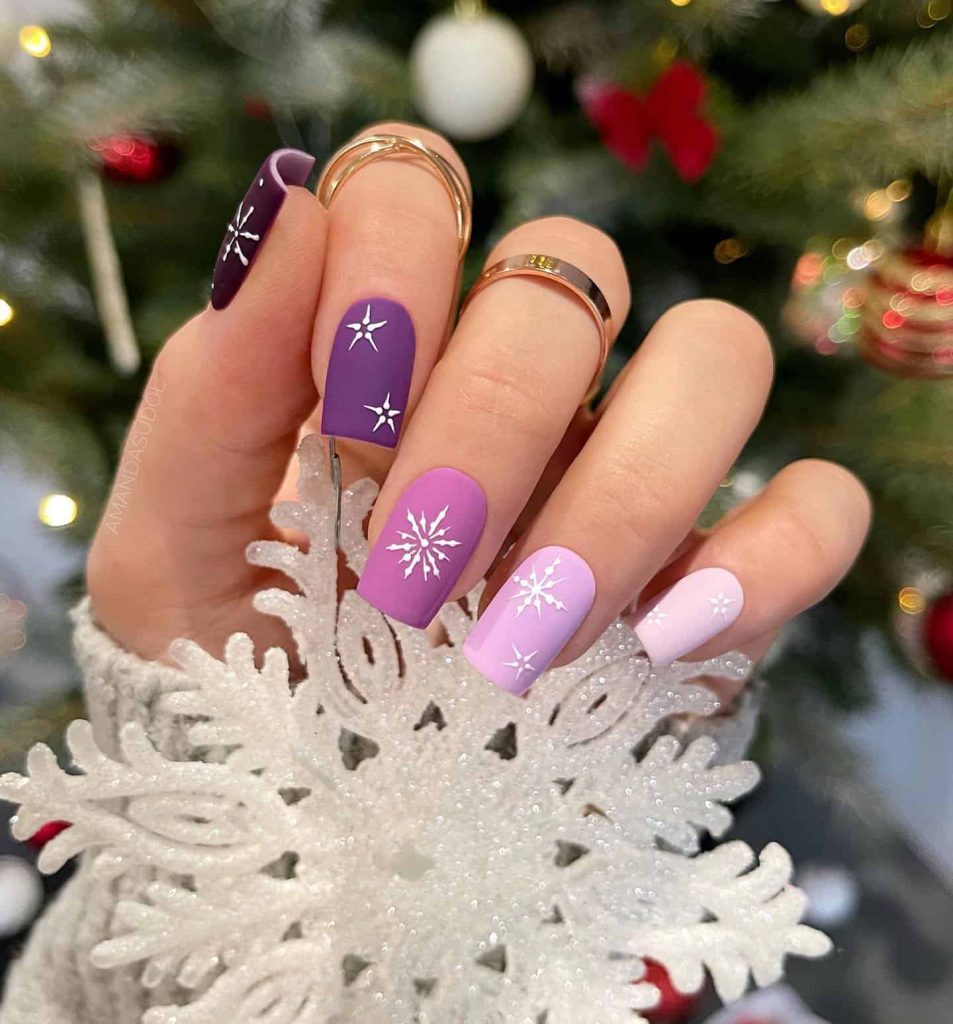 These are our favorite ways to wear purple nails, as they can really add that rich vibe to your nail look. So, which of these purple nail designs do you love most? Pin them to your favorite Pinterest nail board!
These purple nail designs are courtesy of Hey Great Nails, Amanda Sudoll, Aleksandra Jaworskaa, Donatam Nails, RK Nails, Nolas Nails, Tessa Lyn Nails, Anna Gasienica, Nails Kasiac, Paula.sz_Nails, The Hot Blend, Barbra Feszyn, Nail Art by Tea, Puro Nails, Martakoszalka Aba Group, Olootka Nail Art, Tannaz Nail Art, Tiffany Abbigaiele Beauty, Sylwiakaszcykmaluje, Angel Nails Indigo Educator, Agalorynowicz, Lesovskaya Nails, Gandziuchaa, Polished Yogi, and Paznokciewerki. Follow them on Instagram for more.