Pastel colors just never go out of trend. They are especially popular for spring and summer with many women loving pastel multicolor nails as the weather gets warmer.
Pastel shades are softer, paler, and washed-out hues than their bright, more saturated counterparts that include basic baby colors like pale pink, mint green, dusty blue, soft lavender, muted yellow, lemon yellow, pale orange, pale purple, and so on.
However, you can inject a more springy or summery vibe to your nail looks by finishing your pastel nails with gloss so they can pop, and even rock the popular multicolor pastel nail look for an instant statement!
Pastel nails are so chic and feminine to inspire a calming, soothing, and peaceful vibe. They are also romantic and perfect for your Valentine's Day or date manicure.
You May Also Like: 66 Love Heart Nails For Valentine's Day & Every Other Date
Some of the best ways to try pastel multicolor nails would be to:
Go monochromatic. The same shades of pastel nails worn together? Why not! Choose your favourite pastel shade and follow its different shades through for all your fingernails.
Mixed pastels. An advanced way to wear pastel nails is mixing different pale colors to achieve a soft but trendy look. This creates a look that is powerful yet feminine, giving a soft structured effect.
Mix with bright hues. For those who prefer an edgier nail look, adding a bright accent colour can break the softness of your pastel nail shades.
Mix with neutrals. Make your pastel nails pop by keeping the rest of your nail color palette simple. White is a great place to start!
If you're looking for a fresh manicure to wear this spring, and all through summer, these pastel multicolor nails will be right up your alley.
1. Pastel Red Nail Combinations
Looking to make the pastel mix-and-match nail color trend your own, this summer is the time to step outside your signature mani and start with pastel red mani combinations.
These beautiful ideas will inspire your red manicure this year.
You May Also Like: 30 Trendy Red Nail Designs To Make A Bold Statement
2. Pastel Nails with Neutrals
3. Pastel Pink Multicolor Nails
Pale pinks have a calming, soothing feel—which is perfect for a date nail look. Use various shades of pastel pinks to softly complement your nails or go bold in brights and other pastels.
You May Also Like: 70+ Pink Valentine's Day Nails That Are Chic & Date-Ready!
4. Pale Purple Multicolor Nails
Pastels, like darker and dustier purple and lavender, are a great way to embrace pastels. Try a monochromatic nail look or mixed pastels for a super feminine vibe.
You May Also Like: 58 Purple Nail Designs That Surely Draw Attention
5. Pastel Blue Multicolor Nails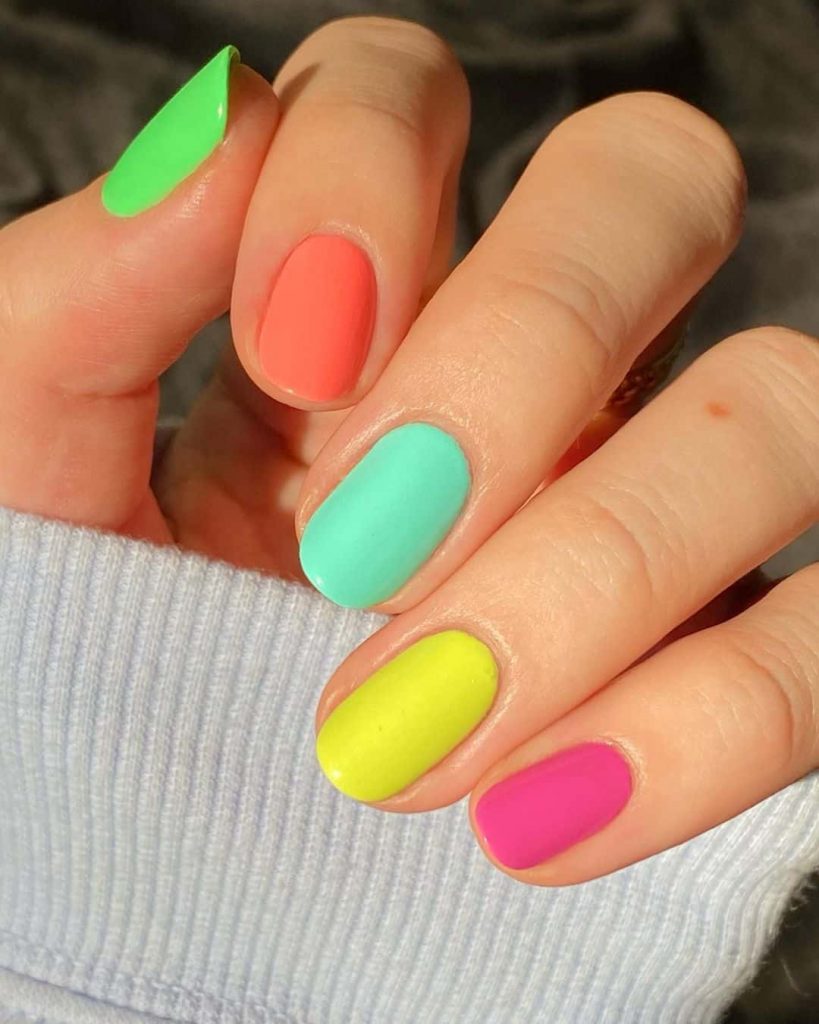 6. Pale Yellow Multicolor Nails
7. Mint Green Multicolor Nails
8. Pastel Peach Multicolor Nails
9. Multicolor Tips
This spring and summer, try these beautiful pastel nail designs for a fun nail effect!
These pastel multicolor nail designs are courtesy of Donatam Nails, Tessa Lyn Nails, Nail Polished Life, Polished Yogi, Paznokciewkolorzemarzen, Hey Great Nails, Aleksandra Gruska Indigo, Pegi Nails, Peachi Nails, Over Glow Edit, RK Nails, I Like Nails, Kelly KMBeauty, Makear.pl, Paulasz_Nailss, Anna Gasienica, Marci Pazur, Martakoszalka Aba Group, Tiffany Abbigaile Beauty and Lakierowerewolucje. Follow them on Instagram.