A great way to show off your feet while on a date is to wear open shoes. You can display your cute feet and toenails to make a beautiful impression, whether it's your first date or one of the many.
They are flirty, feminine, and the easiest way to keep your feet breezy all time long. However, for your feet to look pretty every time you decide to wear open shoes for a date, embrace our easy tips!
You May Also Like: Date Outfit Ideas: Elegantly Dress up For a Date the Victoria-Fox Way
How to Keep Your Feet Pretty Feet With Open Shoes
Since your feet will be on display throughout, show some love and add style to your feet to ensure they stay pretty. Here are a few tips to ensure your feet look appealing:
1. Start with Clean Nails with Cute Polish
Like with everything in skincare, beautiful feet begin with the right cleansing, exfoliating and moisturizing.
Unclean feet will not absorb moisturizers and nutrients, will harbor microbes, and over time, lead to cracked and aged-looking feet. So when getting your feet ready, be thorough on the prep, and do not neglect toe webs and cuticles.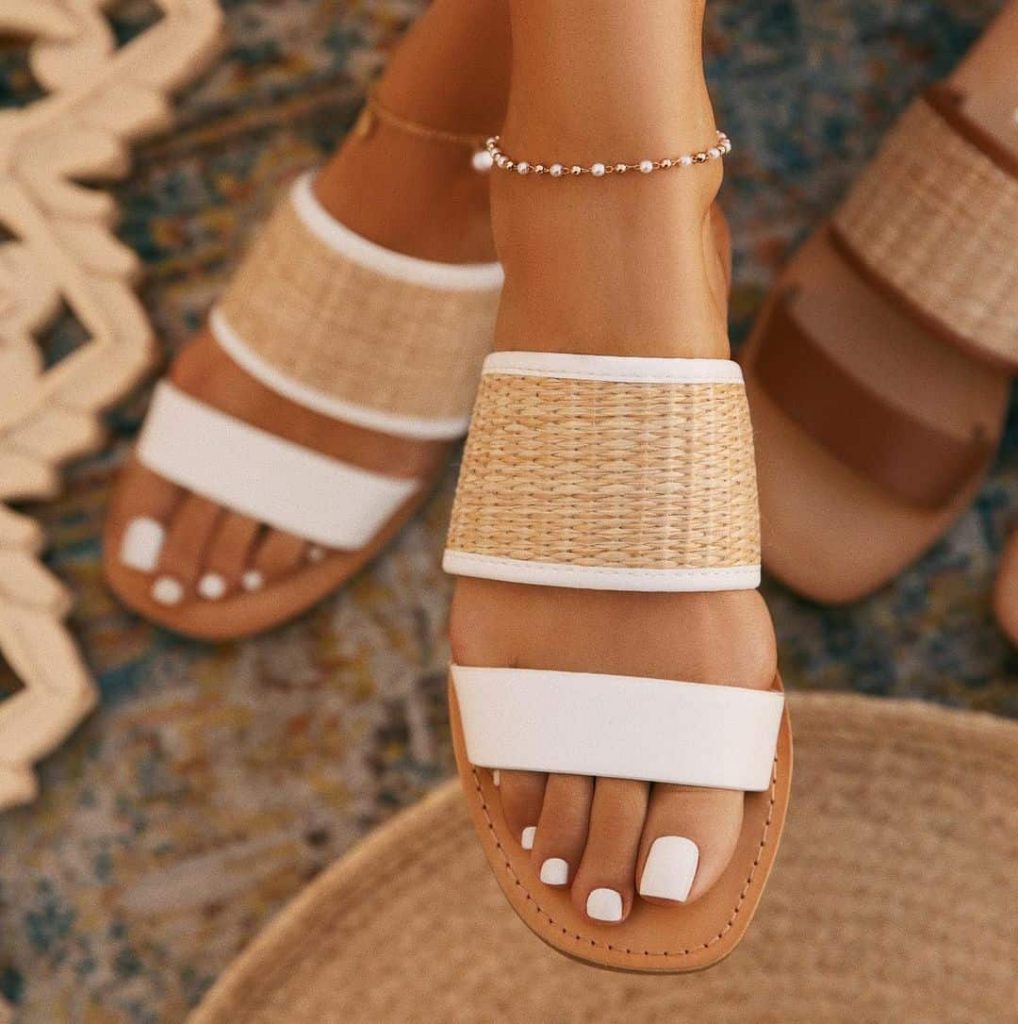 Give yourself a quick pedicure by soaking the feet in a warm tub of salts and rubbing with pumice stone or foot files to remove the dead skin around the front and back of the foot.
Also, clean and trim your toenails, then dry them. While your toenails are drying, apply a hydrating moisturizer on the foot and calf, while massaging your leg. Now, paint your toenails with a color of your choice.
You May Also Like: 30+ Pretty Toenail Designs For Valentine's Day & All Other Dates
2. Nourished Feet
Your heels tend to dry out more easily than the rest of your foot since they are prone to over-use. Also, because the heel is also protected by thicker skin, hence less penetrable and takes a little more effort to lock moisture in.
To ensure your feet look appealing all time long, apply a thick lotion or oil immediately after you shower to retain the moisture your feet have already soaked up.
For even better results before wearing your open shoes, reapply a moisturizer right before bed and bring along a foot cream to reapply every time you visit the ladies' room.
3. Accessorize your Feet
Your feet also deserve some love. For sure, a flash of gold or silver on your feet reveals a lot about your individuality and personal style.
So, when you want to add a hint of glamour to your look or simply want to elevate your shoe game, start with an ankle bracelet, or anklet.
Just remember to match your foot jewelry with your earrings, necklace, and watch to make for a cohesive and stylish overall look.
You May Also Like: 12 Holiday Accessories We Want To Wear All Year Long
4. Show Off Your Shoes
Your footwear is a marker of attention to detail, and an opportunity for you to play up your date outfit ensemble. You could wear an oversized white shirt with embellished strappy heels and look "dressed up."
So, don't hesitate to show off your beautiful shoes and feet by having the hem of your bottoms reach your ankle or slit.
You May Also Like: Date Night Outfits For Summer: Styles To Suit Every Woman
How to Choose the Best Open Shoes for Dates
While picking open shoes for a date, it's important to find something you won't trip in, but which will be a statement in itself.
Also, your open shoes shouldn't be so basic to portray attention to detail and thought while dressing up. This makes your partner feel special too. Here are a few tips to help you choose the best open shoes for dates:
1. Comfort is key!
No matter your choice of open shoe, heeled or flat, we cannot emphasize enough the importance of being comfortable. Good shoes should cushion your feet, and immediately feel comfortable upon wear.
Some of the most comfortable open shoes to wear on a date include:
a) Flat Shoes
It's okay to wear flat shoes on a date. First, choose a pretty pair that's appealing to the eye.
Also, ensure they are not too flimsy or rigid, so, when you fold your shoes in half, the shank has a firm structure required to properly support your foot and still have a proper bend.
On top of this, the shoe should not miss adequate midsole and outsole to provide protection and cushioning to the foot.
Otherwise, a shoe without a shank can lead to leg and foot fatigue, soft tissue overuse including heel pain (plantar fasciitis), and instability of the foot and ankle. Also, the lack of an outsole can cause pain in the ball of the foot (sesamoiditis and metatarsalgia) and heel.
A good flat shoe also has a slight elevation since our feet are not naturally flat so a good shoe should reflect that to avoid leg, foot, and back pain, as well as soft tissue overuse injuries, like Achilles tendonitis.
Since flat shoes have a more casual vibe, wear your flat sandals for casual dates for the best laid-back look.
You May Also Like: Casual Date Outfits To Slay Your Summer Dates
b) Chunky Heels
By now you know the negative effects of wearing uncomfortable high-heels, and what they can do to your body. For less foot pain, try chunky heels as they offer better stability, ultimately offering more support.
If you are prone to ankle sprains and have balance issues, skip the stiletto for a chunkier heel because it has a greater surface area to distribute your body weight across.
If the pain persists, limit the amount of time standing or walking in heels helps as well.
c) Wear a Shorter Heel
Chunky heels are great but shorter heels are even better as they won't cause much trauma to your feet every time you walk in them.
While preferences in height vary, the best height heel height is usually between one and two inches. This is because an open shoe that is extremely tall will cause jamming of the toes and ball of the foot every time you walk.
d) Wedges
The easy solution when you can't decide between open heels and flat sandals for a date: wedges. they are so chic and comfortable and go with pretty much every look, casual or formal.
When choosing wedges, skip the backless wedges that make your toes curl in an attempt to keep the shoes from slipping off, which can throw off your balance or cause cramps in your foot.
Instead, choose a pair of shoes with a full back, or at the very least an ankle strap, to ensure that they are securely attached to your foot.
For romantic Saturday nights when you know you'll end up hanging out till late., wear a pair of wedge heels instead of stilettos so your feet don't scream bloody murder in the morning.
e) Cozy Straps
Strappy sandals are so chic, especially for dates. However, when choosing ankle strap sandals, you need a balance between keeping the strap tight enough to stop your foot from slipping but without being too tight.
You May Also Like: How to make high heels more comfortable
2. Get the Details Right
The appeal of open shoes is their versatility. You can style them with everything from pantsuits to cocktail dresses and jeans. They're a classic silhouette that will never go out of style so you want to have at least one pair in your closet that you can reach for any date.
The secret to finding a comfortable pair of open shoes is to choose ones that are well designed, and with beautiful details. They should also fit snug around your heel while cushioning the arch to prevent it from slipping and to keep your foot firmly in place.
You might need to hunt high and low for the perfect combination, but it's worth the hunt! Check for shoe details like glitters, fur, leather straps, and golden chains.
Apart from the design details, the color of your open shoe also determines how it matches your outfit for a cohesive look.
Metallic shoes in gold or silver are your best options for a formal date thanks to their sophistication. You can also go for neutral pairs in white, black, or brown since they pair effortlessly with any outfit.
But if you're the daring type who loves a bold shoe statement, then go for it. To match your date outfit with your shoe, wear an outfit that matches one color in your shoe However, black, and white can always do the trick.
3. Ensure They Fit!
It's also important to ensure your open shoe fits. Before making your purchase, always try a shoe first to see if it is your size and if it is the right fit.
When it comes to high-heels, ensure they fit snugly and hold the foot firmly in place for your safety.
Heels that are loose can lead to your foot sliding up and down and you not being able to keep your balance. Not to mention injuries such as bleeding, blisters, and ripped toenails.
Most open shoes will have enough space for toes, just ensure the straps around this area aren't too loose or too tight.
So, before making your purchase for high heels, put them on and see how they feel. At all costs, avoid shoes that feel too tight, loose, or uncomfortable in any way.
Since most ankle-strap heels have an open-toe silhouette, you can end up with your toes overhanging the front of your shoe as they slip forward. So, choose a pair that allows your feet to fit in the shoe even as you walk.
Also, when choosing flat open sandals, go for a pair of at least a size or two than your normal shoe size so your whole foot fits well.
4. Go For Clean Shoes In Good Condition
Finally, always ensure that your open shoes are clean and in good condition before putting them on.
The Best Open Shoes For Dates
Date dressing has to be a mix of comfort, personality, and style. That means, even when wearing open shoes, you need a pair that helps you achieve the above.
Here are some of the best classic open shoes for dates that are worth adding to your wishlist:
1. Strappy Sandals
Strappy heeled sandals especially ankle-strap heels are one of the most minimalistic silhouettes that you'll find in any shoe department.
Whether they have a stiletto or block heel, these glamorous shoes will instantly elevate your outfit.
2. Peep-toe Boots
Peep-toe boots are so they're great for wearing on a night out. Any sort of bold-colored shoe like this is an easy way to accent your outfit and keep your feet warm.
You May Also Like: Chic Brown Ankle Boots Outfits – Tips To Choose & Wear Brown Booties
3. Flat Sandals
Ready to wear comfortable open shoes on a date? Then make a classic hot-weather ensemble look summery with a pair of open sandals; make a statement in something glitzy and special. Now, add an anklet for more detail.
4. Espadrilles
Espadrilles are the dressier alternative to open sandals. They go well with jeans, dresses, shorts, you name it.
They're also insanely comfortable to do lots of walking in hence the ideal shoe if you'll be dancing, walking, and stepping into spring and summer.
From platform espadrilles to wedges, to flat espadrilles, there's an option for every personal style, outfit, and occasion.
You May Also Like: How To Look More Stylish This Summer- Timeless Tips For Every Summer
5. Mules
We like to think of mules as the cooler sister to classic pumps, meaning they're easily swapped in all manner of outfits.
They can elevate the most casual of date outfit ensembles or make a more formal date night outfit look chicer. You can never go wrong with a cute pair!
Shoe Tip…
Go for leather or suede high-heels as they are quality, long-lasting, more supple, and will more easily adjust to the shape of your feet. This will also prevent your feet from chafing. Avoid synthetic leather heels that are cheaper and more affordable but come with a series of setbacks.
To check if the shoes are made from real leather or suede, check the inside of the shoes. If it says man-made upper or man-made materials, they are from synthetic materials. If it says leather upper or suede upper, they are made from real leather or suede materials.
So, which of these ideas to wear open shoes on a date are your favorites? Pin them to your favorite Pinterest board.
*Disclaimer: These stunning ideas to wear open shoes on a date are inspired by Miss Lola Official and Mia Mia Mine.