Disclaimer: This article on "how to wear blue" is inspired by and features the following fashionistas: The Style Pantry, Mia Mia Mine, Macy Stucke, Lerato Kgamanyane, Nimi Nwofor, Mphotsila, Linda Osifo, Grace Motswana, Melissa Alessia, and Once Upon A Shoe,
Blue is definitely one of the most versatile colors to wear. And depending on the shade you pick for your blue outfit, you can always pair the color with any other, go monochromatic, and also, be suited for any occassion.
Every woman needs blue in her wardrobe; it's an incredibly elegant color to wear all year round and will complement all skin tones. So make it your new go-to color for the season. Read on to learn how to wear blue like a style pro…
Most Versatile Blue Shades To Pick For Your Blue Outfits
Navy blue is by far one of the most universally flattering colors around and can look less harsh than black.
This perfect neutral looks stylish, all year round, and can either look formal or casual depending on how you style it. And have I mentioned that navy blue can be worn with literally every other color in your wardrobe just like black?
In this classic shade, you can afford to think about navy clothes and accessories as an investment that you will keep for years. So, go get a navy coat, blazer, dress, skirt, pants, handbag, or shoes!
2. Cobalt Blue
This bright, bold blue color looks great and anytime you want extra attention, then pop this shade on for instant impact.
Cobalt goes with everything from denim to a dressier attire, so shop accordingly.
We recommend buying at least formal pants, or dress in this bold shade, and if you're feeling adventurous possibly even a full-on suit (though realize you won't have as many opportunities to wear it as, say, black or navy suiting).
Once you've acquired some cobalt clothing of your own, consider pairing it with colors like mustard, yellow, pink, turquoise, or burgundy for maximum impact. White and black are also timeless options to try.
In small doses, cobalt blue can easily make its way into any attire — think shoes or bags.
Also, note that cobalt blue is also, preferably the best color choice when looking to color clash or color block, and still look put-together!
You May Also Like: How to Always Look Put-Together
3. Pale Blue
Also known as serenity, this pale shade of blue is timeless in its quality. If you invest in the right pieces in this shade, you can wear them season after season.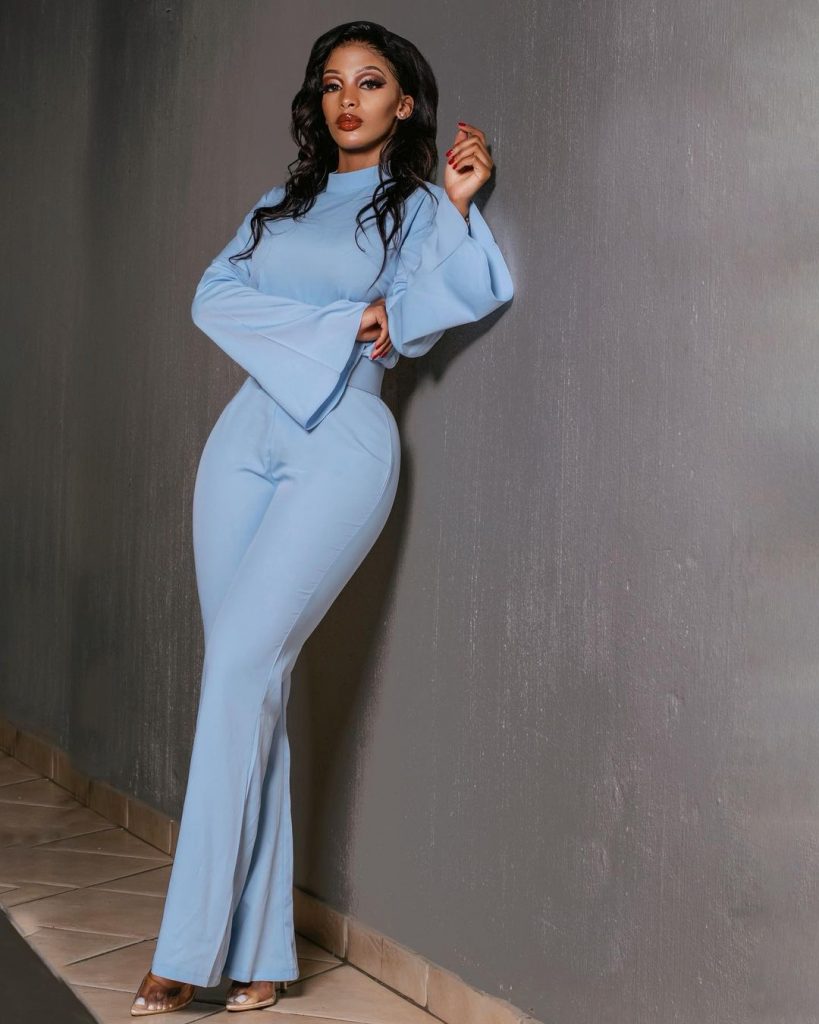 Pair a pale blue piece with either a bold color, or a more subdued, yet contrasting color to create a chic contrast. Thus, the pale blue works as a neutral, helping to bring out the full strength of whichever contrasting color you choose.
To create a fresh and crisp look, pair pale blue with neutrals!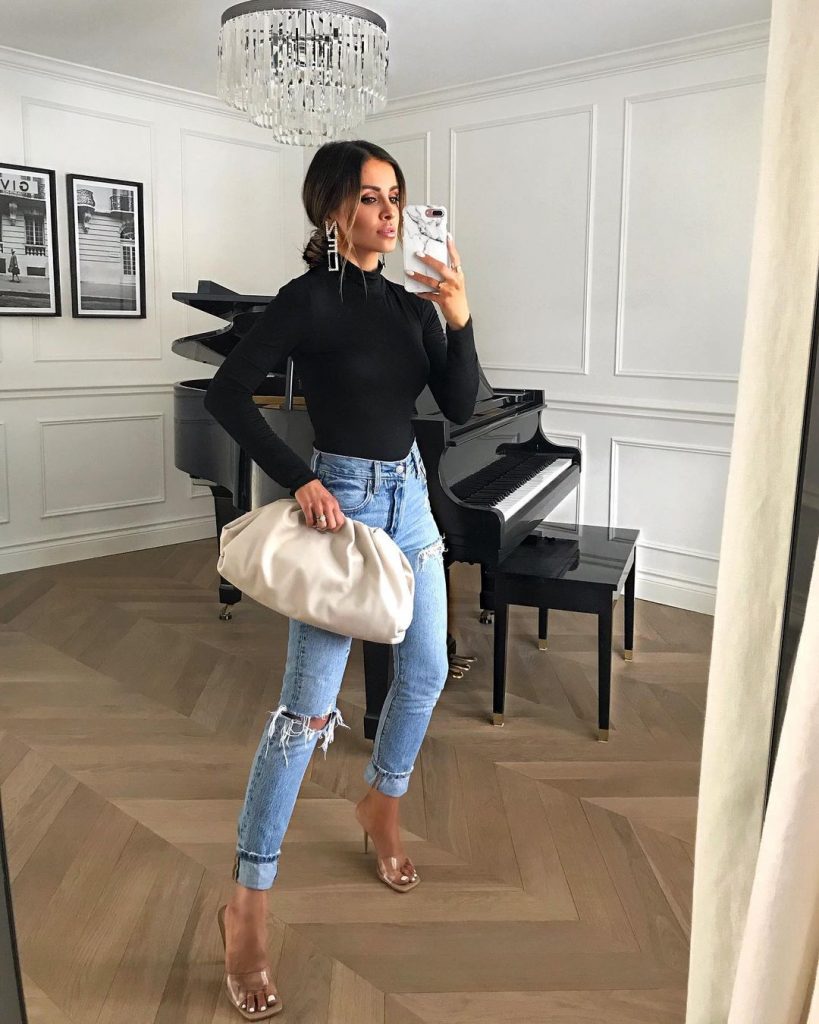 Denim jeans are also popular in this color shade. However, you can always pick any shade of blue you want for your blue jeans.
You May Also Like: How to Level Up Your Look In Denim Jeans
What Colors Go Well With Blue?
Blue works well with all colors — try it for either a bold, monochromatic, neutral, or tonal look. Here's how:
1. Color Block
Color blocking involves using "blocks of color" in your outfit to create a bold, eye-catching look. Strong blue colors can help you achieve such a look, think cobalt blue and royal blue.
Vivid colors tend to uplift and revive your skin's appearance. Thus, when color-blocking with blue, use the rainbow as your guide.
In this case, all purple, blue, and green shades are in the same "family" or end of the rainbow while yellow, orange, and red are on the other side (including pink). Choose one side of the rainbow family and have fun!
For instance, go bold in a dash of blue and hot red or orange. You can also grab attention by teaming blue and yellow.
Print and patterns are also a great way to add visuals and interest to your look.
2. Create A Tonal Look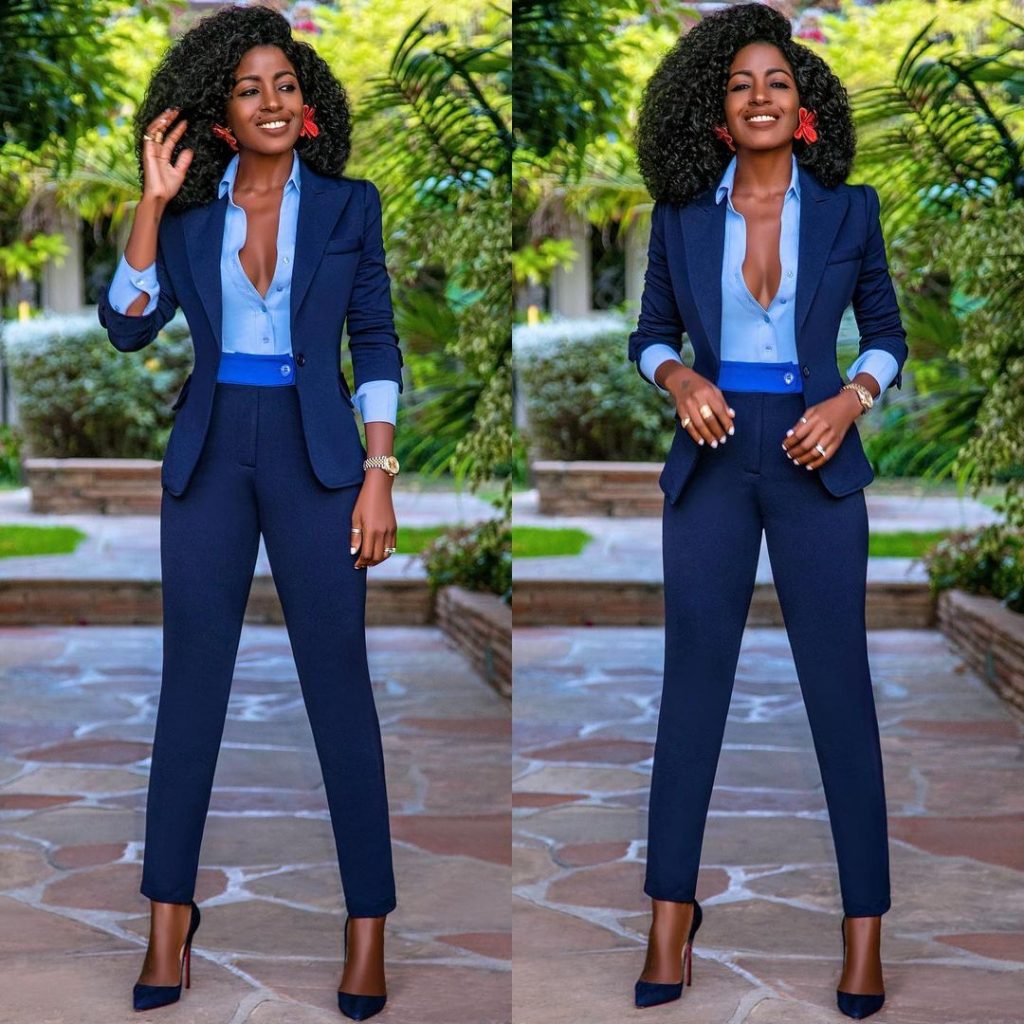 One easy way to create a tonal look is by picking one color and layering different shades and tones of it.
For instance, cobalt blue and pale blue are such a complementary match — while the lighter shade softens the look, the deeper cobalt is the highlight.
3. Or A Monochromatic Look
All blue is the safest color to commit to in a monochromatic fit and makes matching hues a breeze. Thus, a full blue suit is a good place to start.
You can also crank up the color with one bold blue statement piece, like a long leather trench coat, and then pair it with accessories in the same color family.
Remember to make it interesting by mixing up the fabrics and textures.
You May Also Like: How to Wear Monochromatic Outfits Like A Style Pro
4. Try The Timeless Neutral Classic!
Any piece in a rich, bright, blue color will get you noticed, but two will put you in the style danger zone. Avoid any style missteps by opting for neutral shades like white and black to balance things out.
You can also try darker blues if black and white are not your cup of tea!
Tips On How To Pick & Wear Blue Stylishly
First, consider sticking to the darker or more neutral shades of blue, especially when attending formal events.
When looking to stand out in a crowd, for instance, when you're at an event, go for eclectic and brighter shades of blue. You will make a statement! That's why cobalt blue gowns are a thing!
If you're looking for the most versatile shade of blue that you can get away with having just one piece, then it has to be navy or dark blue! These versatile colors can easily be dressed up or down!
We wouldn't recommend a bright baby blue fashion piece as your first item of choice, however. This light blue shade should only be a top-up to your already existing darker and deeper blue versions since it's not so versatile.
Get tops, chic skirts, or even summer dresses in the color. And wear this blue during spring and summer.
Styling Tip…
Stick with quality materials and stay away from cheap fabrics to ensure the color of your blue outfit does not look all-beat!
In the warmer months, wear cotton or linen while during the colder months, wool or cashmere are a great option. Avoid materials like polyester altogether.
How To Accessorize Your Blue Ensemble
Don't hesitate to bring accessories into your ensemble!
As always, accessories are the best way to go if you want to highlight your outfit with a select color.
Use silver or gold accents for an elegantly rich appearance.
Remember this style mantra: for formal wear, the darker the outfit, the darker the shoes! That's why blacks always win. However, you can always elevate the look by wearing silver or white shoes.
Nude, black, or metallic accessories do well to flatter your blue since they allow the dress to remain vibrant and dominant. In the case you're wearing blue accessories, then try vice versa.
However, blue accessories can also be worn with bolder outfits like hot pink for a more dramatic look.
You May Also Like: 10 Must Have Accessories For Every Woman
Also, note that your makeup, nails and hair will pray a big role in how your look in blue. Neutral looks are timeless and they match with any kind of ensemble, monochromatic or clashed!
You can always pick one color from your whole outfit and chose to accessorize, do nails, hair, and bold lips in such a color.
20+ Best Ways to Wear Blue Like A Fashionista
You May Also Like: How to Wear the Color Mauve & Look Elegant
Learned how to wear blue and look put-together? Well, let us know how you'd wear your blue ensemble!