There is no doubt that gold nail polish is so elegant and screams luxe! Gold nail polish can look both edgy and elegant, helping you elevate the most laid-back of outfits.
And the holidays are the best time to wear gold nail designs! In the gloomy winter, upgrage your nail look by wearing gold nails so you can sparkle and stand out.
You May Also Like: 12 Gorgeous Holiday Party Outfits To Look Bomb!
Nail Tip…
Gold manicure is so edgy. While some ladies prefer wearing full golden nail looks, it can come off as too striking and compete for attention with your jewelry.
We recommend wearing gold nail polish as accents. Essentially, mix gold with other colors that pair well with it including black, white, khaki, and more as you'll see in this article.
20+ Gold Nail Designs Perfect For The Holidays
Whether you're a DIY nail pro or plan on getting your gold mani done at the salon, these gold nail ideas will give you inspiration:
1. Black Nails with Gold Accents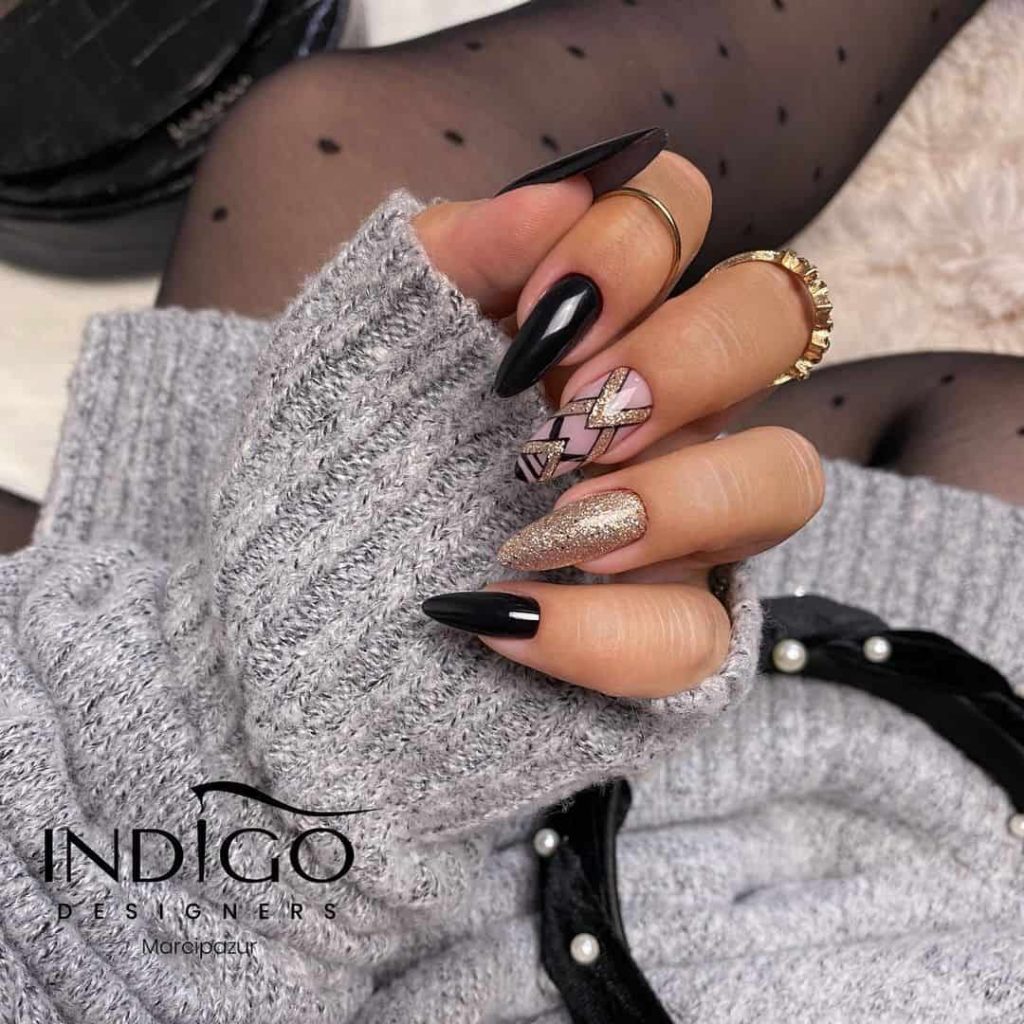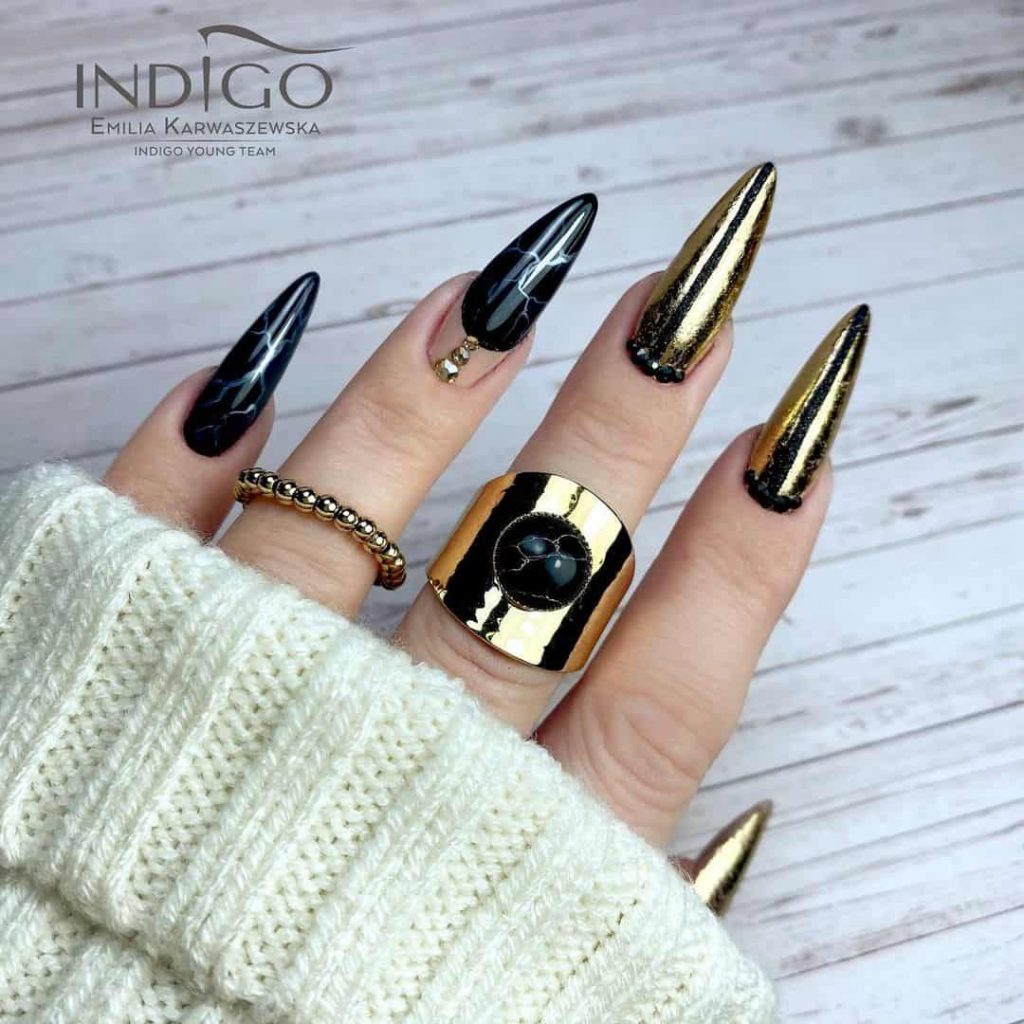 Do you love glitz and glam? Consider black and gold nails. With contrasting colors, you will have an edgy nail look that stands out, and with so much versatility, you can upgrade your holiday outfit in no time.
You May Also Like: Steal These 40+ Elegant Black Nail Designs & Look Stunning!
2. Pastels & Golden Glittery Accent Nails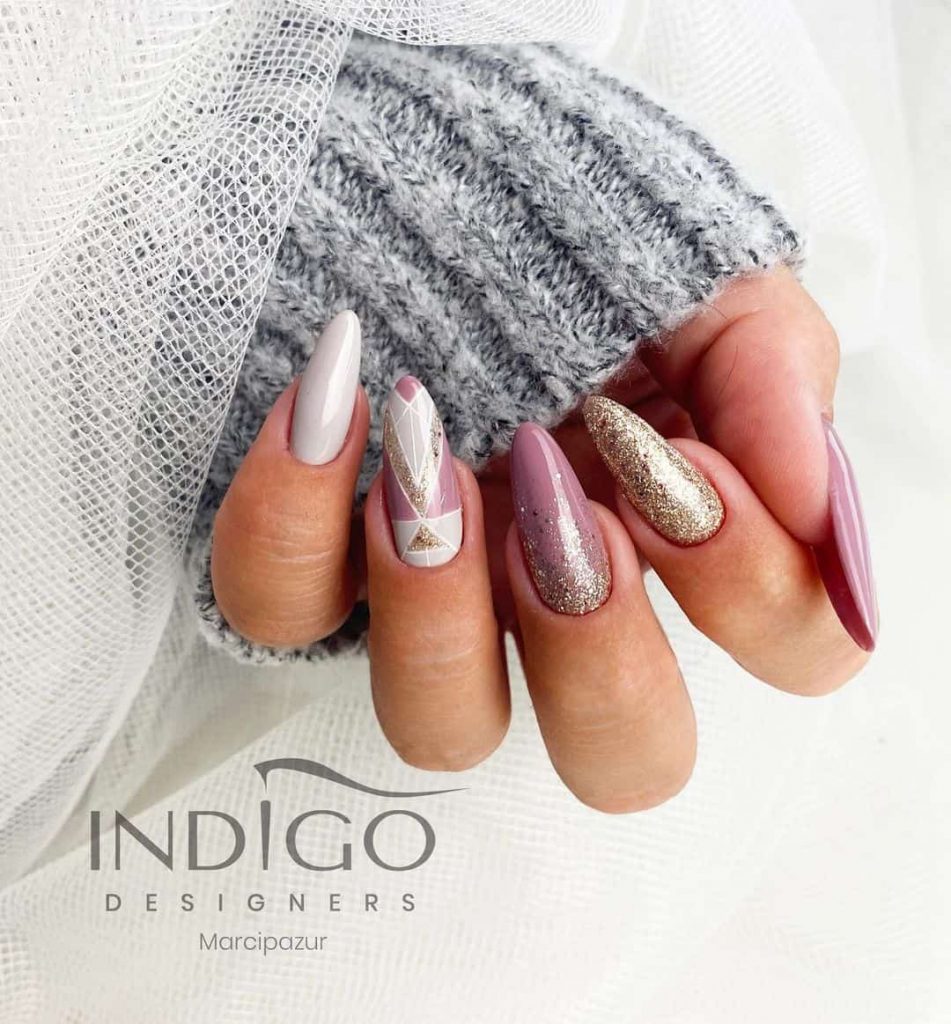 Pastels have been strickly associated with spring's blooming colors. However, they can upgrade your winter nail style so you can make a statement. Just add a golden glittery accent nail for an edge.
3. Gold & Nude Nails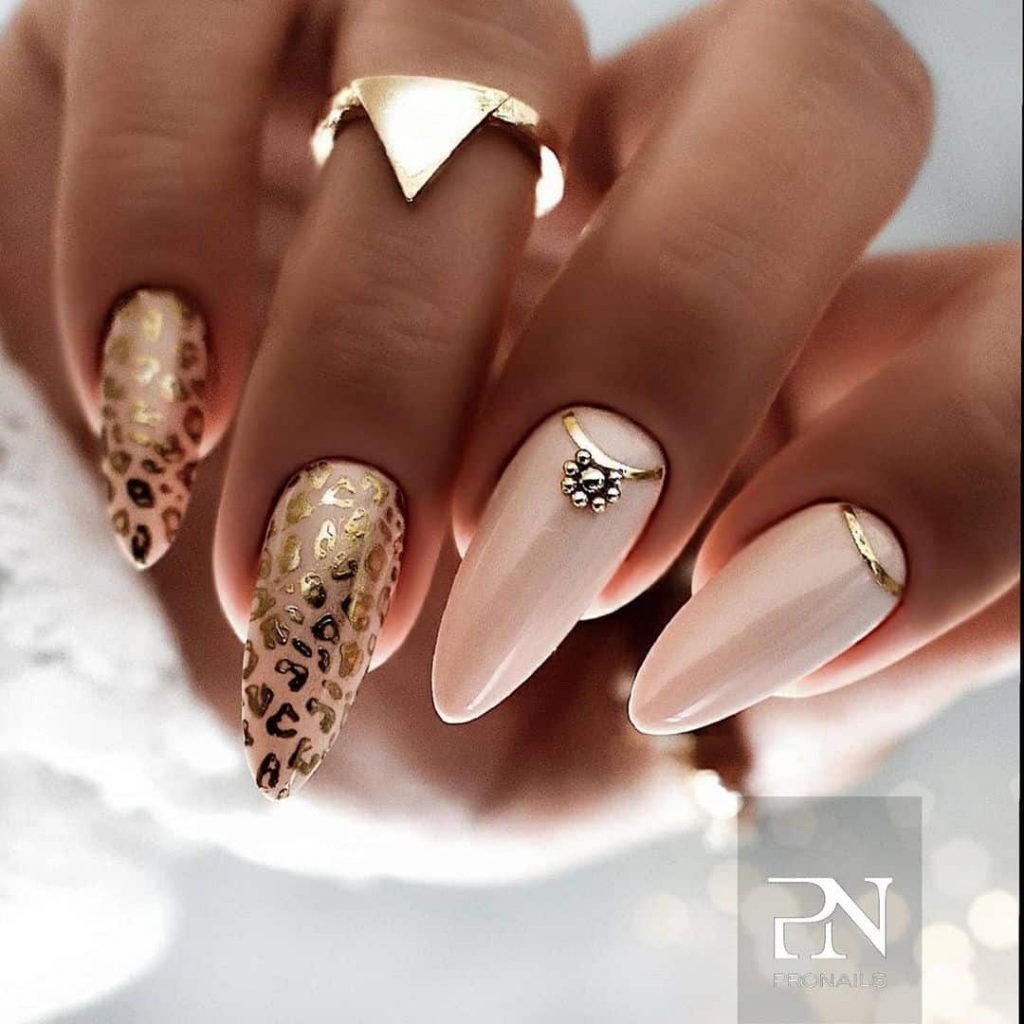 For the elegant woman, nude is a go-to nail color choice. It is elegant and creates the most harmonious look. Enrich your nude nails by going for gold decorations in form of glitters, rhinestones, or jewels.
You May Also Like: 30+ Cute Nude Nail Designs That Pair Well With All Outfits
4. Metallic Gold & Candy Canes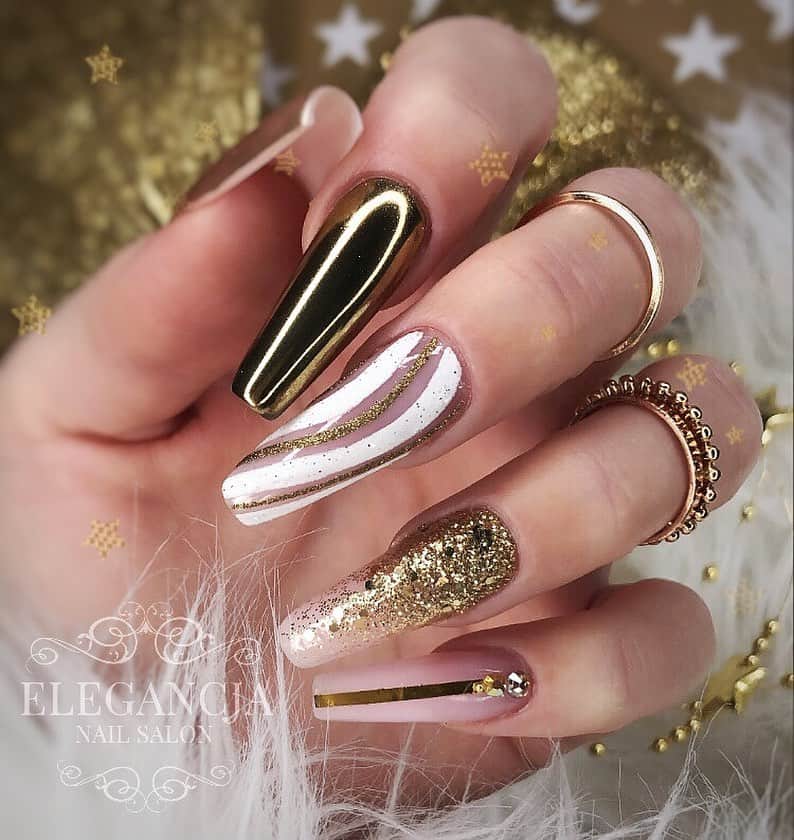 This gold nail design is a statement maker. So spicy and enriched with candy cane details, glitters, rhinestone and a chrome finish, you will love this nail look for the holidays!
5. Red & Gold Nails
The quintessential red-and-green Christmas color combo can never get boring.
Anyway, skip the green, paint your nails bright red and adorn them with gold glitters, or accent them with golden glittery nails.
You May Also Like: 30 Trendy Red Nail Designs To Make A Bold Statement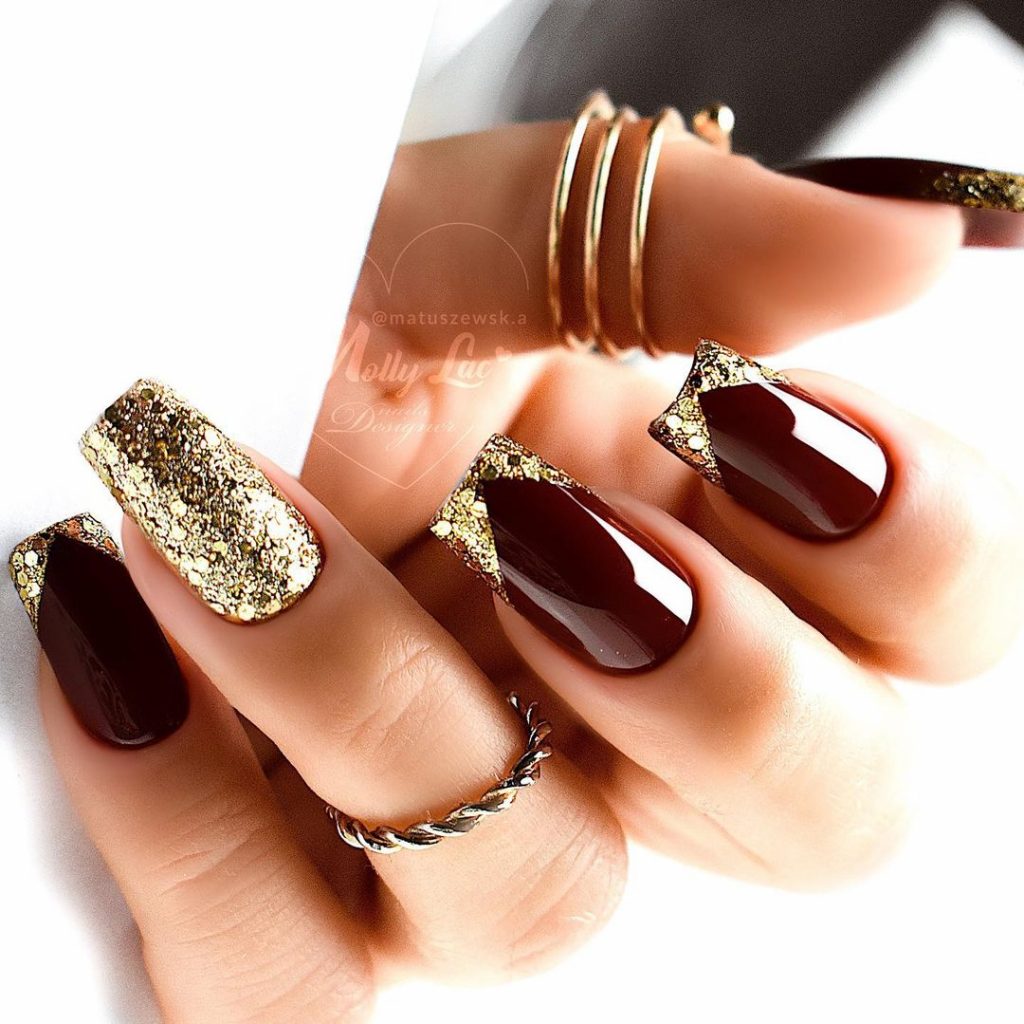 If you're not bold enough to wear bright red, try deeper shades of red like wine red, burgundy or maroon. Add golden glitters in artistic details like florals so they can scream Christmas!
You May Also Like: 20 Cute Christmas Nail Designs You Need To Try
6. Khaki & Gold Nails
The color khaki embodies nature and can help inject the staple green we love to see during the holidays. Elevate your khaki nails by adorning them with gold accents and decorations.
This nail look is so unique and will ensure your fingernails stand out.
7. White & Golden Nails
You can never go wrong by painting intricate red-and-gold details on each finger, or take the minimalist approach and adorn an accent finger on each hand.
The while and gold nail design is sure to get you a lot of compliments!
8. Fall-Ready Golden Nails
Earthy hues like dark oranges and browns scream fall! Elevate these autumn colors on your nails by adding a golden accent nail and jewels. Fall-ready!
9. Clear Glossy Nails With Golden Accents
Upgrade your clear glossy nails this holiday season with beautiful golden accents featuring golden flakes. This subtle manicure is so chic yet makes such a statement.
10. Gold Chrome Nails
Gold chrome nails are such a classy and sophisticated nail design.
No matter how nude you'd want your base color to be, you can never go wrong with this nail color–it is perfect for all occasions, casual to formal!
You May Also Like: 20 Stunning Mauve Nails For A Flawless Look
11. Different Shades with Gold Accent Nails
Gold is perfect for accent nails! It adds some punch and sophistication to your fingernails.
Pick a fall-ready full nail look like wine red or nude pastels and accent with golden glittery nails. You'll have a classic nail look perfect for the holidays!
12. Matt Green With Golden Accents
Christmas connoisseurs can match their nail colors to the Christmas garland at the mantle.
But for a classic twist, try emerald green instead of the normal green in matte and adorn your accent nails with golden glitters. How unique!
13. Pink Nails With Golden Flakes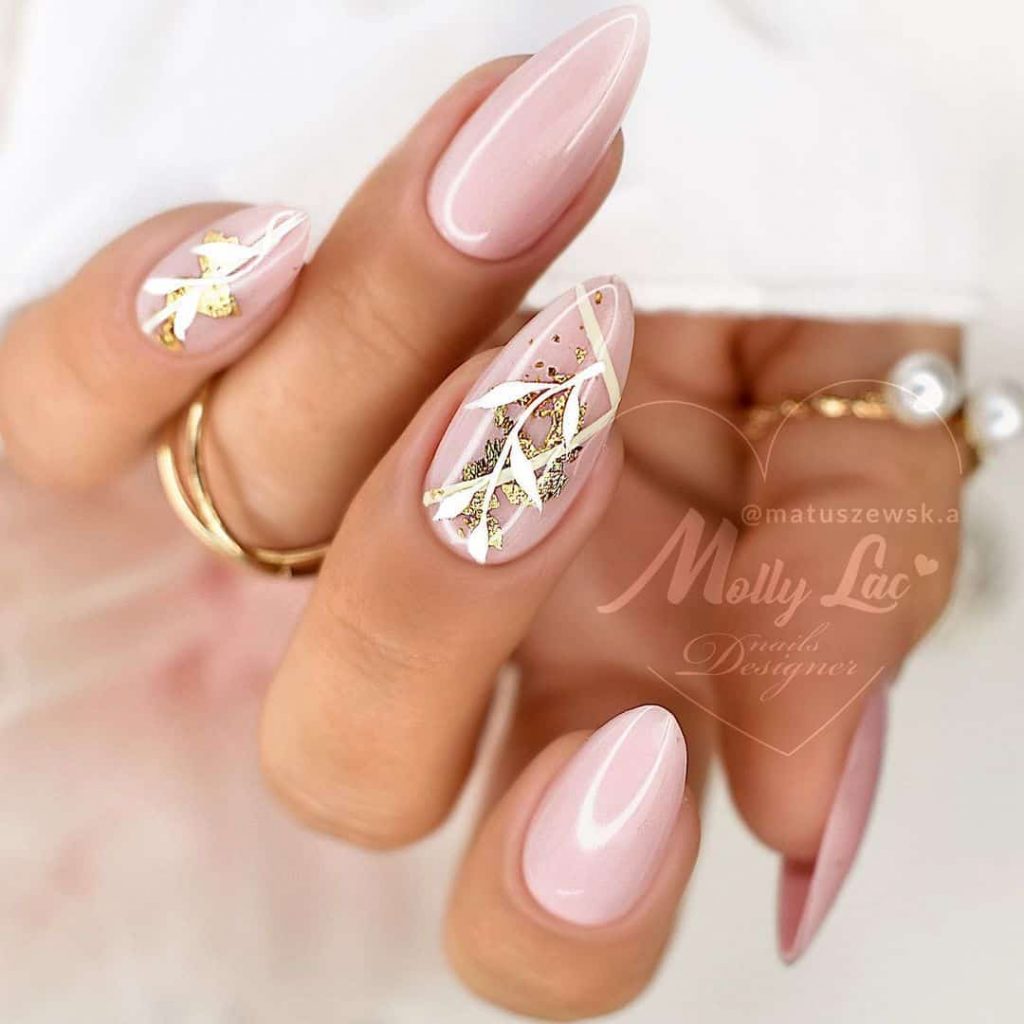 Red is holiday-perfect! But pink? Even must better! Pink is so chic, crisp, and clean so it's a perfect base for any sparkly decorations in gold.
Apply gold glitters at the base of the nail, or golden flakes artistically at the middle of your nails. You can even tip your nails with golden glitters and enjoy a beautiful winter nail look!
You May Also Like: 30+ Pink Nail Ideas To Wear All Year Round
Love these gold nail designs? Which one will you wear this holiday?
*Disclaimer: These gold nail designs are inspired by Marci Pazur, Elegancja Nails, Karwaszewska Indigo, Pro Nails_Polska, Bozena Kaszuba Indigo, Nails by Katie Dutra and Matuszewska. Follow them on Instagram.