Pink is adorable and so chic, more so, for nail art. Apart from the nude nail, the pink nail is another one that rocks the nail world. Pink nail designs can go from work life to nightlife without much effort.
Take pink nails to any party, your wedding, or day-to-day errands. They are so stylish and feminine. So, if you're looking to try out gorgeous pink nails, we share a ton of designs that will make your nails pop!
You May Also Like: 20 Cute Christmas Nail Designs To Wear All Festive Long
Pink Nail Designs That Are Cute & Feminine
1. Pink Nails & Floral Details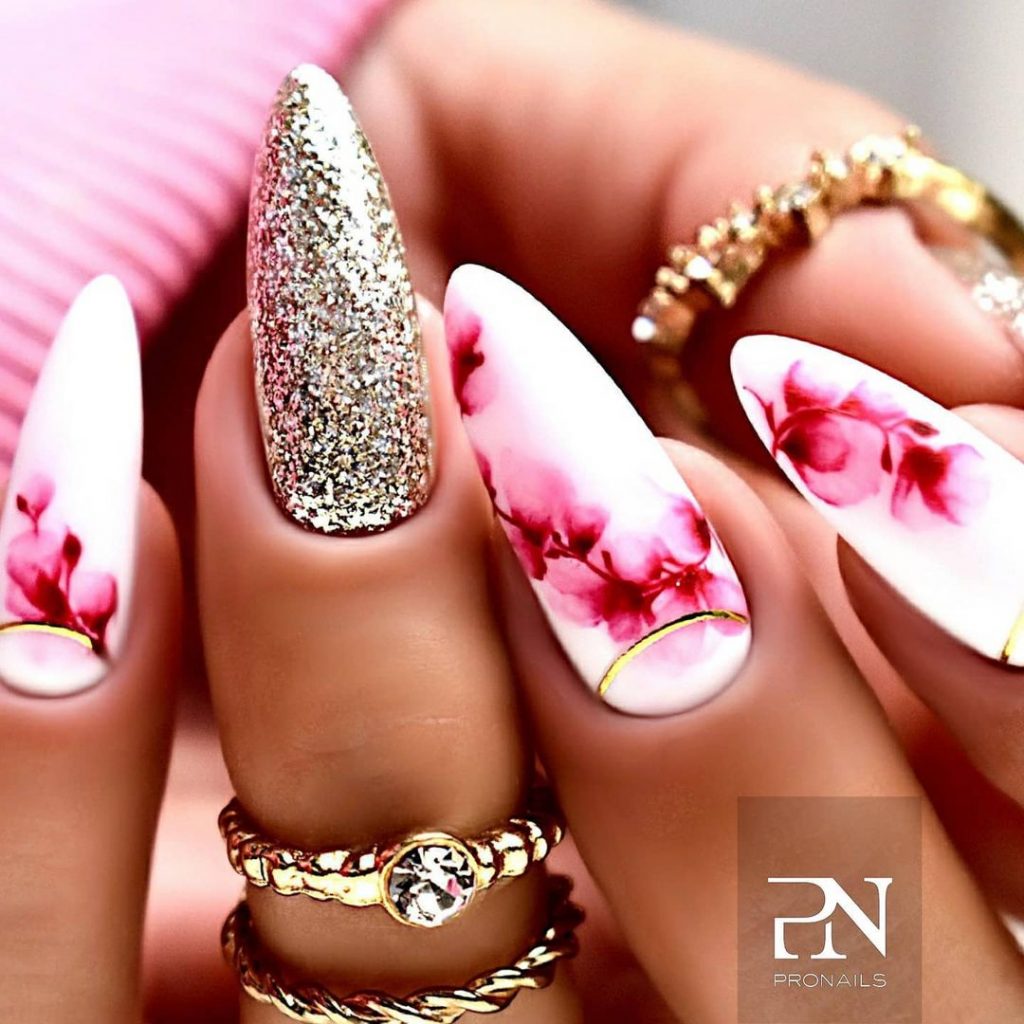 Whenever you think about a color that resembles femininity, then 'PINK' it is. And when you add some floral nail art, the feeling of being pretty, cute, and girly is what you get!
2. Pink Nails With Teddy Bear Details
Love teddy bears? Try the detail on your pink nails. This pattern, alongside the polka dots, tie the whole look together, featuring innocence in this beautifully-done pink nail design.
3. Pink Nails With Stripe Lines
Pink nails, no matter the shade you pick, can be so chic. Add some edge by going for bold color choices for your preferred fingernails, and finish off with gold stripes. Pink, white and gold. Fast & pleasant!
4. Tie Dye? Yes!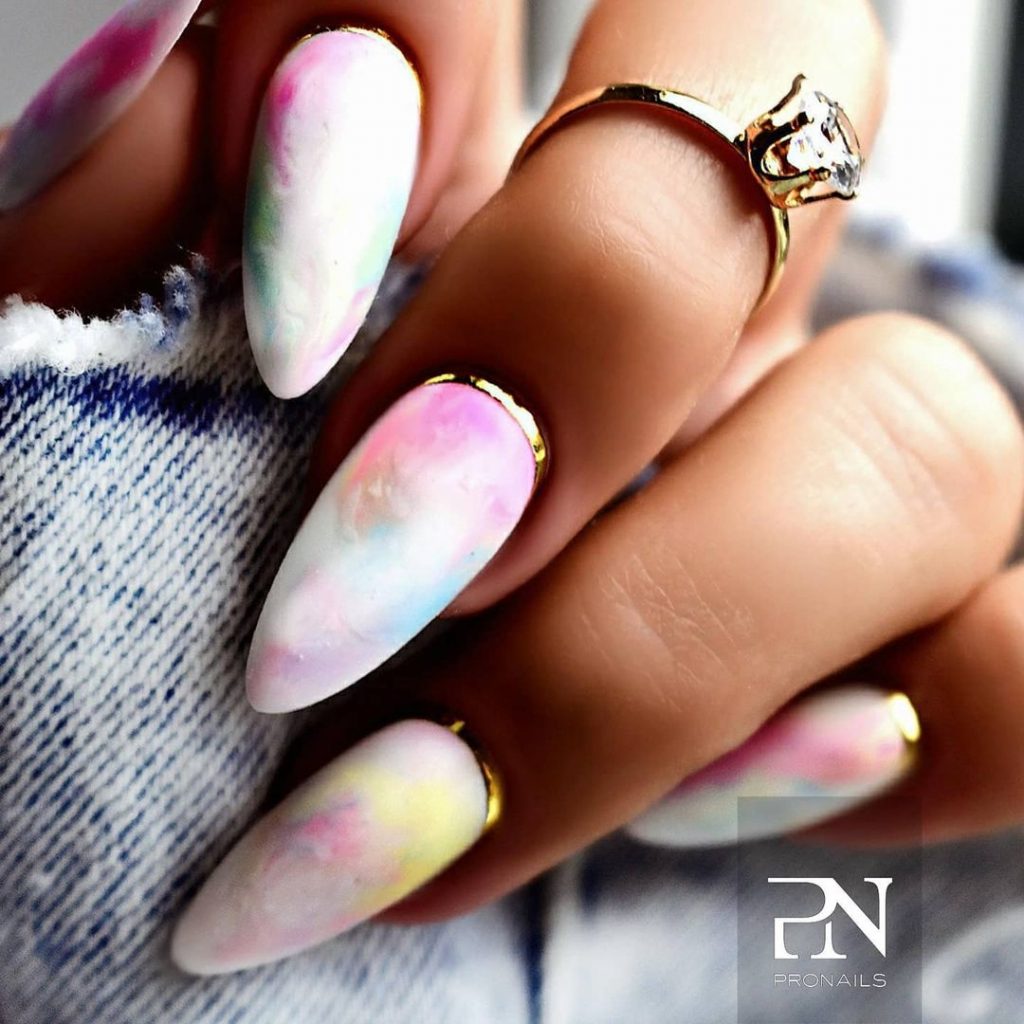 Tie-dye has been trending in fashion circles for years, thanks to its display of youthfulness. Embrace the trend for your nails, and you'll particularly love pink versions!
5. Pink With Burgundy Accents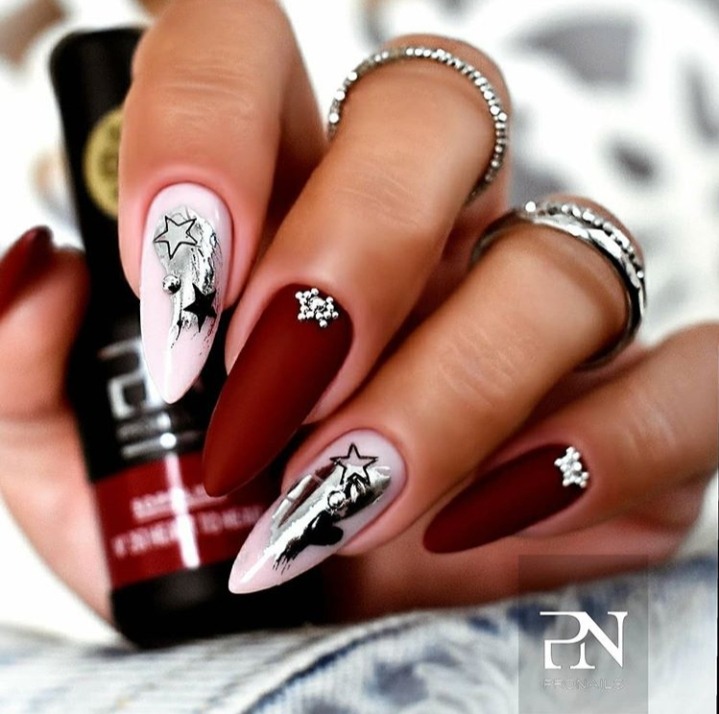 Burgundy nails are cute for fall. They may either be stand-alone, as accent colors or be painted on with some nail art. For a classic combination, pink and burgundy look fashionable with copper stripes and jewels.
6. Monocolor & Some Silver Flakes
This cute pink nail design is decorated with silver flakes and covered with a shiny top. How do you like it?
7. Pink With Accent Colors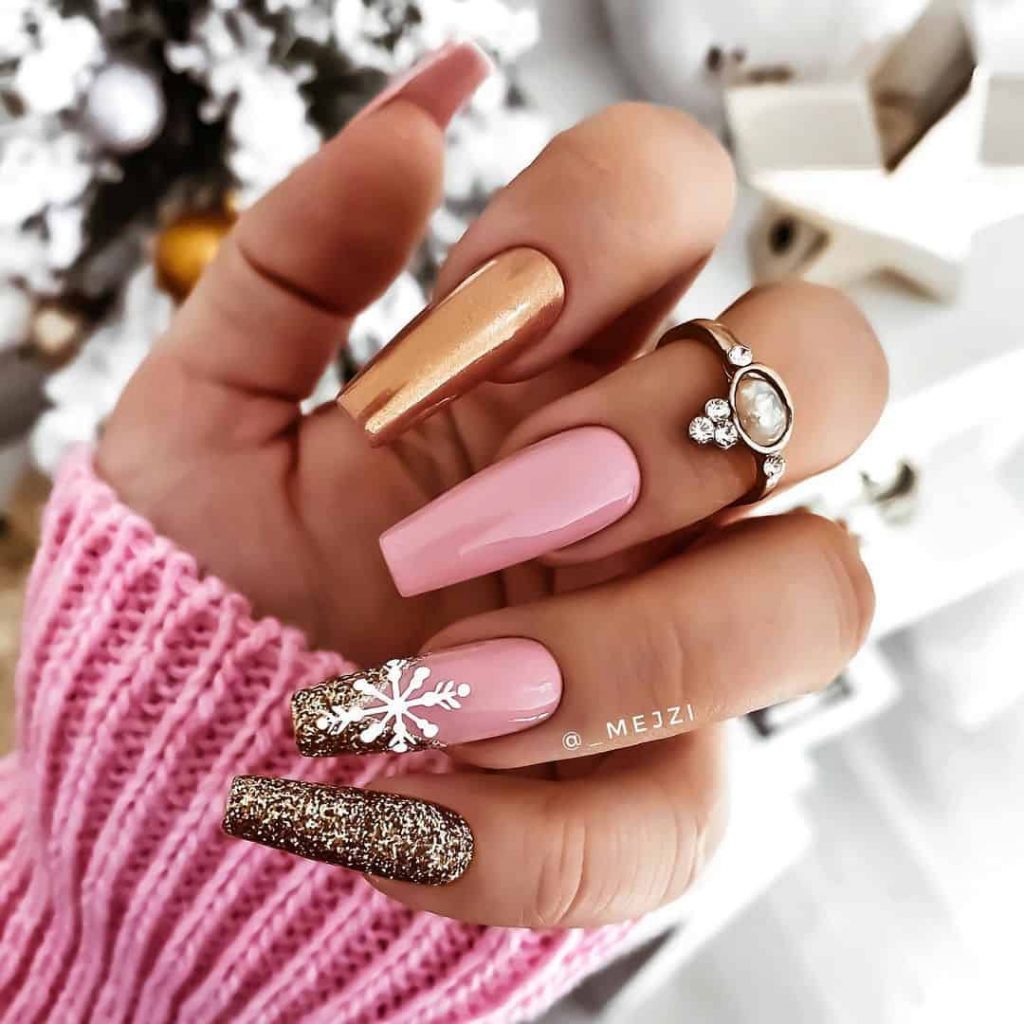 You don't always need five done-up pink nail designs for your nails to make a statement. In fact, sometimes all it takes is one or two accent nails to create a picture-perfect nail look. Add some glitter for extra sparkle.
8. Pink & Candy Canes
Complete your holiday-themed outfit by trying out these cute candy cane nails. While red is an absolute holiday favorite, you want to try pink, in various shades, or different blending colors too. You'll love it!
You May Also Like: 20 Stunning Mauve ail Ideas For A Flawless Look
9. Pink, Florals & Glitters
How pretty are these floral accent nails let alone the glittery gold particles? If you're swooning over these blooms, you can copy them for your next mani.
10. Chrome Rose Effect
Glossy nails are so cute, thus, our love for chrome nails. Go for a pastel pink shade for a beautiful and romantic look.
Pro Tip…
Metallic has been a big nail trend for years, and it's not going out of style any time soon!
The cool chrome look will make your manicure stand out from the crowd and attract attention.
Create it by using a 'mirror' or 'chrome' powder mixed with your polish. With the right tools, you can achieve the foiled finish of metallic nails at home.
11. Pink Nails With Glitter Accents
Oh, this manicure is so glossy and chic. Simply choose two nails and apply glitter before finishing off with a glossy coat for perfect glittery accents.
12. Bold Choices
This pink is a bold choice, but you can add a fun touch to your manicure by adding a geometric nail and glittery accent.
13. Shades of Pink
Want a cute, easy pink nail design, that's still not so out there? Then have several shades of pink!
This stunning look works best when you have different depths of pink from one color family. Use the same warm or cool undertones and get progressively lighter with each color.
Paint the darkest shade on your thumbs, and work from there. You can choose a matte finish, or a high gloss, depending on your personal preference. Simple. Elegant. Playful. Fun.
14. Sheer Pink Nails With Floral Art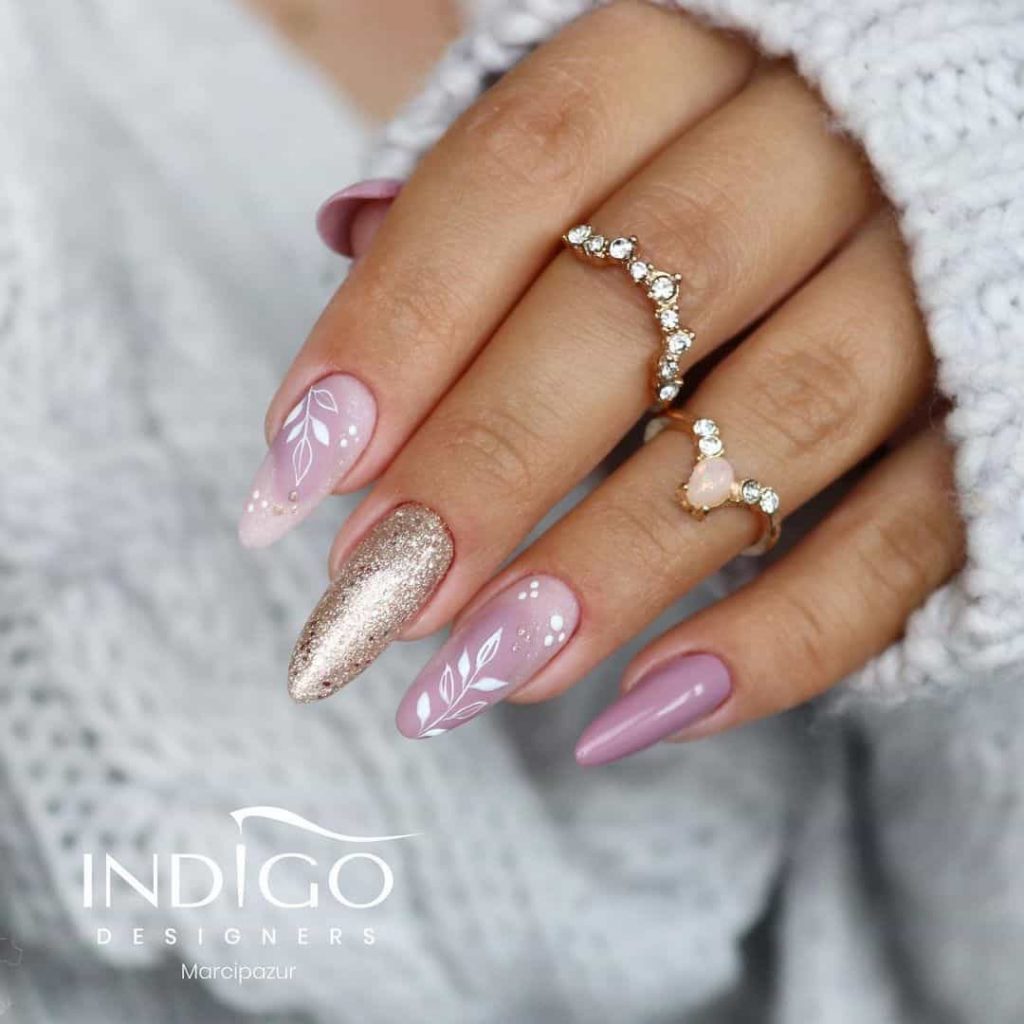 These sheer pink and baby pink nails are cute enough for every bride on her wedding day. Add spice to the look by getting some floral or foliage artwork. You can also add a glittery accent nail.
15. Ombre Nails
Ombre nails are on-trend, and pink is the perfect shade for this nail design since it is easier to get that perfect fade with pink.
Try a smooth transition from dark to light shades of pink, or incorporate another blending color. Whether you are using nail polish, dip powders, acrylic, or gels, you can always achieve a perfect pink ombre nail.
16. Pink and Gold Glitter Nails
Try bold hot pink nails with creative gold glitter designs and keep the nails squoval in shape for extra impact.
If you don't have a gold glitter polish, you can also try nail decals or stickers for the same result.
17. Pink Nails With One Accent Finger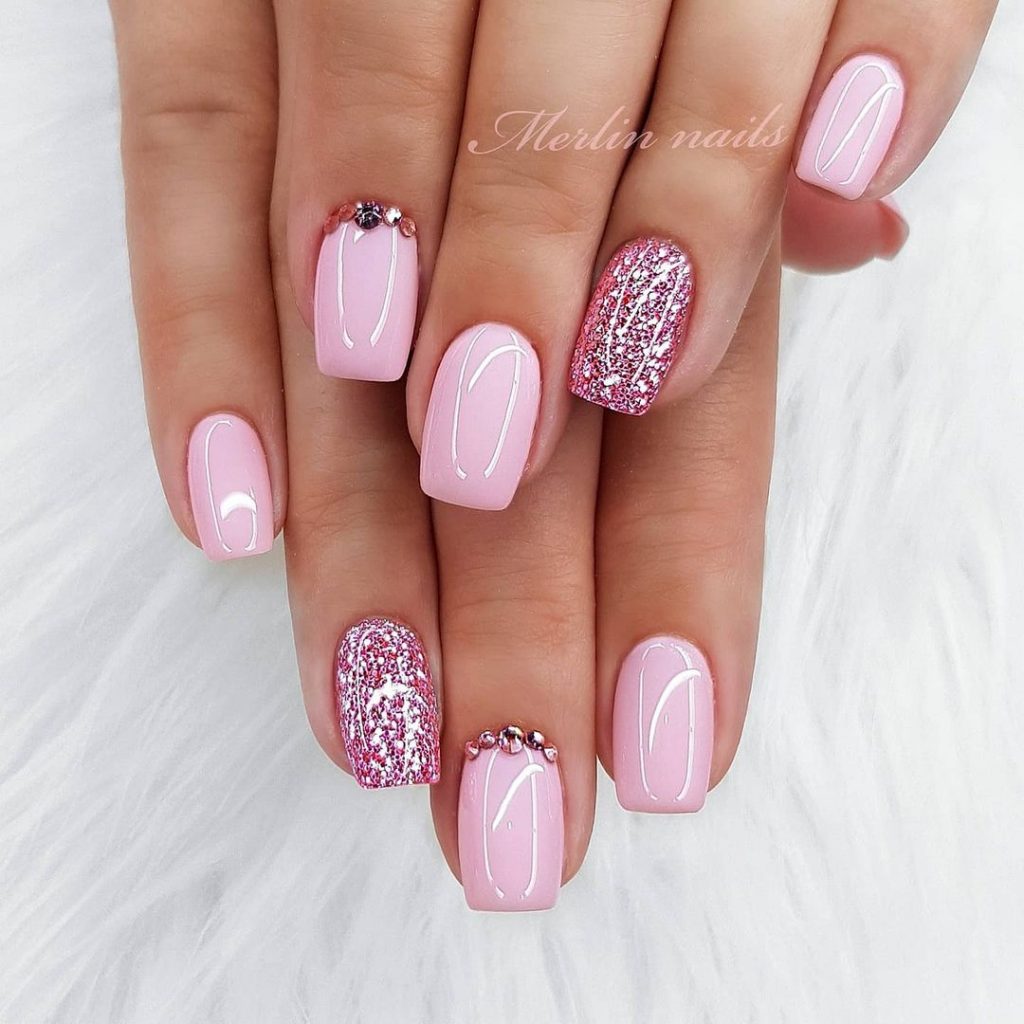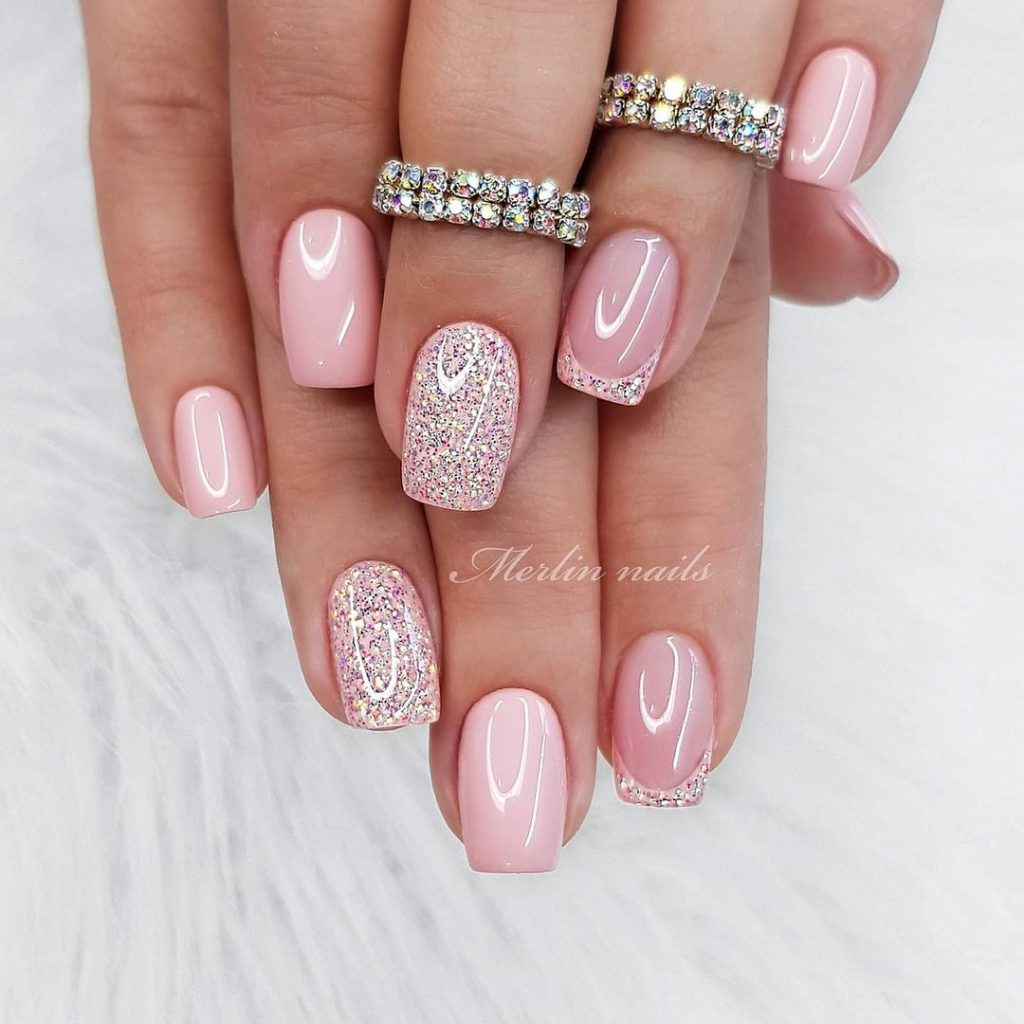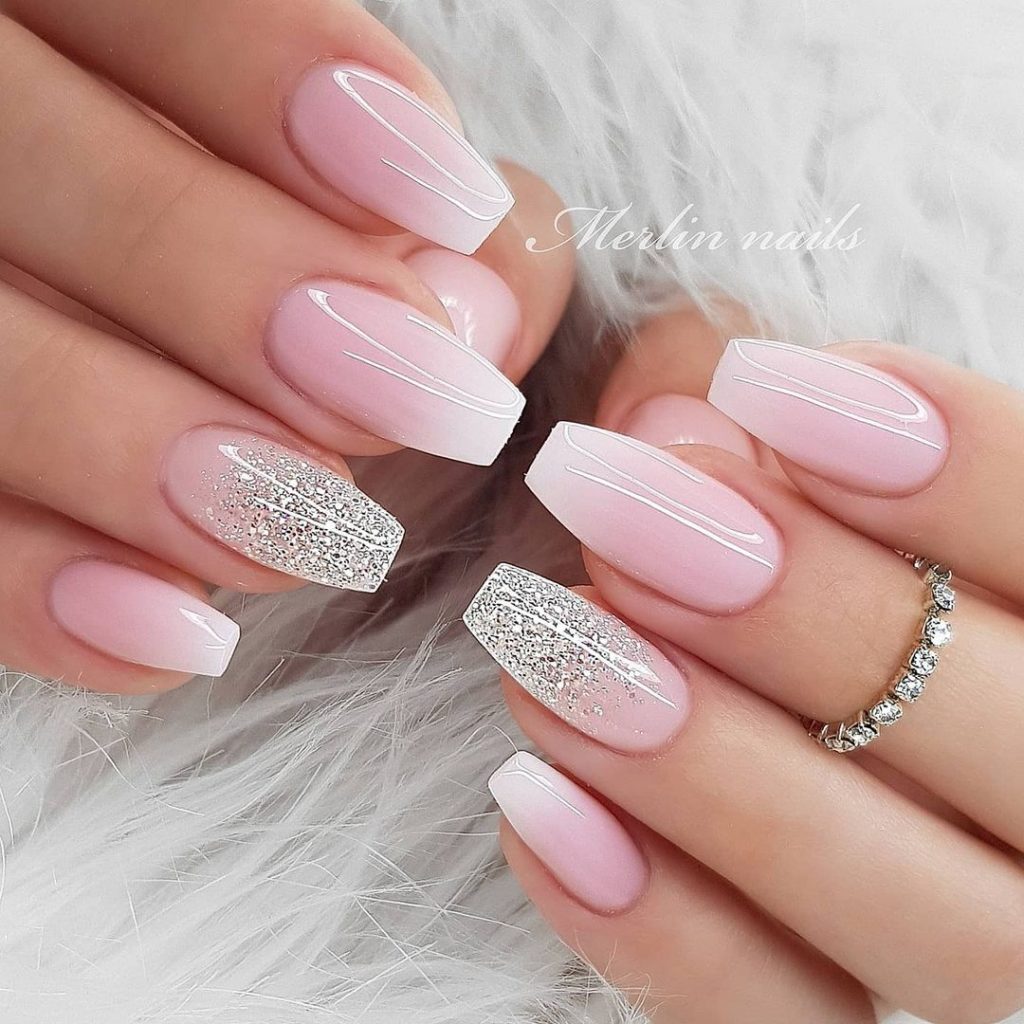 Paint one nail with fun silverly glitter nail polish to catch light each time. Finish the look with long squared off tips. It's flirty but also perfect for any bridal!
18. Pink Nails With Two Accent Fingers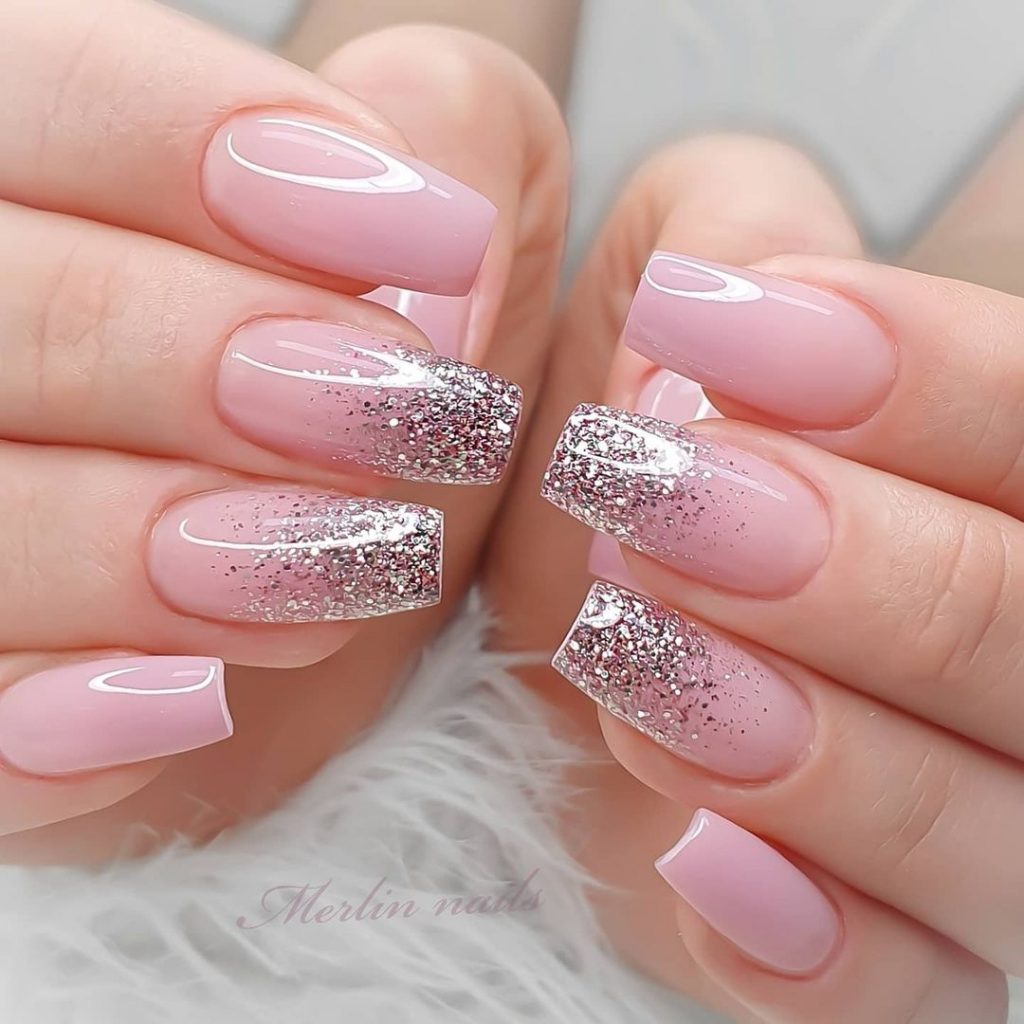 For even more fun, splash use the glittery silver on the entire nail on two of your favorite fingernails for a polished pink nail design.
19. Watercolors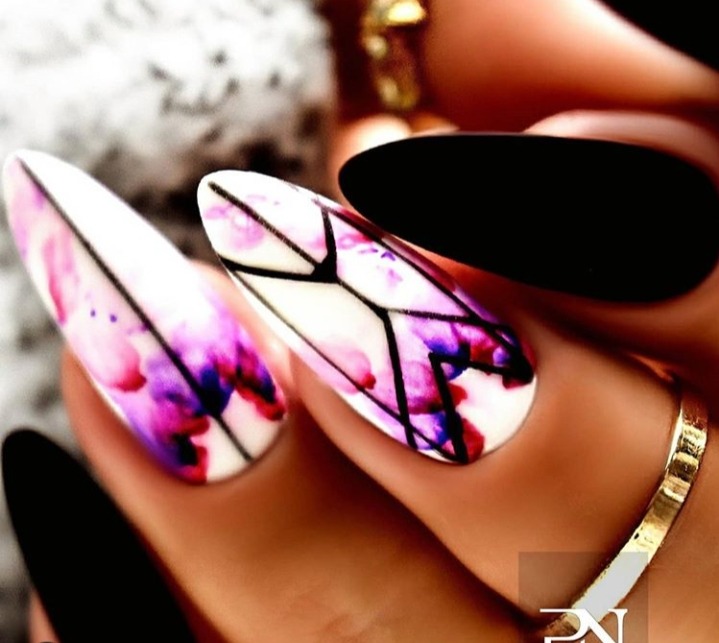 Like to play with watercolors? You want to try this complicated stylization that adds expressive character to any pink nail design.
20. Marble Pink Nails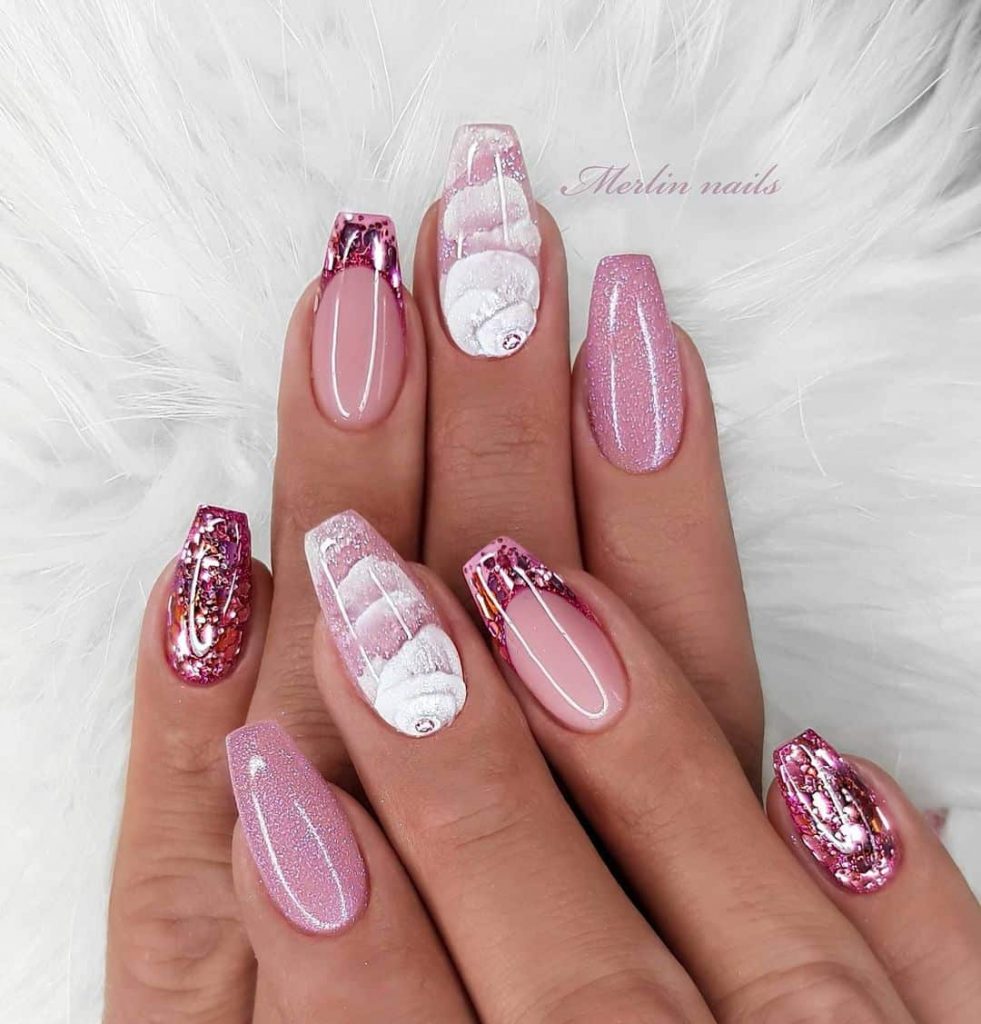 Using a marble nail design can be the perfect way to step up your mani game and add some interest. And the best way to try out the marble trend is to add a couple accent nails. Simple but interesting!
21. Pink, White & Mint Nails
If you're looking for a perfect winter nail, look no futher! This combination of pink, white and mint green nail design is IT! The ombre effect and glitters add visual interest.
22. Matte Pink With An Accent Nail
We love this accent nail situation. Best of all, the matte mani is easy to recreate. Simply paint your nails with pink polish, and finish with a matte topcoat.
23. Square Glittery Nails With Pink Accents
Long square nails look great with pink nails and glitter. Use polish with big glitter pieces for visual interest, and keep the nails long for high impact style on a sweet color. Super trendy, chic, and timeless.
24. Rose Pink Nails With A Flame Effect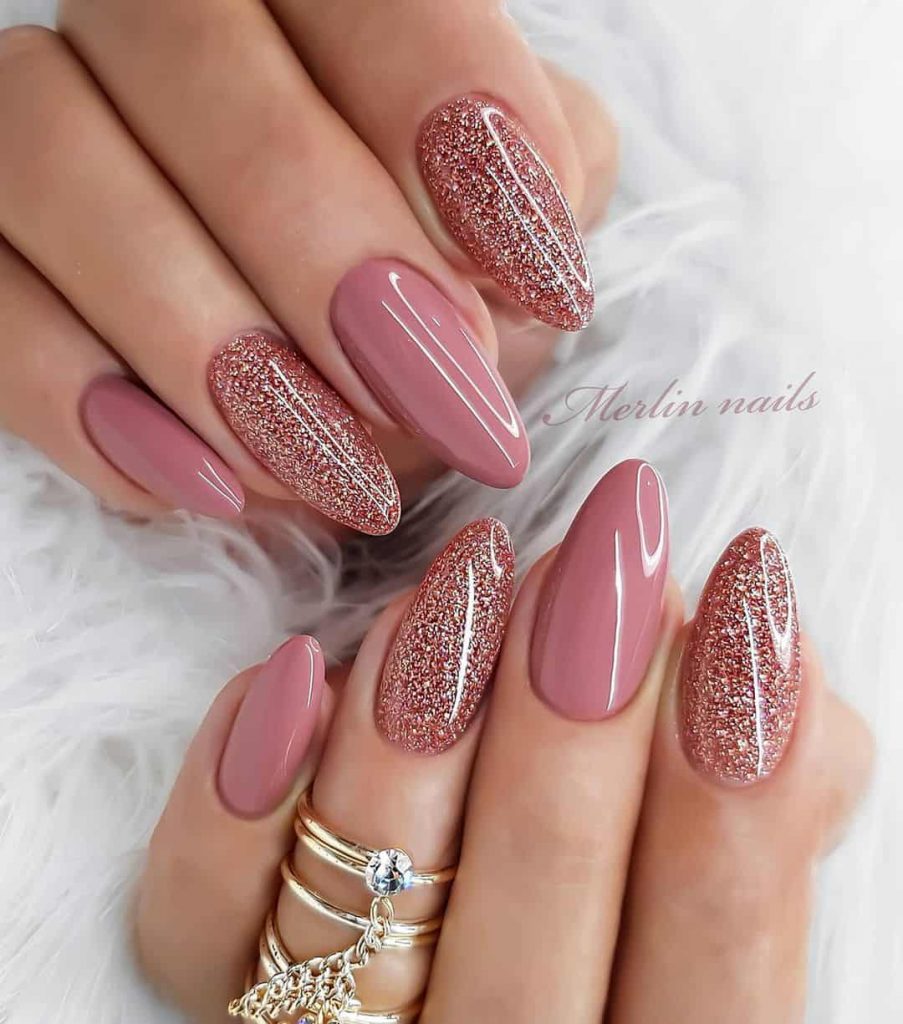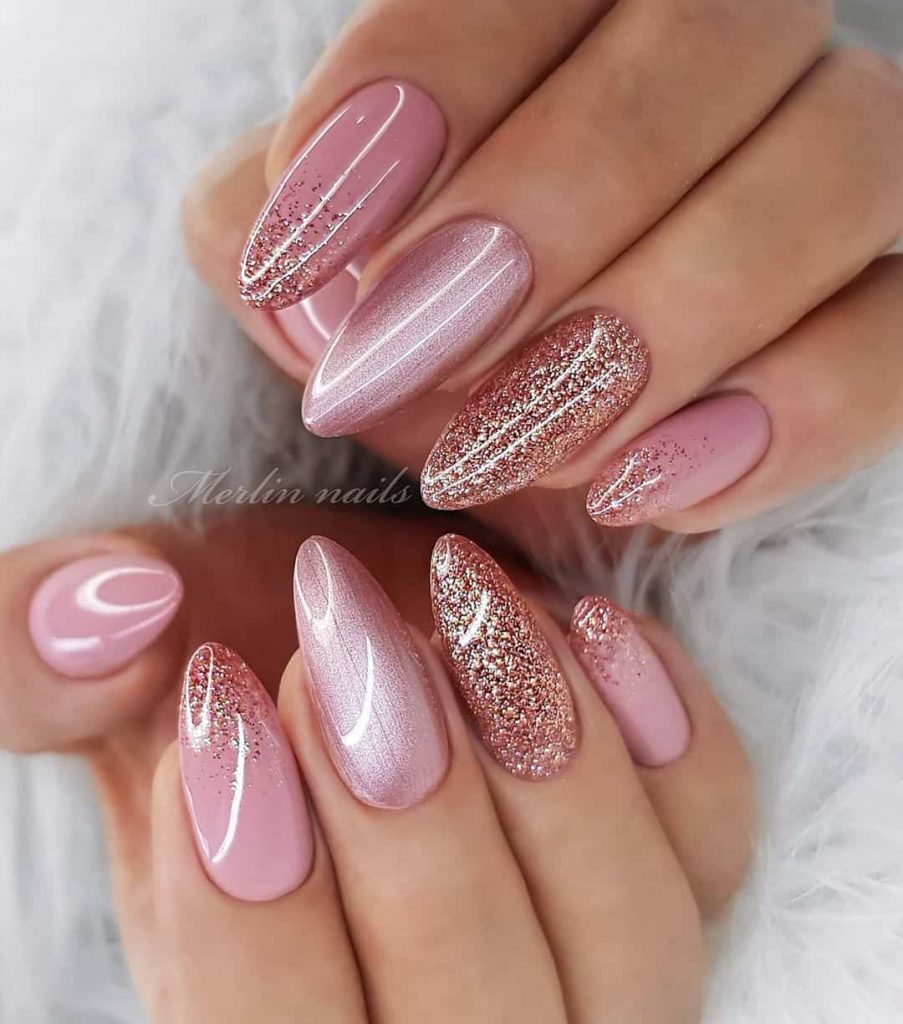 Natural nails have a special place in our hearts. And rose pink is a perfect color choice to achieve that. Get the nails popping not just with glittery accents but also with shimmering flakes.
25. Pink Nails & The Chrome Rose Effect
No idea for your next manicure? Bet on chrome nails for your pink polish and enjoy a flawless metallic effect.
26. Pink, Gold & Pillow White
How we like stylizations in subtle colors! The combination of pink, gold and pillow white is a match made in heaven, let alone the chrome gold pollen effect on the middle finger.
27. Natural Pink With Subtle Effects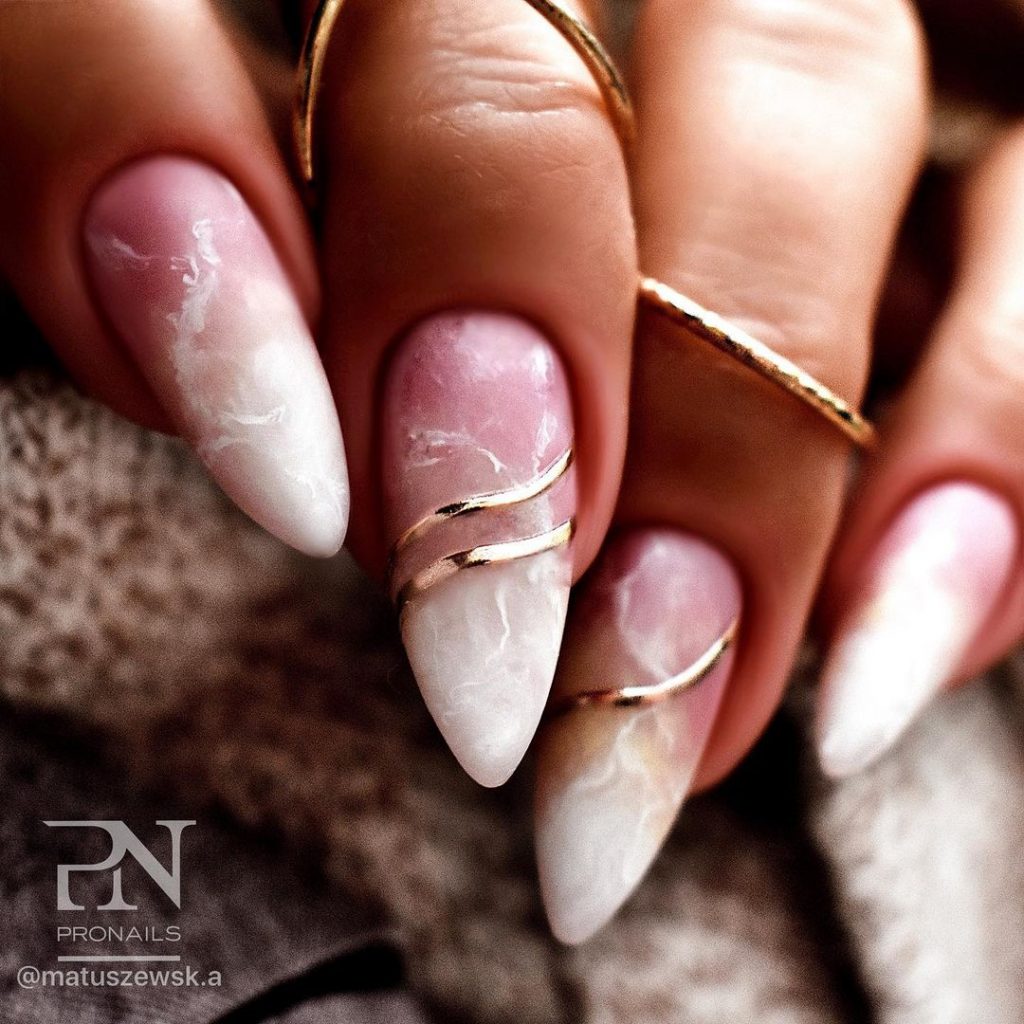 Looking to give a little bit of extravity to your white nails? Our way is the transfer foil to create the natural pink nail design with a shattered glass effect.
And if you want another elegant look, try natural pink with a marble finish. Add golden or copper stripes for an inch of sophistication.
28. Nostalgic Rose
This beautiful shade of dark pink is simply stunning!Pair with baby pink and add jewels and stickers for a chic pink nail design.
29. Dreamy Pink With Stickers
This darker & dreamy pink will make your nails shine, especially when paired with lighter versions of pink polish. Add calligraphic black and silver stripes in the form of stickers for more impact.
30. Autumn Pink
Perhaps a favorite autumn pink nail design, this extremely matter yet chic nail look will transition the fall season as you shyly say goodbye to summer colors.
You May Also Like: 8 Popular Nail Shapes- Which Is Right For You?
Which of these pink nail designs would you love to try?
* Disclaimer: This article features pink nail designs from Pronails Polska, Marci Pazur, Puro Nails , Karolina Orzechowska Indigo, Zulfia Nail Art, Koci Pazur, Unhasdemendoa, Merlin Nails, and Matuszewska