If you are a fan of neutral-looking nails, then nude must be your preferred nail choice. And with the popularity of nude nail designs, you always have a blank canvas to work with: add flower stickers, stripes, jewels, or accent with your favorite colors.
No matter the shape of your nails, their lengths, or the aesthetic you prefer, there is always a perfect nude nail for everyone.
The best part about this nude nail craze is it helps elongate your fingers and instantly elevates any outfit you're wearing. Besides, nude nails look pretty with anything; they go with any outfit or occasion whether formal or casual.
You May Also Like: 20 Stunning Mauve Nail Ideas For A Flawless Look
How To Find the Perfect Shade of Nude Polish for Your Nails
For the most perfect nude nail designs, start with your skin tone. You have to find the shade that flatters your complexion.
Girls with pale skin should wear a nude that has a hint of pink while those with an olive complexion should stick with nude shades that have warm undertones that mimic your own.
Choosing a shade that reflects your natural skin tone best creates clean-looking nails; you can choose a shade lighter for a delicate look, or something slightly darker for a high fashion twist.
If you're looking for a fresh new nude nail look, it's time to find some inspiration with these cute nude nail design ideas. Enjoy.
Cute Nude Nail Designs For A Fresh Natural Nail Look
1. The Classic Nude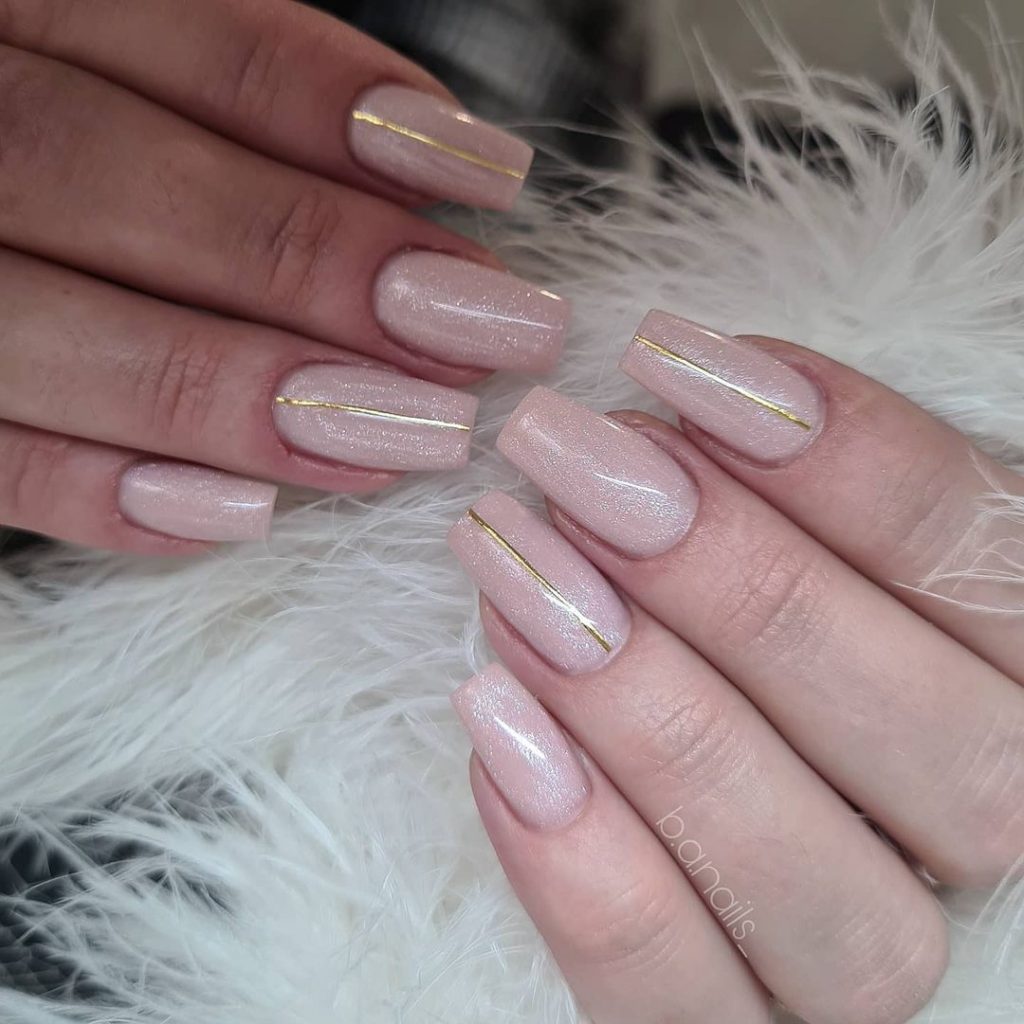 The classic nude nail is a perfect choice for every outfit and occasion since it is clean-looking and elongates your fingertips.
This manicure is so elegant and timeless that you can rock it with any nail length or style – it's a blank canvas that looks amazing on everyone: add copper or gold stripes, or French tips if you wish.
2. Fall-Ready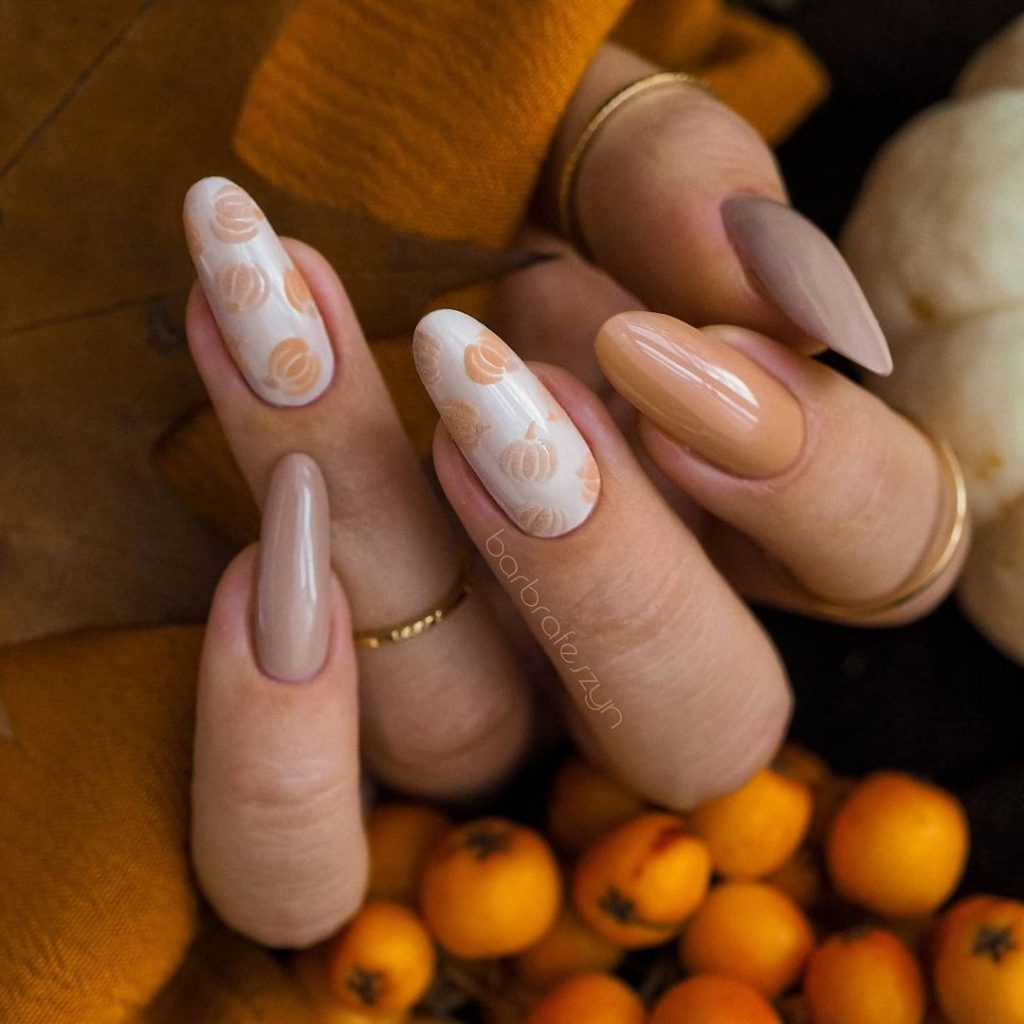 Simple, subtle, and cute, this manicure is made using fall favorites.
 
The little flowers were painted with white gel but the leaves by means of watercolors while the sweet little pumpkins were created by means of acrylic powder and nude colors.
You gotta love these fall-ready nude nail designs! Get the nail tutorials HERE.
You May Also Like: Try These 20+ Ideas For Adorable Fall Nails All Autumn
3. Christmas Nude
Gingerbread is synonymous with Christmas. Get some on your nails for a festive-ready look.
You May Also Like: 20 Cute Christmas Nail Design Ideas You Need To Try
4. Nude Nails With Darker Tips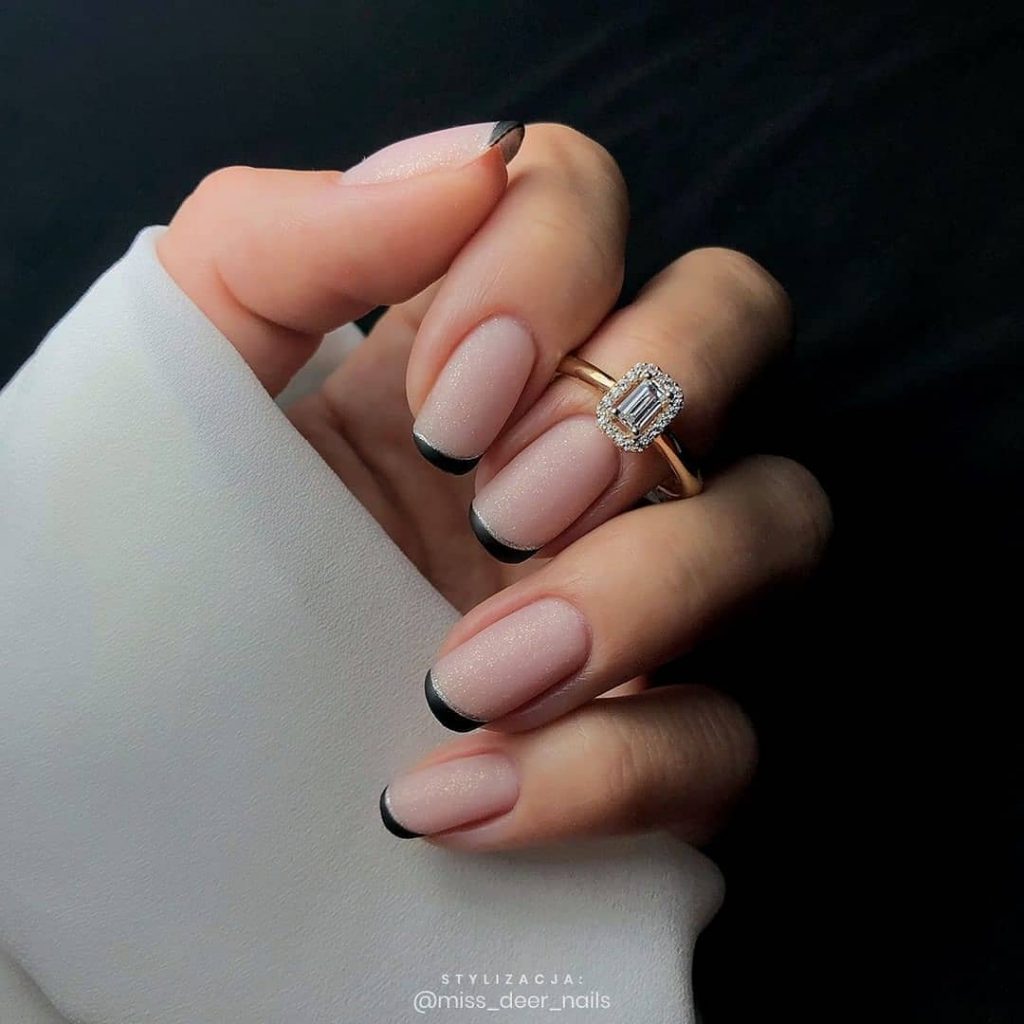 Nude is cute. And these nails feature darker stripes for added interest. And a matte topcoat is a perfect finish.
5. Nude Nails & Jewel Details
This regal manicure takes the elegant nude color and throws a bit of sparkle on top, and it's bridal-ready!
6. Nude Nails With Bold Accents
Not all nude nail designs have to be purely nude— you can go dark with your mani, too, especially on two fingers to create the perfect accents.
7. Nude Nails, White Polka Dots & Stripes
This chic nude nail design is straightforward and easy to replicate. Paint a natural pink tone base coat, and go for bright white polka dots and stripes on top, on alternate fingers, to add an element of sophistication.
8. Marble Nails With A Glittery Accent
Marble on nails is already a classic. Depending on the season, only its colors change, and the unique, elegant look remains.
Try the classic nude and white for a fashionable marble nail look. Spice things up with a cute glittery accent nail.
9. Nude Nails With Golden Flakes & A Ribbon Detail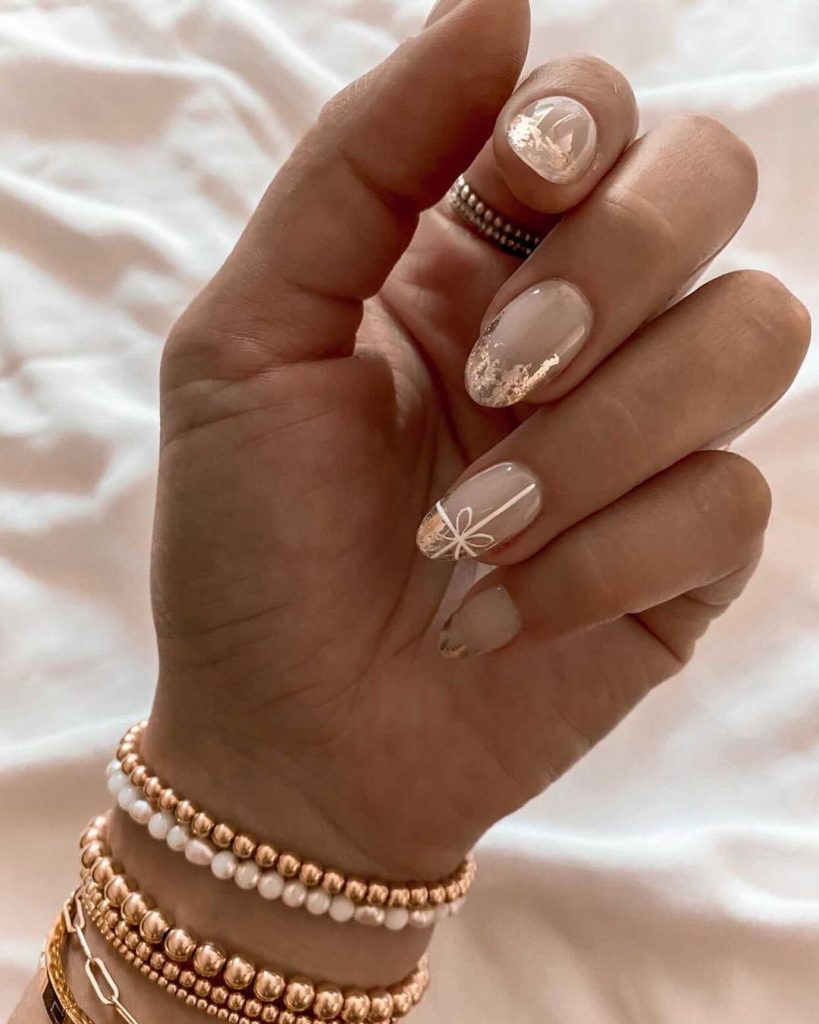 The cool thing about nail art is that by switching it up just a little bit, it can change your whole look.
Rather than placing golden flakes directly at the bottom of your nails, pop them from the tips, towards one edge for a unique touch.
10. Bold Coffee Nails
Coffee lover? Then have your nude nails with an interesting coffee art.
11. Nude Pink With Chrome Gold Effect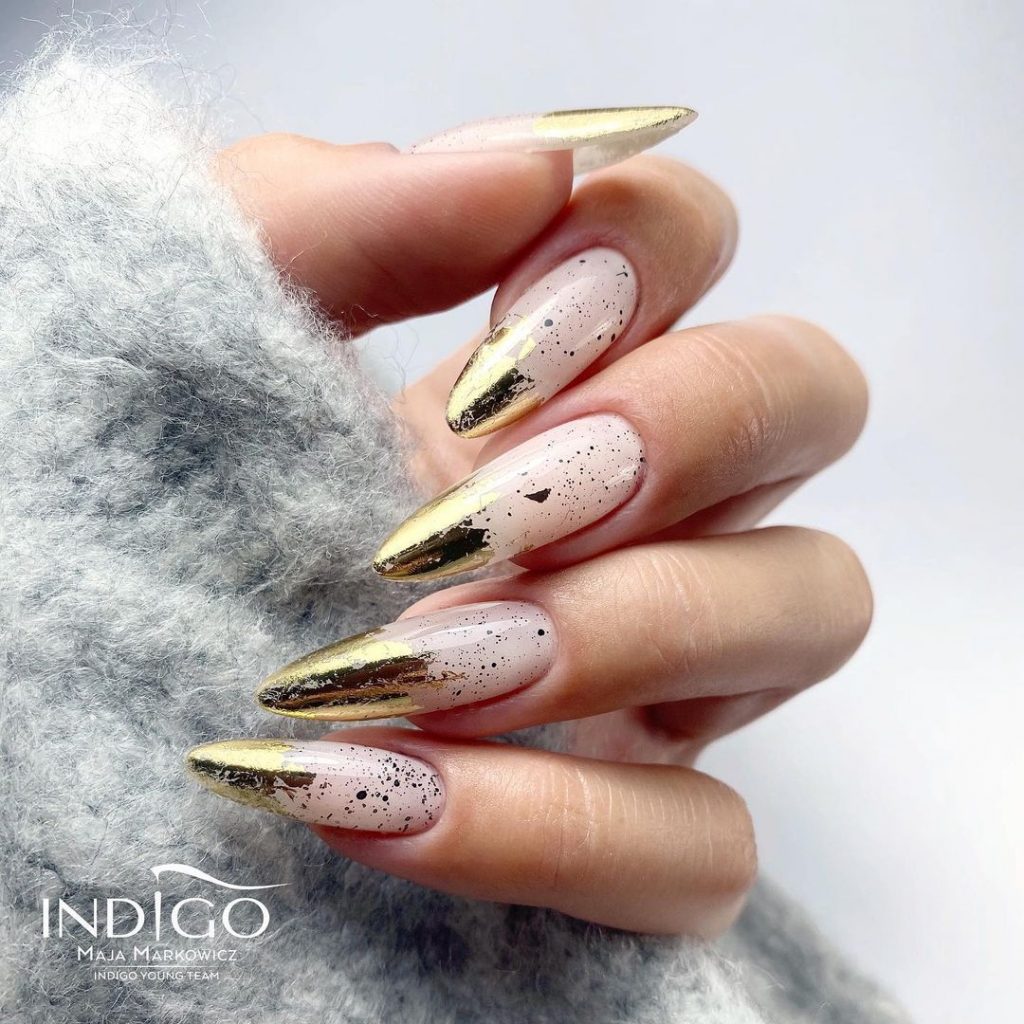 Ombre is timeless; works anytime, anywhere! However, the final effect always depends on the choice of colors.
If you don't know what colors to combine to get a winter-ready pair, try natural pink with chrome gold effect powder.
NOTE: What Are Chrome Nails?
Chrome nails are a metallic, high-polish style of manicure that allows you to get any kind of high shine on your nails depending on what powder you use and how you apply: from a holographic to a mirrored effect.
Usually, instead of traditional metallic nail polish, you can achieve the chrome effect by using a regular base nail polish in your preferred color with a chrome powder applied to them.
Powders can be applied gently with a sponge applicator, whereas you can do some looks by simply dunking the entire nail in the powder.
From this layering process, you are able to achieve a finish that almost looks like a 3D reflection of light.
Chrome nails are glamorous, smoother than glitter, and even more sparkly than metallic polish.
You May Also Like: 30+ Pink Nail Ideas To Wear All Year Round
12. Glittery French Manicure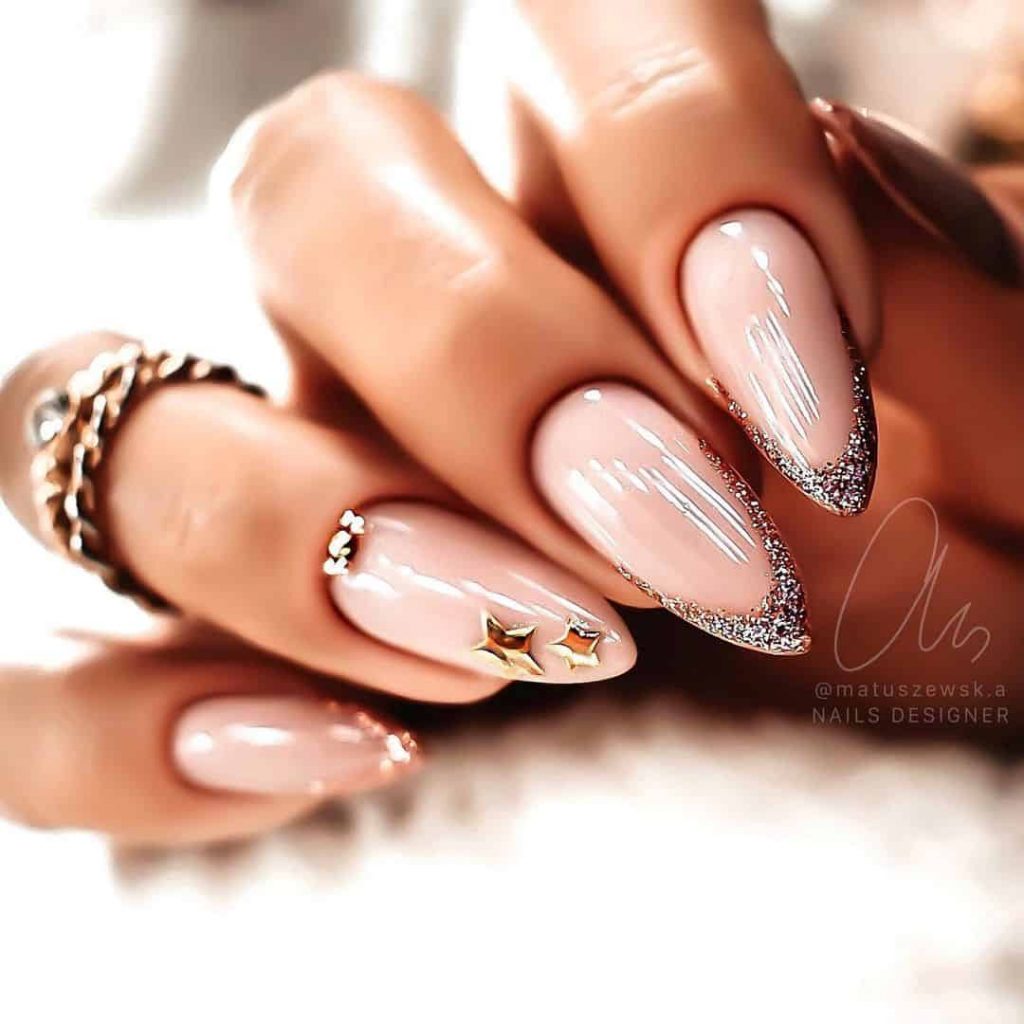 The timeless French manicure design usually features a thin white line at the tip of the nail, leaving the nude shade across the rest of the nail.
Make things a little bit extra by going for glittery tips, instead of the normal white tips. Flattering enough for any event!
13. Nude Nails With Spider Gel Decorations
Natural-looking nails are always in fashion! Go for short nails in a beautiful beige shade and decorate with spider gel before adding rhinestones at the bottom of the nail, and finishing off with a glossy topcoat.
14. Delicately Accessorized Nails With Darker Accents
These nails are simple and stylish. The two accent fingers in darker shades add definition to this look while the accessories made with glitter powder and jewels make it so delicate.
Finish with a glossy topcoat that protects and enhances the natural beauty of this nude nail for longevity and durability.
You May Also Like: Steal These 40+ Elegant Black Nail Designs & Look Stunning!
15. Nude & Gold Leopard Print Nails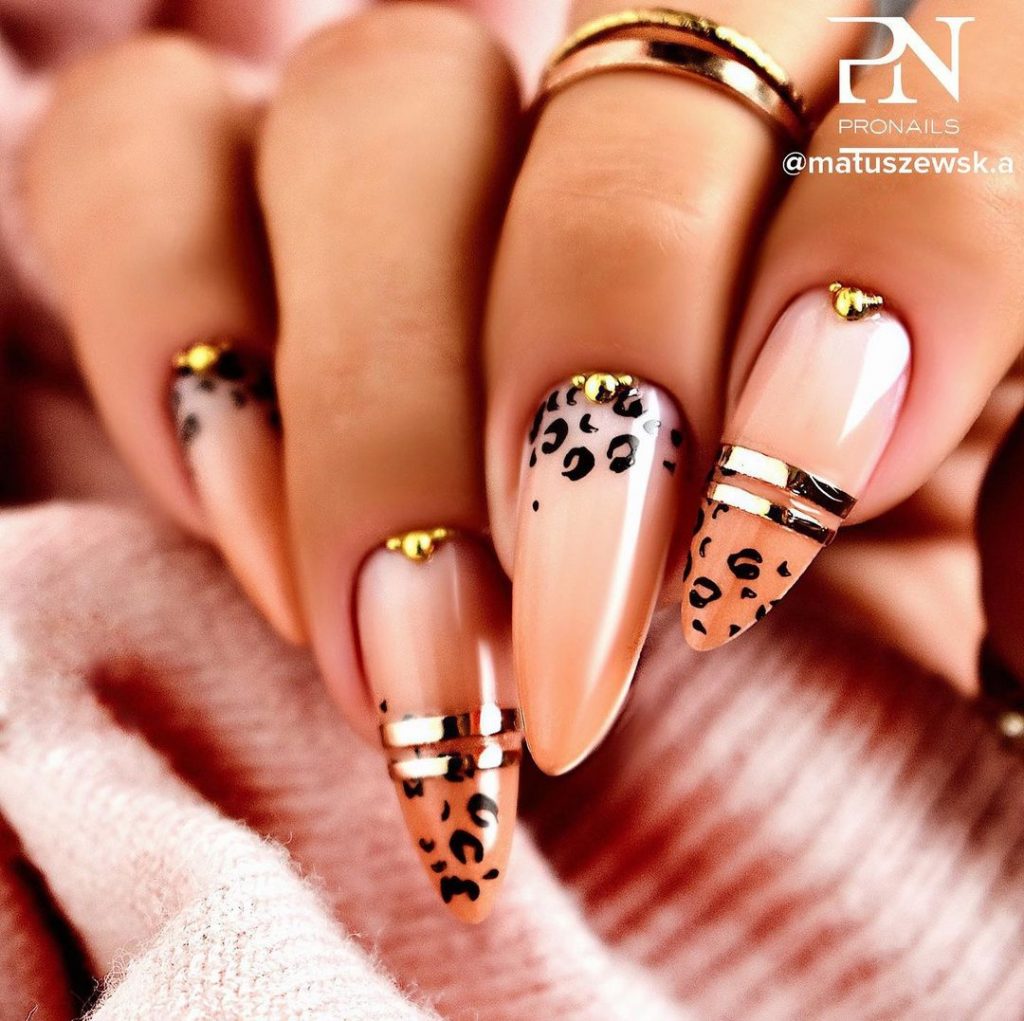 The ever-trending leopard fashion look has made its way to the world of nails. Whether you have almond nails or you are more into mountain peak shape, this design will suit any look.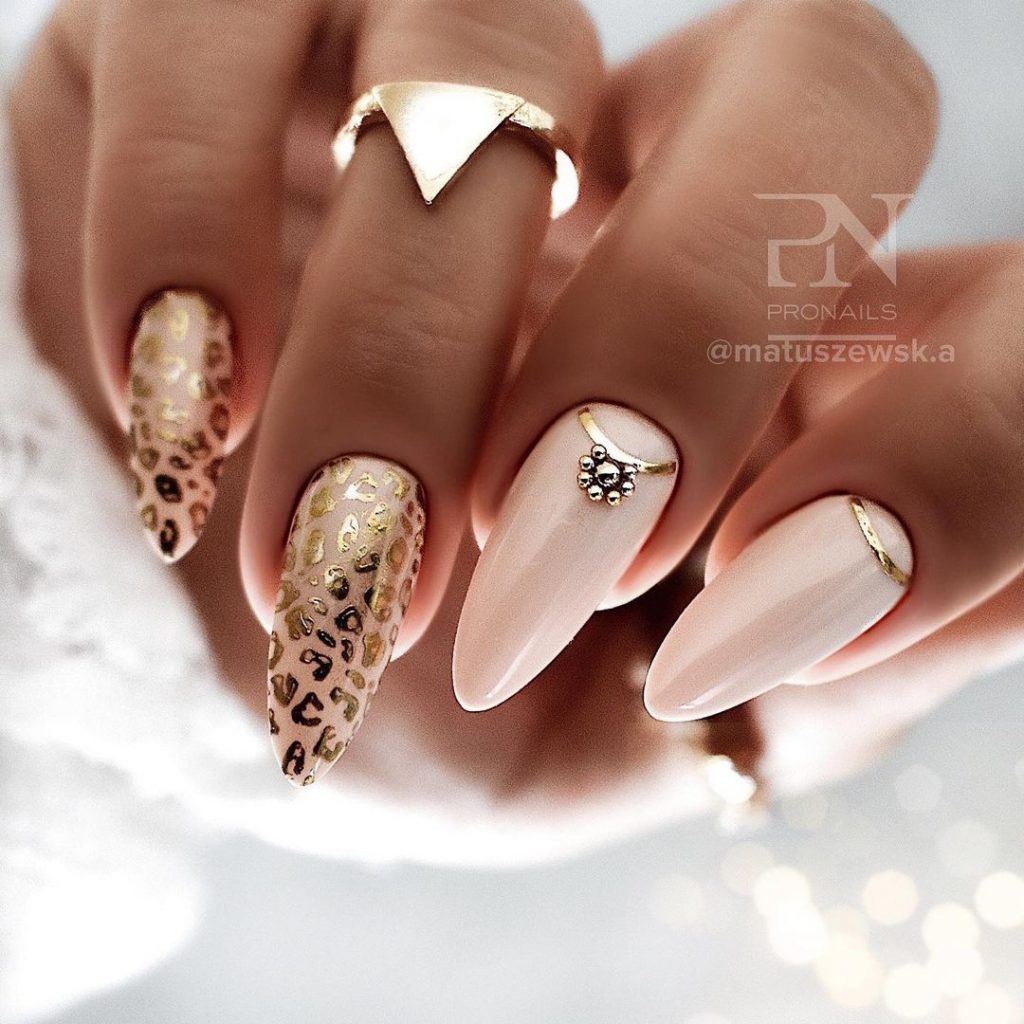 You can paint the golden leopard print style on two accent fingers while keeping the other nails nude and you will be receiving compliments left, right, and center with this gorgeous nail look.
You May Also Like: Animal Print Nails To Show Off Your Cute Wild Side
16. Nude Nail Art with Glitter Pollen & Rhinestones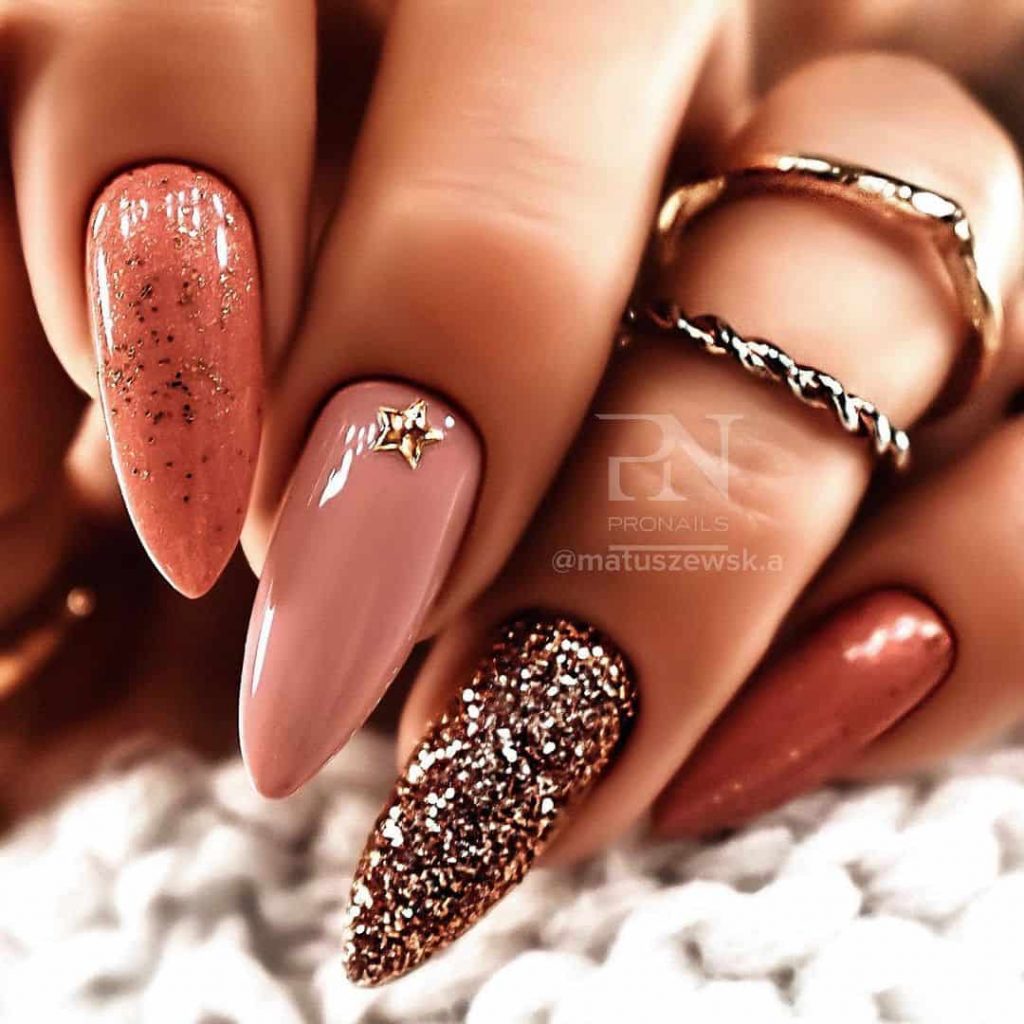 Let your next mani shine by adding silver glitters to every nail, fter applying your nude polish picks. Add rhinestones in a decorative manner for more impact. High bling and super elegant nails you will achieve!
17. Nude Nails With Florals
While this nail design is summer-ready, it can be worn all year long even through fall. The floral and jewel details make it so elegant,while the darker accent nail is a perfect stand-out color.
18. The Perfect Shade of Beige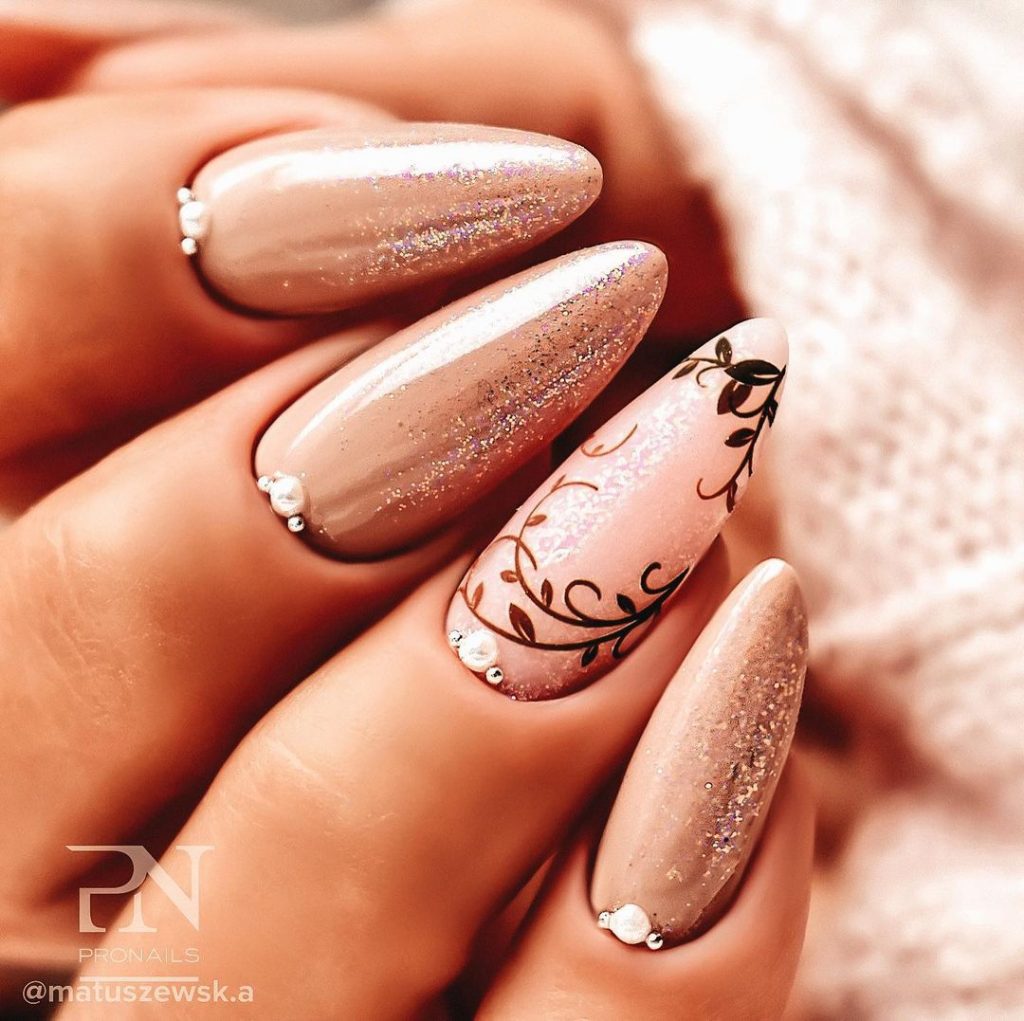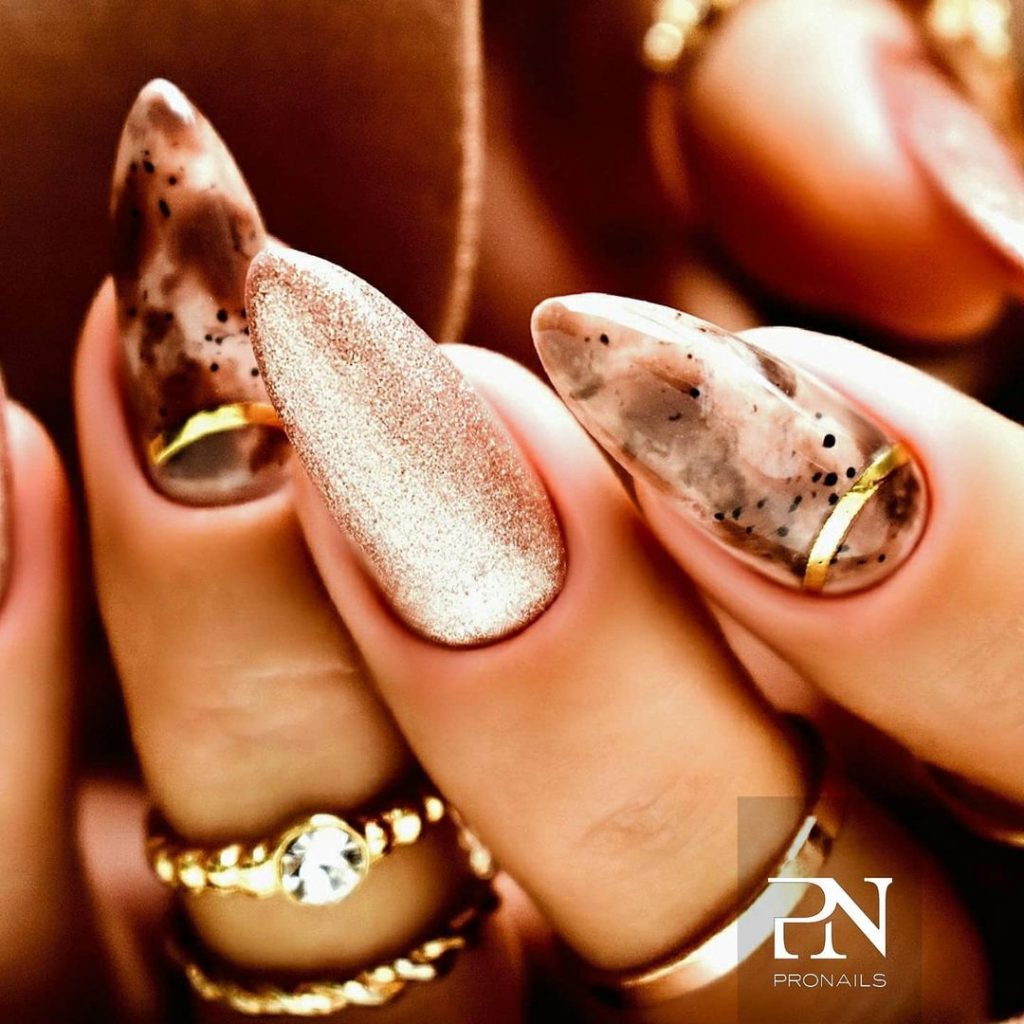 Beige is a perfect neutral shade for all nude nail lovers. These nail designs in particular fit perfectly with both the summer tan and fall coats.
Apply two thin layers of beige polish, and add a little shine to the subtle, feminine color. For classic styling, use glitter powder and create your favorite art style. You ca
19. Nude Nails But Let It Shine!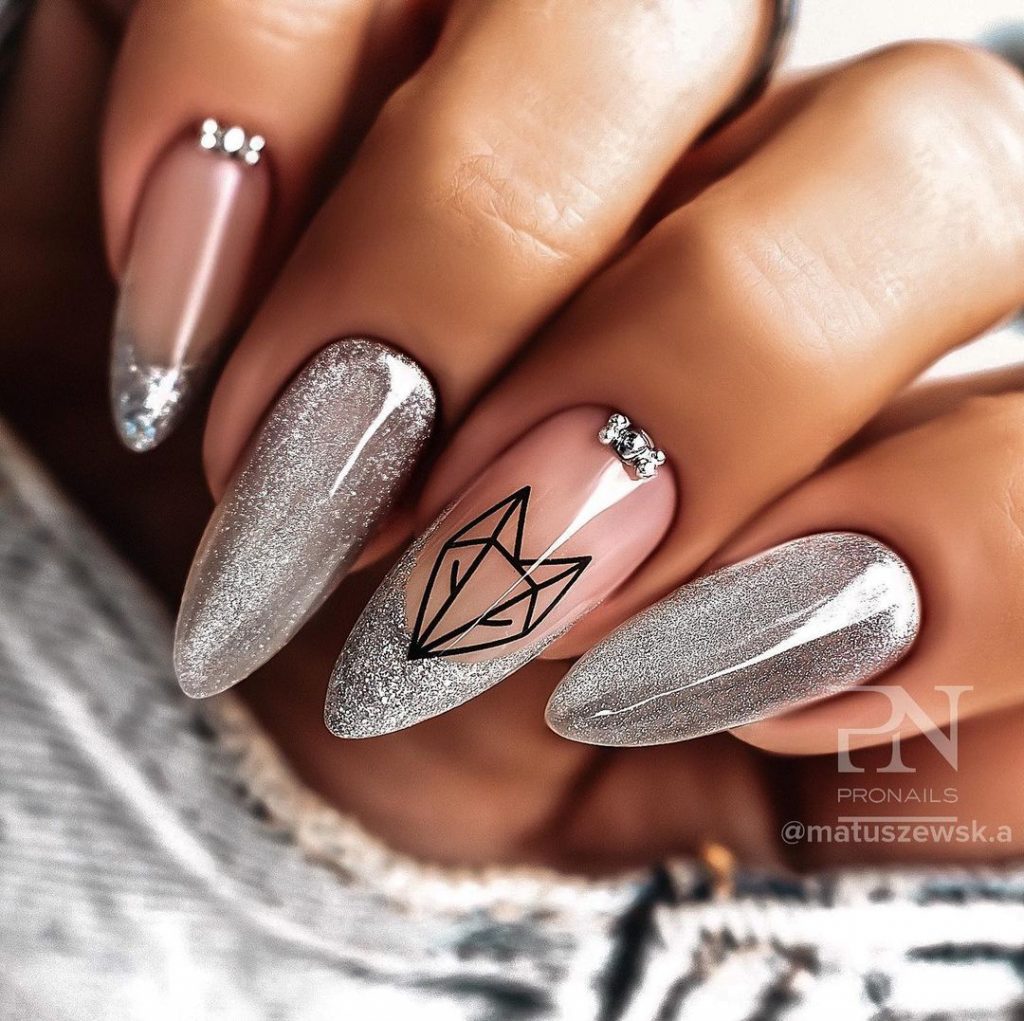 Nude nails are cute, but add much sparkle by adding silver glitter powder in your preferred style: ombre, as an accent nail, or as French tips.
Full nude nails with glitters from the smallest fingernail to the thumb can never disappoint too!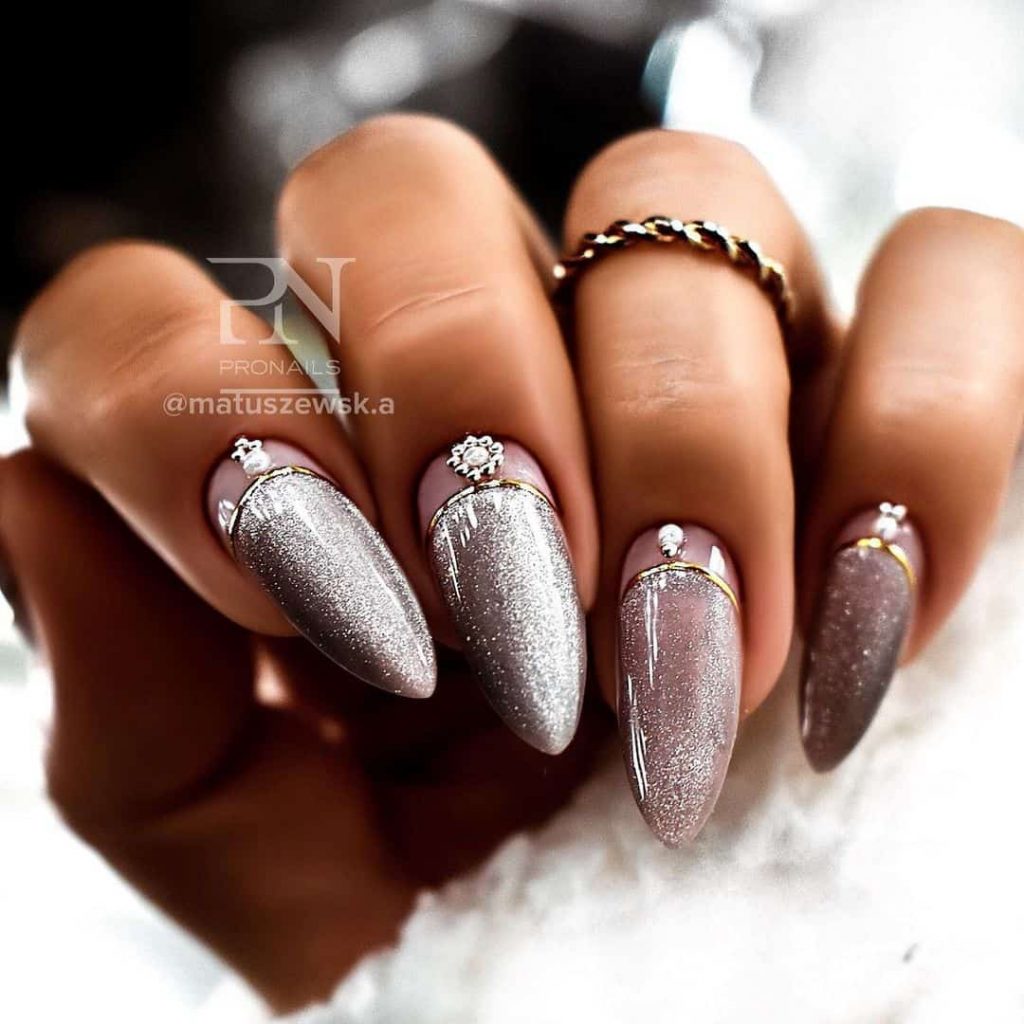 20. Classic Nude Nails With A Chrome Finish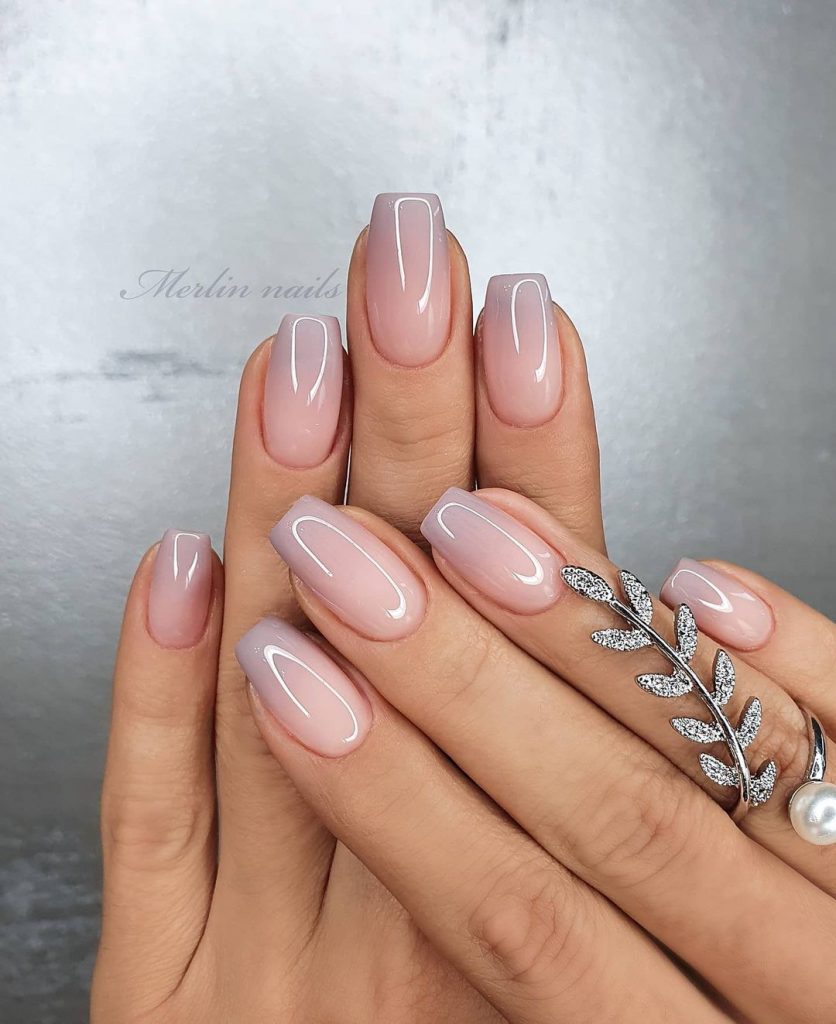 Add some pizazz to your next classic nude manicure with a chrome nail finish.
Note that the chrome effect is achieved through the use of powders, thus, the more powder you apply, the lighter the chrome effect may become, and therefore turn into silver.
You May Also Like: 30 Stunning Pink Nail Designs For Your Next Mani
21. Nude Ombre Nails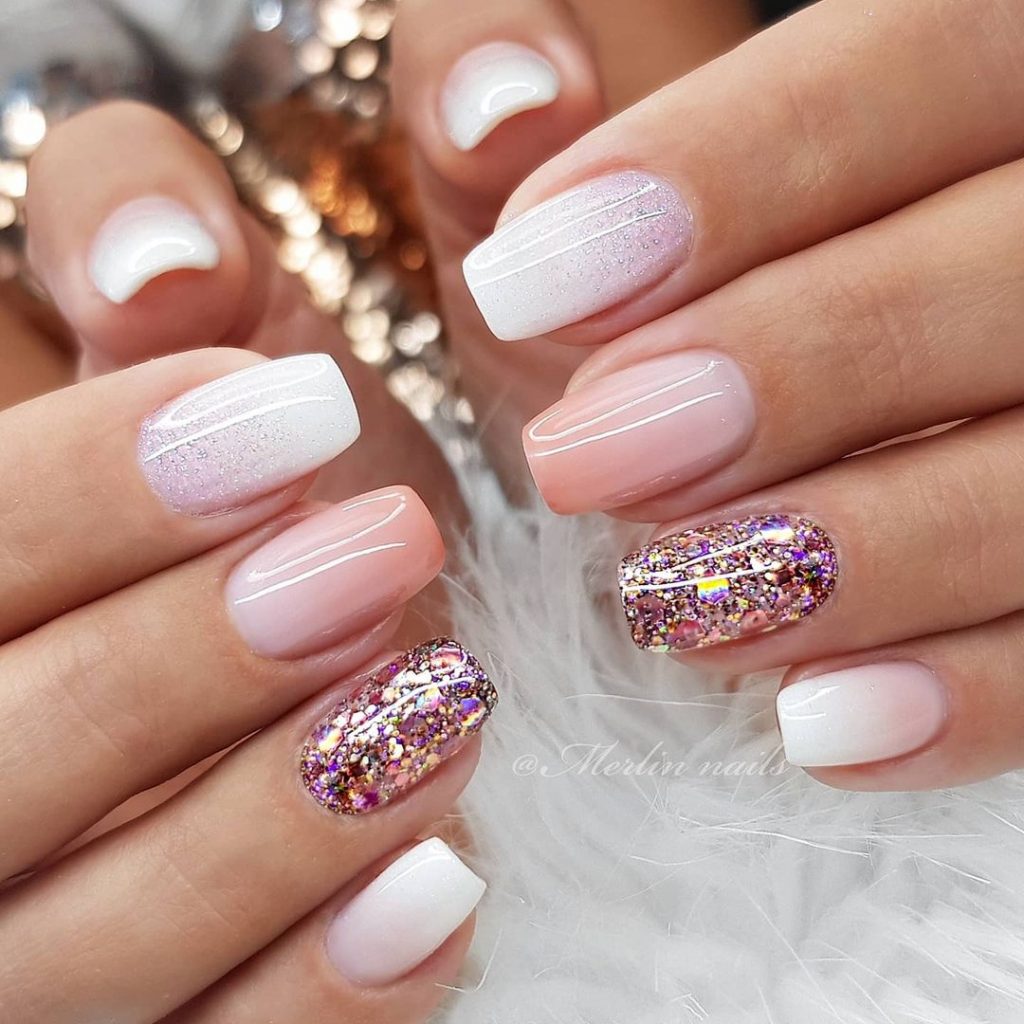 Nude nails always give your hands a naturally understated presence. Rock this minimalist ombre style for weddings, parties, or any occasion calling for an elegant appearance.
Add a glittery accent nail or jewels for a fun vibe.
22. Glitter Ombre Nails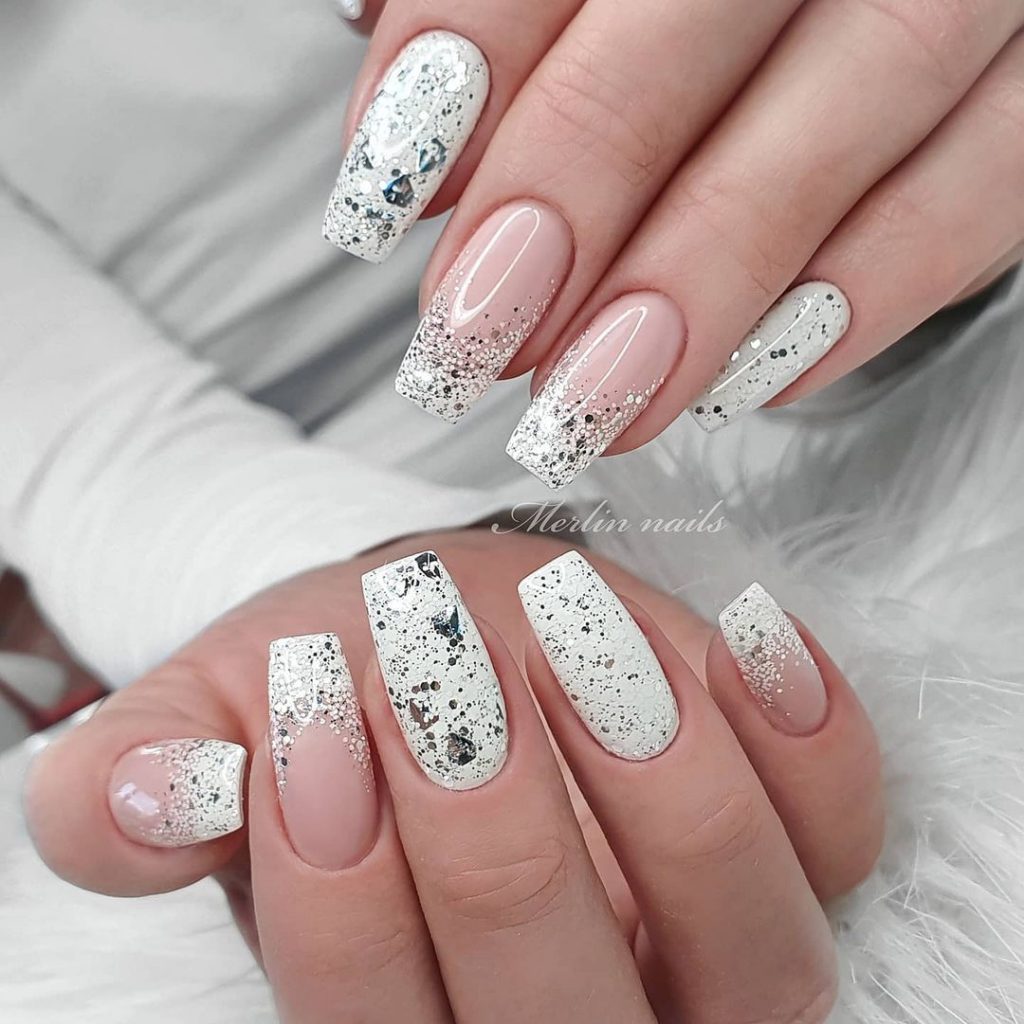 Introduce a touch of shine and sparkle to your nail repertoire with this gorgeous glitter ombre. Cute and dazzling!
23. Nude Nails With Floral Decorations
Floral decorations are always on time and always a delight. And the key to the success of styling with flowers is the right choice of colors, so how about this combination: nude and blush pink with pink flowers?
24. Nude & Sophisticated!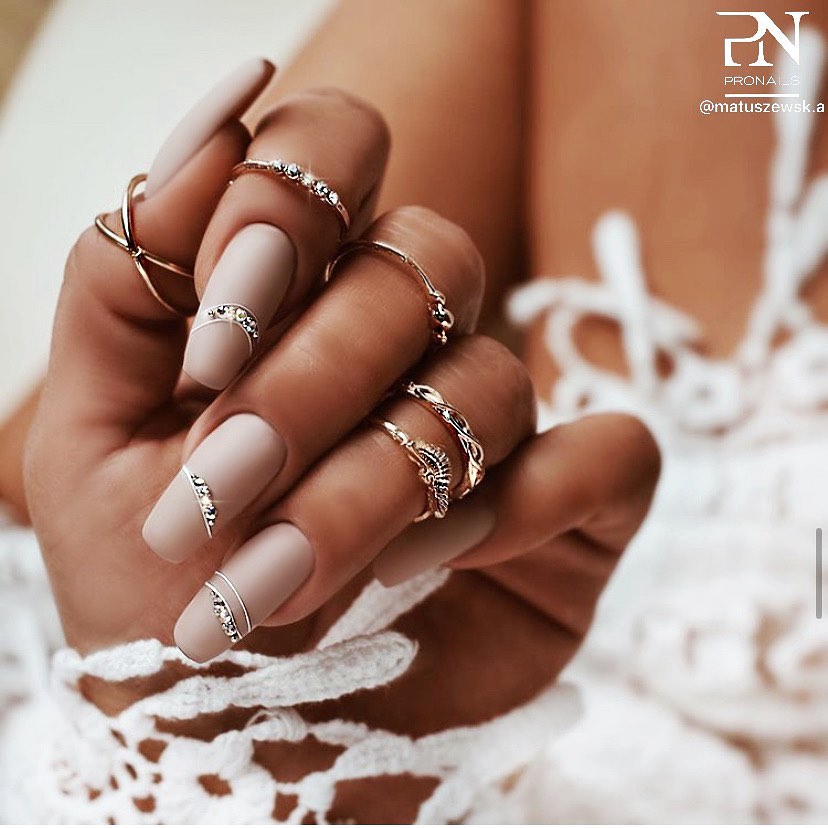 These nude nails are simple, chic, classic yet sophisticated enough thanks to the jewel details. Wear these nails to any event where the dress code is elegant.
25. Hot Chocolate, Gold & Rhinestones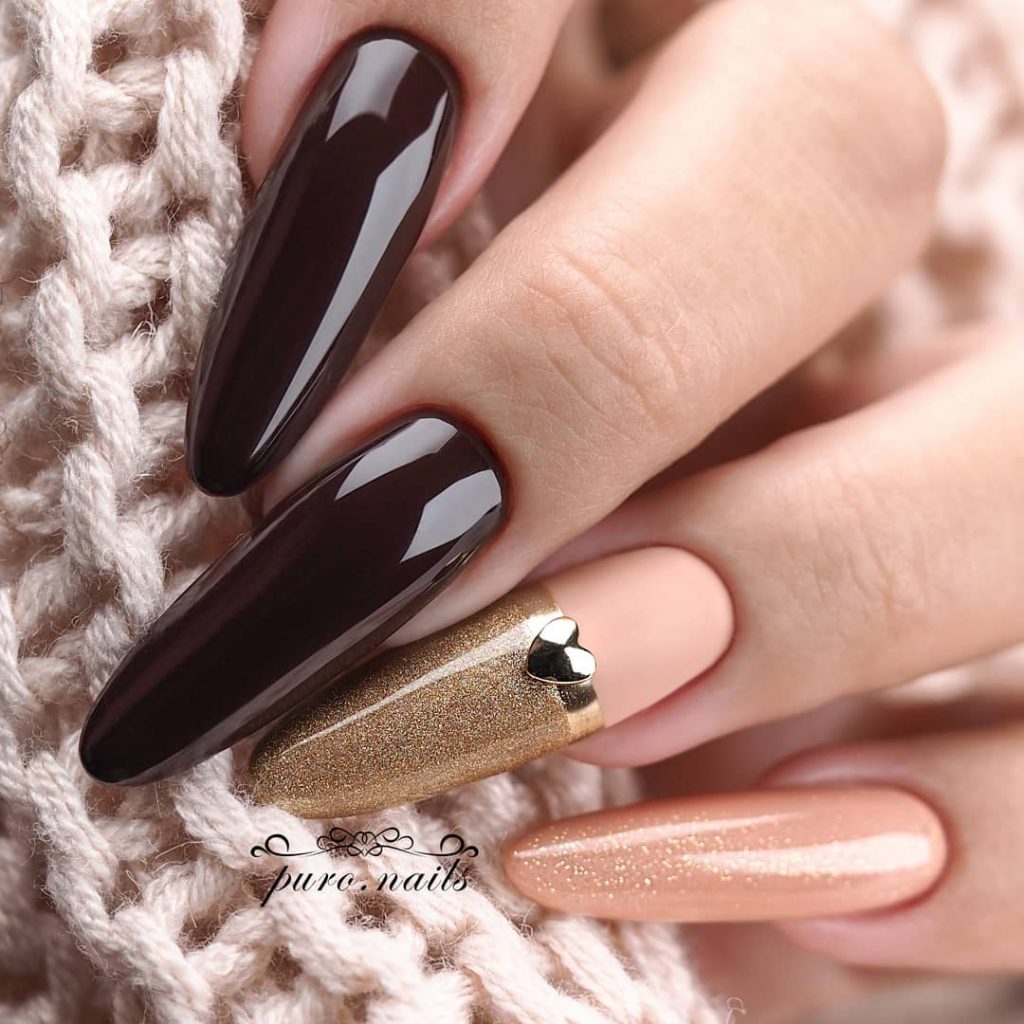 Reminiscent of the look of hot chocolate art in coffee shops everywhere, this dark brown and nude manicure with a glittery accent and a rhinestone is the perfect transition into fall.
26. Nude Nails With Golden Rhinestones & Glitters
Not ready to take the full plunge on decorations? Steal this nude nail inspiration and decorate an accent nail or two with delicate rhinestones, glitters, and golden stripes.
27. Sweater Weather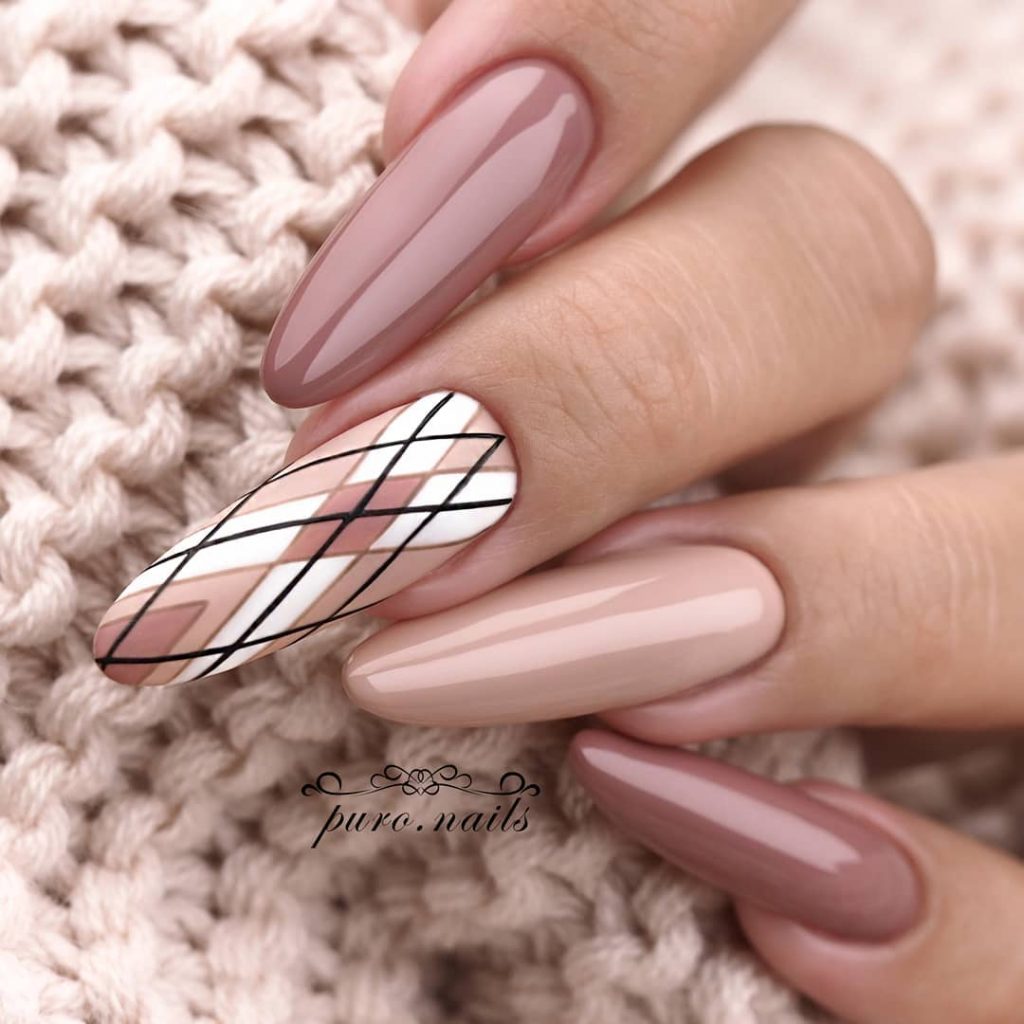 Perfect for fall, this nude nail design will make you feel ready for cold weather in a snap. Pink beige tones that can comfortably match any outfit and add an accent nail in the gorgeous sweater nail trend.
28. Geometric Accents For Nude Nails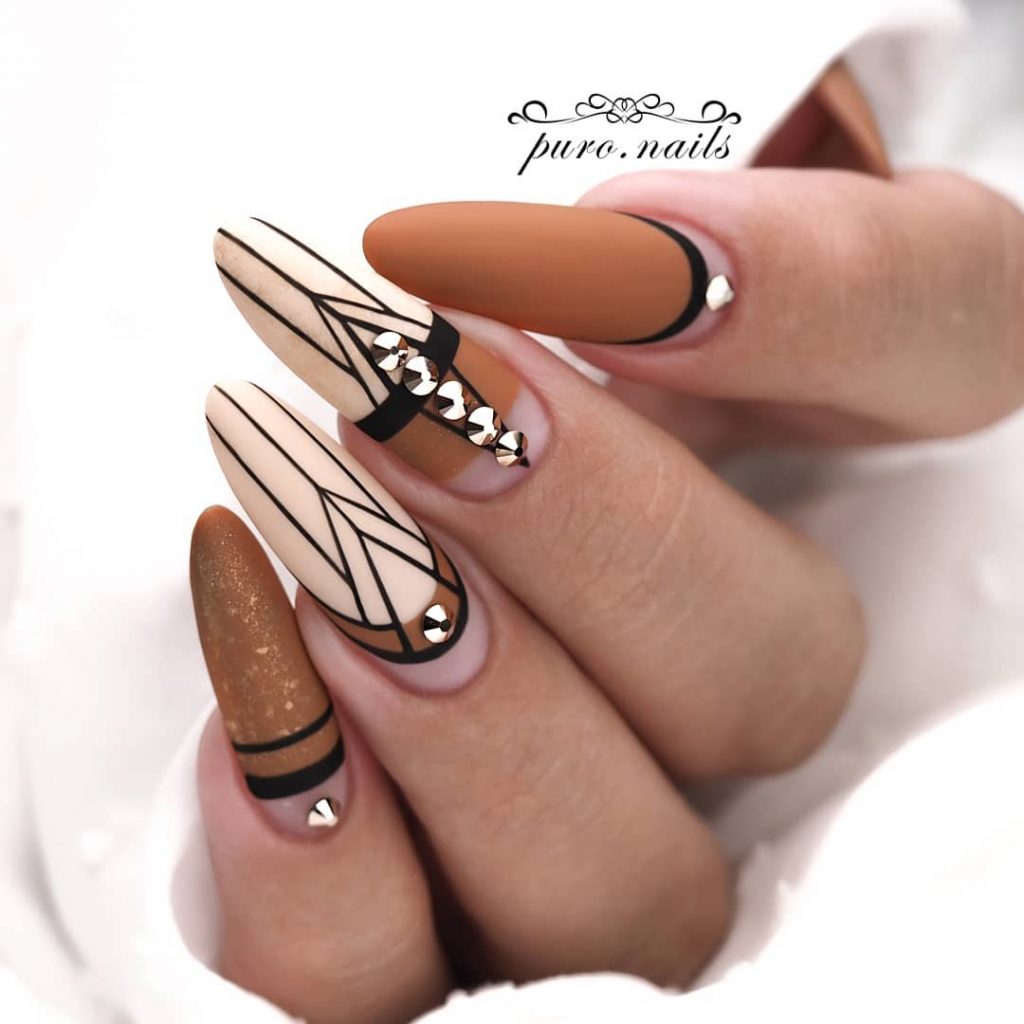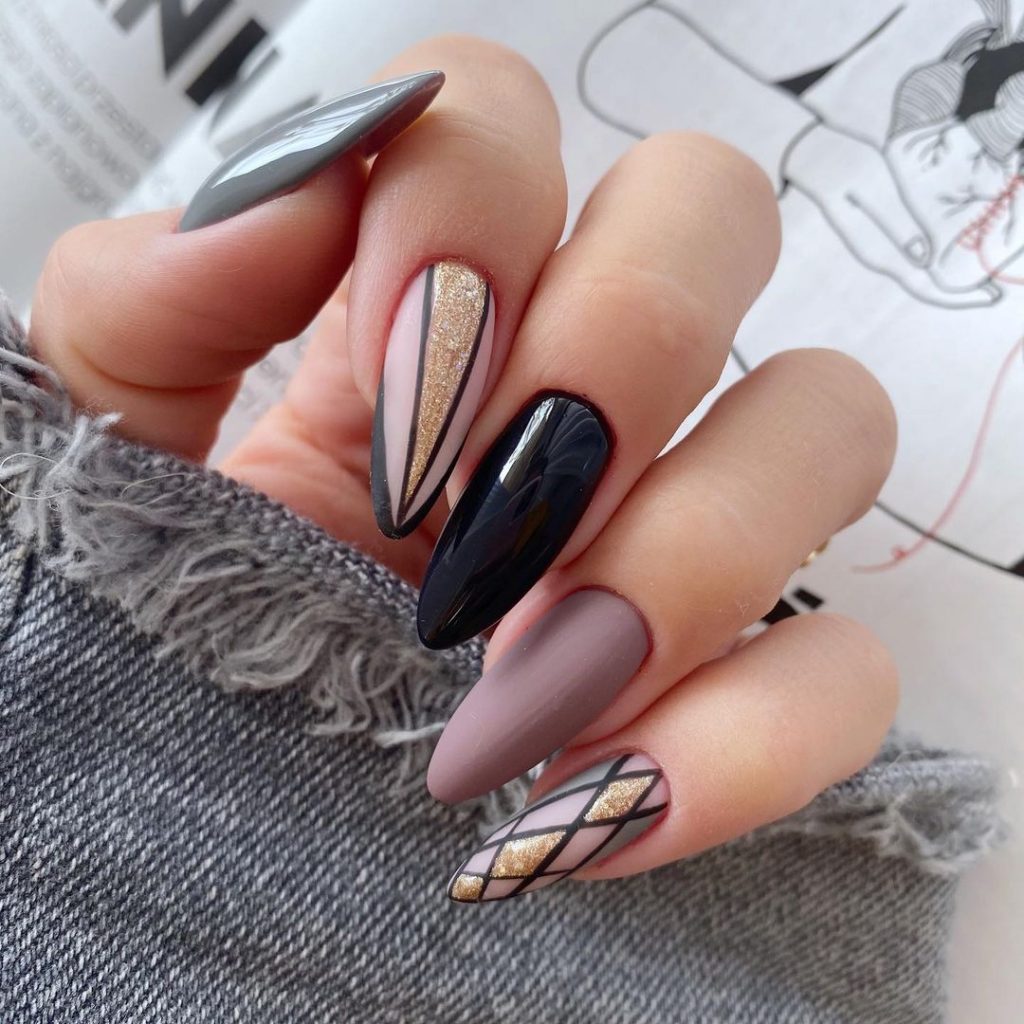 There's something about the organized chaos of geometric nails that are not only soothing but super pleasing to look at. Accent your nails with cute geometric art to add a fun twist to your nude nails.
In fact, you can use variations of neutral nail polishes on different fingers, or add rhinestones too. Ta-da!
29. Nude Ombre Nails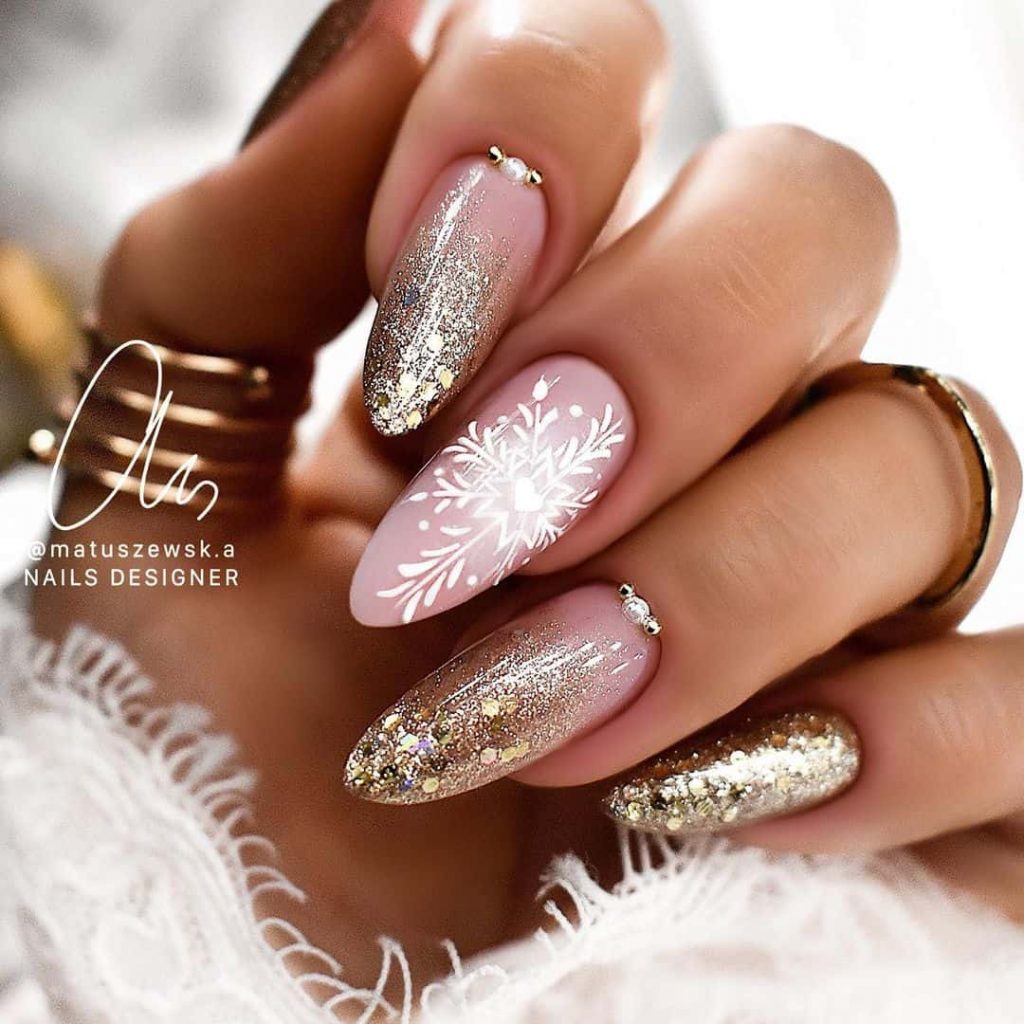 Edgy and captivating yet quite muted, this nude ombre nail with a matte finish will enhance your favorite fall outfits.
You can also consider a gliterry ombre look or a glossy look for a more glamoros nail look.
30. Nude Nails With Glitters, Reindeers & Candycanes
Nude nails are a perfect blank canvas for all your Christmas nail art ideas: whether candy canes, sweater nail art, Christmas stars and glitters, or reindeers. Try it!
31. Nude Nails With Animal Print Details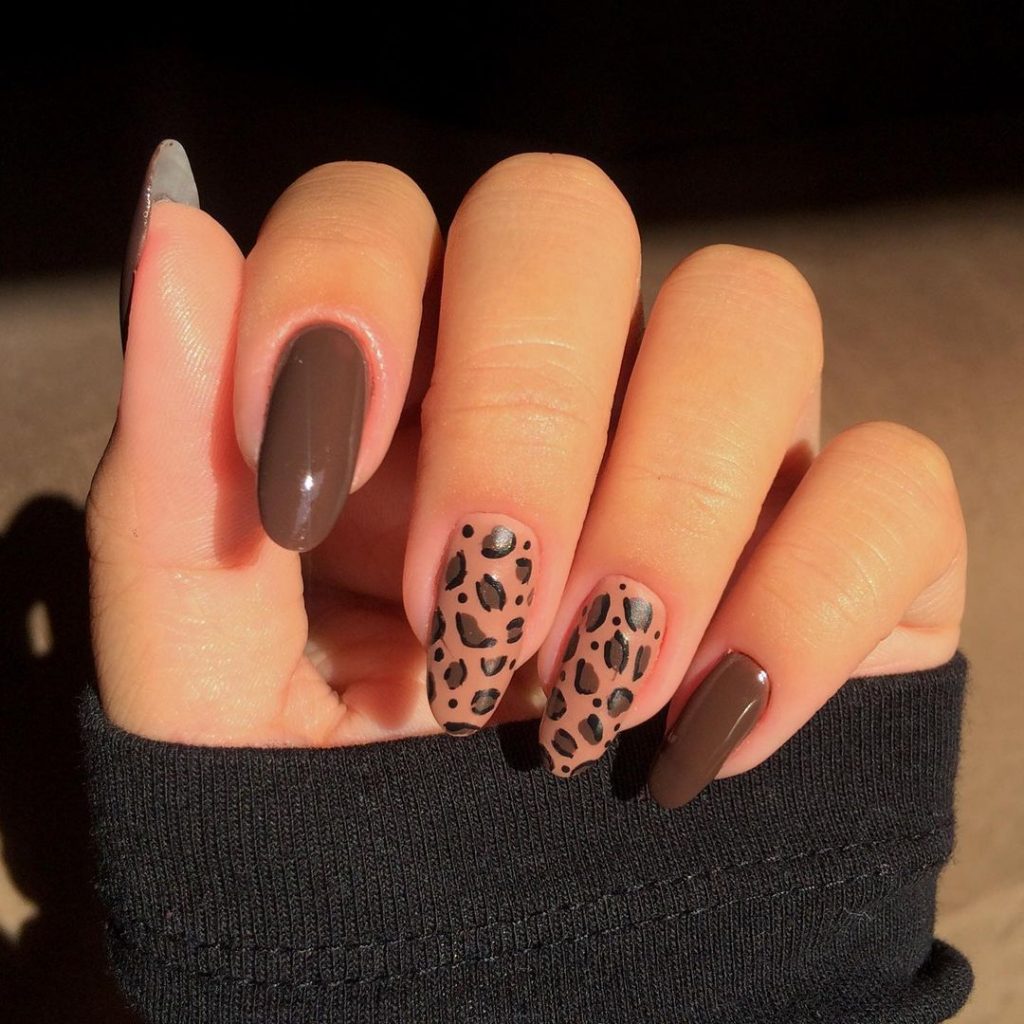 Add a fashion twist to your nude manicure by painting some animal print art on your accent fingers. Leopard print is a favorite, let alone cow-print for the tips.
You May Also Like: Cow Print Nails That Add A Playful Aura To Your Nails
32. Nude Nails With Snake Prints
Leopard print is cute, but snake prints are even better! Try a light peach shade with an added white hybrid shade, and cover with an extreme matt finish. Restock with rhinestones and you'll be good to go!
You May Also Like: 8 Popular Nail Shapes- Which Is Right For You?
Which of these nude nail designs would you love to try?
* Disclaimer: This article features nude nail designs from Pronails Polska, Marci Pazur, Puro Nails , Lemonails, Zulfia Nail Art, Maja Markowicz, Unhasdemendoa, Merlin Nails, Miss Deer Nails, B.A. Nails, Koci Pazur, I Wanna Do Nails, Barbra Feszyn, Jet Set Beauty, Mejzi Karwaszewska and Matuszewska