It is no lie that the best shades and colors for fall are usually very comforting. At a time when the bright colors for summer don't feel right, the deep, muted, and nude colors come out.
And this fall is no exception. Fashion girls all over should try our best picks for fall nails all autumn.
To get inspiration for my fall manicures, I turned to nail designers on Instagram Barbra Feszyn, Idei Nogtey, Nails by Jukus, Ewi Loving Nails, Ewu Leeek, Indigo Nails, Karolina Orzechowska Indigo, Pronails Polska, Karwaszewska, Monika Nails, Maja Markowicz, Merlin Nails, Koci Pazur, Marci Pazur, Puro Nails, and Nails By Paulin, to get the most adorable fall nails to try this autumn and winter.
This fall nails compilation features warm, bold, and soft colors for every skin tone so just get creative and you'll achieve such adorable fall nails this season. Enjoy!
1. Sunflower Details
Sunflowers are beautiful sun-loving flowers that can also be considered fall flowers. So, when the temperatures drop and you go for muted brown nail colors, consider giving your nails a pop using sunflower details.
2. Pumpkin Nail Art
Pumpkin nail art trends in the fall season. Take advantage of this by going for matte green nails as a backdrop for white and orange nails with chic pumpkin designs.
3. Fall Colors
You need not miss out on fall's brilliant burnt orange, golden yellow, and red hues. Simply wear nails featuring all these shades. How scenic!
After wearing fluorescent neon shades all summer long, you might not be ready to give up eye-catching brights.
Try this nail look where the nails are painted differently in the deep jungle green, pumpkin orange, wine red, and white with chic foliage details. So beautiful!
You May Also Like: Pretty Fall Nail Designs You'll Want To Try Immediately
4. Light Brown Manicure With Orange Details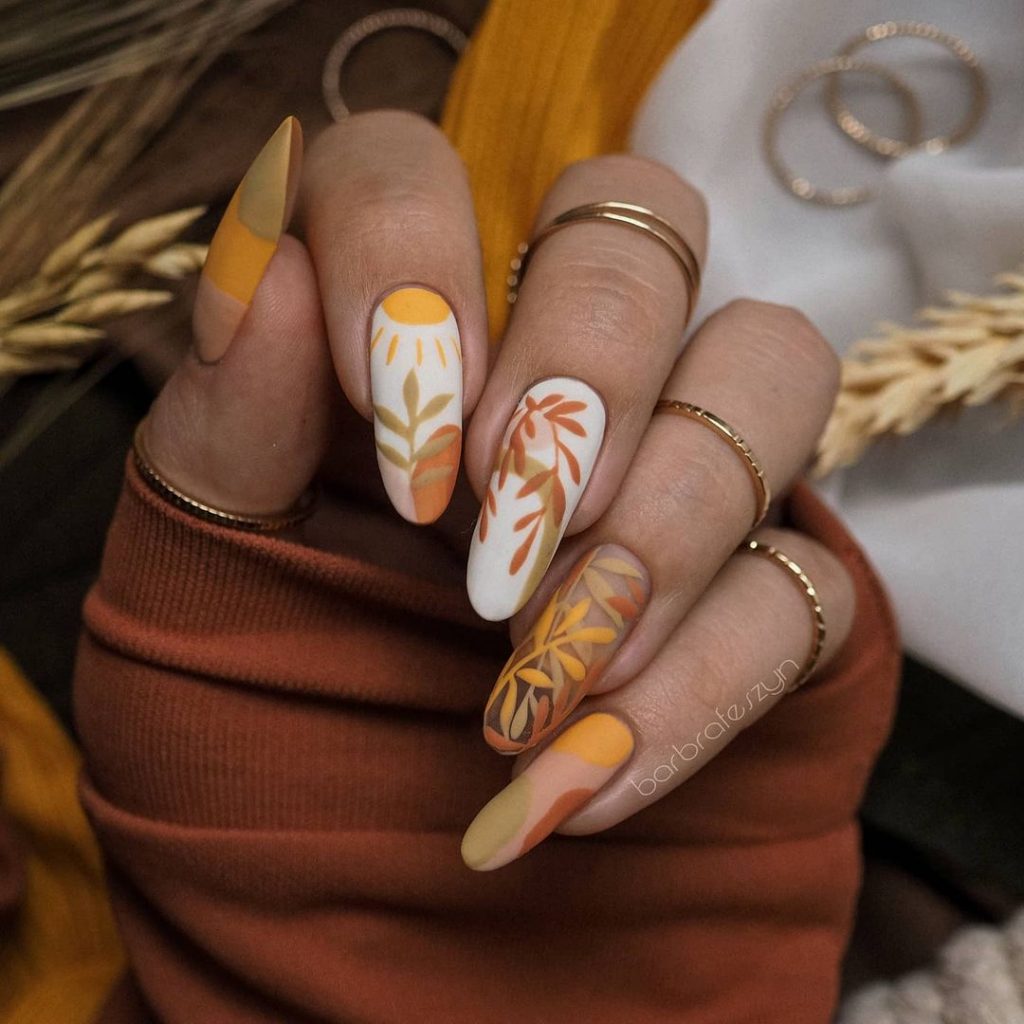 With espresso, caramel, chocolate, and cinnamon tones to choose from for your brown fall nails, there's surely a brown shade for everyone, thus, fall's new ″it" neutral.
Make your nail look interesting by wearing different shades of brown on different fingers or using foliage decorations in different fingers. You can also try orange nail art for your brown nails. Now grab a mug of hot chocolate!
You May Also Like: 30+ Cute Nude Nail Designs That Pair Well With All Outfits
5. Fall Foliage
During the last days of summer into the fall seasons, you could say that blue becomes the new black.
Transition seamlessly by painting your nails in this detail-rich fall nail look that features light blue and brown foliage and geometric patterns.
You May Also Like: 30+ Adorable Ideas For Summer Nails This Year
6. Espresso Brown Nails with Foliage Details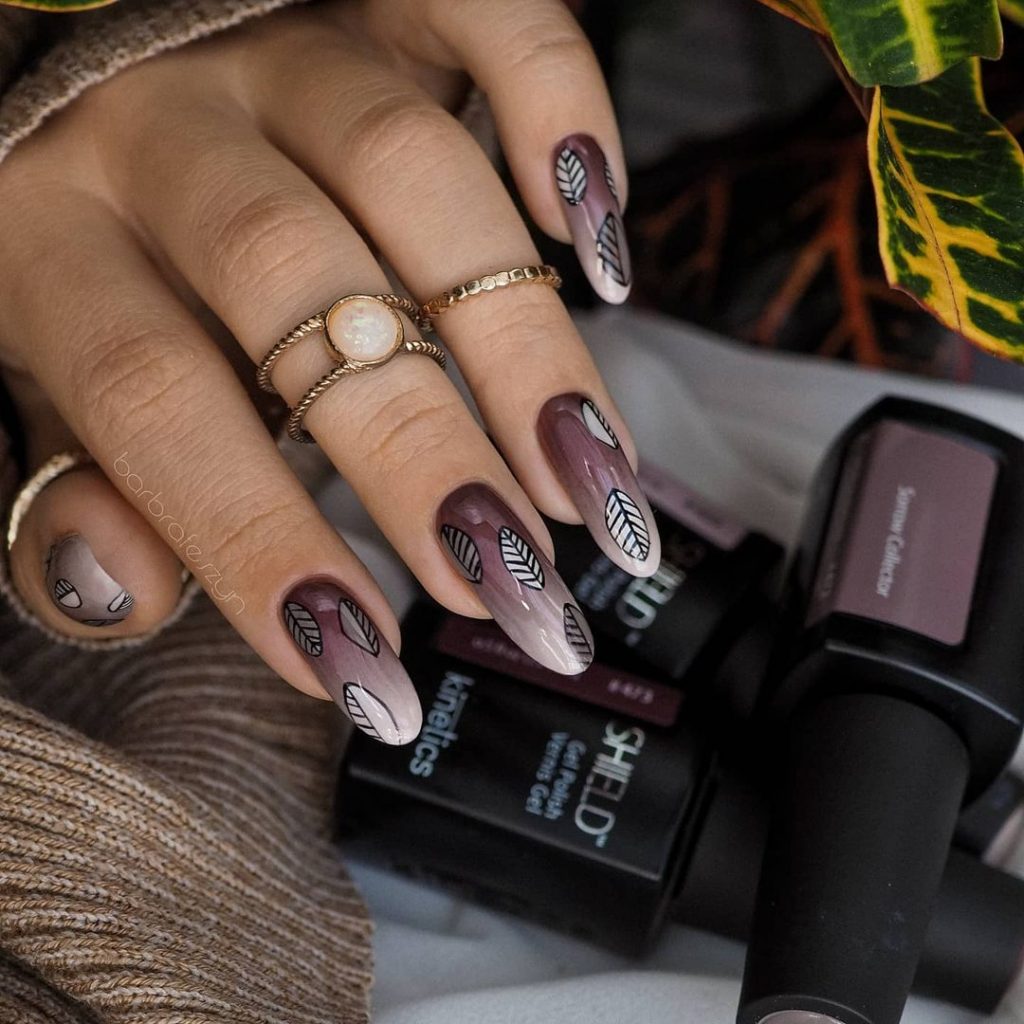 Treat your nails to a fall ride with Espresso Bean (Brown) nail polish and finish with cute foliage decorations for a sophisticated and unique look.
7. Orange Fall Nails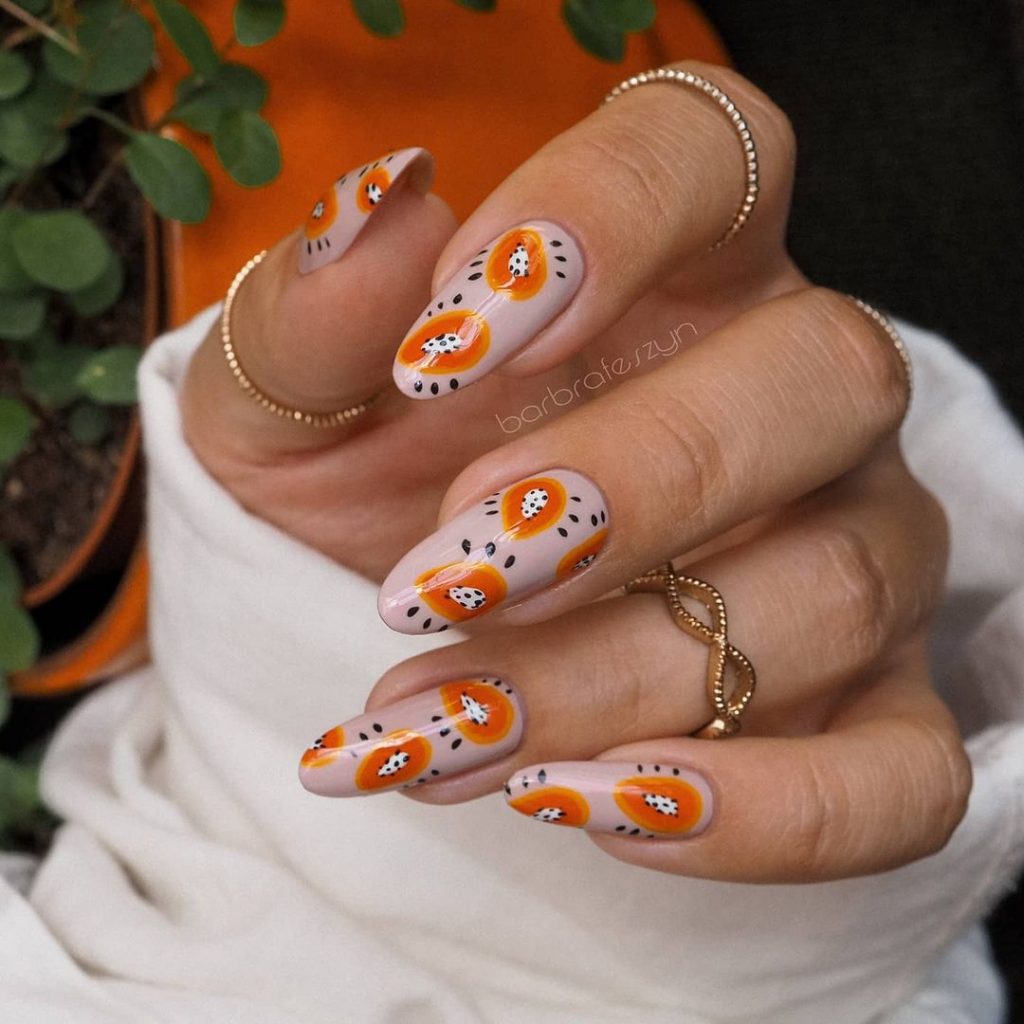 An orange manicure makes for a chic entry into fall. Whether you go for an apricot background, caramel, mustard orange, pops of pumpkin orange, or cinnamon colors, you will add the most flattering burnished glow to your fingers and toes.
We recommend orange accent nails or hybrid nails incorporating other complementary colors like jungle greens, wine red, and deep purple.
You May Also Like: 20+ Almond Nail Designs Perfect For Summer
8. Forest Green Fall Nails
These matte green nails are the perfect transitional color between summer and winter.
Pick this for your next mani, making sure to adorn your nails with beautiful floral and foliage details, and you won't be able to stop staring at your nails.
You May Also Like: 9 Fall Fashion Colors We're Loving & Injecting Into Our Wardrobes
9. Green Fall Nails With Golden Flakes
Green is sometimes overlooked as a viable nail polish shade, but in the fall, luxurious greens kick in! Try mint green nails with nude and light olive accent nails, and add a sultry flair using golden flakes.
You've got your new favorite fall nail color on lock!
10. Ivory White Nails For Fall
Are you a sucker for a white nail color? Go for ivory white nails this fall and add the sophisticated touch of golden foliage detailing.
11. Classic Coffee Brown Nails
Who doesn't love a good brown shade? We love this coffee brown nail look for any season, but especially for fall.
12. Chestnut Brown Nails
This reddish-brown shade of brown will pair very well with other neutrals in your fall fashion wardrobe. Accent the nails with white and golden glittery nails.
13. Dark Brown Fall Nails
Want a dark, moody alternative to a black manicure? Look no further than a dark brown manicure. Add spice to this fall nail look using intricate patterns to create beautiful accent nails.
You can also have dark brown to tone down your accent nails in brighter fall colors like pumpkin orange, almond white, and gold. So chic!
You May Also Like: 20+ Gold Nail Designs Oh-So Perfect For The Holidays
14. Glossy Brown Nails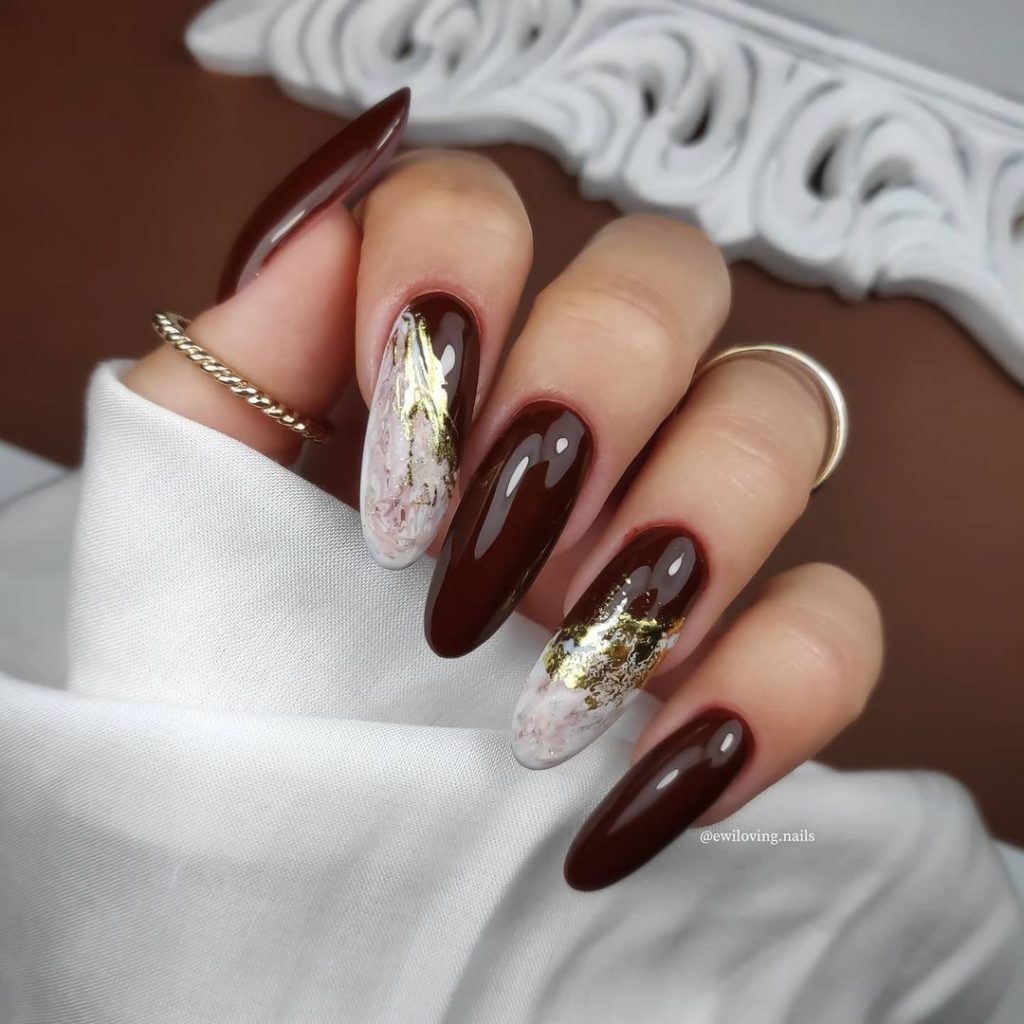 By now, you can tell that apart from orange, brown is another perfect fall color to paint your nails this autumn. Skip the matte versions and go for glossy nails that will perfectly pair with golden or floral accents.
15. Deep Purple Fall Nails
The vibrancy and depth of deep purple will not only enliven your nails; it will also elevate your mood. As a nail design, glitters, rhinestones and golden flakes add a dash more glitz to your nails.
16. Mauve Manicure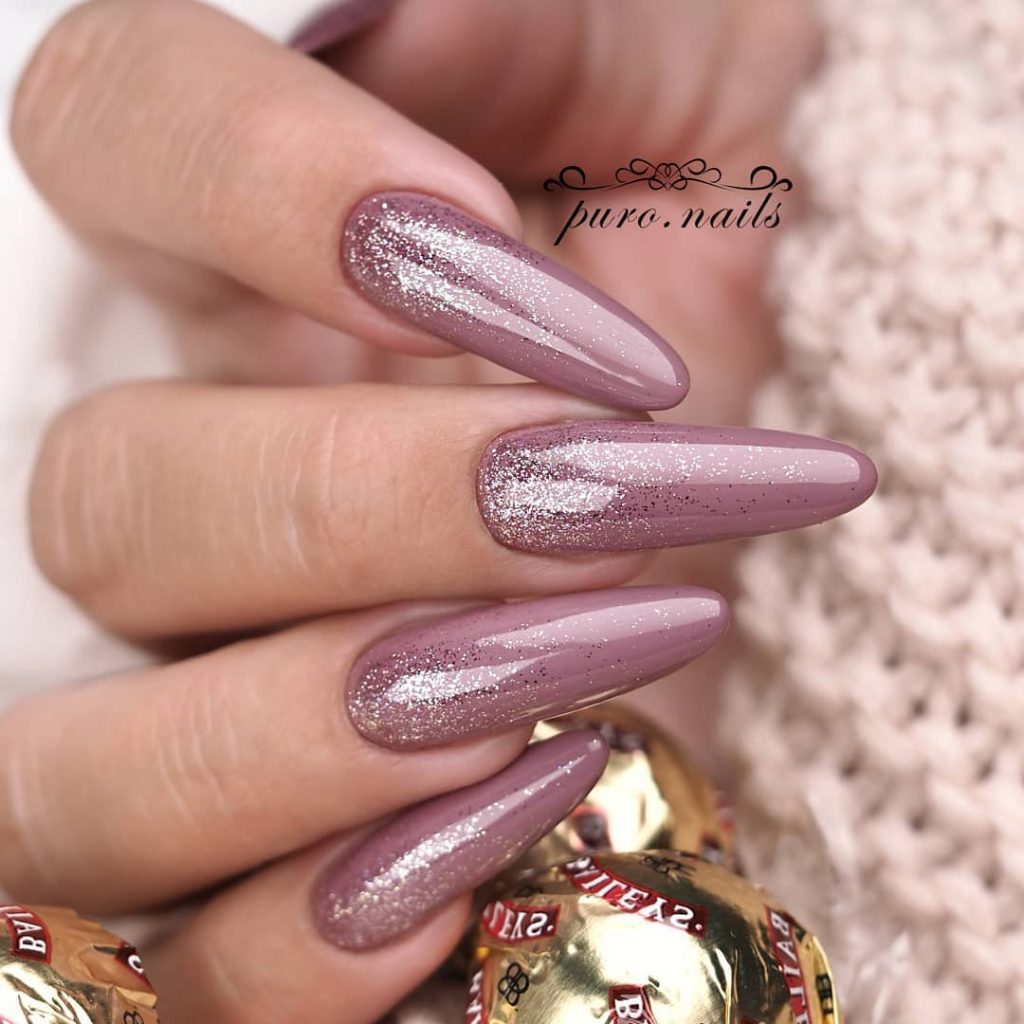 A mauve manicure is the epitome of glamour. This enchanting nail color will complete your chic and feminine looks throughout the fall and winter seasons.
Elevate this autumnal classic using glitters or statement jewel stones.
You May Also Like: 20 Stunning Mauve Nails For A Flawless Look
17. Wine-Red Fall Nails
Autumn and red wine go hand in hand—talking about nail colors, these nail designs have it! Whether you prefer glossy or matte nails, classic or accent nails in wine red, this nail look will stick out from the crowd. Add some golden glitters too!
These wine red nail ideas are also perfect when you need to attend a holiday party!
You May Also Like:
20 Cute Christmas Nail Designs You Need To Try
30+ Adorable Ideas For Summer Nails This Year
Animal Print Nails To Show Off Your Cute Wild Side
Steal These 40+ Elegant Black Nail Designs & Look Stunning!
Which of the fall nails would you try for autumn? Please save it in your Pinterest board. Cheers!