Are you looking for some elegant red Valentine's Day nails to try out on your date? You've come to the right post!
Red with its irresistible charms and secret meanings is the perfect color for the day of love. That's why you can never go wrong with this nail color.
If you're looking for a vibrant nail look for Valentine's Day, scroll this post for beautiful red nails to glam up your nails for your date!
You May Also Like: Chic Nude Coffin Nails That Are Holiday & Date-Perfect!
1. Classic Red Valentine's Day Nails
Red is the traditional color for Valentine's Day! This hue is bold, timeless, and classic and can complement all nail lengths and shapes.
It can also be worn by women of all ages and lends itself well to multiple designs. For a statement-making, easier-to-wear look, bold reds are a fantastic option.
Wear a solid red color and give it a glossy or matte finish to create the most striking manicures around!
2. Red Valentine's Day Nails with Nude Accents
Red and nude is a pairing that is easy to wear and gorgeous. The two colors are complementary and will help achieve a date-ready manicure without being too in-your-face.
Paint your nails red and have two accent fingernails in your preferred nude shade with cute foliage details.
You can also add glossy polish to the red nails or give your accent nails a smooth, dry look with matte lacquer. There is an option to suit every preference.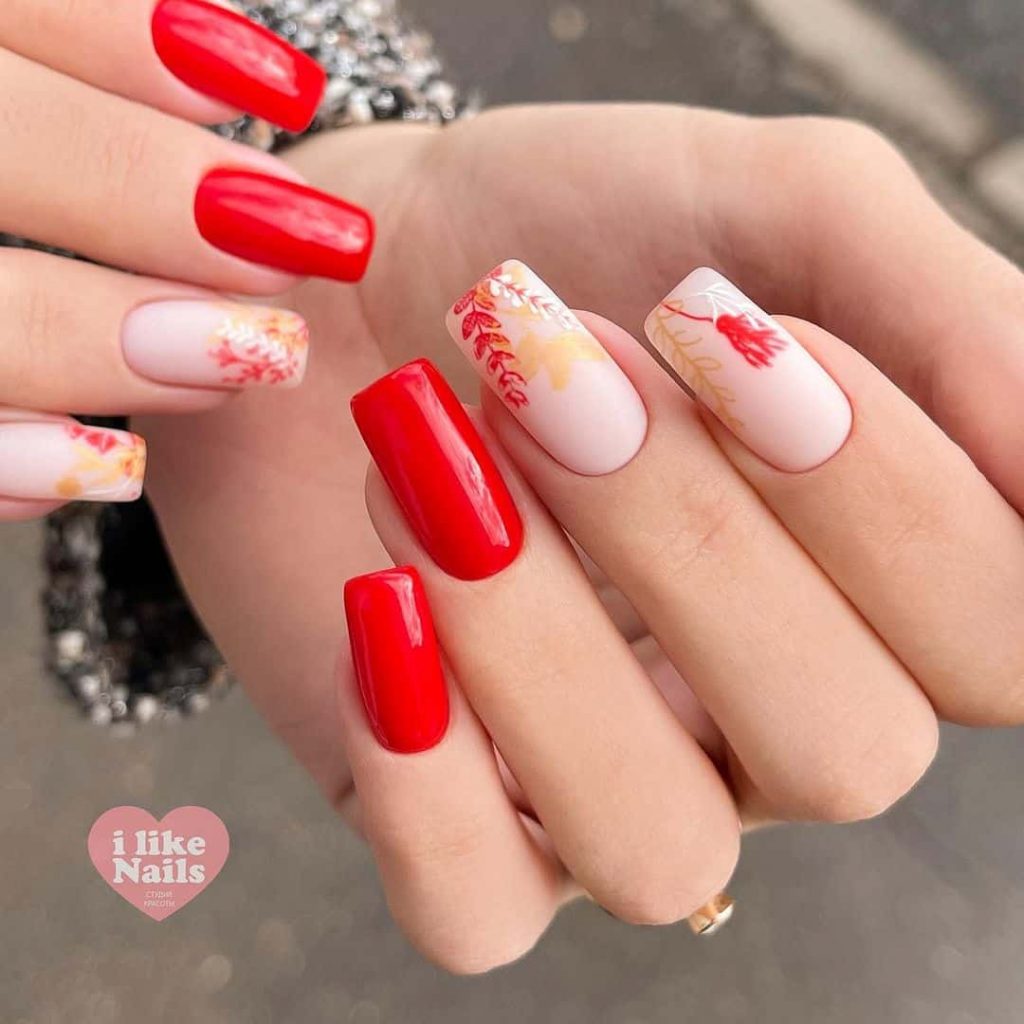 3. Red Love Heart Nail Art
Opting for red love heart nails is a wonderful way to express yourself and get your romantic vibe flowing.
The heart as a symbol of affection and romantic love thanks to its cute and pleasing shape, is the perfect choice for nail art when you want your nails to look romantic and lovely.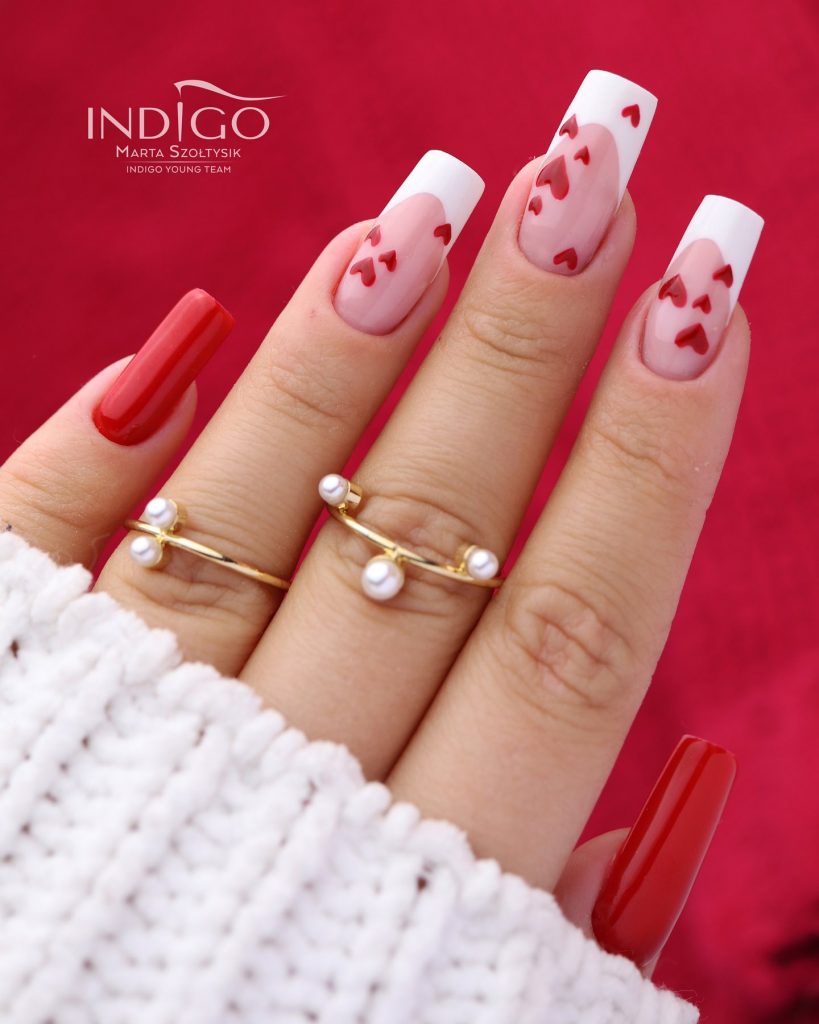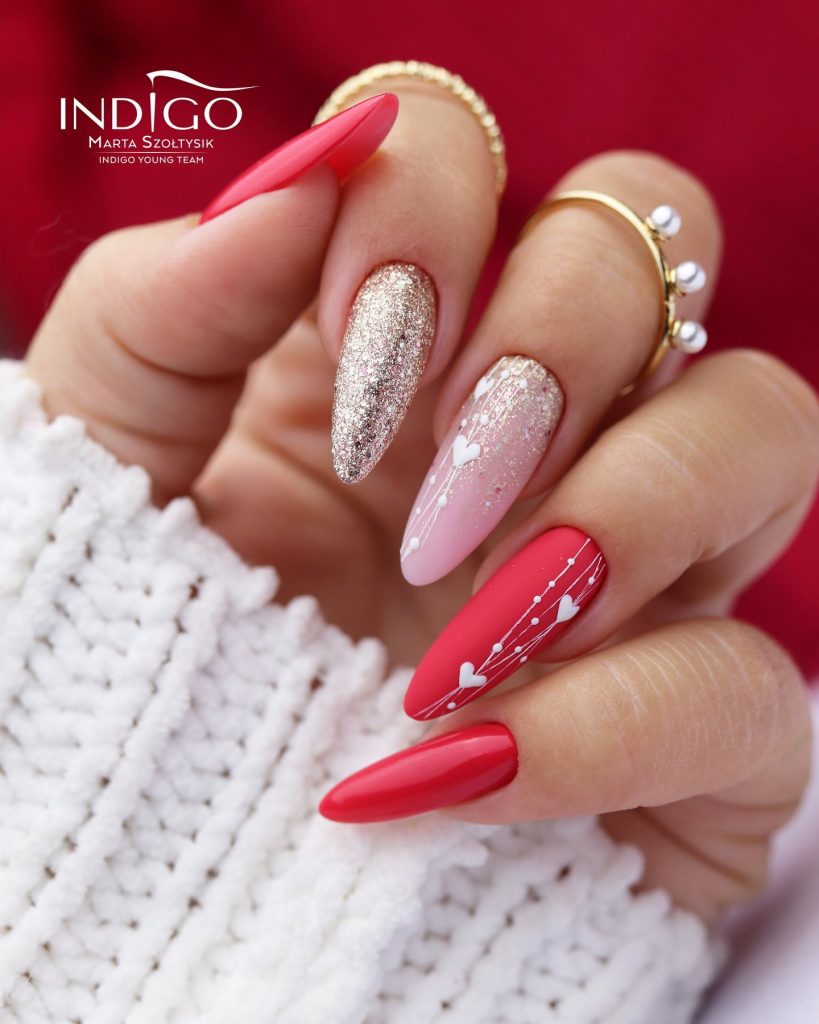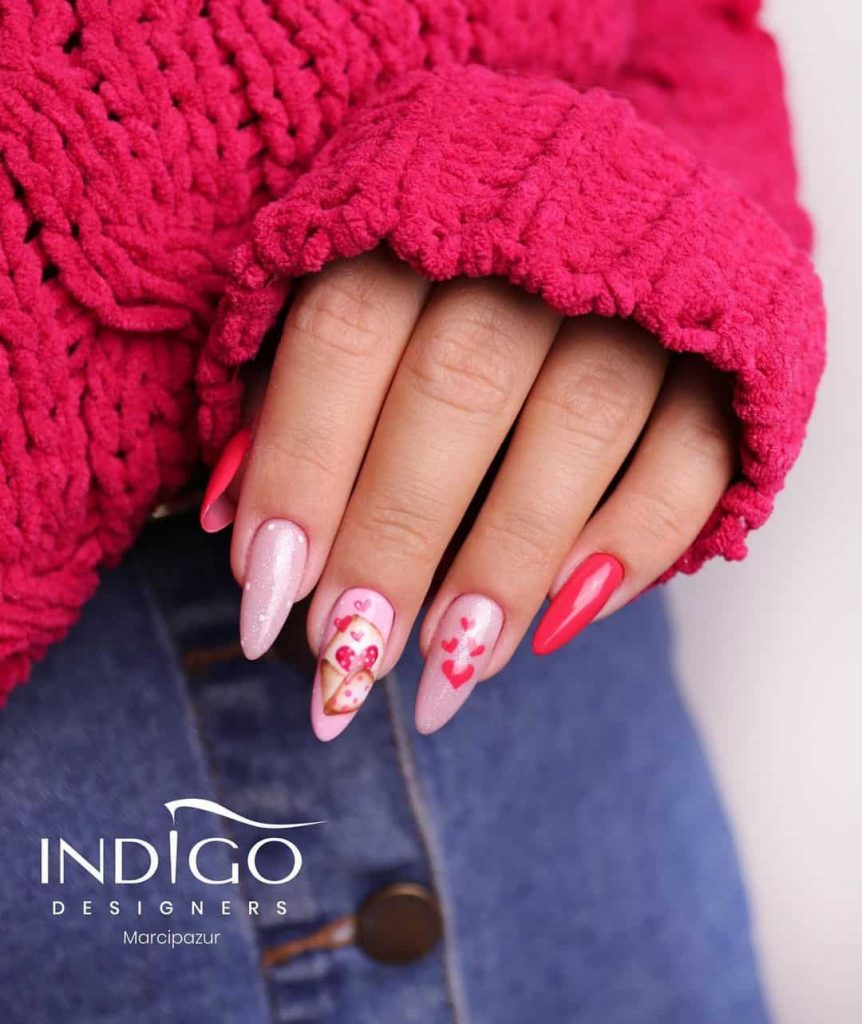 Whether you choose a white, nude, soft pink or red base color, heart nail designs are perfect for Valentine's Day, and any other day when you feel romantic and in love every day.
You May Also Like: 30 Trendy Red Nail Designs To Make A Bold Statement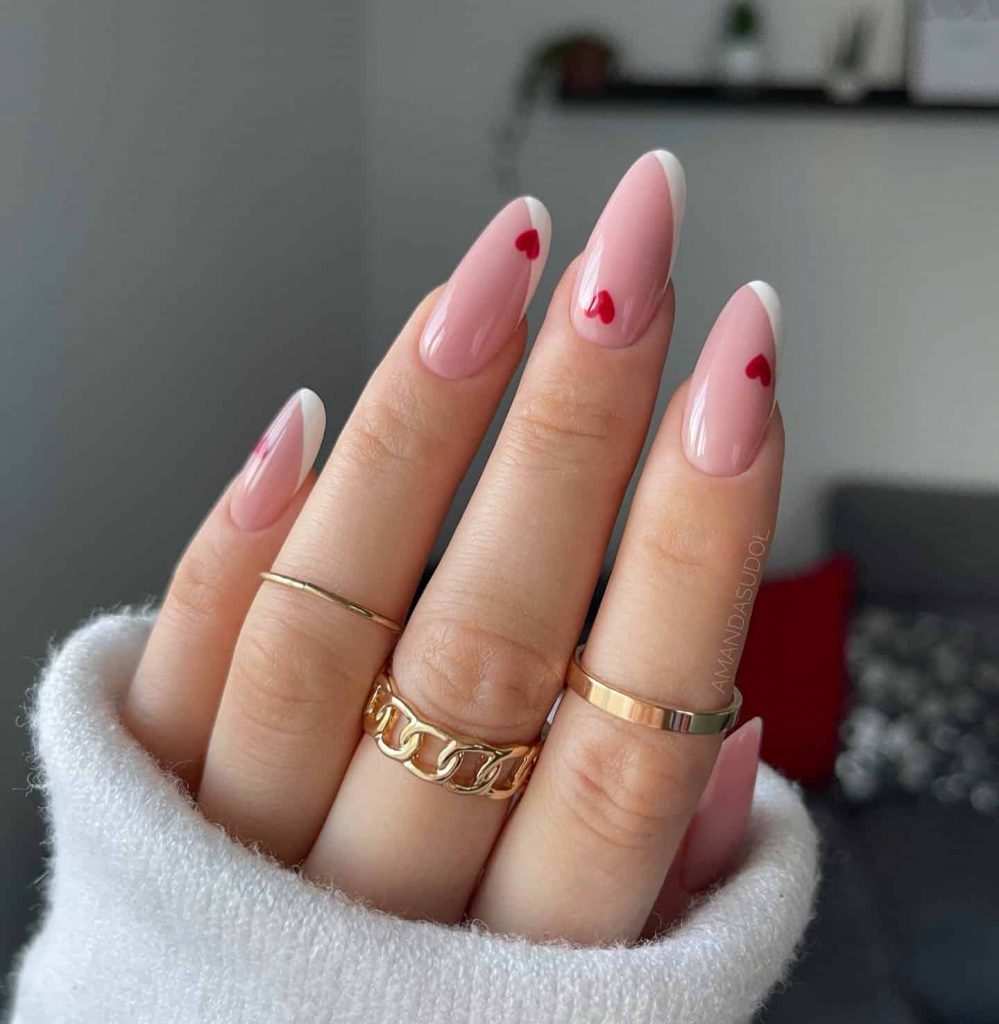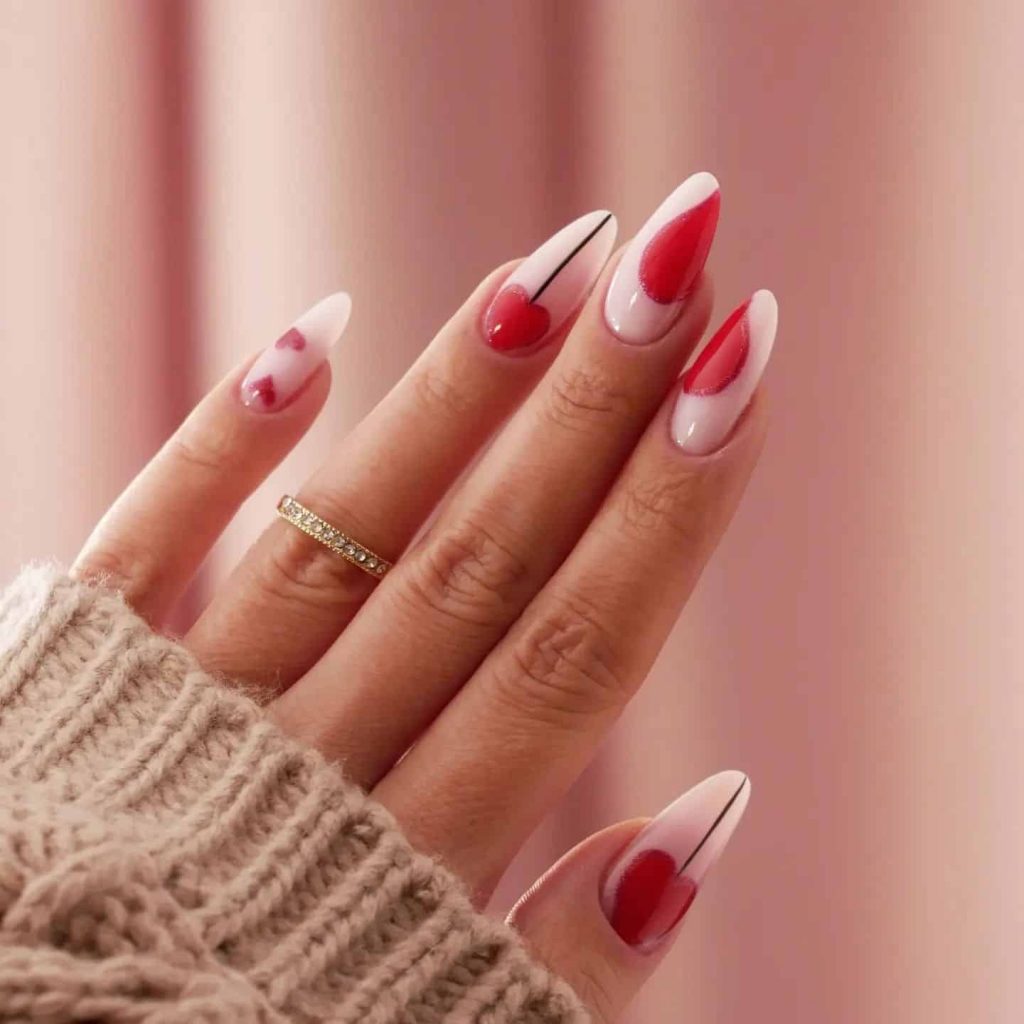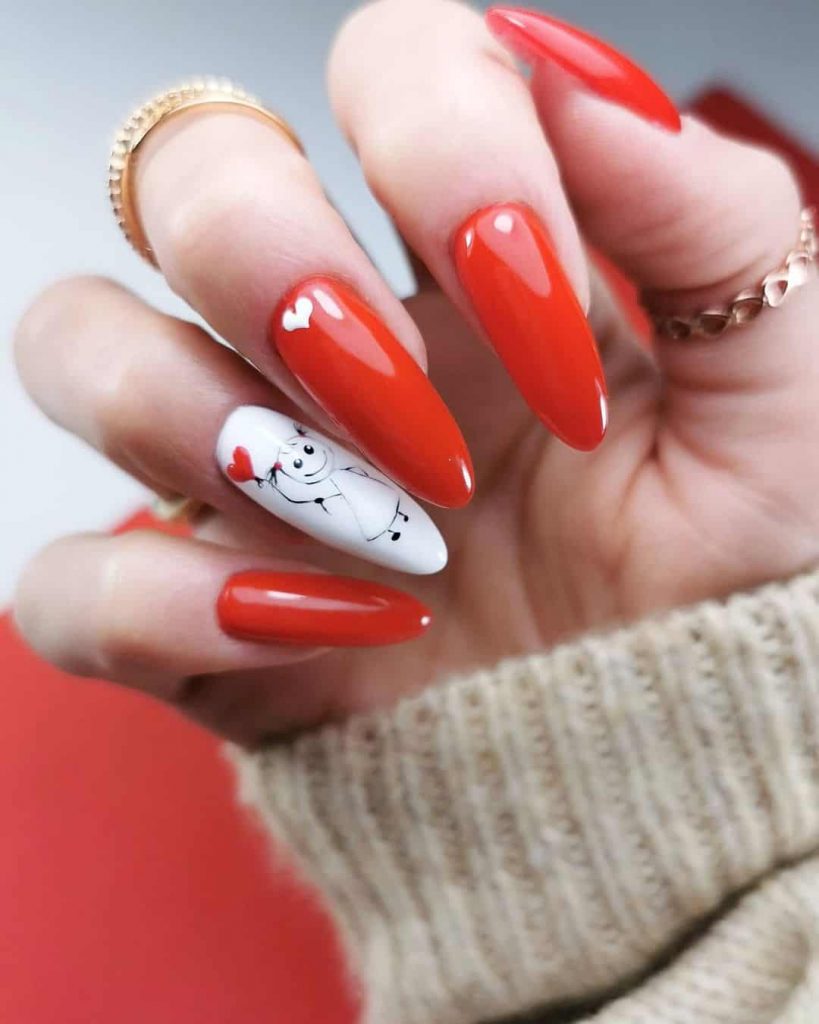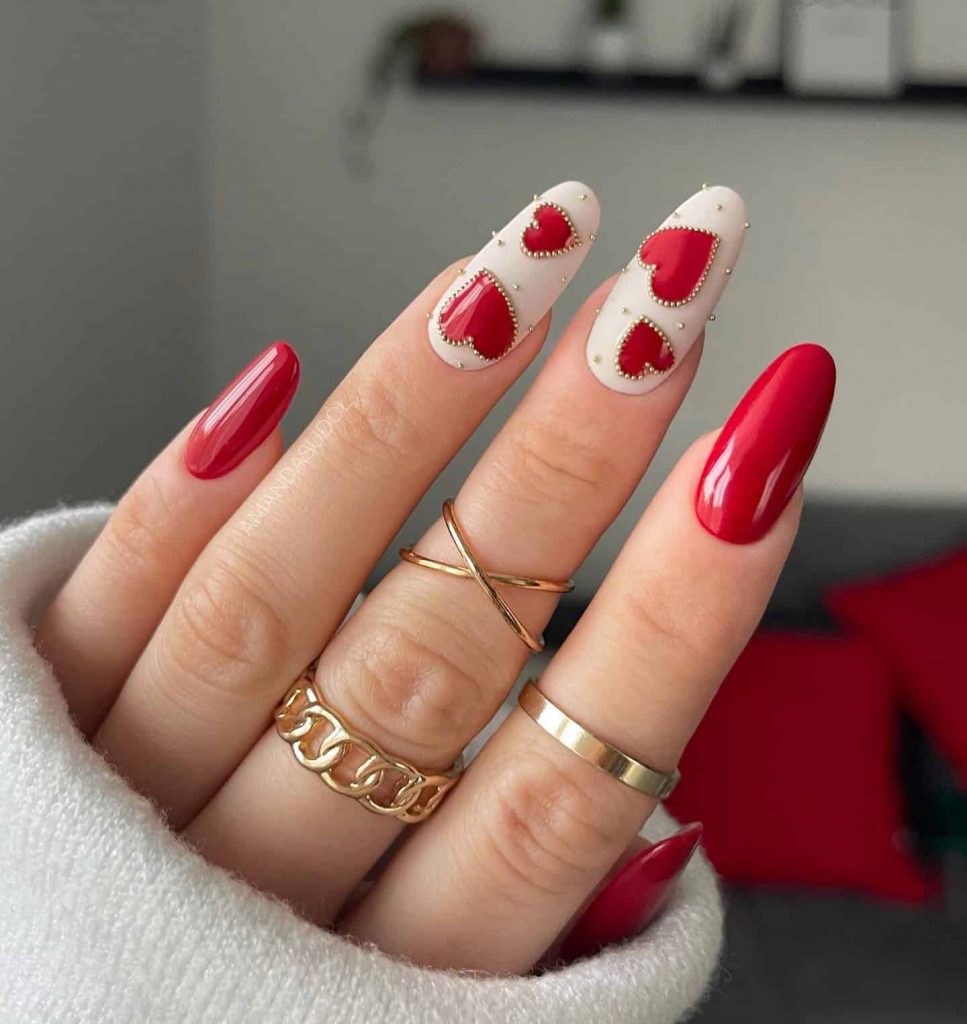 4. Classic Red Nails with French Tips
Sometimes, the most simple looks are the best, and dainty red French tips are a subtle yet fun approach to red Valentine's Day nail art.
Go for the traditional French manicure, a nail look that is sophisticated and timeless, created using red tips applied to nude nails.
5. Red Nails with Polka Dots
Polka dots are fun and fashionable so try them on Valentine's Day. For a more fashionable look, use a neutral base color in nude and then finish with red dotted nail art designs. Simply chic!
6. Red Nails with Stripes
Add visual interest to your red Valentine's Day mani by creating accent nails with striped details whether using stripping tape, chrome plates, glitters, or geometric nail art.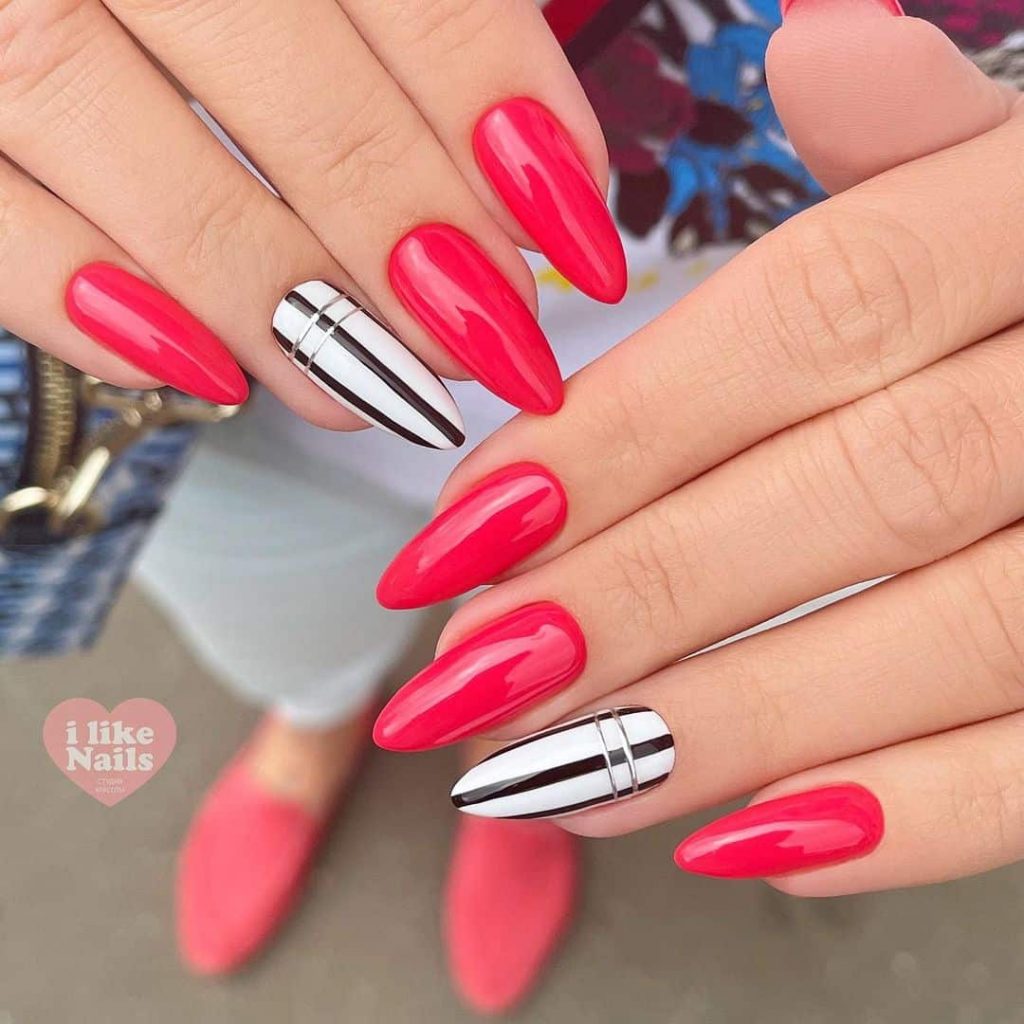 7. Animal Print Nails with A Red Accent Nail
Animal prints are one of those trends that never seem to fade. While there are so many animal print nail designs you can try, the classic leopard or cheetah print is always a safe bet.
You May Also Like: 50+ Animal Print Nails To Show Off Your Cute Wild Side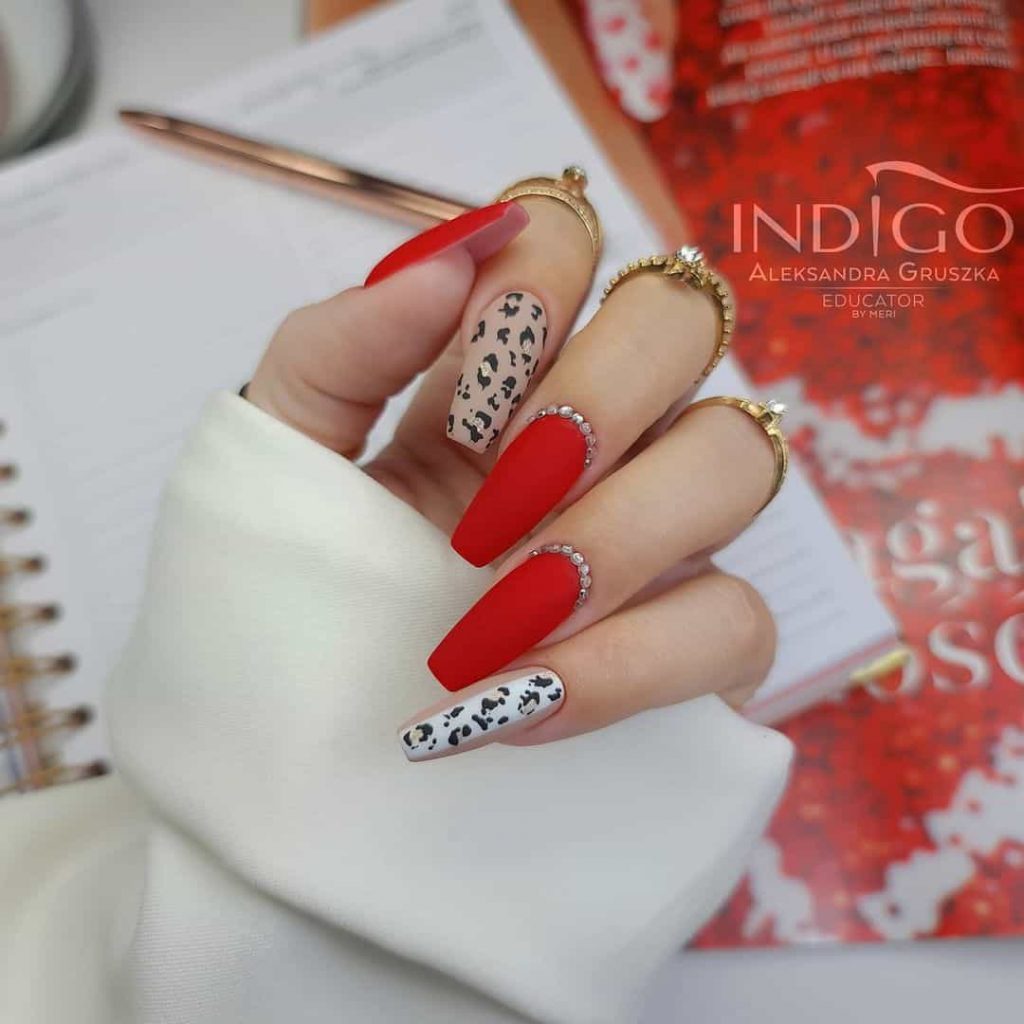 8. Red Nails With Floral Details
For those who love a bit of timeless extravagance, this is the manicure for you.
The combination of classic red mani with a floral accent nail and gold jewels is a picture-perfect way to showcase your love. For this design, choose three fingers for the white petals, and add small gold dots to each flower's center.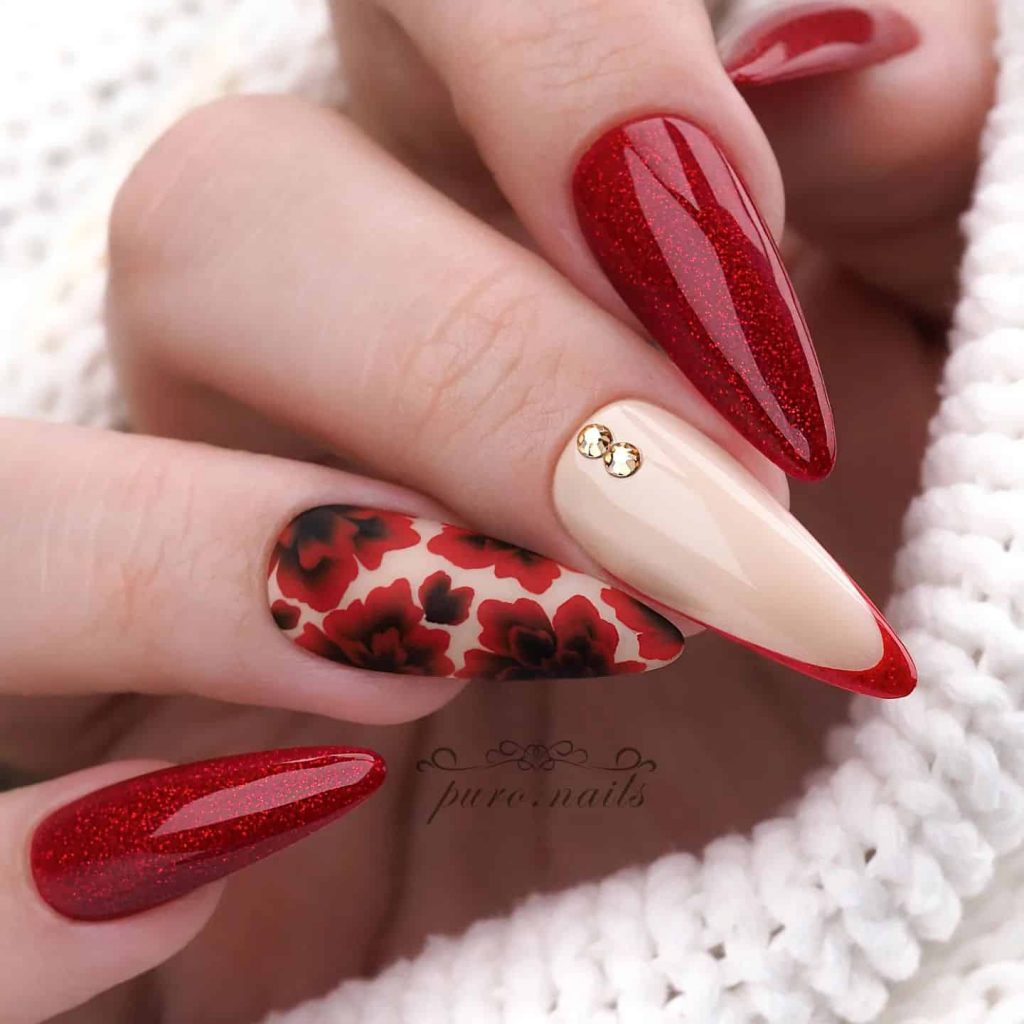 You can also start with a nude base and white French tips. Now, add red floral details to create a subtle yet chic mani that's date-ready!
9. Red Nails with Silver Accent Nails
Spice up your red mani by having accent nails in silver glitters. This is the perfect winter mani to wear for your date.
You can also go for this sparkling yet subtle red nail art with a silvery gloss that adds instant attraction.
10. Red Nails with Golden Details
Whether you prefer golden flakes or glitters, you can never go wrong with such details.
You can spice up your nude nail tips with golden flakes, or try golden accent nails for a stylish and sleek nail design that will be the envy of onlookers everywhere.
You May Also Like: 20+ Gold Nail Designs Oh-So Perfect For The Holidays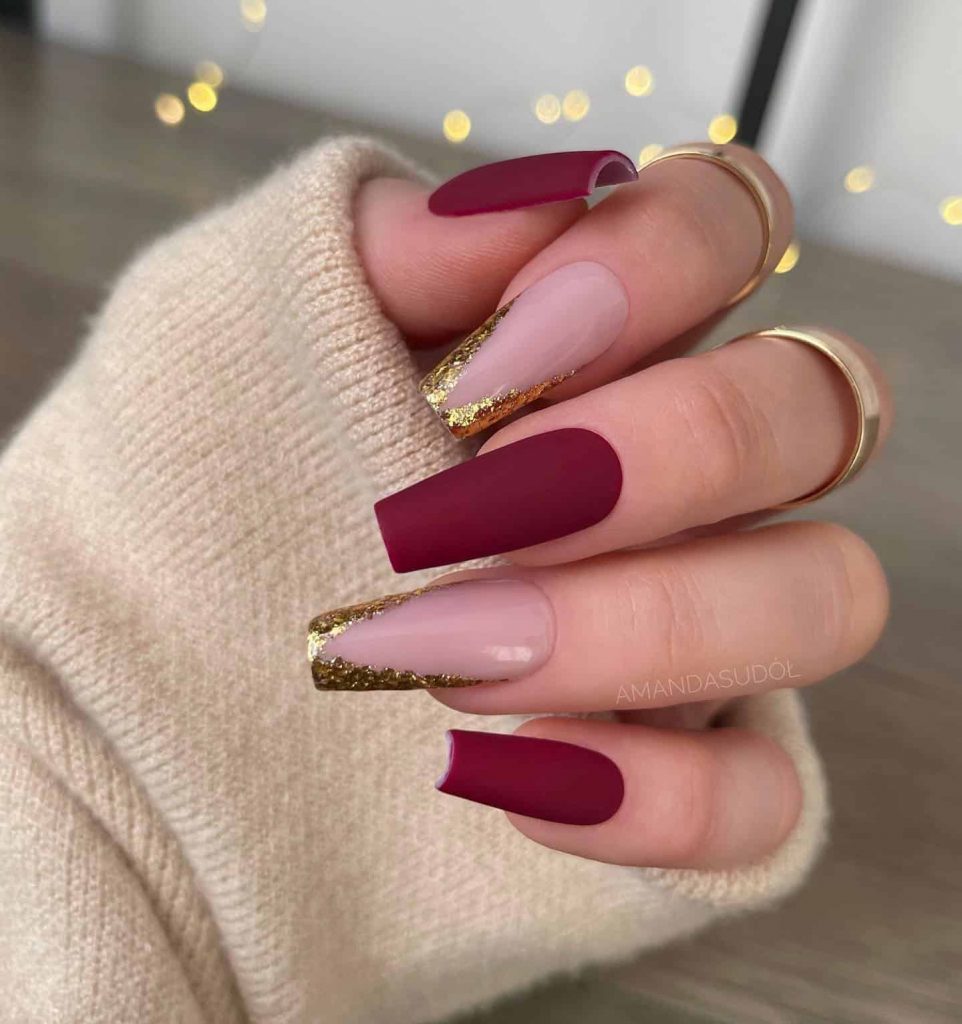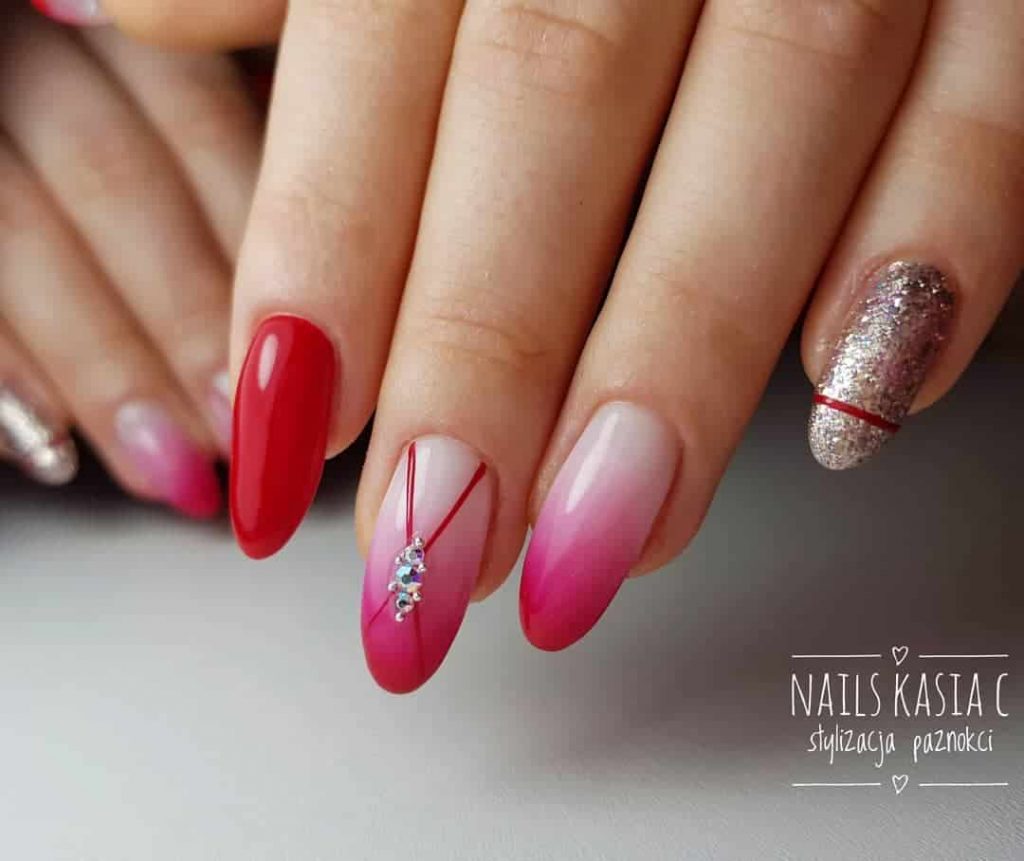 11. Red Nails with Stars
Despite its simplicity, this manicure is sure to grab attention, and it's easy to see why.
To replicate the design, paint your nail with a bold red polish then, gently place golden star stickers on the face of the nail. You have effortlessly elegant nails!
12. Wine Red Nails with Swirls
Swirl nails are fun, flirty, and feminine so try this summer-favorite nail art for Valentine's Day.
For an elegant look, try nude mani with wine red swirls, or for fun, casual mani, red nails with grey accent swirl nails should do!
You May Also Like: 30+ Adorable Ideas For Summer Nails This Year
13. Red Nails with Marble Accents
The sophisticated nail trend is one to elevate your Valentine's Day nail look! Recreate this look by painting your nails wine red and adding marble accent nails. Viola!
Disclaimer: These red Valentine's Day nails are inspired by I Like Nails, Marci Pazur, Azalea Nail Art, Shiniing Nails, Pop Polished, Agatta Nails, Aleksandra Gruska Indigo, Chillax Nails, Amanda Sudoll, Indigo Szkolenia, Klaws by Sonia,Annagasienica, Monika Nails, Nail Art by Tea, Nails Kasiac, Aleksandra Jaworskaa, Paznokcie Kokorzemarzen, Tessa Lyn Nails,Martakoszalka Aba Group, Puro Nails, SPN Nails, RK Nails and Nail Studio by. Follow them on Instagram for more.